St. Louis Rams vs. Miami Dolphins: Final Report Card, Player Grades for Miami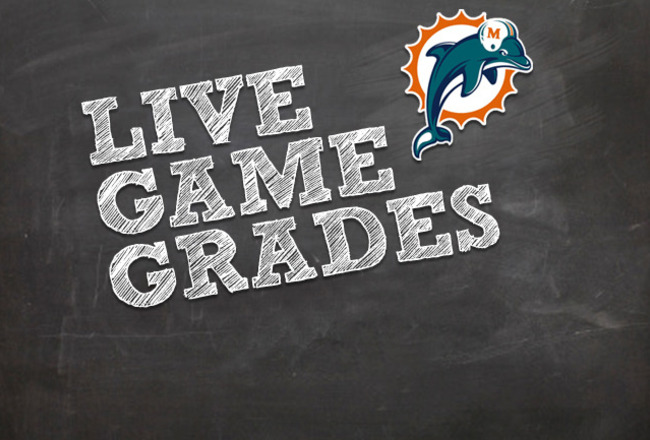 The Miami Dolphins have defeated the St. Louis Rams 17-14 in another contest that came down to the wire.
The Dolphins beat the Rams despite the fact that they were out-gained 462-192 on the afternoon and were only able to run for 19 yards.
St. Louis shot themselves in the foot with 94 yards off of 12 penalties, a turnover and missed field goals.
The victory moves both teams to 3-3. Miami will go into their bye week at .500 with a big game in the Meadowlands against the Jets coming in two weeks.
Here's a look at how the Dolphins did in their victory this afternoon.
Offense — B-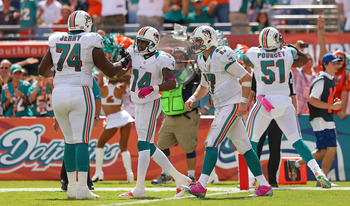 Mike Ehrmann/Getty Images
Overall Game Grade — B-
The Dolphins offense had trouble running the ball, only gaining 19 yards rushing for the game. Passing the ball, Miami was much better, however they only gained 185 yards through the air while at times having key drops.
Overall aside from Tannehill, the Dolphins offense was a bit lethargic at times, but did score two touchdowns, which is what counts in the end.
Now here's a look at how each of Miami's offensive weapons graded out on Sunday.
Ryan Tannehill — A-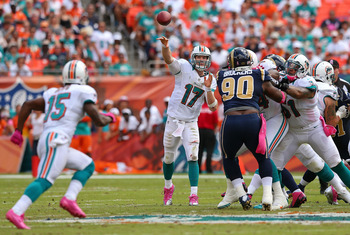 Mike Ehrmann/Getty Images
Overall Game Grade — A-
Ryan Tannehill played another superb game for the Dolphins that wasn't prolific in yards but was in scoring, efficiency and getting the win. He didn't throw a single interception, and only made one bad mistake that luckily for Miami didn't come back to haunt them in the backwards pass.
Tannehill went 21-of-29 for 185 yards and two touchdowns with a passer rating of 115.7 for the game, his highest all season. Impressive performance despite the lack of yards.
Running Backs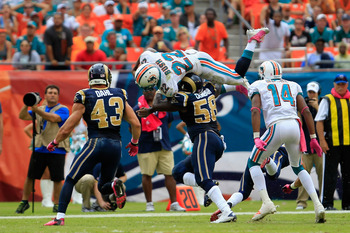 Chris Trotman/Getty Images
Reggie Bush — D
On the ground, Bush was terrible. More negative runs lead to him rushing for a season-low 17 yards. Catching the ball Bush was just a bit better, as made five catches for 44 yards.
Jorvorskie Lane — B
Lane didn't get any carries, not even on short-yardage situations where Miami would normally use him. However he did make two catches for 12 yards and was great at blocking the pass. Blocking the run however, not so much, as the Dolphins running game was anemic this afternoon.
Wide Receivers/Tight Ends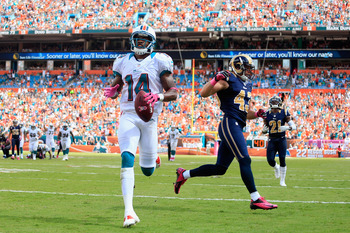 Chris Trotman/Getty Images
Brian Hartline — C-
Hartline was awfully quiet today, as he didn't catch the ball once. OK, so he was very quiet, but he did manage to draw a pass interference penalty on Miami's touchdown drive at the start of the third quarter.
Davone Bess — B-
Bess had the most receptions of any Miami receiver, making six catches for 42 yards. However he did have two dropped passes, one of them killed a Dolphins drive
Marlon Moore — A
Moore was responsible for Miami's first touchdown, a beautiful 29-yard reception in the second quarter. He was only thrown to three times, but made the catch each time, gaining 46 yards.
Anthony Fasano — A
Fasano brought down four catches for 33 yards, including a wonderfully designed play that went for a one-yard touchdown reception. He has become a great safety valve for Ryan Tannehill under pressure.
Charles Clay — C-
Clay only made one catch that went for eight yards, however he also had a dropped pass that should've been caught. A second tight end is becoming an even bigger need for Miami as the season progresses, as Clay has failed to make much progress.
Offensive Line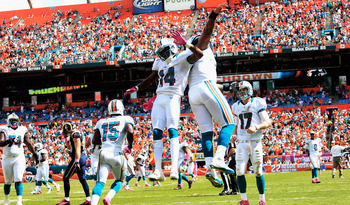 Chris Trotman/Getty Images
Jake Long — C
Long had a rash of dumb penalties in the second quarter, and throughout the rest of the game found himself getting beat by Chris Long, who was chosen after him in the 2008 draft. This was definitely not his best game.
Richie Incognito — C
Incognito, much like Long, played well below his standards this afternoon. He also lost his cool in the second half, which backed up Brandon Fields further into his own end zone. Overall, Incognito has played much better than he did today, and is going to have to cool down.
Mike Pouncey — A
Miami's most successful run came up the middle. Pouncey was Miami's best lineman this afternoon, but it's not like he had much competition, as this line was severely overpowered by the Rams offensive line. However all throughout the afternoon, Pouncey blocked his man well while snapping the ball well.
John Jerry — D
It looks like John Jerry is returning to the form we remember. Twice on running plays Jerry was tossed around by the Rams' linemen, and for the most part looked clumsy out there. Tannehill was only sacked twice, but both times those sacks came from the man Jerry was supposed to block.
Jonathan Martin — B
I have to give Jonathan Martin credit: he and Pouncey were the two best linemen out there, despite the fact that they're also the two youngest. Martin did a decent job of protecting the right edge, but like the rest of the line, failed to open up any holes for the run game.
Defense — B-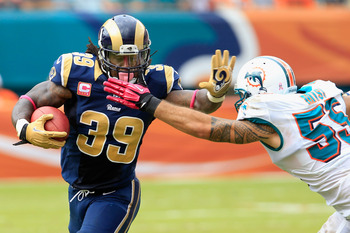 Chris Trotman/Getty Images
Overall Game Grade — B-
The Dolphins defense bended a lot this afternoon, as they gave up 462 yards of offense. Very uncharacteristically, they allowed the Rams to rush for 162 yards.
However in the end, the Dolphins came up victorious because when absolutely needed, the Dolphins defense came up with the stop, holding the Rams to only one touchdown on the afternoon.
Fourth Quarter — B-
Miami's defense started the quarter with bad defensive field position to start the quarter. Despite this they started off the drive well, however a converted fourth-and-two from St. Louis managed to turn the tide.
St. Louis would gain 28 yards on a run from Daryl Richardson, then just as it looked like Miami would get a goal-line stand, Sam Bradford was able to sneak in a touchdown to cut the deficit to five.
A two-point conversion would cut the lead to three right after.
Miami's next defensive drive would be the defining drive of the game. St. Louis started off backed up to their own three-yard line. However the Rams were able to use their short passing game to march down the field while doing a tremendous job of picking up on Miami's blitzes early and often.
However St. Louis would be forced to settle for a 66-yard field goal attempt thanks in part to a key Olivier Vernon sack with 37 seconds left in the game.
Third Quarter — B
Miami's defense gave Bradford plenty of pressure in the third quarter, however on one play while pressuring Bradford, he was able to find Stephen Jackson for the first down.
Later on in that drive, Miami's pressure would force a sack on Sam Bradford on a key third-down from the Rams' 44-yard line. Bradford would fumble the ball, and it would be recovered by Miami, however the tuck rule would rear it's ugly head, giving the ball back to the Rams, who would punt on the next play.
St. Louis would continue to gain yards on their next drive, however Miami would again stop the Rams at midfield on third-and-long. Jared Odrick would break up the pass on that play. Earlier in the drive, Sean Smith forced a fumble, however it was ruled an incomplete pass on the official review. I usually don't complain about the officiating but, that was a bad call.
Second Quarter — D
Miami's defense continues to squander great defensive field position, allowing the Rams to run roughshod on the Dolphins defense. On the first drive of the quarter for St. Louis, the Rams gained 57 yards, all on the ground.
Miami's pass defense has actually been very good, managing to break up most of the Rams' passes and get pressure on Sam Bradford. Olivier Vernon ended the drive and forced another Rams field goal attempt with a key third-and-eight sack on Bradford.
St. Louis would miss the field goal, the first kick missed all season.
The next Rams drive would again see them run up and down the field, however this time around it was the passing game that gained the majority of the yards. St. Louis penalties however did prevent the Rams from scoring a touchdown, as instead they would attempt another 52-yard field goal, that would again sail wide.
First Quarter — C-
Miami's defense started off by allowing the Rams to gain 54 yards on the ground in their first drive of the game. The majority of those yards came on a 44-yard run from Daryl Richardson. This drive's lack of success stopping the run came from the Rams' offensive line overpowering Miami's front-seven.
The drive would end in a Rams' field goal thanks in part to a sack by Cameron Wake and Koa Misi that dropped Sam Bradford back four yards.
Miami's second drive, set up by a forced-fumble on St. Louis' punt return, fared better against the run. However they did give up a first down in the air, followed by a 65-yard pass from Sam Bradford to Chris Givens.
Miami would force another field goal once St. Louis got into the Dolphins red zone, but the two big plays given up in the first quarter are still inexcusable.
The Rams would again have a productive drive, however the Dolphins did wind up forcing them to punt.
Defensive Line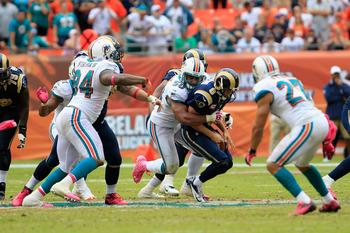 Chris Trotman/Getty Images
Cameron Wake — B-
Wake only had one sack, but was again a complete pain to cover for St. Louis. His run defense however left much to be desired, as the Rams were able to run from every direction, including his.
Paul Soliai — C
When Miami's run defense fails, part of it falls on Soliai. While he's been great this year, today wasn't a strong day. He did manage to get one tackle for a loss, but for the most part he was manhandled by the Rams' offensive line.
Randy Starks — C
Much like Soliai, Starks was completely manhandled by the Rams' offensive line, and was rarely seen in the backfield like he has been in previous games this season. Overall this was a bad day for the Dolphins defense when it came to giving up yards, and Starks was no different.
Jared Odrick — B
Odrick did a much better job rushing the quarterback today, as he not only got a hit on Bradford, but also made a tackle for a loss on a running play and had a key pass deflection on third down in the third quarter. He would've had a fumble recovery, but blame the tuck rule for taking that away.
Olivier Vernon — A
This was the day we were waiting for on Vernon. On special teams he managed to force a fumble, but on defense is where he made his biggest mark. Vernon lead the team in sacks, then hit Bradford another time.
In the end he wound up with four tackles, but he had the tackle and sack of the day at the end of the fourth quarter, when he got Bradford at midfield for a sack that backed the Rams up an additional three yards. This set up a 66-yard field goal attempt that would veer right, winning the game for Miami.
Linebackers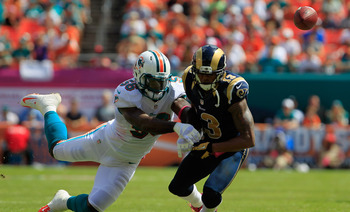 Chris Trotman/Getty Images
Kevin Burnett — B-
Burnett was uncharacteristically quiet, only getting three tackles. But he did get two pass deflections.
Koa Misi — C
Misi should've had more than two tackles, but that was his final number. He did get a hit on Bradford, but it wasn't a sack. Overall it wasn't his best day, as he was routinely beat on coverage throughout the afternoon, like most of the Dolphins linebackers and secondary.
Karlos Dansby — B+
Dansby had the best day of the entire secondary, getting nine tackles. He wasn't beaten when he went into coverage as much as the rest of the linebacking corps, and did a fine job of neutralizing the ball once it got to him.
Secondary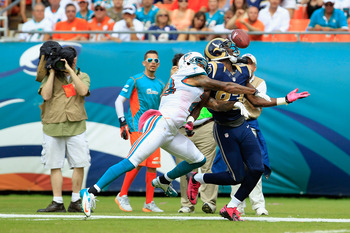 Chris Trotman/Getty Images
Sean Smith — C
How does Sean Smith follow up his best two game stretch of his career? With a Sean Smith throwback performance of course. Smith had five tackles and one pass deflection, but was beaten all day by various Rams receivers. For a second, I thought that Smith had switched uniforms with Nolan Carroll.
Nolan Carroll — C
Carroll had six tackles, but much like Smith would find himself beaten by the Rams cast of receivers. This was as bad a game as you'd get from the secondary considering that the defense as a whole allowed only one touchdown.
Reshad Jones — B
Jones had six tackles on the afternoon, and found himself cleaning up the mess left by Miami's corners, who couldn't seem to cover any of Miami's receivers. While Jones didn't cause any big plays, he did have a hand in preventing some of them.
Chris Clemons — A
Other than Tannehill, Chris Clemons is a big reason why Miami came away with the victory. He had 10 tackles on the day, with one of them going for a loss. Like Jones, Clemons prevented some big plays from occurring, getting a tackle at just the right time.
But that fake punt, wow. I'll be the first to admit that it might skew my grade of him just a bit, and a lot of it has to do more with the play itself, but Clemons did have to run it in and get the first down, giving St. Louis a minute less to attempt a comeback than they would've had had Miami punted the ball.
Special Teams — A+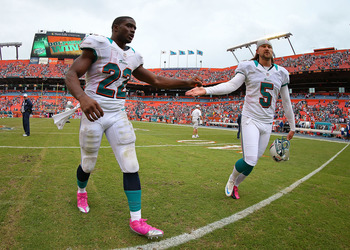 Mike Ehrmann/Getty Images
Overall Game Grade — A+
Brandon Fields punted well on the afternoon, while Marcus Thigpen ran off two very good returns. Dan Carpenter didn't miss any field goals, while Miami's special teams were able to force a key turnover in the second quarter.
It was a great day all around for this unit, one deserving of an A+.
Dan Carpenter — A
Carpenter only attempted one field goal, but the good news is that not only did he make it, he made it rather convincingly. It does feel nice to see the other team lose games due to their field goal kicker missing it. As for his kickoffs, Carpenter seemed to get his mojo back there as well, as Carpenter forced two touchbacks on his four kickoffs.
Brandon Fields — A
Fields got a workout on Sunday, punting the ball six times for 323 yards, with two of them landing behind the 20-yard line. One punt went for 63 yards. It was another Brandon Fields-type day, and a reason why he's likely on his way to the Pro Bowl this season.
Coaching — A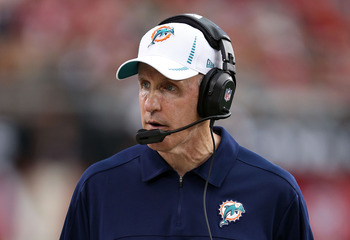 Christian Petersen/Getty Images
Overall Game Grade — A
In the end Miami was coached very well. The Dolphins won mainly by out coaching the Rams (funny how Jeff Fisher was Miami's first choice), and by being more disciplined (a reflection of their coaching).
Miami's play calling was also spot on, thanks mainly in part to offensive coordinator Mike Sherman, who has done a great job of easing Tannehill into the NFL.
Keep Reading

Miami Dolphins: Like this team?