Detroit Tigers vs. New York Yankees Game 2: Live Score, ALCS Analysis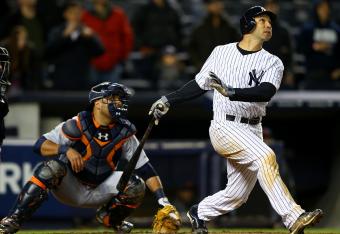 Al Bello/Getty Images
The Detroit Tigers won Game 2 of the ALCS, 3-0, with Anibal Sanchez and Phil Coke silencing the New York Yankees lineup.
Hiroki Kuroda retired 15 straight batters to start the afternoon, but received no run support.
The Tigers finally broke through against him in the seventh. Robinson Cano couldn't turn a double play on Delmon Young, and Quintin Berry scored from third base.
An incorrect call from umpire Jeff Nelson the next inning opened up the flood gates. Avisail Garcia added insurance with an opposite-field single off Boone Logan. Then, Miguel Cabrera tacked on another run against Joba Chamberlain.
Looking ahead, Tigers ace Justin Verlander will take the mound on Tuesday at Comerica Park with the luxury of a 2-0 series lead. The Yankees, meanwhile, have right-hander Phil Hughes scheduled to oppose him.
FINAL: DET 3, NYY 0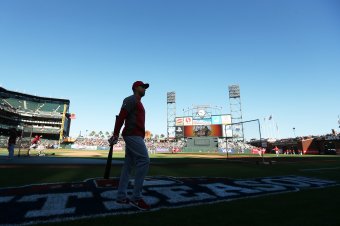 Ezra Shaw/Getty Images
It's been fun, but my blogging is finally done (he cleverly rhymed). I'll be doing this sort of thing next week if Tigers/Yankees goes the distance.
Craving more MLB postseason coverage? Let Christopher Benvie take you through Game 1 of the National League Championship Series, which begins from AT&T Park in a few minutes!
There's bound to be debate about Jeff Nelson's screw-up at second base.
However, as ESPN's Steve Berthiaume tweets, that did not doom the Yankees in Game 2:
#Yankees not down 0-2 in ALCS because of Jeff Nelson's missed call today. Losing because offense is slumping at record levels.

— Steve Berthiaume (@SBerthiaumeESPN) October 14, 2012
Alex Trautwig/Getty Images
Obviously, this win puts the Detroit Tigers in total control.
If the series were somehow to return to Yankee Stadium for a Game 6, Jim Leyland would have no reservations about starting Anibal Sanchez again. He tweaked his pitch selection to Yankee Stadium's tiny dimensions and induced 11 ground outs.
His final stat line: 7 IP, 3 H, 0 R, 3 BB, 7 SO.
After averaging nearly five runs per game during the regular season (second-best in MLB), the New York Yankees offense has gone impotent. The team is barely scoring 2.5 per game in these playoffs, and fewer than two per game since ALDS Game 2!!!
A-Rod—his only hit came off left-handed Phil Coke—and Curtis Granderson seem lost at the plate. Robinson Cano looks unmotivated.
Courtesy of ESPN:
Tigers now 8-3 vs Yankees in postseason all-time. That's the best postseason record by any team vs Yankees

— ESPN Stats & Info (@ESPNStatsInfo) October 14, 2012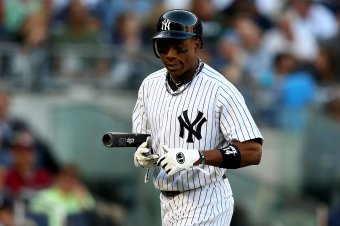 Elsa/Getty Images
FINAL: DET 3, NYY 0
Curtis Granderson completed a no-contact game (0-3, 1 BB, 3 K).
Coke retired six of seven Yankees in the eighth and ninth innings, and Detroit's bullpen will be well-rested when the ALCS resumes Tuesday.
More post-game reaction coming up...
If Coke can't close this out, Joaquin Benoit is ready to intervene.
One strike away...
AND HE GETS A HIT!!!!!!! A-Rod's solid single passes the torch to Granderson.
Of course, it's up to Alex Rodriguez to keep the game going.
Alex Trautwig/Getty Images
The Yanks have two outs to work with against Coke.
MID 9th: DET 3, NYY 0
Barring a miraculous comeback (a la last night), the Detroit Tigers will take a commanding 2-0 lead in this ALCS.
Yankees have Rauuuuuuuuuul, Martin, A-Rod and Granderson due up.
Cody Eppley is the only Yankees reliever to record an out. In fact, he recorded four of them.
Logan, Chamberlain and Rapada accomplished nothing with their 15 pitches.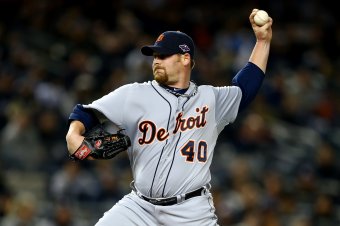 Al Bello/Getty Images
END 8th: DET 3, NYY 0
Lefty Phil Coke mows through his former team easily.
Jon Heyman of CBSSports.com confirms my suspicion—it's an MLB record:
cano, in an mlb record 0 for 26 slump (for 1 postseason), hears boos. 1st 2 games at stadium have gone as badly as possible

— Jon Heyman (@JonHeymanCBS) October 14, 2012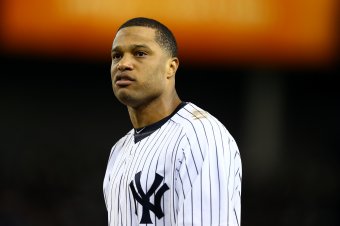 Al Bello/Getty Images
Robinson Cano's unfathomable slump keeps going! Four grounders from him in this game, so he's 0-for-26 dating back to the ALDS.
MID 8th: DET 3, NYY 0
The progression of this game seems familiar, doesn't it? A lot of scoreless baseball until the Tigers seized control.
But this time, Jim Leyland won't be relying on Jose Valverde.
Chances of a Yankees comeback are slim.
Hard to understand how the ump missed a call that was right in front of him.

— Marc Carig (@MarcCarig) October 14, 2012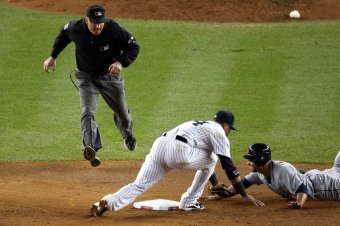 Bruce Bennett/Getty Images
Time to vent.
Kuroda should've finished the eighth inning with the Yankees trailing 1-0. Cano obviously applied to tag on Omar Infante before he scrambled back to the bag. It wasn't even close.
Alas, Nelson's poor eyesight and baseball's reluctance to expand instant replay enabled the rally to continue.
Now, Delmon Young can put this game out of reach.
Elsa/Getty Images
TOP 8th: DET 3, NYY 0
Miguel Cabrera drove Chamberlain's fourth pitch to right field. Austin Jackson came in from third.
Clay Rapada enters to face Prince Fielder and stop the bleeding.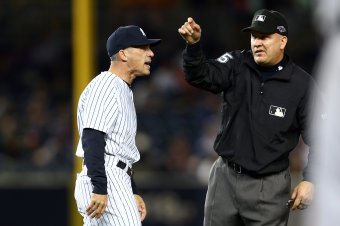 Elsa/Getty Images
Joe Girardi ejected
The Yankees manager went out to replace Boone Logan with Joba Chamberlain, but couldn't resist chewing out umpire Jeff Nelson. Their discussion got heated and Girardi was quickly tossed.
I understand his frustration.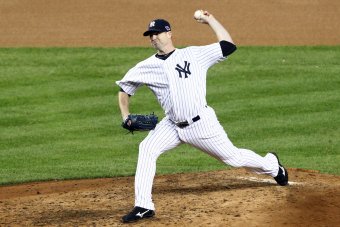 Debby Wong-US PRESSWIRE
TOP 8th: DET 2, NYY 0
Rookie pinch-hitter Avisail Garcia delivers against Boone Logan, so the Tigers take advantage of the controversial call.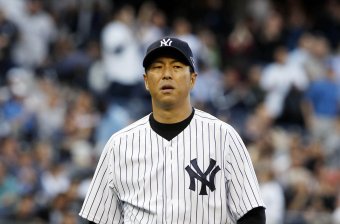 The Star-Ledger-US PRESSWIRE
Boone Logan replaces Hiroki Kuroda
An outstanding performance for the 37-year-old, who surrendered only one extra-base hit. He threw more than two-thirds of his pitches for strikes.
The Tigers caught a huge break. Omar Infante overran second base and was tagged out by Robinson Cano, but umpire Jeff Nelson saw it differently, and that's why Kuroda couldn't finish the inning. Yankees manager Joe Girardi argued to no avail.
Final stat line: 7.2 IP, 5 H, 3 R, 0 BB, 11 K.
11 strikeouts for Kuroda... matches his season high.

— Buster Olney (@Buster_ESPN) October 14, 2012
Kuroda past the 100-pitch mark, but still on the mound. Back-to-back strikeouts of Jhonny Peralta and Alex Avila give him 11 on the afternoon.
Wow.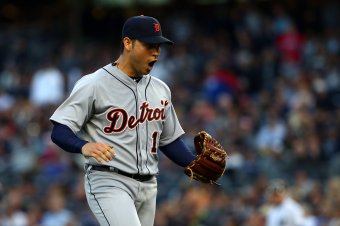 Alex Trautwig/Getty Images
END 7th: DET 1, NYY 0
Sanchez begins flexing and fist-pumping after a strikeout of Nix. He has man-handled the bottom of New York's lineup all game.
Like I said, he's likely finished with Ichiro Suzuki and Cano due to lead-off the eighth.
Regardless, the right-hander was awesome.
This article is
What is the duplicate article?
Why is this article offensive?
Where is this article plagiarized from?
Why is this article poorly edited?