UFC 153 Fight Card: Breaking Down the Main Card Odds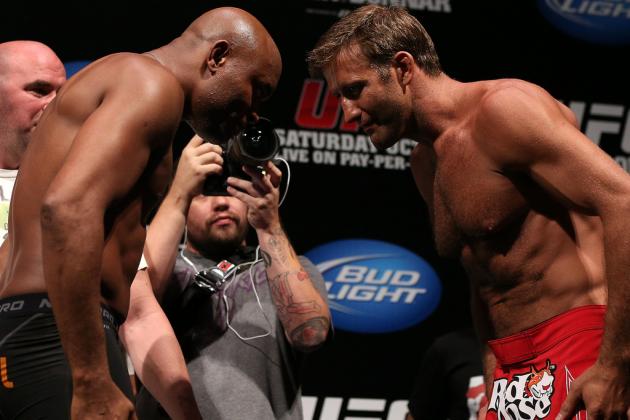 Photo by Josh Hedges/Zuffa LLC/Zuffa LLC via Getty Images
UFC 153 gets underway from the HSBC Arena in Rio de Janeiro, Brazil on Saturday evening.
The oddsmakers are putting their final touches on the lines as money continues to trickle in.
Anderson Silva meets Stephan Bonnar in the evening's main event in a light heavyweight special attraction. The co-main event of the evening pits Dave Herman against the returning Antonio Rodrigo Nogueira.
The rest of the main card has some exciting matchups as well. Demian Maia squares off against Rick Story, Jon Fitch meets rising star Erick Silva and Glover Teixeira will try to make his claim for a title shot against Fabio Maldonado.
Here is a look at the updated main card odds just hours before the event.
Begin Slideshow

»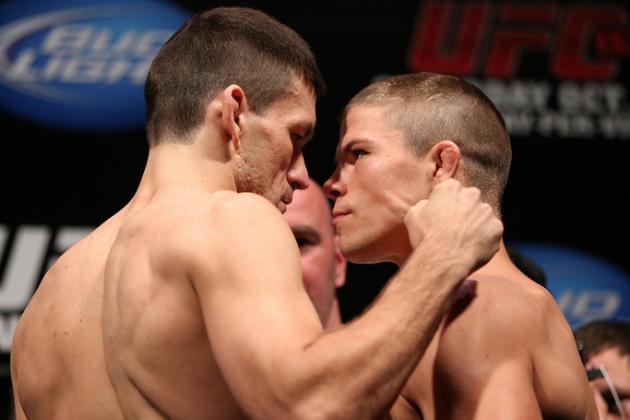 Photo by Josh Hedges/Zuffa LLC/Zuffa LLC via Getty Images
Betting Odds: Maia (-160) over Story (+130) at Bovada.lv
Maia enters the cage as the favorite for the fight, and rightfully so.
Story's strength is taking the fight to the ground and grounding and pounding his opponents, but taking Maia to the ground would be a mistake. Maia is the bigger man coming down from 185, but he will be more accustomed to the weight cut in his second outing at welterweight.
Story's power and wrestling ability do make him a decent bet as the underdog. This is by no means a runaway for Maia.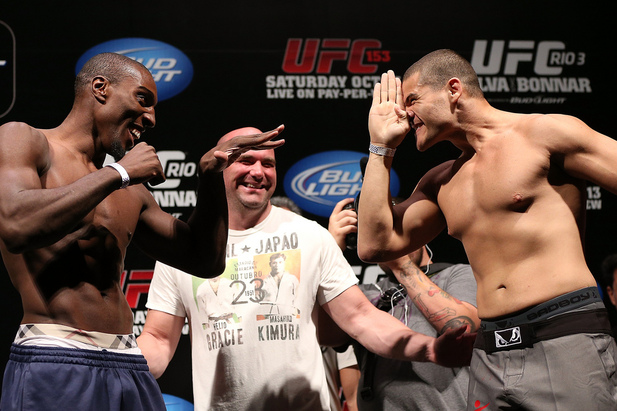 Photo by Josh Hedges/Zuffa LLC/Zuffa LLC via Getty Images
Betting Odds: Phil Davis (-400) over Prado (+300) at Bovada.lv
The Nittany Lion and Prado meet again after their first bout ended with an accidental eye poke. Prado made light of the situation at the weigh-ins, breaking out an old Three Stooges bit.
If Davis does what he does best then there is no reason to place a cent on Prado. This fight should be all Davis.
That is not to discredit Prado at all, but Davis is simply one of the best fighters in the light heavyweight division. He will show it at UFC 153.
This is a great fight for Davis to rebound in after his loss to Rashad Evans. The odds reflect that.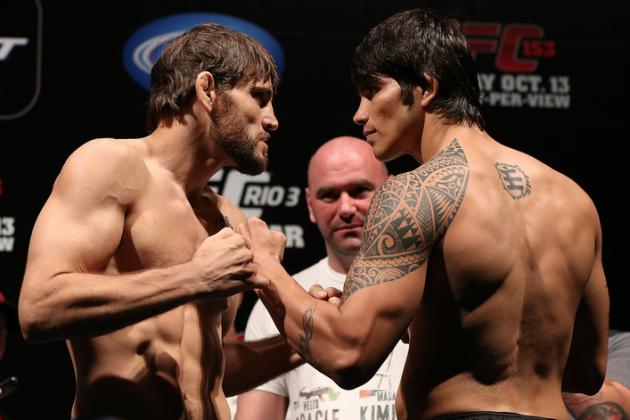 Photo by Josh Hedges/Zuffa LLC/Zuffa LLC via Getty Images
Betting Odds: Silva (-135) over Fitch (+105) at Bovada.lv
Silva is the rising star of the welterweight division, but Fitch is the old dog who will drag you into an ugly fight. This is an exciting fight.
After his impressive streak in the UFC there is no question as to why Silva is the favorite in this matchup, and Fitch is also coming off of a stunning first round KO defeat to Johny Hendricks.
Fitch has lowered the line as we get closer to fight night because he is still one of the best in the division, and at +105 he is a great value. Charlie Brenneman was able to get Silva to the mat, but Silva quickly got back up.
If Fitch can grind it out and make the fight ugly he will show why he is still one of the best in the world at 170 pounds.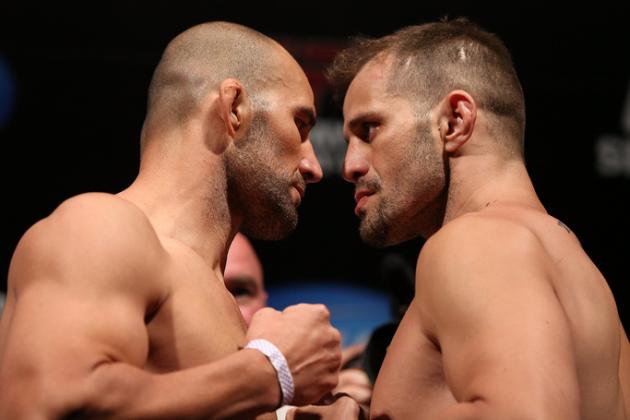 Photo by Josh Hedges/Zuffa LLC/Zuffa LLC via Getty Images
Betting Odds: Teixeira (-400) over Maldonado (+300) at Bovada.lv
The most talked about light heavyweight prospect over the years is a big favorite for his fight with Maldonado.
Maldonado is a good boxer, but he is not an excellent mixed martial artist. He is currently on a two-fight losing streak to Kyle Kingsbury and Igor Pokrajac. Teixeira is riding a 16-fight win streak into the cage, and that includes a first round mauling of Kingsbury at UFC 146.
I am a bit surprised the odds are as close as they are with all of the hype around Teixeira, and -400 may actually be a decent value for him. If he chooses to take the fight down, the fight will end shortly afterwards. Maldonado's only shot is having a puncher's chance.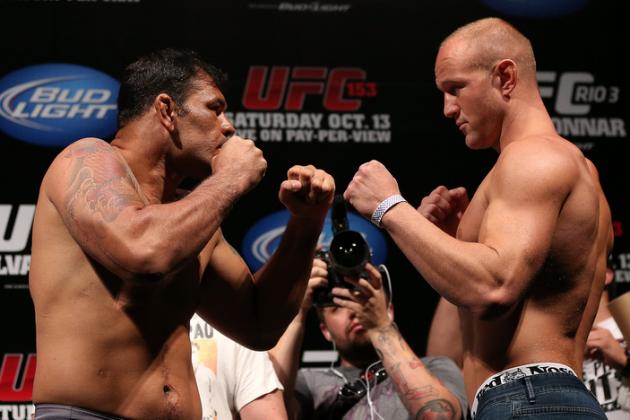 Photo by Josh Hedges/Zuffa LLC/Zuffa LLC via Getty Images
Betting Odds: Nogueira (-335) over Herman (+255) at Bovada.lv
The heavyweight battle offers the most interesting line of the evening.
Nogueira returns to the Octagon for the first time since Frank Mir snapped his arm, and Herman is coming off a knockout loss to Roy Nelson.
Herman has failed to defeat a top heavyweight, and this is a chance to get the biggest victory of his career. And if there was one thing to be noted at the weigh-ins, it is that Nogueira looked old.
The Brazilian MMA legend is still excellent on the ground and has improved his striking. He has fought, and beaten, more talented fighters than Herman. That experience could be huge in Rio.
With Nogueira's aging body and recent performances and the fact that he is coming off a long layoff, there is some good value on Herman at +255, but his record against quality heavyweights is troubling.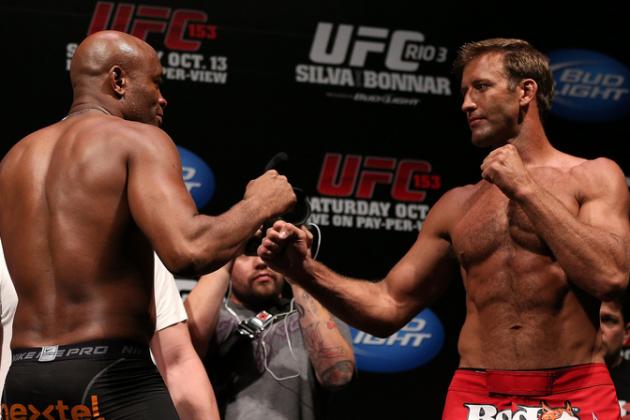 Photo by Josh Hedges/Zuffa LLC/Zuffa LLC via Getty Images
Betting Odds: Silva (-1000) over Bonnar (+600) at Bovada.lv
-1000. That is no typo. It has also come down quite a bit, which makes the number even more staggering.
There is no doubt that Silva should be a big favorite, but +600 for a tough guy like Bonnar gives bettors a nice value to throw a few dollars at just in case something shocking happens.
Bonnar is a legit threat to defeat Silva. He has all of the skills to take a three-round fight against the middleweight champion of the world.
Smart money is still on Silva without question, but at +600 it may be worth even throwing $1 on the first The Ultimate Fighter runner-up.