Texas vs. Oklahoma: Final Report Card, Player Grades for the Sooners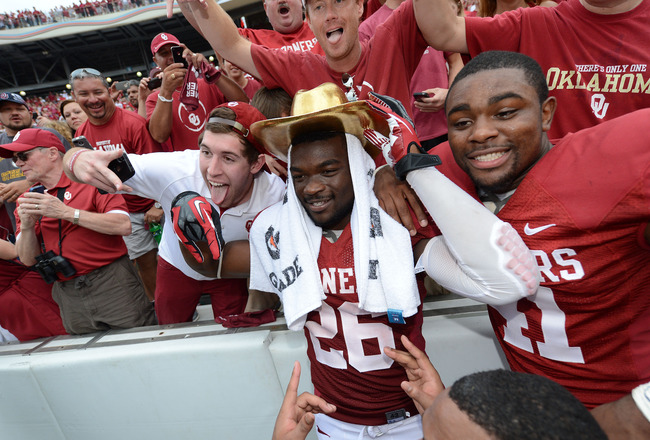 Matthew Emmons-US PRESSWIRE
It was a very good day for the Sooners as they dominated Texas 63-21 in the 107th edition of the Red River Rivalry.
The Sooners improved to 4-1 (2-1) while the Longhorns drop to 4-2 (1-2). The win also keeps the Sooner hopes alive for a Big 12 title.
Let's take a look at the Sooners' final postgame grades and player analysis.
Quarterbacks: A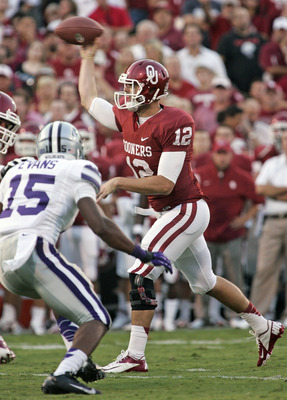 Brett Deering/Getty Images
Landry Jones had a very good day under center, completing 21 of his 37 passes for 321 yards, two touchdowns and one interception. He looked poised and picked the Texas defense apart all game long. It looks like Jones is improving and it could not come at a better time.
Backup QB Blake Bell also played well for the Sooners, rushing for 31 yards and four touchdowns. He also passed for 13 yards in mop-up duty in the fourth quarter.
Running Backs: A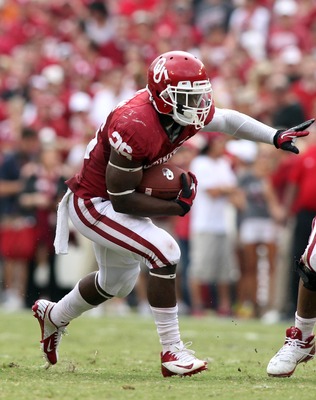 Tim Heitman-US PRESSWIRE
The running game for the Sooners was on point as usual. Daminen Williams rushed for 167 yards on 22 carries and one touchdown while Clay Brennan rushed for 59 yards and one score.
Bell can also be considered the third running back and had four rushing scores. Overall, the Sooners rushed for 300 yards, which normally equals a lot of wins if you are able to do that.
Wide Receivers: B
Tom Pennington/Getty Images
Justin Brown and Jalen Saunders made Jones' life a lot easier on the outside. Brown had 73 receiving yards and one touchdown and Saunders had 54 receiving yards.
But the best receiver was fullback Trey Millard who had five catches for 119 yards and one touchdown. Because of the effectiveness of the run game, the receivers did not have to do too much, but when their named was called, they made plays.
Tight Ends: INC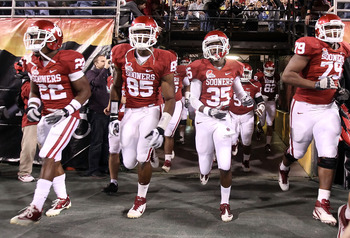 Christian Petersen/Getty Images
It's hard to give the tight ends a grade because they really weren't on the field. The Sooners went with a lot of three receiver sets, which spreads the defense out and leads to the running backs getting a lot of yards on the ground.
They did not use the tight ends in the passing game either because they play of Millard and Brown. But this is a game where the tight ends weren't needed because of the play of the receivers and offensive line.
Offensive Line: A
Matthew Emmons-US PRESSWIRE
And speaking of the offensive line, they were as good as they've been all year. They opened big holes for Williams and gave Jones a lot of time to complete his passes. Credit has to go to center Gabe Ikard who had some very good blocks, which led to some big plays for Bell and Williams.
Jones is starting to play well because he offensive line is getting better. If that trend continues, they will have a very good chance of winning the BIG 12 title.
Defensive Line: A+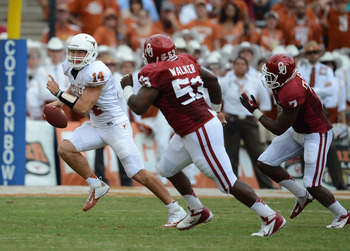 Matthew Emmons-US PRESSWIRE
One reason that the first-team offense for Texas did not score a point was the play of the defensive line.
Defensive tackles Jamarkus McFarland and Casey Walker were constantly in the backfield which is the reason the Longhorns could not sustain drives. Defensive end David King had a sack and this pressure was done with just those three along with defensive end Chuka Ndulue, which is always a good sign moving forward.
Linebackers: A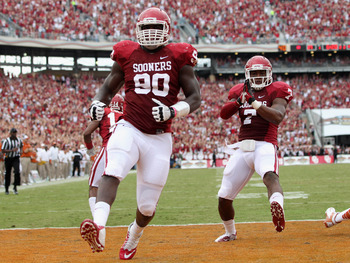 Tim Heitman-US PRESSWIRE
Because the play of the defensive line was strong, the linebackers were able to come up with some big plays. Corey Nelson had two tackles for loss and Tom Wort also added two tackles.
While those numbers aren't outstanding, remember that the defense was not on the field a whole lot and the Longhorns had to throw the ball a lot more than they had to. In fact, Texas only had 75 yards rushing because Wort and Nelson would not allow the Longhorns to run over them.
Defensive Backs: A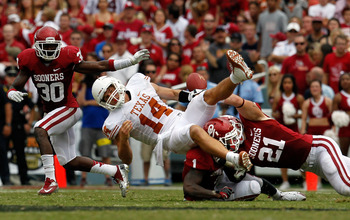 Tom Pennington/Getty Images
With the game getting out of hand early, the Longhorns had to throw a lot more, and that led to the Sooners secondary to be on their toes.
They were up to the challenge because they only allowed 215 passing yards and four third down conversions.
Tony Jefferson led the Sooners with seven tackles and an interception while Javon Harris and Demontre Hurst added four and three tackles respectively.
The Sooners secondary have a chance to be the best in the country if they continue to play at a high level the rest of the season.
Special Teams: A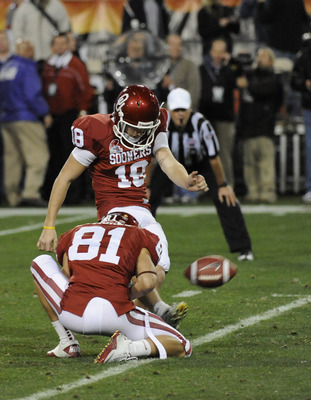 Richard Mackson-US PRESSWIRE
Michael Hunnicutt was solid in the kicking game as he made all his FG attempts, but did miss on a PAT, which was caused due to a botched snap.Tress Way was solid in the punting game, averaging 38 yards per punt.
Justin Brown averaged 13 yards per punt return and Clay Brennan averaged 32 yards per kick return. As good as the offense and defense played, it would not be possible with the play of the special teams, and they will have to be just as good, if not better down the stretch if the Sooners want to win the Big 12 title.
Coaching: A
Brett Deering/Getty Images
Bob Stoops must love coaching in Dallas because his teams tend to do well. He was able to attack the Texas offense with pressure from his front four. Stoops was also able top attack the Longhorn defense with a balance attack of running and throwing the football.
Credit also has to go to defensive coordinator Mike Stoops who was able to come up with a terrific gameplan to shut down a talented Texas offense.
Bob Stoops made sure his players played with intensity from start to finish and that's why the Sooners came way with a big win.
Keep Reading

Oklahoma Sooners Football: Like this team?