Power Ranking the NBA's Most Clever In-Traffic Dunkers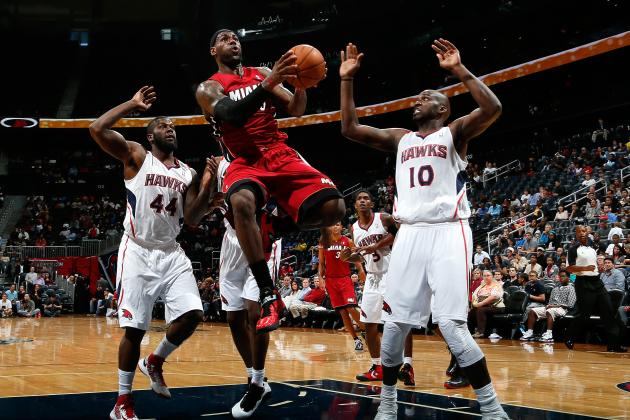 Kevin C. Cox/Getty Images

There's an art form in the NBA that counts many different styles of artists. From the former expressionists like Dominique Wilkins, the impressionists like Shawn Kemp, the classical romantic Julius Erving and the newer, more complex new-age stuff from guys like Vince Carter.
I'm talking, of course, about the ability to dunk a ball with a bunch of dudes in between you and the basket.
There are many different ways of getting it done, each with its own interesting, exciting caveats, but it's easy to tell when one guy is just better at it than others.
For instance, the raw power of Shawn Kemp probably hasn't been rivaled until Blake Griffin showed up in the league a few years back, while the creative, seemingly endless renditions of classic in-lane dunks, whether power or finesse, have been duplicated by many guys since the likes of Erving, just tweaked over the years.
And then there are the new-age guys. Vince Carter and his abstract expressionist style that made him the most awe-inspiring in-traffic dunker possibly of all-time at his peak was one of the greatest we've ever seen.
Meanwhile, an almost surrealist movement headlined (and really only exhibited) by guys like JaVale McGee continue to astound as he seems to melt his way to a bucket.
Whatever the direction taken, the two points that ensue count for the same thing across the board, except they are the most exciting, crowd-pumping two points possible.
Begin Slideshow

»
Let's start with one of the most obvious in-traffic dunkers in the league based on the fact that, well, the only way he scores is on put-back dunks or bending himself around a defender to throw down a nice one-hander.
I wouldn't really describe Chandler as an agile player on offense, that is until he gets into the air. You can see his agility on defense any time he steps up to help a defender.
He can seemingly help at the same time that he can keep his weight on his back foot, ready to retreat if a pass goes to his man behind him. He knows how to use the momentum of his body to help him get where he needs to be.
Once he launches himself into the air to put down a dunk with some dudes around him, it's no different. Here Chandler is streaking to the rim with a flying LeBron James coming in the other direction.
They both take off in what looks like exact opposite paths. Chandler bends the upper half of his body ever so slightly, straightens his back, leans out and uses his length over LeBron to avoid contact and slam it home.
If I could make one request of the Basketball Gods, it would be to send back the sacrificial lamb that was Amar'e Stoudemire's athleticism, given to them over the course of the past seven seasons.
It's a testament to how good a dunker Stoudemire has been over the years that he still gets a mention even after having his entire lower half replaced with robotic pieces.
Once, he would have sat atop this list laughing down at everyone else as he dunks around, over, or just right through them. Now he's still able to contort his body a bit and he's got a bit of spring left from time-to-time, but it's just not the same.
Something that's always been true about Amar'e is that he always knows where he is on offense. That is, he doesn't get lost from the ball if he's taken the shot, and if he's in the area, he's going to be able to get it back and put it in like he did here.
The young up-and-comer is making splashes with his physically impressive style both with and without the ball in his hands in the paint.
Ibaka is able to face up to nearly any defender the low post can throw at him, look him dead in the eye, generate contact to get himself a bit of wiggle room and then just use his long arms to slam home anything and everything possible.
If he were a better ball handler, then he would probably be one of the best in the league at getting the ball into the bucket with a bunch of guys around him, but for now he relies on raw power to get the job done. And you know what, that's not a bad thing.
There once was a time when you could make an argument based on his size, his athleticism and the pure showmanship that came from Dwyane Wade's in-traffic dunks that he might be the most entertaining in-traffic dunker in the league.
For sure, he was able to go over and around people, he was able to put down one of the sickest dunks of the past decade with a monster on Anderson Varejao's Afro, but he's just not that guy anymore. He's still got something left in those creaking knees, but it's not what he used to have.
Now, it seems, he relies on what he can do with the ball outside of the paint in order to set up what he can do inside.
A quick break-down of his defender, a scamper past him and an elusive Euro-step later and Wade is high in the air, bending slightly backward at the waist to avoid a defender and then slamming it home.
Sometime during the lockout, I think we all forgot exactly what it was that made J.R. Smith a viable basketball player.
It seems like at this point, the number of errant threes he takes completely negates the ones he makes. He basically had an average of one three made for every five he missed for the Knicks in the playoffs.
However, there were moments last season that reminded us where he's a special player. The raw power that he generates from his body when he goes up for a dunk is downright unsettling.
It doesn't seem like anybody not named LeBron James or Shaquille O'Neal has been able to generate that much power for their size besides Smith.
If he were a pitcher, he would only be described as an "effectively wild" middle reliever, or perhaps he could make for an extremely athletic tight end in football.
Once he gets the ball in his hands with any kind of crease to the basket, get out of the way; otherwise, you'll be part of the dunk that's coming.
DeMar DeRozan continues to be one of the most underrated dunkers in the NBA, part of the reason being that he's stuck in Toronto, the other being that his status as a winger with a pretty bad jump shot just gets him written off as a volume scorer and people move on.
To make up for that bad jumper, however, DeRozan has become one of the most impressive traffic maneuverers in the league.
A combination of a fifth gear that he can switch into at the drop of a hat and his wispy frame allow him to get around a defender, or in this case two defenders, in order to get himself the best angle at the hoop and the easiest dunk possible.
Sometimes, it's the things a guy does before a dunk that makes the dunk great, that's the case for DeRozan a lot of the time when he gets his way into the lane.
There's something brilliant at times about what Nené can do on a basketball court. It might be because he's a bit of an under-appreciated player or perhaps just that he's a big man that really knows how to move. Either way, it's undeniable that his ability to dunk in the lane continues to be impressive as he goes along.
Nené knows how to do just enough to get himself the space in order to get a nice throwdown in the works. Whether it's turning into his defender just enough so that he can't make a play on the ball or taking his momentum half a step away from a guy in order to stay away from him just enough to keep space (both of which he does in this dunk), he always seems to be able to find room.
He doesn't get a huge number of looks in the paint where he's going to try to free himself from his defender for a big dunk (he's content to grab a nice layup or a face-up jumper), but when he does, it always reminds us that he's got something special.
Most basketball players dunk with their body, Andre Iguodala dunks with is brain. Like water through a gutter, he tends to take the path of least resistance, but if there's a build up, he'll burst through it like he does it every time.
Igoudala seemed to be forgotten for a few years there as an excellent dunker, but he was always throwing down on people's heads, just doing it less frequently. He took a few seasons off from being an offensive monster in order to hone in on defense and becoming the leader of his new, young team.
What he's going to be able to do this season, however, is going to be terrifying. Iggy is moving into a lineup where all he's got to do is run the floor and shake his man from time-to-time and he'll get the ball with enough steam to put down two or three big dunks a game.
Even though JaVale McGee is able to put down some of the most confusing dunks possible, thanks to his crazy long arms, you watch it with barely any disbelief.
The fact that it's McGee out there just makes it all the more unremarkable. Of course he's out there doing things that seem impossible in the craziest way; he's JaVale McGee!
The baseline dunk in this clip is one of the most amazing things I've seen in a very long time. It's hard enough to make an up-and-under layup without getting blocked or having your momentum completely take you past the bucket.
McGee is able to nonchalantly put the baby to bed long after he's out of arms reach of Glen Davis, but barely close enough so that he can put it home.
Nobody else in the NBA can do that dunk. They don't have the perfect combination of those arms, that athleticism and the mindset to think, "Yeah, I can probably do this."
Rudy Gay is like DeMar DeRozan if DeMar DeRozan were to suddenly pick up a sixth gear and find a way to make himself seem skinnier while gaining more power on his dunks. Basically he's a rich man's DeRozan in terms of in-traffic dunking.
Gay is able to get up so high on some occasions that the only guys who would be anywhere near capable of blocking him would be the tallest, most athletic dudes in the league.
When he does get up that high, like he does in the clip here, he's able to completely bypass going around or through a defender, he just goes over them.
His ability to find a crease between two converging defenders not only gave him the perfect hole to put down the dunk, but it was timed so well and spaced so perfectly that it forced the two dudes to high-five at the peak of their block attempts.
Russell Westbrook is basically LeBron James light. He's such a powerful man in such a relatively small frame that some of the dunks he does don't seem as amazing as they actually are, just because of how athletic and powerful he is.
When Westbrook gets a full head of steam, stepping in front of him is downright dangerous, and when he gets up off his feet, he can end up jumping over and around some of the biggest dudes in the league.
What makes him such a good in-traffic dunker is his amazing speed, which gets him past his initial defender and leaves the guy rotating around to help end up defending where he was, not where he's going.
All Westbrook has to do here is run straight at Omer Asik to make him think that he's going to come right at him, then adjust his dunk at the last second to bend slightly around the big dude.
It was a hard choice, but I've got to go with Derrick Rose over Russell Westbrook in terms of dunking in traffic.
Where Westbrook is a physical specimen that will more likely blow by a defender or two and use speed and athleticism to his advantage, Rose will wind his way through the lane and still end up sending a dunk home.
This is one of the times where he's in for the Westbrook blow-by, but I had to use it as an example of just how athletic he really is and how smart he is at the same time.
After speeding past his initial defender, he's able to run directly at the post defender, get him to commit to his position and then straighten up and jump sideways rather than forward in order to give him no chance of stopping his dunk.
Josh Smith continues to be one of the most criticized basketball players in existence, not because of his skill or his inability to close in a big game, but because of his passive nature.
There's a reason people get so upset with Smith when he settles for jumper after jumper in the dead winter of the season; he's too damn good at getting into the lane and finishing for him to do that.
It's would be like the complaint that LeBron's post game isn't refined enough, only if LeBron already knew and perfected a dozen or so post moves but chooses not to do them.
When Smith gets an inspiration (or a wide-open lane save one defender by the bucket), he's going to pick up a head of steam, zoom past a swiping Kevin Durant and put the ball directly down Serge Ibaka's throat.
One thing you'll notice about this clip, it starts out with a Josh Smith airball and him being completely out of the play for a good five seconds. I know, it's shocking.
I would say that LeBron James is still the most powerful dunker based on size alone, but in terms of gross power, Dwight Howard is the winner bar none.
Howard's athleticism continues to allow him to do some things that Shaq's belly never allowed him to do, while his size and strength keep any defender from really throwing a body into him and stopping him from dominating the paint.
While I wouldn't say Howard has an array of post moves by any means, he does have a few down so well that he can go to them six or seven times a game. One of them is this pivot face-up sweep where he's able to turn, slide, jump and dunk in one smooth motion.
Just imagine Steve Nash hitting him mid-stride three times a game and getting him in the perfect spot to dunk over three guys. Now are you excited for the season?
LeBron James has become so good at dunking that it's almost become boring to see him dunk. He's got it down to a science, and we're not talking about Bill Nye talking about volcanoes, we're talking about some dude sitting down and hypothesizing about dunking for hours on end.
What LeBron needs to do to really appreciate how good a dunker he is, is to just stop dunking. Spend a month, or even just a week, when every time he gets to the rim he simply drops the ball in and strides back to play defense. Get the people begging for more and they'll remember why they fell in love in the first place.
It's not really one thing that makes LeBron one of the two best in-traffic dunkers in the league, it's everything. He's a huge, hulking man who is agile and athletic at the same time. He can jump higher, run faster, change directions quicker and hit harder than most of the guys in the league, so he's great at creating space and exploiting it.
Of course, he could just skip creating space on the ground altogether and just jump high enough that he finds some space in mid-air.
Blake Griffin gets a lot of flack for the style of game he plays from the hardcore basketball fans. He's an attraction to the casuals, that much is obvious, but why can't we all just get along and enjoy what he does from time-to-time?
I mean, if we didn't want to see people with the ability to jump over other humans, wouldn't we just watch the WNBA?
Griffin scored 20 points a game last season and is going to be able to do the same and probably more this season. Why? Because he knows how to handle himself in the lane. It's not just that he can jump higher and is stronger than most of the league, but because he's a smart offensive player.
Sure, there are times, like in this clip, where he decides the shortest distance from point A to point B is a straight line, but there are plenty of times when he's able to work his way in between defenders to send the ball home.
Let's hope he continues to work on his footwork so he'll be able to excel after his athleticism leaves him, but for now let's all enjoy the fact that he can jump high enough to put his belly button in another dude's face while he makes the rim beg for mercy.
If you are one of those twitterers, you can follow me @JDorsey33.