Oklahoma vs. Texas: Live Scores, Analysis and Results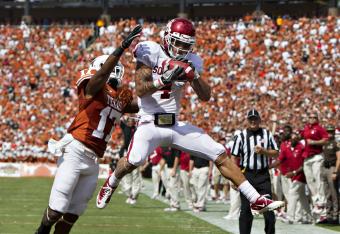 Wesley Hitt/Getty Images
Oklahoma 63, Texas 21 — Final Score
So much for a game filled with excitement and tension. The No. 13-ranked Oklahoma Sooners just laid a beat-down on the No. 15-ranked Texas Longhorns for the second season in a row.
The final score reads 63-21, but it really shouldn't have even been that close. Texas backup quarterback Case McCoy threw two touchdowns in garbage time against Oklahoma's second-string defense—the only time Texas' offense scored in the game.
If we learned anything from this game, it's that the Oklahoma Sooners are a vastly improved team since their Week 4 loss to Kansas State. Even though the offense, led by fifth year senior quarterback Landry Jones, was impressive in its own right, the defense is what really made the difference.
Defensive coordinator Mike Stoops deserves some sort of award, as this is a completely rejuvenated squad from a season previous. Texas finished with 289 total yards, but over 100 of those yards came in the fourth quarter after nearly all of Oklahoma's starters went out of the game.
Because both teams came into this game with one conference loss, BCS and conference implications were very much on the line. Now with two losses, Texas will have a steep hill to climb to get back into any sort of competitive state. Oklahoma, on the other hand, just has to keep winning.
The win should vault the Sooners into the Top 10, but that also depends on how the current BCS Top 10 performs today. The loss for the Longhorns should put them in the No. 20—No. 25 range.
Oklahoma head coach Bob Stoops has now tallied nine victories in 14 attempts against Mack Brown and the Texas Longhorns.
That's the game, folks! Stick around for stats and discussion. I'll be posting the link to my article shortly.
Texas settles for a six-point touchdown pass, loses by 42.
One play left. COME ON 50 POINT TOUCHDOWN PASS.
Case McCoy has a really strange release. I don't know how to describe it.
NOPE. Brennan Clay take it in instead. I can honestly say I'm surprised.
Score Update:
Oklahoma 63, Texas 15 — 2:15 Fourth Quarter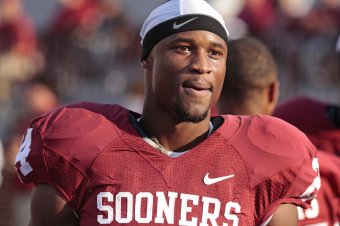 Brett Deering/Getty Images
Brennan Clay dives for the end zone but comes up two yards short. Time for Bell's fifth touchdown of the day?
Blake Bell is indeed in the game. His first pass is a drop by LaColtan Bester. It's weird to see him throw.
This game is all but over, but stick around after it's over for discussion in the comments! I'll also be writing a "10 things we learned" article that I'll be linking to shortly after.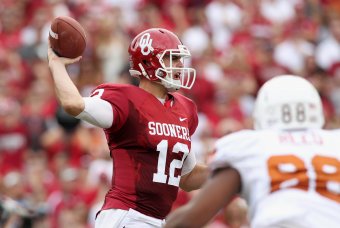 Tim Heitman-US PRESSWIRE
These stats just flashed across the screen—Landry Jones in three career games (all victories) against Texas:
954 passing yards, seven touchdowns and just one interception.
Case McCoy in the game after Ash left with an injury. He throws a touchdown pass and helps the Longhorns produce their first offensive points of the game.
Score Update:
Oklahoma 56, Texas 15 — 4:43 Fourth Quarter
Oklahoma's schedule is about to get rough after they get done with Kansas. Notre Dame, Iowa State, Baylor, West Virginia, Oklahoma State and TCU.
A fan's perspective on Landry Jones.
Gotta give Landry some credit for these last two games. But criticism was deserved. Now 11th all time TDs in NCAA history and 3rd in Big12.

— Greg Spencer (@gspencerokc) October 13, 2012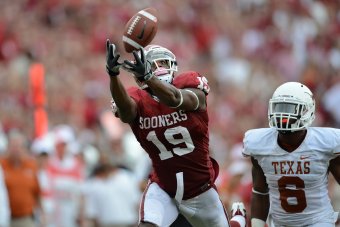 Matthew Emmons-US PRESSWIRE
That touchdown to Justin Brown should mark the end of Landry's day.
Score Update:
Oklahoma 56, Texas 8 — 6:41 Fourth Quarter
I don't want to harp on this at all, because, you know, the game is a blowout. BUT WHERE IS ROY FINCH. The guy has seen the field once today!
Kind of surprised (but not really surprised) that Landry Jones is still in the game. Was kind of hoping to see Blake Bell throw a few passes.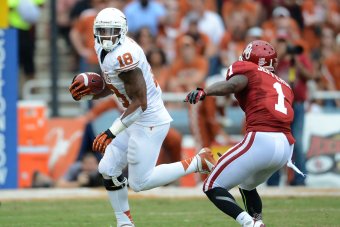 Matthew Emmons-US PRESSWIRE
Tony. Jefferson. That's how you hit somebody.
Really awesome one-handed catch by Cayleb Jones. Too bad it was out of bounds.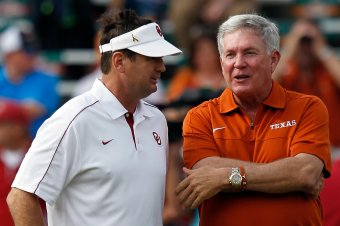 Tom Pennington/Getty Images
If the Sooners hold on to win this game (seems pretty likely), Bob Stoops will move to 9-5 against Mack Brown.
Yet, Mack Brown gets paid more and Stoops' job gets threatened every time the Sooners lose a game. Odd.
Oklahoma second-string defense doing work. This is awesome to see if you're a Sooner fan.
Kansas State escapes with a victory against Iowa State. Next weekend's matchup against West Virginia is going to be HUGE.
This is Lol-worthy.
Texas fans have begun to file out in droves. Must be the imminent rain storm.

— Jake Trotter (@Jake_Trotter) October 13, 2012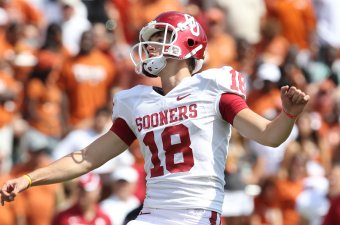 Matthew Emmons-US PRESSWIRE
Hunnicutt kicks a knuckleball through the uprights for his second field goal of the day.
Score Update:
Oklahoma 49, Texas 8 — Early Fourth Quarter
So, there's absolutely no questioning West Virginia's offense, but if they put up 48 on Texas and allowed 45, while Oklahoma put up 46 in THREE quarters while not allowing ANY offensive touchdowns...
That game in Morgantown is looking a lot less scary, right? Kind of?
It will be very dependent on how other teams in the Top 25 perform, but Texas is going to be in the No. 20—No. 25 range, and Oklahoma could creep back into the Top 10.
Let's talk about BCS implications. How far will Texas drop? How high will OU climb?
This article is
What is the duplicate article?
Why is this article offensive?
Where is this article plagiarized from?
Why is this article poorly edited?

Oklahoma Sooners Football: Like this team?