10 Steps to Rebuilding the Boston Red Sox Franchise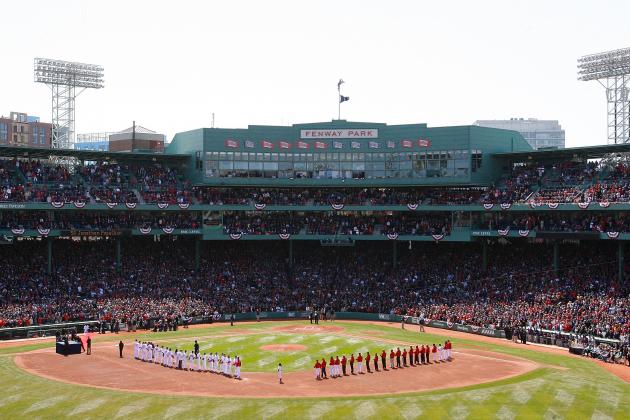 Jim Rogash/Getty Images
It's difficult to believe that only five years ago, the Boston Red Sox were the team to beat in baseball.
As the Boston Red Sox now sit at home for the third consecutive postseason, it feels like decades ago since the storied franchise was one of baseball's elite teams.
While remaining relatively competitive since the 2009 campaign, it is evident that the Red Sox have lost their way since their last World Series triumph. Finishing last place in the AL East for the first time since 1992, the Boston Red Sox must now endure a rebuilding process that is several seasons in the making.
Following the collapse of September 2011 and the departure of Red Sox staples Theo Epstein and Terry Francona, a decade of dominance came to a disappointing conclusion.
Pitching was nowhere near the level it once was, and Boston was primarily focused on "feeding the monster" as opposed to making smart baseball decisions. As a result, Ben Cherington took the reins as the new general manager, and Bobby Valentine was hired as the new skipper.
Although Boston was never expected to be a true competitor in 2012, it was nearly impossible to believe the team would finish in last place. Plagued by injuries, struggling with inconsistency and facing a "toxic" clubhouse, Boston suffered and had one of the worst seasons in franchise history.
There is no question this will be a very busy offseason for Cherington, as the rebuilding process is now under way.
It will be intriguing to not only see how the team rebuilds on the field, but off the field as well. The following slides are my suggestions as to how the Red Sox can once again see relative success in the near future.
All stats courtesy of baseball-reference.com
Begin Slideshow

»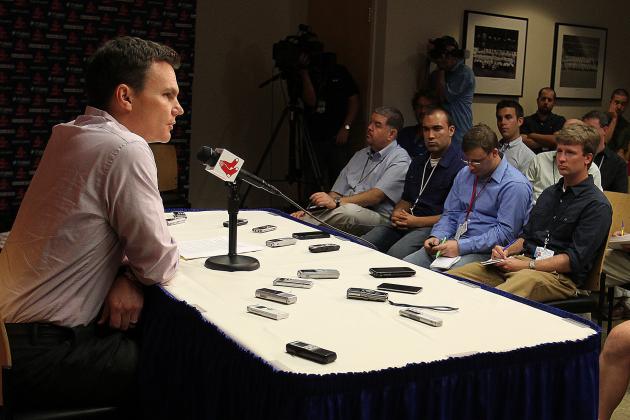 Jim Rogash/Getty Images

When Theo Epstein left Boston for the Chicago Cubs (who also finished last in their division), left to clean the mess was his assistant, Ben Cherington.
Cherington, 38, has been within the Red Sox organization since 1999, serving as a baseball operations assistant, an international scouting coordinator and co-GM in 2005. Being there during some of the Red Sox's most prominent signings and trades throughout the years, the qualifications of Cherington cannot be denied.
While his first season as general manager led to a last-place team, it isn't fair to blame Cherington. One can question several of his trades, including moving Josh Reddick to Oakland for Andrew Bailey and Jed Lowrie to Houston for Mark Melancon, but it was not all for nothing.
As a matter of fact, Cherington also heavily helped orchestrate one of the biggest trades in baseball history, shipping off Adrian Gonzalez, Josh Beckett, Carl Crawford and Nick Punto to the Dodgers in a massive salary dump. It was not until this blockbuster that Cherington finally had the opportunity to craft his own team.
However, the problem lies with the limitations being set for Cherington since he took the job from Epstein almost one year ago. A power struggle has been very apparent between ownership and Cherington to the point that one cannot decipher who has the final say in regards to signings and trades.
It is understandable that John Henry and Larry Lucchino want to keep their eye on a new general manager, but it is now time to give Cherington full power and authority over the players.
Cherington understands how the game works and has a remarkable eye for true major league talent. While Lucchino and Henry have a purpose on the organization's business front, they fail to have true insight as to what is best for the team on the field.
Now more than ever, the Red Sox need to not only trust Cherington's decisions, but to empower him. Ownership needs to back away from major acquisitions and allow the GM to do his job the way he sees fit.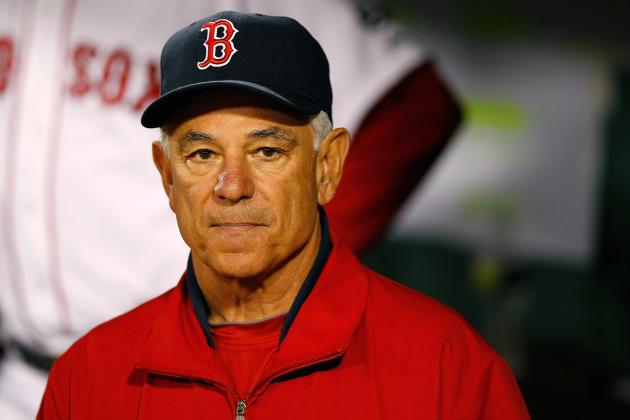 Jared Wickerham/Getty Images

If there is one thing Red Sox Nation can agree on this season, it is that the Bobby Valentine experiment was a horrendous disaster.
The ever controversial and outspoken Bobby Valentine was brought in by Larry Lucchino and John Henry in an attempt to make the players feel uncomfortable and challenged within the clubhouse. That idea blew up in the face of ownership.
While not all of his decisions were terrible, Valentine did not make a good first impression, nor did the players really give him a fair chance.
Within the first month of the season, Valentine was creating negative headlines for Boston, such as his comments on how Kevin Youkilis was not "as physically or emotionally as into the game as he has been in the past."
This caused a negative reaction from Dustin Pedroia, and thus the roller coaster went downhill from there.
It was doomed from the start.
Boston must now find a new manager who is supposedly very similar to Terry Francona. Cherington now must search for a more subtle manager who understands the game and especially has an eye for pitching.
Names ranging from John Farrell to Gabe Kapler have been thrown into the fray since the moment Valentine was fired, which emphasizes just how important finding the right manager is to the Red Sox.
Boston will attempt to be swift and accurate in selecting the right man for the job, as it should be. Last season's two-month search only led to months lost for focusing on what is really important, the players.
It now seems Boston will be returning to its ideal qualities for a manager: reserved, yet respected. Bobby Valentine held neither attribute, and now the Red Sox must find someone for the long run who will help develop and motivate players.
Reiterating the previous slide, Cherington must be the man to name his manager. Entrusting him with this selection will be imperative in predicting the amount of confidence ownership has in Cherington's abilities.
Steve Mitchell-US PRESSWIRE

John Henry, Larry Lucchino and Tom Werner may arguably be the three most disliked men in all of Boston sports at the moment.
For the past 10 seasons, the trio of businessmen has undoubtedly done remarkable things for the Red Sox franchise. From the renovations of Fenway Park to establishing the Red Sox brand on a global scale, the organization truly has been enormously successful under their leadership.
However, it seems as though the once-obvious passion from ownership about baseball has seemingly transformed into nothing more than a side project for Henry, Lucchino and Werner.
Now busy with Liverpool soccer, among several other projects, the dedication of ownership has been widely brought into question. Poor decisions have often been made, and their refusal to trust their general manager has been baffling.
Rumors even arose throughout the season that Henry might be attempting to sell the team without cleaning up the mess. Openly refuting this report, the Fenway Sports Group has attempted to claim it has no interest in selling, but can Red Sox Nation truly believe that?
Since September 2011, the team has been a massive disappointment, and its primary focus is on trying to convince the fanbase to buy commemorative bricks and believe in its sellout streak. It's hard to blame anybody for thinking that ownership's heart is not in the right place.
With all due respect to all of their contributions over the past decade, seeing ownership jump ship as soon as times of hardship come upon the team is very concerning. Obviously, it is still here now, so until then, we can only suggest its next move.
Unless the plan is to ultimately sell the Red Sox, it is time to once again put the focus behind the team on the field. No one is buying into the mythical sellout streak, nor is anyone going to spend their hard-earned money to see a losing ballclub.
If Henry, Werner and Lucchino want to save this team, they must put baseball first on their priorities. Trusting the general manager and attempting to successfully rebuild this team with smart business moves is far more important than their PR stunts that are used to make a quick buck.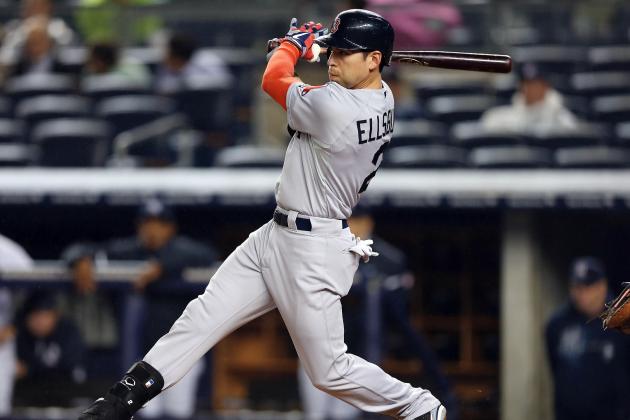 Elsa/Getty Images

When the Red Sox sent away a plethora of their biggest names (and Nick Punto) to the Dodgers in August, Ben Cherington made it clear that no one was safe from being traded.
If someone had said in April that Adrian Gonzalez and Carl Crawford would be traded away this season, most would be in absolute disbelief. However, the Red Sox made it glaringly apparent that they will do just about anything in order to rebuild this team into a competitor.
Although it is not ideal to be sellers, Red Sox Nation must accept and prepare themselves for possibly more goodbyes in the near future. Having already parted with Kevin Youkilis, Adrian Gonzalez, Josh Beckett and Carl Crawford, among others this past season, it would not be surprising to see other mainstays dealt away.
In order to rebuild, players with value must be sent away for more prospects that are close to being ready for the big leagues. Already from the Dodgers, Boston has obtained Rubby De La Rosa, Jerry Sands, Allen Webster and Ivan De Jesus, but that is far from enough.
Players such as Jacoby Ellsbury and even Dustin Pedroia have value to competitive clubs that may result in a crop of high-value prospects being sent to Boston. Do any of us want to see a fan favorite go away? Absolutely not, but it is something that must be considered.
All trade offers must be considered, and if the price is right, the move should be made. Saying goodbye is never easy, but if it can help Boston compete in a couple of seasons, why not?
Primarily, Boston should be searching to trade Jacoby Ellsbury. Despite his stellar season in 2011, he has proven to be a one-hit wonder unless he can rebound in 2013. He has speed and outstanding defensive abilities, but he is not worth keeping around if he cannot repeat what he did in 2011.
A team such as Texas, which may possibly be losing Josh Hamilton, would provide a perfect deal for both the Red Sox and the Rangers. The Rangers have a deep farm system, and the Red Sox have a center fielder to offer them. With each day, it becomes more and more obvious that Ellsbury will not be returning after next season anyway, so trading him is a no-brainer.
There are other players who should be considered, and there is no doubt they will be. Only a select few in the clubhouse should feel secure about their status next season, but the rest should be ready to clean out their lockers any day.
While it is not popular or all that fun to think about, shipping off players with value to improve the future team is absolutely necessary.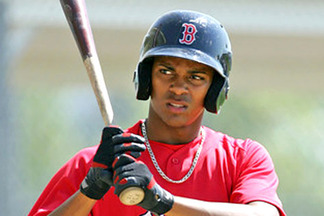 Credit: Bloguin.com
Emphasizing one of the points made in the last slide, it is imperative that Boston continues to add potential MLB contributors to its minor league system.
Adding Ivan De Jesus, Jerry Sands, Rubby De La Rosa and Allen Webster from the Dodgers was a very solid way to start, but there is still much work that needs to be done.
Most of the Triple-A starters from this season ended up playing a considerable amount of time in Boston because of the amount of injuries that had taken place to the main roster. This truly emphasizes the need for major-league-ready talent. While Pedro Ciriaco and Daniel Nava are pleasant surprises, Boston must have some players in the latter part of the system with greater expectations.
Throughout the lower levels of the system, Boston has some pitching depth with Matt Barnes, Anthony Ranaudo and Drake Britton, but that is about it. Excluding De La Rosa and Webster from the Dodgers trade, several of these players are at least a season or two away from being ready for Boston.
As for position players, Boston does have shortstop Xander Bogaerts steadily working his way up the system, as well as Jackie Bradley and Bryce Brentz, but they too are a few seasons away. This is also assuming that there will be no setbacks, so one must consider any possible problems in development.
With prospects, it is almost impossible to predict how they will fare on the major league level until they have played under the bright lights in Boston. Scouting reports tend to provide an accurate ceiling for players, but adjusting to the MLB level can have an adverse effect on a player.
This season, Ryan Lavarnway and Jose Iglesias took a crack at playing in Boston and both struggled heavily at the plate. While expected for Iglesias, Lavarnway still has much to prove if he is going to live up to expectations made during his stint in the minor league system. For that reason, adding a core group of young players this offseason should be one of Boston's biggest concerns.
Fortunately, Boston receives a top-10 draft pick this June, so adding onto that with an offseason of trades would greatly benefit this team.
The majority of Red Sox success has come from development of homegrown players, and they should make sure that scouting is put before everything else.
Without adding to the farm system, Boston does not have many guaranteed impact players at the higher levels of the system, nor does it have much security if many injuries occur next season.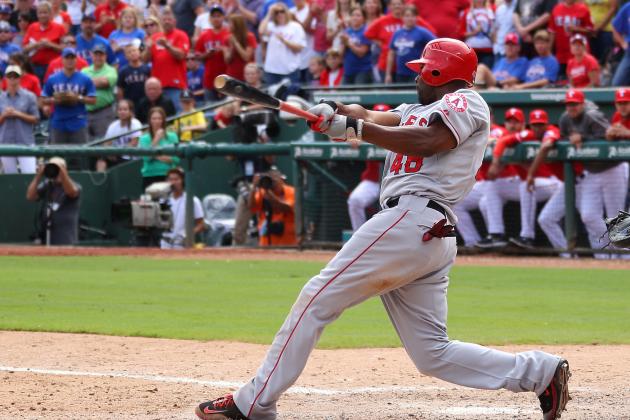 Rick Yeatts/Getty Images

With all of the talk about the need for youth on the roster, there must be a mix of proven veterans in the clubhouse as well.
This seems to be a step in the rebuilding process that the Red Sox have forgotten the past several offseasons.
Looking at the team as of now, the only true veteran leadership lies within Dustin Pedroia and David Ortiz. Both men are proven commodities who are influential, well respected and able to produce on a consistent basis.
In the past few years, whom has the front office truly brought in for this purpose? Mike Cameron? Marlon Byrd? While being able to acquire good clubhouse guys occasionally, there have been no contributing veterans in quite some time.
What the Red Sox need is a guy with a great track record, leadership and a contagious spirit. Who better fits this description than someone such as Torii Hunter? Hunter, coming off a very good season with the Angels, is set to hit the free-agent market this season and is a perfect fit for the Red Sox.
Although he is nearing 40, a one- or two-year contract is not unreasonable for such a player. Aging players are not always a waste of money, like Mike Cameron was. Hunter is a mere example of an available commodity with a lot to bring to a clubhouse and a lineup.
He isn't going to contribute like he did several seasons ago, but his presence sure does beat having to rely on Ryan Kalish, who is still very unproven.
Even a player similar to Nick Swisher would be a great fit for the Boston Red Sox. It is debatable whether or not his contract demands will work for Ben Cherington's idea of "discipline," but there is a lot to like about what Swisher brings to the table.
Similar to Kevin Millar, Swisher can keep a club loose and relaxed, yet determined and motivated. Boston needs players like Swisher and Hunter to complement the youth movement. Without this veteran presence, whom do the younger players have to learn from and provide leadership?
Signing the right players is key, and Boston needs to know the difference between smart signings and "feeding the monster." Overpaying is sometimes necessary to get ahead, but signing Torii Hunter to a two-year deal worth $20 million is more worth its while than signing Josh Hamilton to a $100 million pact.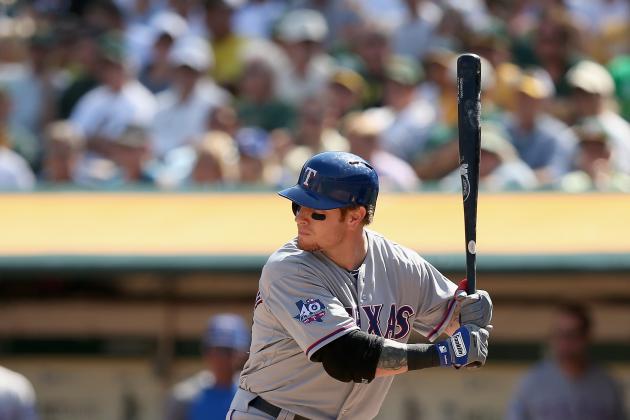 Ezra Shaw/Getty Images

One of the most commonly used terms in Red Sox Nation is "feeding the monster."
For those who don't know, that essentially means that over the past several seasons, the Red Sox have strayed away from their ideology of developing homegrown players and resorting to handing out fat contracts to players with significant name value.
"Feeding the monster" is the reason Theo Epstein brought in players such as John Lackey, Carl Crawford and J.D. Drew, among so many others. For the sake of competing with the New York Yankees, the Red Sox have thrown millions of dollars at many disappointing players since 2004.
At one point, Epstein and the Red Sox believed in multiple "low-risk, high-reward" players, which ultimately brought the likes of David Ortiz and Kevin Millar to Boston. However, once they became truly elite, the Red Sox had a new mindset: to buy a championship team.
Evolving into what was essentially the Yankees Lite, the Red Sox's plan backfired when so many of their signings did not meet expectations. Undoubtedly, this has been the biggest reason why they have fallen off the radar in the past several seasons.
The times in which Boston has seen the most success is when it has made smart decisions. Grooming the likes of Jon Lester, Jonathan Papelbon, Dustin Pedroia and Clay Buchholz has brought far more to Beantown than Carl Crawford, Mike Cameron and Edgar Renteria ever did.
Making logical trades brought Red Sox heroes such as Curt Schilling to town, and spending money wisely resulted in Manny Ramirez becoming a legend in the Red Sox uniform. "Feeding the monster," however, has brought nothing but frustration, disappointment and failure.
Some may not like to think it, but spending money as if there is a bottomless pit of it has done nothing beneficial for the Red Sox.
Ben Cherington realizes this and dumped most of the bad contracts to the Dodgers in August, but it is now time to see how that money is going to be spent. While the Red Sox need to spend money, they must do it wisely.
Superstar free agents such as Josh Hamilton or Zack Greinke are not what the Red Sox need. Hamilton, a great player with some good seasons ahead of him, has several personal demons that have consistently reappeared in the past few seasons. Greinke, a former Cy Young winner, has a social anxiety disorder that would overtake him if he ever donned a Red Sox uniform.
These are the things that the Red Sox must consider whenever bringing in free agents. No more can they solely rely on the fact that these superstars have a good track record. Playing in Boston is not something that everyone can do.
There is a reason why Cody Ross has been such a perfect fit, but Carl Crawford was not. If Cherington wants to spend money, he must do it right. Buying a world championship team is no longer an option because it has been a failed experiment.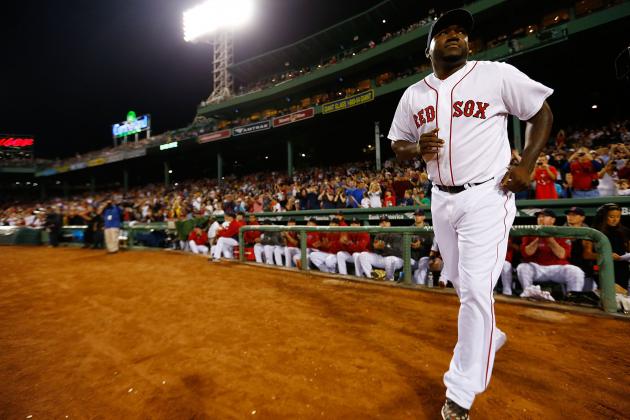 Jared Wickerham/Getty Images

Two smart baseball decisions: Re-sign David Ortiz and re-sign Cody Ross.
It is not difficult to understand why both of these men are essential to the Red Sox for the next few seasons.
Ross, 31, was an integral part of the lineup this season and will definitely be seeking a raise this offseason. Hitting .267 with 22 home runs and 81 runs batted in, Ross was one of the only bright lights in a very dark 2012 campaign.
Bringing back Ross is common sense, and he has earned at least a three-year deal for about $21 million. Whatever he desires as a contract, Ben Cherington should make him a priority. Reminiscent of Trot Nixon, the dirt-dog-like mentality and hustle of Ross has made him perfect for the Red Sox.
While he has not been a .300-plus hitter with serious power, Ross has proven he can play under the bright lights of Fenway Park, and he is a great clubhouse guy. He stays away from drama and makes baseball his top priority. His contract demands should not be unreasonable at all, so bringing him back is absolutely encouraged.
Thankfully, it seems as though there is "momentum" in talks between the Red Sox and Ross.
On the other end of the spectrum is mainstay David Ortiz. Ortiz, who turns 37 in November, had a monster season in 2012, hitting .318 with 23 home runs and a 1.026 OPS in 90 games this season. The downside, however, is that he played only about half the season.
Regardless, with an otherwise bland lineup for next season, bringing back Ortiz is absolutely necessary from several perspectives.
Even from a fans' point of view, how would Red Sox Nation react if ownership let the last member of the 2004 team walk away? Boston does not need anything else to dwell on and be negative about, so Cherington should be willing to listen to the demands of Ortiz.
In addition, he's the only real pop in the Red Sox lineup. With Adrian Gonzalez now gone, Ortiz is once again the source of almost all the power in the middle of the lineup. If he's not hanging around, who is going to provide that pop, Mauro Gomez?
Ortiz brings that veteran presence with a proven bat and is beloved by the fans. Simply put, he needs to come back, even if it costs two years and $30 million. Ownership should let Ortiz feel respected and enjoy his final seasons.
His health will remain an issue for the remainder of his career, but Cherington does not really have any choice but to re-sign the slugger. There are no replacements in sight, and the fans deserve to have at least one thing to cheer about.
The former MVP candidate has openly stated he wants to retire in a Red Sox uniform, but it will have to be an offer that is "respectful" to Ortiz. Some may not like it, but just give the man what he wants. They have the funds, and Ortiz can still hit.
In the end, what else really matters? He's an icon.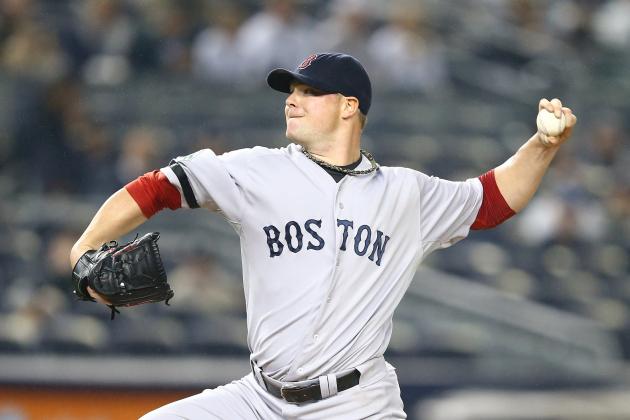 Al Bello/Getty Images

If you analyze any competitive major league ballclub, the one common strength is depth of pitching on the roster.
The Red Sox lack such depth.
In a generation where pitching reigns supreme, it is imperative for any team to have a formidable ace, reliable No. 2 and No. 3 starters and some inning-eating back-of-the-rotation pitchers.
This past season, the Red Sox dealt with nearly all of their pitchers battling injury or inconsistency or just not living up to expectations. Jon Lester and Clay Buchholz are coming off poor seasons, and the rest of the rotation was flat-out terrible.
Felix Doubront seemed to be the only pleasant surprise, yet he collapsed toward the end of the season. Regardless, when Felix Doubront is your most consistent pitcher, there is no question that the pitching is relatively weak.
This season, the Red Sox's ERA as a team was 4.70, ranking 27th overall. Quality starts, WHIP and BAA were in the bottom 10 as well. It is time to seriously revamp the rotation.
Options such as Jake Peavy, Hiroki Kuroda, Dan Haren and Brandon McCarthy all seem to be viable options on the free-agent wire this offseason. Whether or not their price tags will fit Ben Cherington's idea can be brought into question, but Boston will need to resort to either spending or trading for major league pitching.
No longer can the Red Sox solely just hope that Lester, Buchholz and Lackey will return to All-Star form and contribute on an elite level. The Red Sox must seek several proven pitchers and create a surplus of options.
Relying on the Aaron Cooks and Daisuke Matsuzakas of the world is not what one of the most wealthy franchises in the game can afford to do. Boston needs pitchers like Anibal Sanchez, Joe Saunders or even Francisco Liriano, who have a proven veteran presence for its rotation.
Unfortunately, the Red Sox will still likely lack a true ace in 2013, but that does not mean they should settle for being weak. Acquiring various No. 2 and 3 starters can heavily improve what was one of the worst pitching staffs in recent memory.
Having options is essential because when the injury bug bites, there must be reliable options who are currently on the major league roster to come fill in.
Much like the starting rotation, the bullpen must also be improved. Every season, the bullpen proves to be one of the most underrated aspects of the game. Without a strong bullpen, teams cannot always compete late in the game.
Thankfully, the Red Sox had some pleasant surprises in Junichi Tazawa, Franklin Morales and Scott Atchison, as well as some signs of promise in Alfredo Aceves and Andrew Bailey.
The bullpen remained inconsistent throughout the season, but it did have many signs of promise. Acquiring several pieces to the bullpen over the offseason is vital to remaining competitive in the late innings of close games.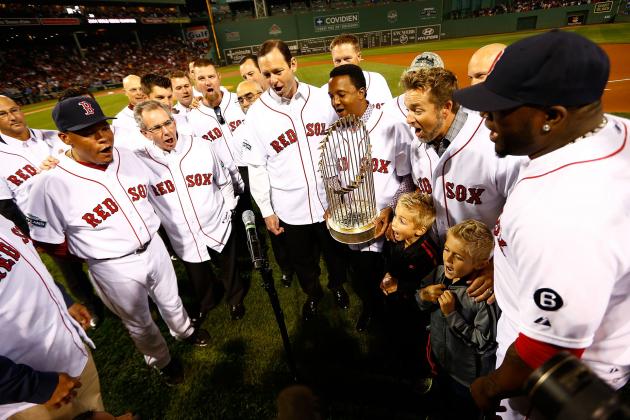 Jared Wickerham/Getty Images

If there is one thing that the Red Sox definitively have lost over the past several seasons, it is their spirit.
Back in 2004, the Boston Red Sox were one of the most fun and respected teams in baseball because of their perseverance, unity and attitude toward the game. From 2004 through 2007, Boston was unquestionably one of the more fun teams to watch in the game.
However, when clubhouse leaders and influences such as Kevin Millar, Johnny Damon and Bill Mueller departed from Boston, the team began to slowly become something it had always resented.
Essentially, the Red Sox had become their stereotyped image of the New York Yankees. Spending money every which way and developing a very bland attitude in the locker room, the Red Sox spirit was no longer present.
Without such spirit, players began simply playing for money and giving up when times got tough. Since 2008, the Red Sox have been a mere shadow of what they once stood for. Although the Red Sox will never be able to recreate the chemistry of the 2004 squad, taking a similar approach is not entirely out of the question.
Under relatively new management and with money to burn, the Boston Red Sox must focus on bringing in veteran leaders and providing a looser vibe in the clubhouse. Ridding themselves of a majority of bad contracts over the past season, the Red Sox need to once again channel a new attitude.
In 2012, the Red Sox were an eyesore on and off the field. Bobby Valentine was always at the center of controversy, and the players checked out halfway through the season. Fans became tired of the team that was at one point the most beloved in New England, resulting in a poor public image.
Now moving on from the September 2011 collapse as well as all that happened this season, there is no better time to re-energize the Red Sox spirit of old than right now.
With a core of young talent, and assuming that Ben Cherington signs the right manager and some clubhouse leaders, it isn't unimaginable to see the Red Sox return to form as early as 2014.
Unfortunately, the Red Sox will likely not make the playoffs next season, but establishing a new attitude and revealing some significant promise for the future would make 2013 an automatic success.
Things cannot get much worse than 2012, and that should serve as inspiration to the players as well as ownership. Now more than ever, the Red Sox must move on from their past mistakes and enter 2013 with a more motivated mindset.