Break It Down: TNA Impact Wrestling for October 11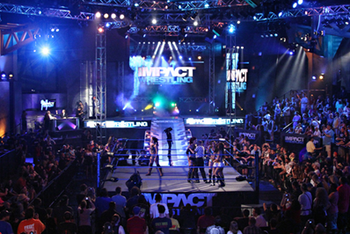 Credit: ImpactWrestling.com
TNA Impact Wrestling aired live on Thursday night from the Impact Zone at Universal Studios in Orlando, Fl. Much like Raw, the show was coming off of a ratings low from the week prior.
The final push to Bound For Glory was the focus of the program, and rightfully so. This show finishes off the foundation for the company's biggest pay-per-view event of the year, and set a very intense tone headed into Phoenix.
Results
Transition 1: "Previously on Impact Wrestling" video featuring the placement of King Mo as the special enforcer for Bobby Roode vs. James Storm at Bound For Glory, Hulk Hogan accepted the Aces and Eights challenge and Bully Ray will team with Sting
Match 1: World Champion Austin Aries pinned James Storm in 7:15 after interference from Bobby Roode lead to the Brainbuster.
Backstage 1: Wes Brisco asks of he can tag along with Kurt Angle at Bound For Glory, Angle then bickered with tag team partner AJ Styles.
Transition 2: Bound For Glory memories video for Sting.
Promo 1: Hulk Hogan and Sting address the tag team challenge from Aces and Eights, World Tag Team Champions (of the World) interrupt, Bully Ray and Sting vs. Christopher Daniels and Kazarian is booked for later tonight.
Match 2: Hernandez pinned AJ Styles in 3:55 with his version of The Pounce.
Vignette 1: The Aces and Eights VP spoke from The Clubhouse, saying Joseph Park is fine (actually, he called him adorable) and admitted that they were surprised by Hulk Hogan's choice of Bully Ray.
Promo 2: Zema Ion said that he's eliminated all of the competition in the X-Division, making Jigsaw/Rubix and Kenny King cry (as they sit at home watching the broadcast). He's interrupted by Rob Van Dam, who says he was allowed to pick his opponent and he picked Ion.
Backstage 2: Hulk Hogan told Sting he doesn't trust Bully Ray. He then told Bully Ray he doesn't trust him—but Sting stood up for him. Ray said he won't let Sting and Hogan down.
Backstage 3: Brooke Hogan made sure Taryn Terrell was ready for the Knockouts Championship match at Bound For Glory. Tara entered to request an A-List green room. Brooke tore the list up.
Transition 3: Christy Hemme introduced our tag team match.
Match 3: World Tag Team Champions (of the World) Christopher Daniels and Kazarian beat Sting and Bully Ray by disqualification in 10:05 when Ray powerbombed Daniels through a table.
Vignette 2: Following a promo video for the Bound For Glory main event, Jeff Hardy said he wants to win the TNA World Championship at Bound For Glory so he can be "the best wrestler on planet earth."
Transition 4: Video package hyping the Al Snow vs. Joey Ryan match at Bound for Glory.
Backstage 4: Samoa Joe said he's retaining his television championship at Bound For Glory, and shutting Magnus up. Magnus interrupted, telling Joe he doesn't get to hide behind politics. Joe suggested they wrestle tonight, but Magnus said he'll make millions pay to see him make history on Sunday. (Yes, he said millions.)
Match 4: Knockouts Champion Miss Tessmacher pinned Gail Kim in 5:15 with the Atomic Pancake. Tara attacked Tessmacher following the match and received an Atomic Pancake of her own.
Backstage 5: Bobby Roode was talking about James Storm when Storm interrupted, and both men brawled. King Mo arrived to break up the fight, telling Storm to save it for Sunday.
Transition 5: TNA aired a Sting Hall of Fame video. Taz and Mike Tenay ran down Sunday's Bound For Glory card.
Match 5: Jeff Hardy beat Bobby Roode by disqualification in 16:20 following a low blow. Roode attempted to attack Hardy with a chair, but was stopped by the referee.
Promo 3: World Champion Austin Aries said he was tired of Jeff Hardy getting special treatment. Aries claimed he was being set up to fail at Bound For Glory, but that wasn't going to happen. Hardy said he was going to end Aries's reign, and Aries allowed him to soak in the fans' adulation. Aries then asked him to leave to he could bask in his own glory. Hardy obliged, but Aries attacked him, finishing the show by connecting with a Brainbuster in the center of the ring.
The Numbers Game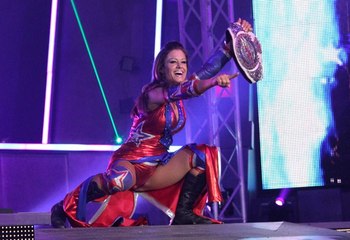 Credit: ImpactWrestling.com
Five matches for a total of 42 minutes and 50 seconds of match time
Average match length: 8:34
Longest match: Jeff Hardy vs. Bobby Roode (16:20)
Shortest match: Hernandez vs. AJ Styles (3:55)
Backstage Segments: 5
In-Ring/On-Stage Promos: 3
Vignettes: 2
Transitional Moments/Videos: 5
Total Elements: 25 (12.5 per hour, 3.125 per quarter hour)
In comparison, Monday's WWE Raw featured seven timed matches with a total match time of 50:46. The average match time was 7:15. The three hour broadcast featured 27 elements.
Major Angle Advancement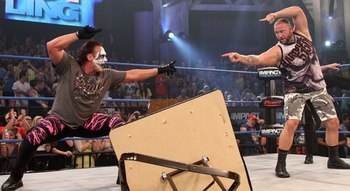 Credit: ImpactWrestling.com
The No. 1 advancement of the program was the completion of Austin Aries's heel turn. It was set-up to be his big moment, and Aries was given very little to work with. Despite that, he delivered a great promo and will be a fine heel headed into Bound For Glory.
Bully Ray gained Sting's (and presumably Hulk Hogan's) confidence thanks to his performance in the tag team match against Christopher Daniels and Kazarian.
X-Division Champion Zema Ion claimed he eliminated all of the competition, but ended up learning that he'd face Rob Van Dam at Bound For Glory. It was later confirmed that this will be for the X-Division Championship.
Bobby Roode indirectly cost James Storm his match against Austin Aries in the show opener, and Storm nearly attacked Roode backstage later in the program. King Mo stepped in to maintain the peace, proving he won't be intimidated by anyone.
Miss Tessmacher gained a ton of momentum headed into the pay-per-view event by beating Gail Kim and overcoming an attack from Tara.
Knee Jerk Reactions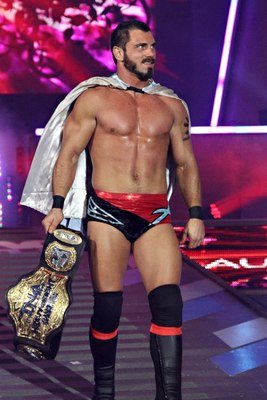 Credit: ImpactWrestling.com
The jury is out on the Austin Aries heel turn. I admit it's the "playlist mentality" setting in as I would have preferred to see face vs. face with the focus being on the competitive match we'd see. I understand that wrestling is at its best when it's good vs. evil, but I feel like Bound For Glory had the opportunity to be remembered for being different.
Rob Van Dam facing Zema Ion has potential, but my "playlist mentality" is interfering once again. Bound For Glory is TNA's signature event, and it should have an Ultimate X match on the card.
The World Tag Team Champions of the World are on fire, while the two face teams challenging them can't get along. It's a different set-up, and I like that.
Magnus is really coming into his own, delivering a masterful promo backstage with Samoa Joe. Magnus shouldn't win at Bound For Glory, but he will be wearing gold soon enough.
Joey Ryan vs. Al Snow is a preshow match at best, yet it appears that it will be on the pay-per-view proper. I like Joey Ryan, but this seems like it should be the semi-main event at the Rahway Rec Center in New Jersey, not on the card at Bound For Glory in Phoenix, Ariz. During the rundown of the pay-per-view card, Taz did claim that if Joey Ryan wins he gets a TNA contract.
Moving Forward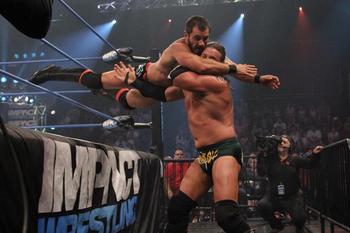 Credit: ImpactWrestling.com
It's impossible to even think about next week's Impact Wrestling at this point. Bound For Glory must take place first, and it will definitely determine what we see on Thursday.
Last year, the Impact Wrestling after Bound For Glory was a huge disappointment, despite showcasing a world title change. The show featured a total of three matches and approximately ten minutes of wrestling. TNA needs to deliver the opposite next Thursday.
Many of our questions are geared towards Bound For Glory. Will Bully Ray betray Sting and Hulk Hogan? Will Austin Aries walk out of Phoenix as the world champ? What role will King Mo play in the Street Fight?
You Decide: What surprises are in store for next Thursday's Impact Wrestling?
Share your thoughts in the comments below!
Want more TNA? Check out my full Bound For Glory Preview.
Keep Reading