2012 NHL Lockout: Veterans We Might Have to Say Goodbye to If Season Is Canceled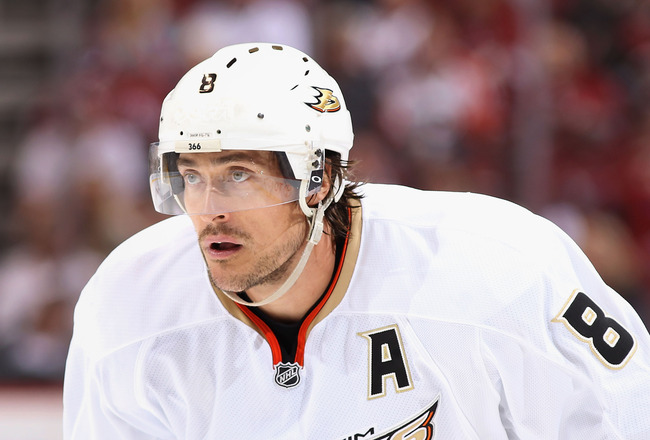 Christian Petersen/Getty Images
Time waits for no man, not even NHL superstars.
With the 2012-13 NHL season slowly slipping away due to the lockout, one has to begin to wonder if we will see any hockey before October 2013—and while we ponder that, it's not that hard to start thinking in terms of what-ifs.
What if we lose the season? What if the lockout drags far into next summer? What if we have seen the last of certain NHL stars?
Potentially losing the final year of an NHL career to a lockout is a depressing scenario, but it is also something that may happen to some players.
What follows are five big-name players who we may never see on an NHL ice surface ever again if the lockout lasts the entire 2012-13 season.
Sergei Gonchar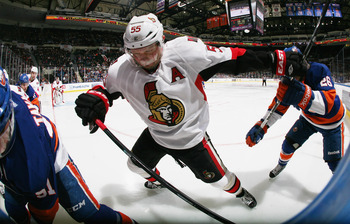 Bruce Bennett/Getty Images
Sergei Gonchar has had a long and successful NHL career, racking up 748 points in 1,132 games played. He also has his name etched on the Stanley Cup, winning that trophy with the Pittsburgh Penguins in 2009.

Gonchar's contract with the Ottawa Senators will expire at the end of the 2012-13 season. The 38-year-old defenseman is currently playing in the KHL, and it would not be a surprise to see him stay in his home country collecting a tax-free check if the lockout lasts the entire 2012-13 campaign.

The odds of Gonchar getting another NHL contract close to the one he is currently under ($5.5 million per year) are pretty slim. If I were a betting man, I would say it's 50-50 on whether you see Gonchar in the NHL for a 2013-14 season.
Tomas Holmstrom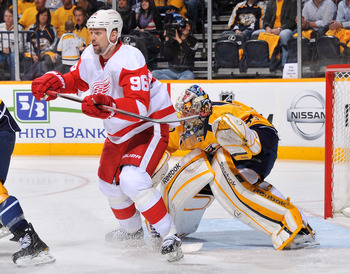 Frederick Breedon/Getty Images
One player who is almost guaranteed not to sign a contract to play in Europe or the KHL while the lockout continues is Tomas Holmstrom. The 39-year-old Swede had his two-year, $3.75 million deal with the Detroit Red Wings expire at the conclusion of the 2012 season. Since that time, he has been contemplating what his future holds.

Holmstrom played 1,026 games for the Wings and is most well-known for parking himself in front of the opposition net, taking cross-checks and cheap shots in order to score the kinds of goals that too many players shy away from.

With Holmstrom still up in the air about whether he will play in 2012-13, it's almost certain that a lost season will result in him hanging up the skates.
Daniel Alfredsson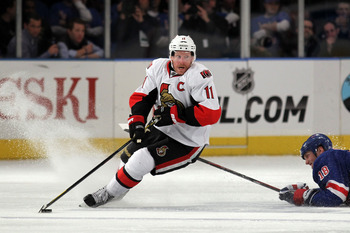 Bruce Bennett/Getty Images
Daniel Alfredsson has played every game of his NHL career with the Ottawa Senators, playing in 1,131 games and scoring 1,082 points, but never winning a Stanley Cup.

Following the 2011-12 season, the Senators' captain contemplated retirement but eventually decided against it, agreeing to return and play out the final year of a four-year deal that earned him $19.5 million.

The 39-year-old Swede, hampered by back issues, has seen his offensive numbers decrease over the last few years. When announcing that he would return for the 2012-13 season, Alfredsson said he felt that his back could withstand another year of NHL play.
With that being the case, if the season gets scrapped, one wonders if the motivation will still be there to return for the 2013-14 campaign.

Alfredsson is a well-respected player and longtime captain of the Senators. He has earned the right to make the call to retire or continue to play on his terms without anyone second-guessing his decision.
Jaromir Jagr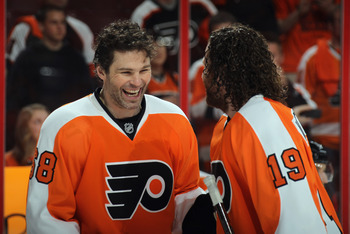 Bruce Bennett/Getty Images
Jaromir Jagr has been around. Drafted fifth overall in the 1990 NHL Draft, he is only one of two players taken in the Top 20 that year to be still active in the NHL (the other is New Jersey Devils first-round pick Martin Brodeur).

Over the course of his 1,346 NHL games, he has racked up 1,653 points while at the same time accumulating his fair share of NHL hardware, not to mention an Olympic gold medal.

Jagr has a one-year deal with the Dallas Stars for the 2012-13 season. The deal is worth $4.55 million, but to think it's all about the NHL money for Jagr is folly. Remember, this is the player who took his services to the KHL for three seasons.

If the lockout takes the 2012-13 season away, Jagr will still be in demand by NHL teams, but it would not be a surprise to see him head back to the KHL to close out his career.
Jagr has nothing left to prove in the NHL. His legacy is secure, so there's no reason for him to subject his body to another year of NHL wear and tear if he doesn't want to.
Teemu Selanne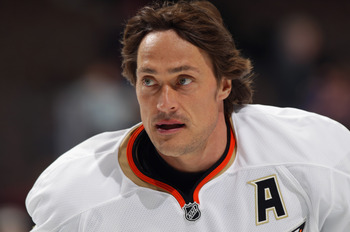 Doug Pensinger/Getty Images
Teemu Selanne has been toying with the idea of retirement for a few years, dating back to 2007—the year he won the Stanley Cup with the Anaheim Ducks.
Selanne did return to the Ducks in January 2008, and since then he has taken to the ice for the team each season, putting up solid offensive numbers.

Selanne, at 41, led the Ducks in scoring with 66 points during the 2011-12 season. That fact is impressive, but with a team that includes young stars Corey Perry, Bobby Ryan and Ryan Getzlaf, it's a burden he shouldn't have to shoulder.

If Selanne loses an entire season at this point in his career, it's safe to say we can probably expect never to see him play another game in the NHL.
Keep Reading