Pac-12: 10 Things We Learned in Week 7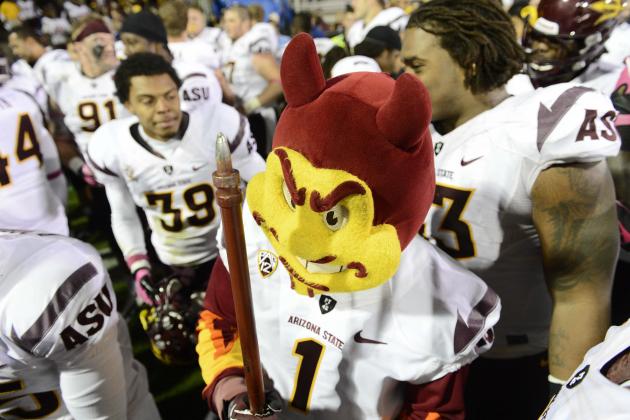 Ron Chenoy-US PRESSWIRE

Punch your time card; Week 7 is in the can.
I don't know about you, but I watched a lot—I mean, a lot—of college football this week. Why would you work when there is football on? What are you, some kind of capitalist?
Thankfully, it was all very entertaining. Great games, interesting outcomes, solid week for the Pac-12 and I only gained one pound sitting on the sofa. It's a win all the way around.
Here's what we learned this week.
Begin Slideshow

»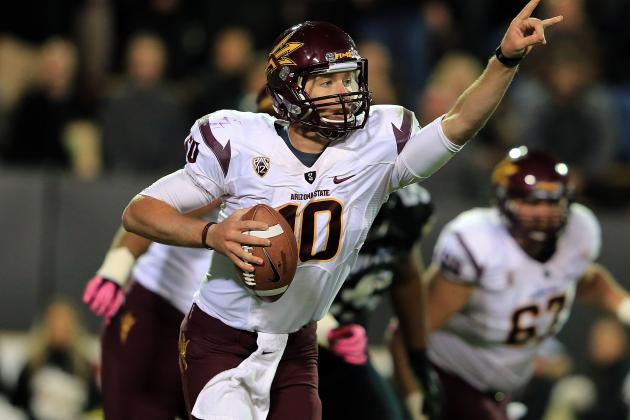 Doug Pensinger/Getty Images

Yes, I understand that it was just Colorado, but 51 points is 51 points. It was tricky for the Sun Devils at the start, but they prevailed 51-17 when all was said and done.
This Taylor Kelly kid is starting to get on my nerves. Just when you think he can't possibly continue to be the Pac-12's No. 1 rated quarterback, he goes out and completes 20 of 28 passes for 308 yards and five touchdowns. And he added 67 yards rushing and looked pretty good doing it.
Running back—not wide receiver, running back—Marion Grice hauled in three of those touchdown passes. RB Cameron Marshall, the big brother of Oregon freshman RB Byron Marshall, had 98 yards and one TD.
ASU has some defensive issues, particularly on the line, but they seem to do what they need to do to win. DL Will Sutton is frightening, and makes up for other's mistakes.
If I was USC, I might stop selling Pac-12 Championship Game tickets until I see how ASU does against mighty Oregon on Thursday night.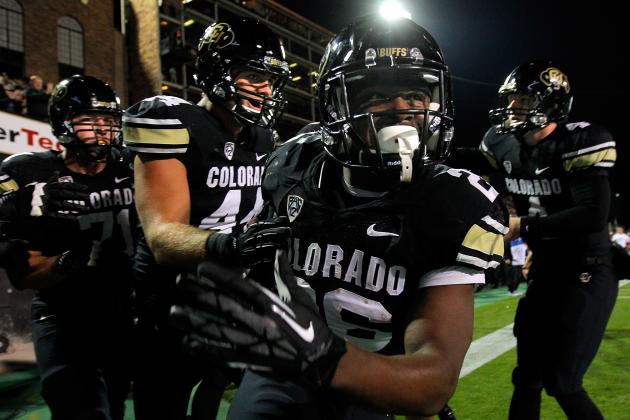 Doug Pensinger/Getty Images

Colorado looked improved this week.
No, really, they did. Yes, they ended up getting routed by Arizona State, but the game wasn't as one-sided as the final score indicated.
The Buffaloes hung with ASU for the first half and individual Colorado players had their moments in this one.
I may be in the minority, but I think Jon Embree is on the right track, and with a good 2013 recruiting class, could pull the Buffaloes up out of this morass.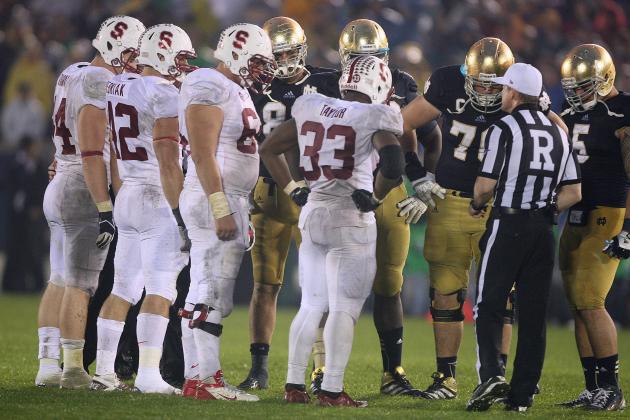 Brian Spurlock-US PRESSWIRE

The Stanford vs. Notre Dame game in South Bend, Indiana, was almost the best Pac-12 Conference moment since Oregon melted Wisconsin's cheese in the Rose Bowl.
"Almost" being the key word here.
I'm not here to argue whether or not Stepfan Taylor crossed the goal line in the overtime period or not (although he did, twice by my view), but to merely point out how difficult it is for referees to make a call against the Irish on their home field.
If you've watched many Notre Dame games played in South Bend, you know how often the visiting team gets the good end of the stick on calls. "Never" is the word you are searching for.
Now, every home team supposedly has an advantage, but I think if we went back in time and researched this issue, we would discover that the Irish have an unfair advantage.
Maybe God really is on their side.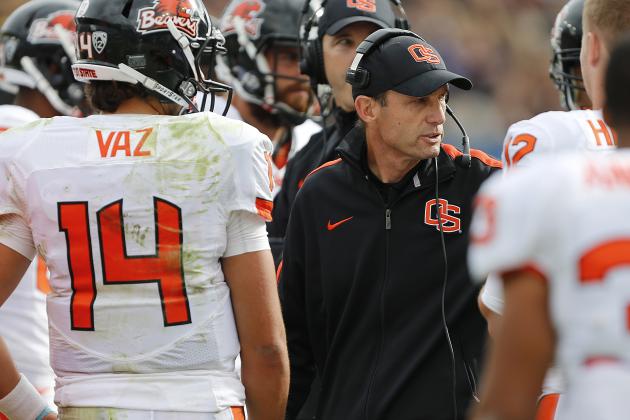 George Frey/Getty Images

The big story in Corvallis this past week would make a good title for a movie: "Mannion's Meniscus".
When starting QB Sean Mannion went down with a troublesome knee, backup Cody Vaz got the call. No experience?
No problem.
Vaz was excellent in relief of Mannion, and the Beavers took down a worthy BYU team in tough-place-to-play Provo. Vaz was 20 of 32 passing for 332 yards and three touchdowns. Even more impressive, the new starting QB for the Beavers had no interceptions, and he threw one key block on a nifty reverse in the fourth quarter that allowed Markus Wheaton to score.
Wonder what will happen when Sean Mannion is ready to return?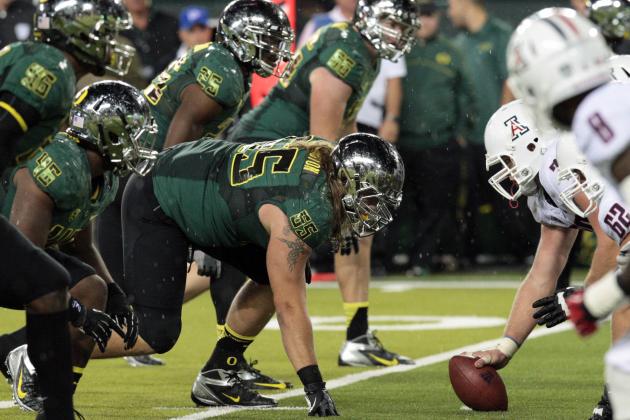 Scott Olmos-US PRESSWIRE

Oregon defensive lineman Isaac Remington was arrested for DUI in the early morning of Oct. 12, and has been suspended from the Ducks team by head coach Chip Kelly.
Damn those bye weeks.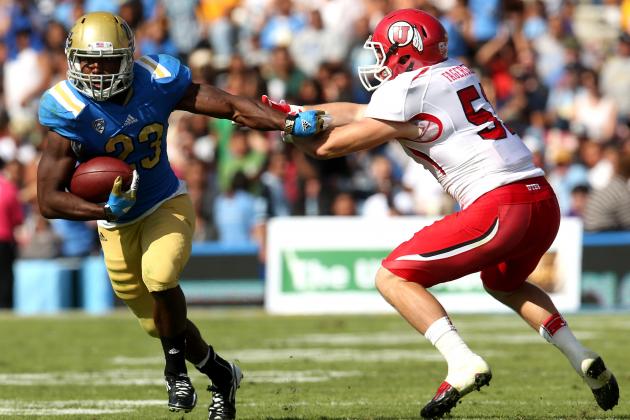 Stephen Dunn/Getty Images

I'm confused about UCLA. After the Bruins beat Nebraska in the second week of the season, I ranked them in the Bleacher Report Top 25 poll.
When the Bruins got beat by a good Oregon State team at home in the Rose Bowl, I cut them some slack because they didn't play horribly and it was close (27-20).
But then they lost to Cal big-time ugly and you had to think: "Did we really buy into that Mora Magic that UCLA was selling?"
Fool me once, but not twice.
The Bruins were very lucky to beat a struggling Utah team on Saturday. Honestly, I now see them winning only one more game this year—at Pullman against Wazzu on Nov. 10.
Stephen Dunn/Getty Images

What's up with the Utes?
They looked pretty good in a losing effort to USC. Just enough to make us think their grotesque start to this season was a bad dream.
Then they come out and lose to a not great UCLA team, and are now 0-4 in Pac-12 Conference play. You may recall that the Utes started last year's conference play 0-4 as well before their strong finish.
Preseason, this Utah team was one of the South Division's most-likely-to-succeed. But this start is shockingly bad.
Will the real Utah Utes please step forward? Who are you guys?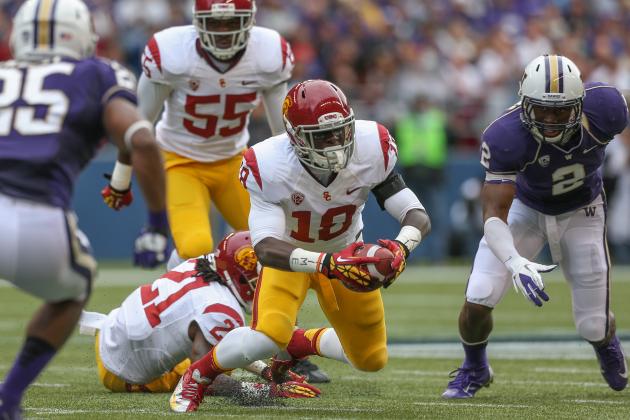 Otto Greule Jr/Getty Images

I think it's safe to say that USC is not a good Pac-12 Conference road team.
First, they have that horrible loss to Stanford down on The Farm. Then, they barely beat Utah in Salt Lake City by a measly 10 points.
On Saturday, against the Huskies in Seattle, they squeaked out another win by 10 points over a mediocre Washington team.
To be successful in the Pac-12, you must win on the road, and an occasional convincing road win is important on the national scene.
The Trojans are not very convincing.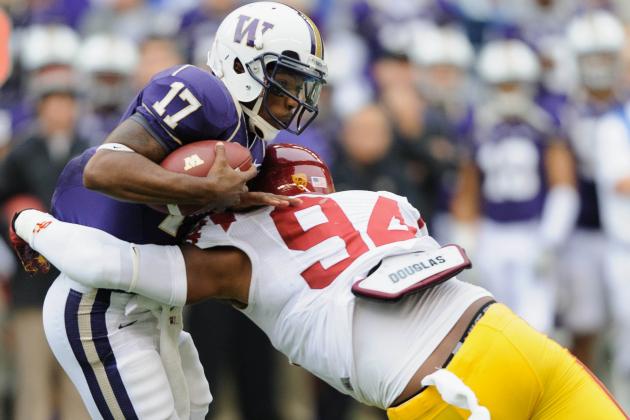 Steven Bisig-US PRESSWIRE

The Washington Huskies left Autzen Stadium with their furry tails between their legs. Many of us expected the Huskies to turn that anger and frustration around wholly on visiting USC Saturday.
Didn't happen.
There are lots of reasons why Washington lost to the Trojans, but one big reason is that Husky QB Keith Price just isn't playing very good football currently.
Price was 20 of 28 passing, and at one point completed 16 consecutive passes. However, he also had two interceptions and two fumbles. Price was also sacked five times and hurried more times than you could count.
I hate to call out a kid with such a winning smile and pleasing personality as Price, and it's certainly not all his fault. But he seems to be trying to do it all himself. I know the Huskies O-line is young, but you still have to trust your guys.
Price will bounce back because he's a real competitor. But it's beginning to look possible that he is not the second coming after all.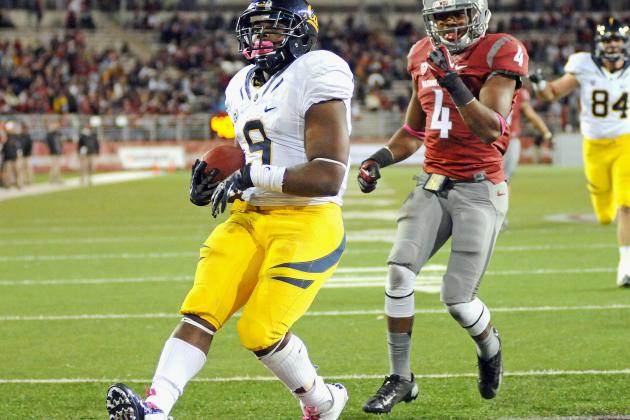 James Snook-US PRESSWIRE

Suddenly, the Cal Golden Bears have won two in a row (!), and head coach Jeff Tedford isn't such an idiot after all.
If the Bears can manage to beat Bay Area rival Stanford next Saturday in the Big Game, Tedford will survive this season and get the chance to fight for his job in the off-season. The Big Game is at Berkeley this year, so Cal has a chance to knock off Stanford.
Jonathan Daniel/Getty Images

Except for two inches in South Bend, it was a good week for the Pac-12 Conference.
Anytime the Pac-12 can place four teams in the first BCS top 25—including three in the top 10—one has to consider it a good week.
What will this week bring?