Kansas City Chiefs vs. Tampa Bay Buccaneers: Analysis and Post-Game Recap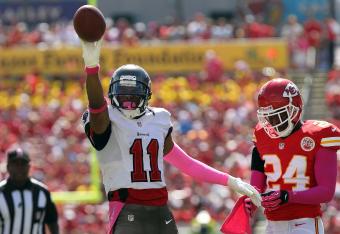 Kim Klement-US PRESSWIRE
Final: Buccaneers 38, Chiefs 10
The Tampa Bay Buccaneers upgrade to 2-3 on the year. The Kansas City Chiefs fall to 1-5 and still haven't obtained one lead throughout regulation this entire season.
Today, Tampa Bay's receivers were the story. Time and again, Freeman's wideouts made improbable catches, despite textbook coverage by Kansas City defenders. Mike Williams (4 REC, 113 YDS, 1 TD) racked up 103 yards by halftime, and newcomer Vincent Jackson (4 REC, 66 YDS, 2 TD) added a pair of scores.
Before the final whistle blew, the Chiefs defense had been gouged for 463 total yards by the Buccaneers offense.
Kansas City's quarterback controversy will live on. Brady Quinn showed more tangible ability than Matt Cassel, but he still couldn't engineer a single scoring drive. Quinn completed 22 of his 38 attempts for 180 yards, but his two interceptions—which, arguably, he wasn't to blame for—proved costly.
The Buccaneers will host the New Orleans Saints next Sunday. The Chiefs will enter their bye week embedded in a whirlwind of criticism.
Today's box score can be viewed here (ESPN).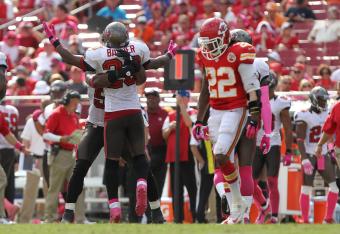 Final thoughts
It wasn't the prettiest blowout for Tampa Bay, but it was a blowout nonetheless.
Josh Freeman rebounded from a dreadful first half and posted 328 yards on the Chiefs' tab. His receivers—namely Mike Williams and Vincent Jackson—repeatedly outplayed the Kansas City cornerbacks for fifty-fifty balls that hung in the Tampa Bay air.
The Buccaneers defense pounced on every presented opportunity. The consummate professional, Ronde Barber, ensured his team's victory by adding a pick-six to the box score.
But the front seven served the largest slice of humble pie. Tampa Bay's rush defense suffocated the NFL's leading rusher, holding Jamaal Charles to a measly total of 40 yards on 12 carries.
A lot of soul-searching will transpire during the Chiefs' bye week. There was no bounce in their step on either side of the ball. No swagger. No pride.
The offensive line successfully fortified Brady Quinn throughout the day, but it couldn't dictate the line of scrimmage for Jamaal Charles—lanes were a rarity.
Brady Quinn kept the defense on its toes, spreading the ball around to eight different receivers. It can also be argued that the blame for both interceptions should be pinned on his targets. Kansas City's aerial assault was diversified, and considering Matt Cassel's subpar output, Quinn should get another crack at the starting job. However, it's abundantly clear that he's not the long-term answer.
As usual, Tamba Hali and Justin Houston provided sparks, and Derrick Johnson was the most efficient defender to jog onto the field. But the star-studded trio of linebackers need help up front—Tampa Bay's tailbacks were navigating between alleys throughout the bulk of the second half.
Today was brutal for Chiefs fans.
However, a positive tidbit from The Kansas City Star's Adam Teicher (@adamteicher) at least (partially) restores sanity throughout the surrounding Tri-State Area:
#Chiefs did not offer Pioli a contract extension, source says. Story coming soon at kansascity.com. Will tweet link when its posted

— Adam Teicher (@adamteicher) October 14, 2012
It isn't much, but one positive note is better than none at all—even if it is surrounded by a chorus of boos.
Stats provided by ESPN's box score.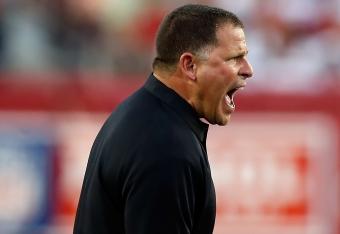 :29, fourth quarter:
The most telling sign that Kansas City just got abused: Greg Schiano just smiled. To give you perspective, Schiano normally makes Michael Myers look like a giggling schoolgirl.
The Buccaneers played with heart—they deserve the victory.
2:11, fourth quarter:
Tampa Bay's offense—which, at times, has looked anemic throughout the season—has chewed up 456 yards (ESPN).
If Kansas City's defense doesn't turn the corner, Romeo Crennel will be typing up a résumé this offseason.
6:05, fourth quarter:
At times, Kansas City's defense exudes with brilliance. At others, it brings about flashbacks of the Dick Vermeil era.
On paper, top-to-bottom, it's one of the most talented units in the NFL. But there seems to be a lack of conviction.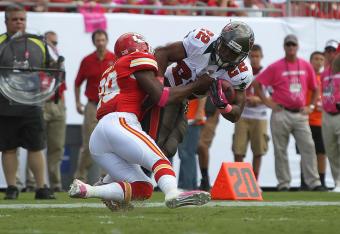 9:19, fourth quarter:
If Doug Martin manages to stay healthy, he will be a force to be reckoned with in upcoming years.
The rusher's agility rivals his six gears of jackrabbit-like speed.
10:27, fourth quarter:
Josh Freeman needs to treat his receiving corps to something after the game—a dinner, shopping spree, Klondike bar...something.
His wideouts have snagged nearly uncatchable passes all day long.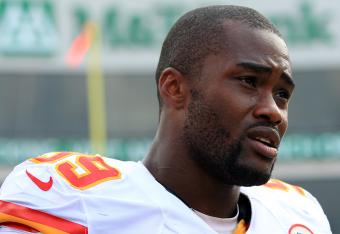 14:01, fourth quarter:
It's the fourth quarter, and Kansas City's first touchdown is scored by...Edgar Jones (?).
The Chiefs will take it. The special teams were exploited during the preseason, but they have stepped their game up this regular season.
:49, third quarter:
When looking at the product on the field, it's obvious that Clark Hunt's head is plastered with loose screws—Paris-Hilton-assembling-IKEA-beds loose.
Report: Chiefs GM Scott Pioli offered 2-year extension: Kansas City Chiefs owner Clark Hunt has reportedly offer... bit.ly/QCE9Zo

— KCTV5 - Kansas City (@KCTV5) October 14, 2012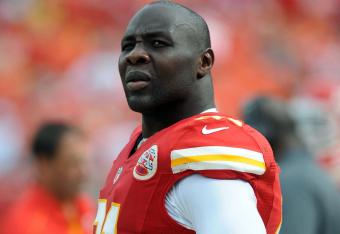 4:15, third quarter:
On cue, Tamba Hali rounds the corner like a teased bull and strips Josh Freeman. The Buccaneers recover, though.
Kansas City hasn't been able to end a drive with an exclamation mark—the offense is desperate for favorable starting field position.
7:23, third quarter:
Tom Brady couldn't overcome the amount of turnovers that Kansas City gift-wraps.
If the Chiefs want to make this competitive, they will need to flip the script and force one of their own.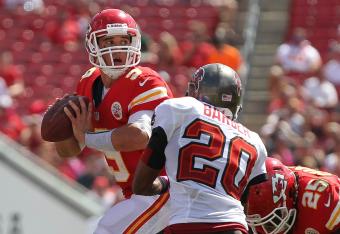 9:36, third quarter:
Throughout his career, Ronde Barber has personified the word "opportunist." He just showed why.
If you look at the box score, Quinn's stats look subpar (and they are). But he's getting little help from his receivers.
Little-known fact: In another life, Ronde Barber was named Benjamin Button.
10:10, third quarter:
Uncharacteristically, Kansas City's pass-blocking has been solid, but the offensive line is struggling to open lanes for Jamaal Charles.
They have to get No. 25 going. Otherwise, it's going to be a long flight home.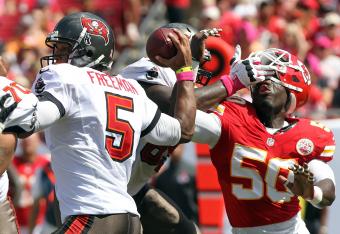 12:48, third quarter:
Despite his lackluster first-half performance, Freeman deserves credit—he came out with a purpose in the opening drive of the third quarter.
Freeman remained composed during a delayed blitz by Kansas City and checked down to his safety valve, Doug Martin.
He showed off his arm strength with his last touchdown strike.
Halftime:
ESPN's box score tells you all that you need to know about today's contest.
Nate Eachus leads Jamaal Charles in rushing, and Mike Williams has already eclipsed the century mark in receiving.
But no matter which club you're cheering for, this game has been painful to watch.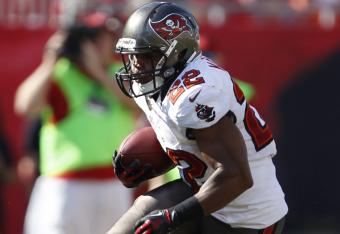 :31, second quarter:
Eric Berry just saved a potential touchdown.
Tampa Bay owns a four-point lead, and Josh Freeman's passes would make you think that Tyler Palko is his quarterback coach.
The Buccaneers could use a heavy dosage of Doug Martin in the second half.
1:05, second quarter:
Another chapter in the same book for Kansas City.
The offense continually moves the chains but becomes allergic to the end zone once the ball crosses midfield.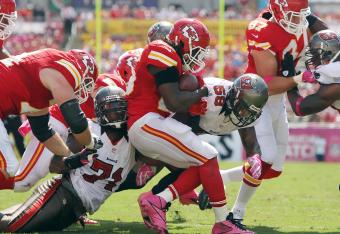 2:00, second quarter:
In order to win this game, Tampa Bay's front seven has to limit the momentum-swinging runs of Jamaal Charles.
So far, so good. Charles currently has eight yards on seven carries.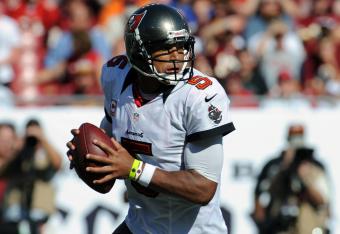 3:28, second quarter:
Josh Freeman missed a wide-open receiver on third down.
In other news, the sky is blue.
4:18, second quarter:
This game demonstrates how misleading the time-of-possession stat can be.
Up to this point, Kansas City (17:32) has nearly had the ball for 10 more minutes than Tampa Bay (7:53).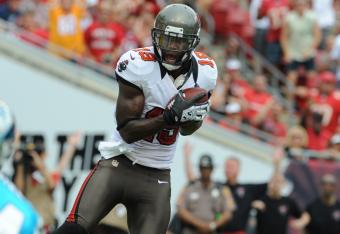 6:00, second quarter:
Class is in session: Thus far, Mike Williams has burned both of Kansas City's starting cornerbacks.
Freeman's performance continues to be unimpressive, but his stats disguise it well.
7:40, second quarter:
It's safe to say that Ryan Succop has been the most consistent player for Kansas City this season.
Without him, the Chiefs would be searching for their first win today.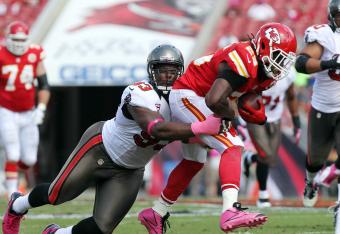 10:03, second quarter:
Tampa Bay's defense is bending, but it hasn't broken.
However, it can't rely on turnovers to come to its rescue. Then again, the Buccaneers are playing the Chiefs—maybe they can.
14:01, second quarter:
Brady Quinn's passes look like they're zipping at Mach speed compared to Cassel's.
The Chiefs offense will be scary if it adds a consistent aerial attack to its repertoire.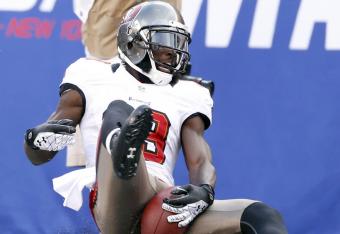 :18, first quarter:
Josh Freeman made a terrible decision, but Mike Williams bailed him out after jumping over Stanford Routt for a 62-yard touchdown.
Routt has performed admirably this season following Brandon Carr's departure. But there's no excuse for not making a more aggressive play on that pass.
:37, first quarter:
A false start was just reversed.
No, these aren't the replacement referees.
This article is
What is the duplicate article?
Why is this article offensive?
Where is this article plagiarized from?
Why is this article poorly edited?

Kansas City Chiefs: Like this team?