US Soccer: The Greatest Men's National Team XI of All Time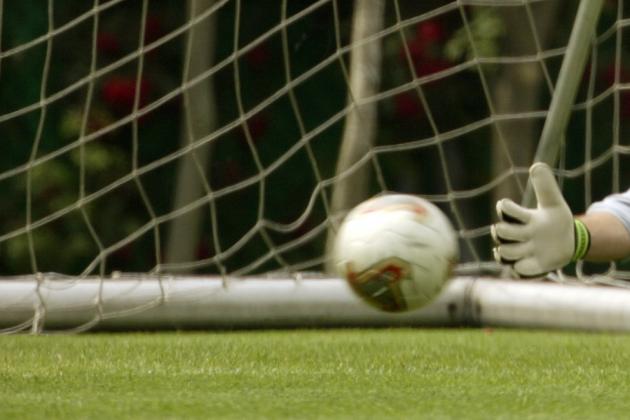 Brian Bahr/Getty Images

What is the "Greatest XI" in the history of the U.S. men's national soccer team?
A visiting Scot once said Walter Bahr could play for any team in the UK. That was quite a compliment. The UK was seen at the time as the center of the football universe (especially by people there). And the United States was further away than the width of the Atlantic. That's why the result in 1950 between England and the American team Bahr captained remains arguably the most shocking in World Cup history.
Bahr never played for a UK club, and only had an opportunity to play in one World Cup finals tournament. We probably will never know how good a player he was, or how good he might have been, with more exposure to stronger competition.
The same is true of Joe Gaetjens from that storied game in 1950, who headed in Bahr's cross for the only goal.
How about Bert Patenaude, the first player ever to score a hat trick in a World Cup? Yes, that honor is accredited to an American, even if the accreditation took 70 years to become official.
How does anyone deal with these questions when naming a "Greatest XI"? Or for that matter not just making a list of the greatest ever just a list of U.S. men's national team goalkeepers? Simple. He does what I'm about to do: Pull up a virtual bar stool, throw out 11 subjective opinions and deal with the counter arguments as they come.
Fair warning about methodology—if torn between two or more players, I tend to lean heavily on comparisons of club career achievements. The bottom line for me is Bayer Leverkusen plays higher level soccer than Burke's Undertakers did, despite their impressive two-year run a while back in the St. Louis Soccer League. That's my tip-off, the veterans of that men's national team win over England in 1950 didn't make the cut.
Begin Slideshow

»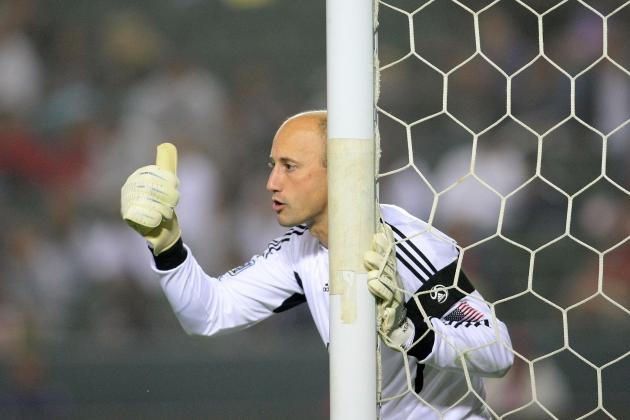 Victor Decolongon/Getty Images

The list of great American keepers is an impressive one, but Kasey Keller stands taller than the likes of Brad Friedel, Tim Howard and even Frank Borghi.
Keller's international accolades started rolling in early in his career. Keller was named the second best player in the 1989 FIFA U-20 World Cup. On the U.S. senior team he dueled Friedel for playing time (Friedel would be a fitting selection as well).
The nod here goes to Keller, based on the totality of his career. He has the most caps for a keeper, most international wins and most international clean sheets. Keller, simply put, is the shot stopper you want on your side, and he is arguably one of the greatest (from any country) at stopping penalty kicks in history.
He can also lay claim to a singular Borghi-like, logic-defying clean sheet. Keller's 10 saves in a 1998 game was called by one awed Brazilian opponent the single greatest goalkeeping performance he had ever seen.
Keller's club career includes successful stints and at times "fan favorite" status at Millwall, Leicester City, Rayo Vallecano, Tottenham, Borussia Dortmund(only the second American chosen to captain a Bundesliga team), Fulham and finally a "twilight tour" for Seattle.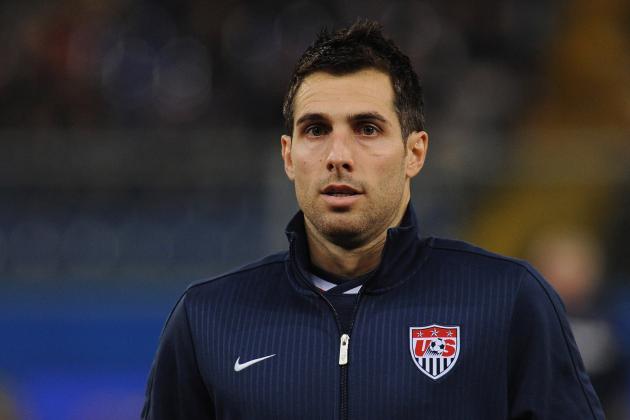 Valerio Pennicino/Getty Images

Carlos Bocanegra is the current captain of the men's national team and recorded his 108th cap on October 12. Steadiness and leadership put him over the top as one of the greatest defenders for the U.S. men's national team.
Starting his club career in the MLS, Rookie of the Year and two-time Defender of the Year honors convinced Fulham to give Bocanegra a try in 2004. An American playing in front of EPL crowds needs to perform. Those fans embrace outsiders who can produce but will quickly turn against the player and the management that brought him when it doesn't work out. And whether fair or not, an American in the EPL is handicapped from the start. Bocanegra not only survived fan scrutiny, he also earned himself a nickname. "The Jackal" played over a hundred games with Fulham, including a couple as captain.
He also captained Rangers. But perhaps his most memorable stint with the armband was as a U.S. national. He served in that leadership capacity during the 2009 Confederations Cup, including what may be the most impressive result ever for the Americans when they upset the top-ranked Spaniards in the semifinals. Bocanegra also has a penchant for adding attack in big games. His 13 international goals include two against Brazil, three in CONCACAF Gold Cups and four in World Cup qualifiers. In 2010, he added a goal against the Dutch in a friendly played in Amsterdam.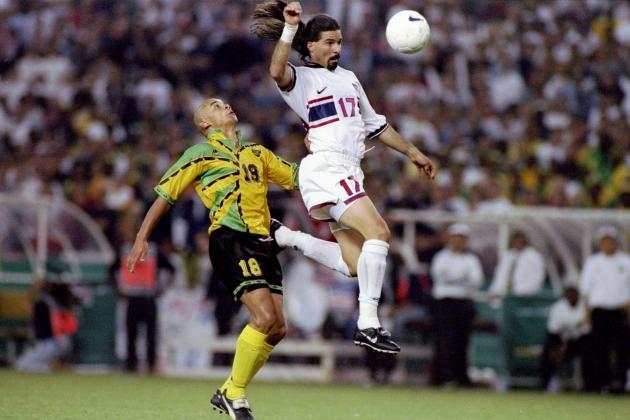 Jamie Squire/Getty Images

Marcelo Balboa, another men's national team captain, was among the first Americans to play in three World Cup finals and the first to reach 100 caps. Widely considered among the best players the U.S. ever produced, Balboa was a mainstay in the back line during a critical extended period of growth for the American side.
A skilled and athletic defender, he also brought scoring flair with 13 international goals, and came within inches of adding to that number. That was the dramatic bicycle kick against Colombia in the 1994 World Cup, which wouldn't have been his first or last goal employing the bicycle kick. He hit one against Trinidad and Tobago in the 1991 Gold Cup. He later hit another in the MLS (named 2000 Goal of the Season).
Then his MLS honors came fast and furious during his time with the Colorado Rapids and the MetroStars (now the New York Red Bulls).
He also played with Leon in Mexico, but enjoyed his role helping this nation's professional league get off the ground. On at least one occasion, he told an interviewer he believed that was a key for the continued development of the American game.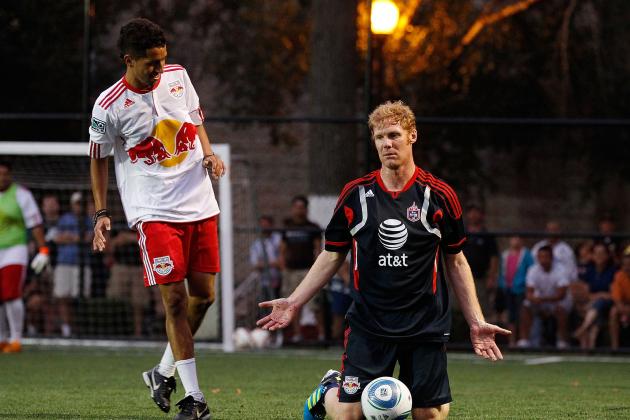 Mike Stobe/Getty Images

Alexi Lalas has 96 caps and nine goals for the men's national team out of the backfield. As a central defender, he was particularly effective and known for winning high crosses. He played with consistency, which is a trait demanded of defenders but rarely used when describing players for Team USA.
Lalas' flair is well known but he isn't credited enough for his on-field discipline. He was simply very good at placing himself in the right spots. How good? After the 1994 World Cup, he was signed by and consistently played for a Serie A team at a time when Serie A was considered the top league in the world.
This also was a time when the league was further pushing the boundaries of defensive concepts. The Italians understand positional discipline. And with Padova, he was on a Serie A team striving to avoid relegation, meaning it was more focused than most on defense (and probably often forced into defensive shells whether it wanted to play that way or not).
In other words, when Padova needed to find a professional defender to help it remain in Serie A, that Italian team turned to this American. He was well liked by the fans (presumably for more than the novelty of his bearded appearance), and that relationship was only bolstered by his winning goal in a game against AC Milan.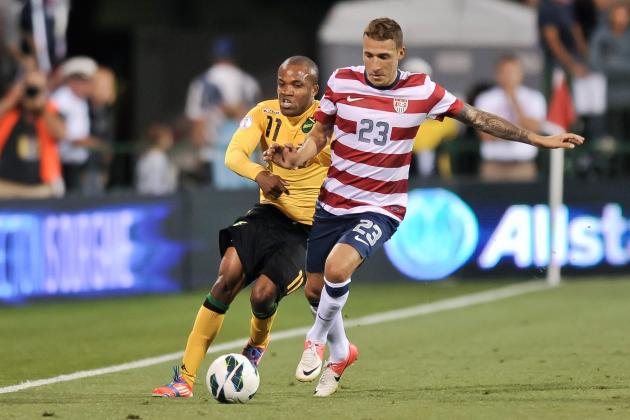 Jamie Sabau/Getty Images

Although he seems too young to be on this list, Fabian Johnson is here anyway. At 24 years old, Johnson is simply the most promising U.S. defender to date, and already among the best the U.S. has ever had.
It would not be outlandish to argue he already is the best ever U.S. defender. He is a Bundesliga regular, having played with 1860 Munich, Wolfsburg and now Hoffenheim. His international career began on German national youth teams at the U19, U20 and U21 levels.
Having never been capped for the German senior team, the current U.S. coach convinced him to explore his American side. Johnson's first of only nine U.S. caps came less than a year ago. And suddenly, the U.S. has an outside defender who can lock down a side as well as effectively support in attack phase.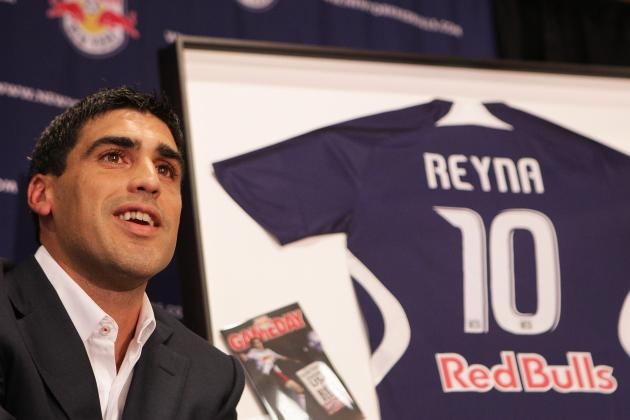 Mike Stobe/Getty Images

Nothing controversial with this pick (unlike a couple to follow).
With 111 caps, Captain America (aka Claudio Reyna) was the finest player to came out of Bruce Arena's University of Virginia program. He is universally considered one of America's best, if not the best. He was so good that his talents were often not used to their fullest with the men's national team, because so few of his teammates could play at his level.
Reyna was most effective when playing a central role in a short passing game. Out of necessity, his time with the men's national team normally featured a less demanding counter-attacking style.
He was rostered for the 1994 World Cup, but missed all games with injury. He did play in the 1998, 2002 and 2006 World Cups. In 2002, when the U.S. advanced to the quarterfinals against Germany, Reyna was named to the World Cup all-tournament team (only the third American to receive that honor, and the first two were more than a half-century before).
At Wolfsburg, he became the first American to captain a European club team. He also played with Rangers and in the EPL with Sunderland and Manchester City.
Reyna closed out his successful though injury prone career in the MLS, under the familiar Bruce Arena at New York.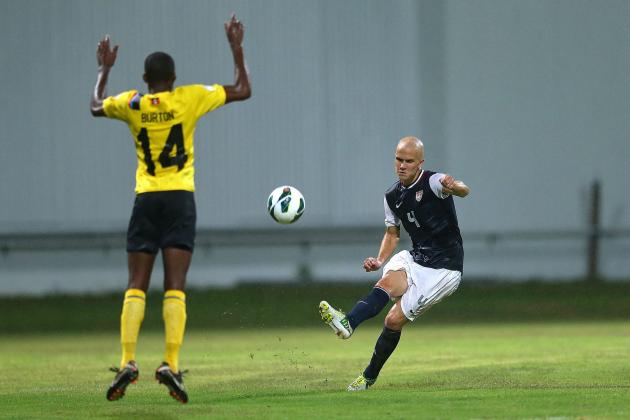 Mike Ehrmann/Getty Images

He is another player arguably too young to be listed among the best ever, but Michael Bradley's impact on the men's national team cannot be denied. No one on this current team makes the midfield click like Bradley. At the age of 25, Bradley already has 69 caps.
He came into the MLS from Project-40, initially playing for his father, Bob Bradley, with the MetroStars. In 2006, at the age of just 19, he was transferred to SC Heerenveen. Two years later, he was in the Bundesliga with Borussia Monchengladbach. Bradley later played on loan with Aston Villa before signing with Chievo Verona for a season and the more prominent Serie A side Roma earlier this year.
As a U.S. national, his impact is most obvious in his ability to retain possession and bring control to a midfield passing game that can quickly seem chaotic and even desperate in his absence. Like Reyna before him, his first touch is world-class.
Bradley is creative, and only growing in that area. With experience, his ability to set in motion quality scoring opportunities is demonstrated more frequently now. And he has a knack for punching in key strikes himself. He may well already be the most deft heading artist ever on the men's U.S. soccer team (not to mention the most aerodynamic).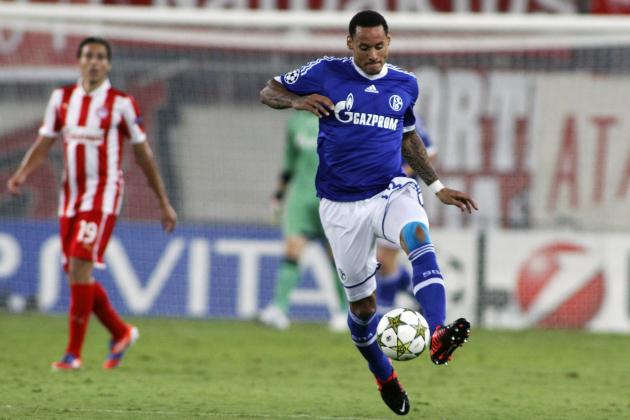 EuroFootball/Getty Images

This may well be the selection that stirs the most criticism.
Let me lay out the case. Jermaine Jones is the only U.S. national who also has appearances with the German national team. In 2008, he played three games with Germany (as well as a previous four with the German U-21 team). Not considered a regular with Germany and not expected to be offered that opportunity, in 2009 he took advantage of new FIFA rules and announced an interest in playing for the U.S. soccer team.
Bob Bradley jumped at the opportunity.
Once paperwork cleared, Jones made an immediate impact—13 minutes into his debut, he recorded an assist in a friendly against Poland.
Jones has earned 23 caps since, and earlier this year he captained the team during a friendly against Venezuela. So, two goals in 24 caps—why the selection? Jones brings something the men's national team rarely has had before. Even out of the defensive midfield position, he can unbalance an opponent with his capacity for what I call "controlled recklessness," even at international speeds of play. It's a quality that forward Joe Gaetjens reportedly had, but that claim is impossible to verify. (For American football fans trying to understand, think Ben Roethlisberger and how to make a controlled NFL contest seem like a back-alley pick-up game).
Jones frequently looks like he's just having fun—like he's playing pick-up soccer—but presumably not losing sight of his positional responsibilities in current coach Jurgen Klinsmann's eyes. Then there's Jones' club experience. He is a Bundesliga mainstay with stints at Eintracht Frankfurt, Leverkusen and Schalke, as well as solid performances on loan at Blackburn Rovers.
Similar Premier League credentials are used to justify other selections. There are many fans in Germany who still think Jones got less than a fair look from their national team. That in itself is a consideration when picking the greatest U.S. men's players ever.
(Full disclosure—I entered this project not intending to select Jones, but kept coming back to him in comparison to other, more mainstream potential selections.)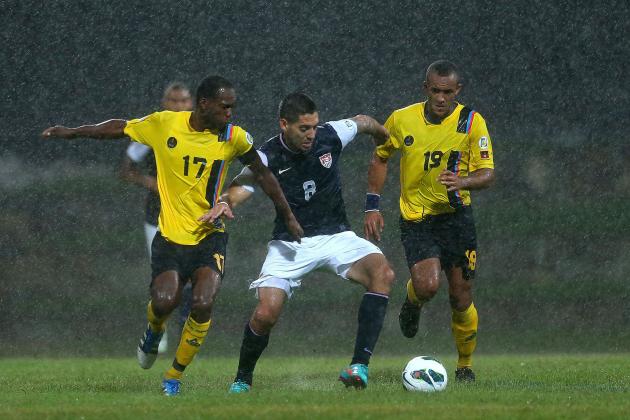 Mike Ehrmann/Getty Images

With 28 goals in 90 men's national team appearances, and several huge goals in critical games, Clint Dempsey is an obvious choice.
In 2006 he was named Honda Player of the Year and was the only American to score in the World Cup. During the 2009 FIFA Confederations Cup, Dempsey scored key goals against Egypt to help the team advance and then against Spain to seal that upset win. He was named Man of the Match against Spain, and also named the third best player in the entire tournament.
The next year, he scored the equalizing goal against England (with some assistance from the English keeper) that helped the team to win that World Cup group.
The U.S. hadn't won a World Cup group since 1930.
Earlier this year, Dempsey scored the only goal in the historic win in Italy. And speaking of men's national team goals, Dempsey set and then broke his own record for the fastest ever. The latter was against Jamaica this year, with Dempsey finding the net just 39 seconds into the qualifying match.
All that said, it is his accomplishments in the EPL that are more awe-inspiring. Simply put, Dempsey is the most highly regarded and marketable U.S. field player ever in the EPL. He is a threat to win the EPL's scoring title and even Footballer of the Year honors (having already forced that consideration last season), and everyone in England knows it.
At Fulham, Dempsey was twice named player of the season. Earlier this year, he signed with Tottenham. His first goal with the new club was memorable, when he scored the game-winner over Manchester United at Old Trafford.
Tottenham had not won there in 23 years.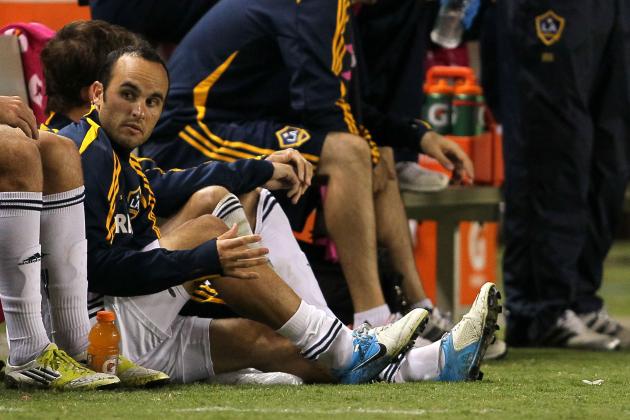 Victor Decolongon/Getty Images

Who could deny the men's national team player with the most goals and assists of all time?
Landon Donovan is the most widely known American soccer player today and, as already noted, his accomplishments stack up pretty well when compared to former players.
His time as a celebrated U.S .national started in 1999, when he played in the FIFA U-17 World Championship. He was awarded the Golden Ball (best player). Just three years later, at the 2002 World Cup, he was named Best Young Player.
In 2008, already holding the record for most assists, he surpassed Eric Wynalda's international scoring record. In 2009, his ability to play at pace was a key to the counter-attacking goals scored during the Confederations Cup upset over Spain. Donovan's most memorable performances with the MNT were at the 2010 World Cup. His goals against Slovenia and Algeria not only led the team toward a historic group win, but were essential for the Americans to advance out of group.
Donovan's current goal tally is 49 and counting, and his total of five goals in World Cup play is the most of any player from CONCACAF. Club play has mostly been in the MLS, though Donovan held his own while on loan to Bayern Munich and impressed while on loan to Everton. That team expressed interest, but Los Angeles was intent on retaining his services.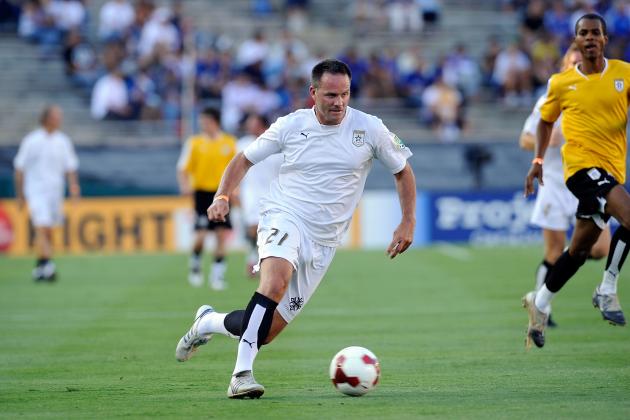 Kevork Djansezian/Getty Images

Eric Wynalda led men's national team scoring records with 34 goals in 107 caps prior to Landon Donovan and is still considered one of the best American forwards of all time.
To put those 34 goals in perspective, they were tallied in the 1990s. Anyone remembering those days would be excused for thinking the entire U.S. team hadn't scored 34 goals in the 1990s. Wynalda was named Honda Player of the Decade and to the CONCACAF All-Decade Team. He also received all-tournament honors for his work in the 1995 Copa America, where he scored against Chile and Argentina.
His club career began in the U.S., but he broke down one barrier in 1992 as the first American to play in the Bundesliga while on loan to Saarbrucken. He was named the Bundesliga's Best New Comer of the Year. Saarbrucken didn't fare as well, with relegation to 2nd Bundesliga. Wynalda was named that league's best player.
In 1996, he scored the first goal ever in the new MLS while playing for San Jose.