The 50 Sexiest Sports Halloween Costumes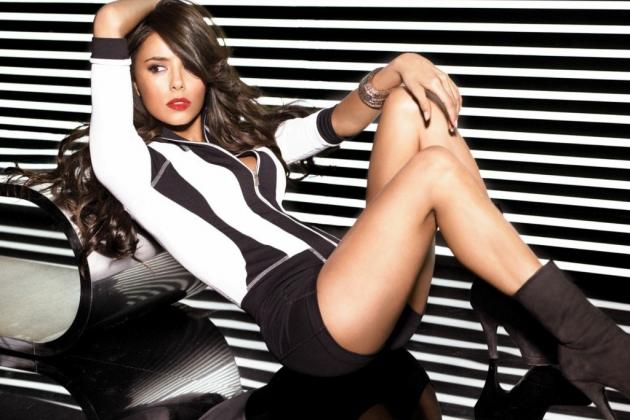 Image via tw.myblog.yahoo.com
October is the greatest month of the year. Purists will argue that November carries more weight because of the turkey, and that December is the all time greatest thanks to the big man in red, but October will always be my choice for greatest month of the year.
Why? The sexy Halloween costumes, that's why.
All year long, women from all over patiently await the one time a year where it is perfectly normal to wear less than nothing. It is the one time of the year where dressing up in a naughty school girl costume will not get you arrested. In fact, it is encouraged.
From the sexy baseball outfits to naughty refs, I have scoured the web to find the 50 sexiest sports Halloween costumes of 2012. Enjoy.
Begin Slideshow

»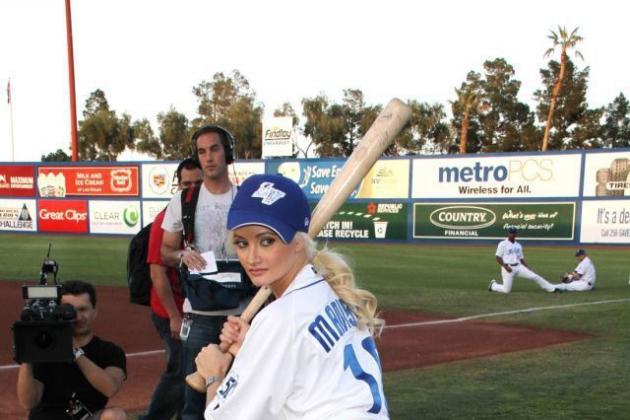 Image via izismile.com
There will never be anything wrong with Holly Madison wearing short shorts and a baseball jersey.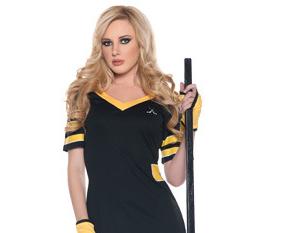 Image via halloweencouplecostumes.com
At first glance, I thought this might be a sexy version of one of the uniforms worn in the classic hockey flick Slap Shot. However, this isn't a jersey from the movie. It doesn't even have anything to do with that movie.
I wonder why they call it a slap shot costume then?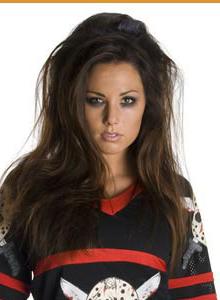 Image via halloweencostumes4u.com
Now they're making sexy Jason costumes for women? Game over man.
What's next? Sexy Gangnam Style costumes?
Image via halloweenplayground.com
NASCAR drivers are so protected in their cars these days that a helmet is the last thing they should worry about wearing.
They have everything from a fire-retardant suits to a roll cage that protects the driver in the event of a crash.
But with a female driver on board in costume like this- I wouldn't tell her not to wear one if you get my drift.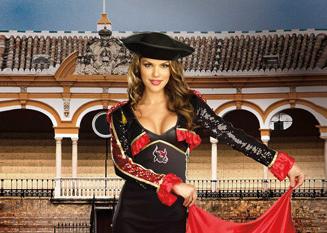 Image via intimatewholesalers.com
Bull fighting is a sport. Why do people try and argue otherwise? It baffles me.
It might not be the smartest sport around, but when a man steps into a ring to take on a bull it deserves the title.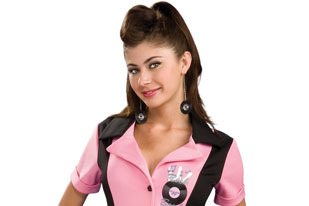 Image via blockbusterclearance.com
From bull fighting to bowling: Not all sports have to be glamorous to be considered a sport.
Bowling isn't easy by any means, but only people that break a sweat after eating a cheeseburger are the ones who sweat while they're playing it.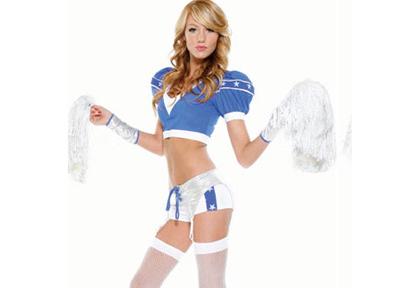 Image via halloweenplayground.com
A recent survey conducted by a few buddies and myself found that men love women in cheerleader costumes more than any other fantasy outfit.
The findings from this survey can be found online at duh.com.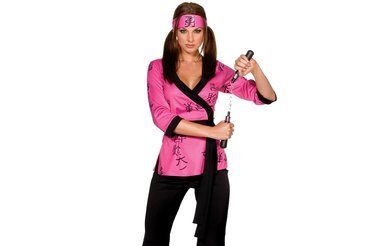 Image via hoobly.com
Karate fact: It began in Japan where it was first used for training in Okinawa.
Karate is also a sport where you don't have to be good at it to enjoy.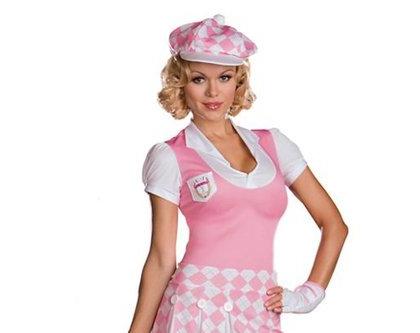 Image via buy.com
Even if you're not a huge fan of golf, it's hard to argue with this picture. Now, if you'll excuse me, I'm off to get better at this sport.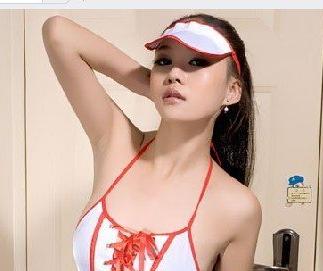 Image via aliexpress.com
I think the world should bow down to Japan's superiority when it comes to costumes. No one can compete. If you need proof, just take a look at this picture one more time.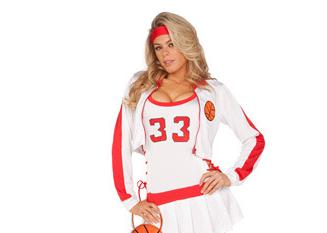 Image via intimatewholesalers.com
OK, stay with me for a second.
Imagine you have to host your league's fantasy basketball draft this season. Now what do you bring? Cups, plates, chips, beer, wings...
What you really need are some hotties dressed up like this to entertain your guests. No one would ever be able to top that.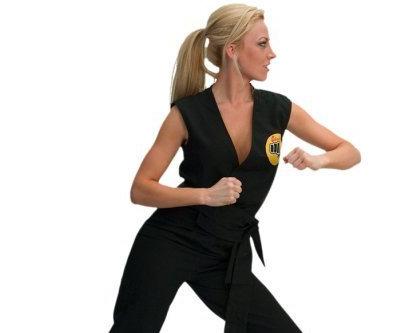 Image via halloween24.com
How awesome is this Karate Kid costume?
What is it about movie costumes on women that makes them so sexy?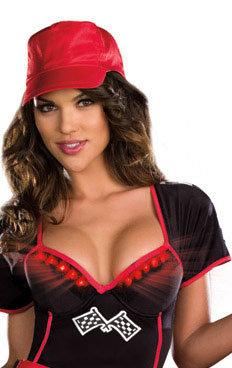 Image via mrcostumes.com
NASCAR is having trouble getting fans to come out to the track and watch the races. Now that we have the internet, DVRs and smartphones, getting people to leave the house is becoming very tricky.
So why not go back to basics and add hot women? Let this babe wave the checkered flag at the end of the race.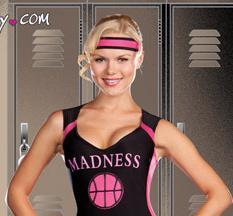 Image via yandy.com
Wait a minute, I already saw this model in an earlier costume. What is going on here?
Are the modeling agencies only using gorgeous models to show off their costumes in order to make a profit? Oh wait, I see what they did.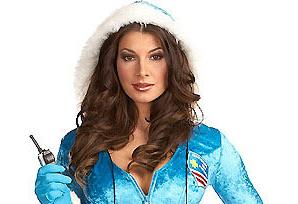 Image via 3wishes.com
I know what you are thinking, "What does a ski patrol costume have to do with sports?"
Well, without a sexy ski patrol, people couldn't ski. You need to have sexy ski ladies to patrol the mountains much like the lifeguards in "Baywatch." Safety first, people.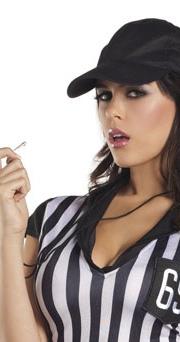 Image via formaldressshops.com
In honor of the NFL's reinstatement of their official refs, I have given you guys a mini slideshow as told by the hot ladies in ref costumes, of the six worst calls from the replacement officials.
Bad Call #6 : The 27 yard penalty given to the Tennessee Titans in week three. The penalty should have been only 15 yards. The call led to the game winning OT field goal kick by Rob Bironas.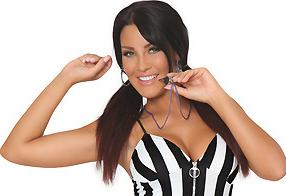 Image via 3wishes.com
The Seattle Seahawks were awarded an extra timeout in week one. Why? Because it makes the game more exciting, that's why.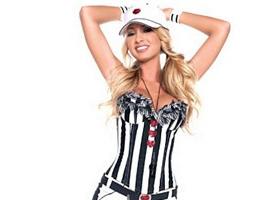 Image via flickr.com
If you thought Seattle getting an extra timeout was bad, you must not have seen the 49ers-Vikings game in week three when Jim Harbaugh was given five timeouts.
Just watch the video and decide for yourself.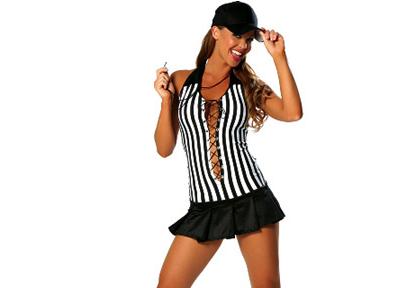 Image via halloweenplayground.com
Now this isn't so much a bad call as it is a no call, but it goes back to week two during the Monday night game between the Atlanta Falcons and the Denver Broncos.
Did you watch that game? It was like a UFC reality show: All the teams did was fight, and the refs didn't do anything to stop it. It was mass chaos.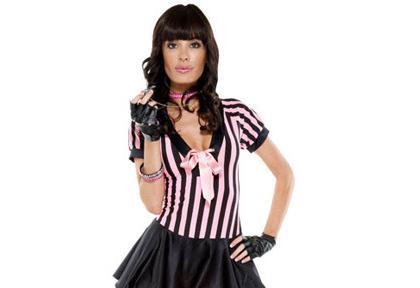 Image via scavengeinc.com
In week two, the Pittsburgh Steelers and New York Jets collided in a matchup that would make your mother cry. It is just too bad the refs didn't see it that way.
They started penalizing players that didn't even touch anyone.
Ike Taylor was given a pass interference penalty when he wasn't even involved in the play. No one disputed, no one overturned.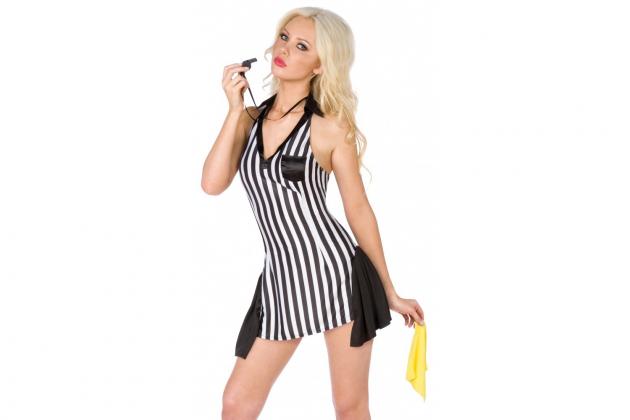 Image via couplescostumes.com
If you didn't already know the answer, you probably shouldn't operate heavy machinery.
Of course it is the Seattle Seahawks intercept-down play. That was such a bad call, it made the NFL cave and allow the referees back on the field.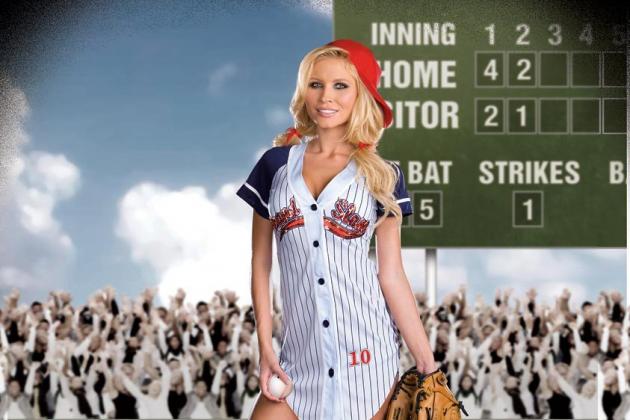 Image via mrcostumers.com
In honor of the MLB playoffs, I decided to include some first rate sexy baseball costumes for all to enjoy.
There is just something about a female in a baseball jersey that makes me melt.
Image via partycity.com
The other thing I love about Halloween are those costumes that aren't truly clear to me. The ones that could go either way.
This one, for example, is either a football player or a cheerleader. You decide.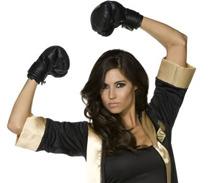 Image via partytimedirect.co.uk
Maybe it is the robe or maybe it is just the beautiful women behind all these costumes but I am getting to a point where I might need to lie down for a minute.
She could approach me and want to fight, I wouldn't mind it one bit.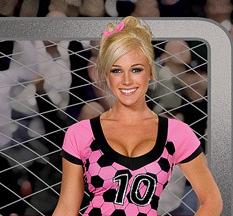 Image via angelbodywear.com
Let's do this for real. Let's all play in a fantasy league, the sport doesn't matter, and we get to draft hot celebrities/models/musicians. You would earn points when they appear in magazines, movies, etc...
Again, I am just spit-balling here, seeing what sticks. Tossing it out there, seeing what happens.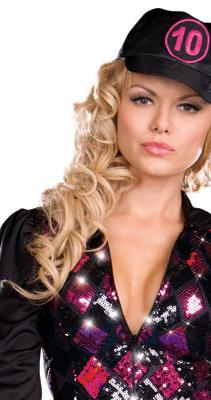 Image via costumecraze.com
Here is an interesting fact about jockeys that even I didn't know.
There are no height limits, only weight limits. Do you know what the weight limit is for the Kentucky Derby? 126 pounds which also includes equipment.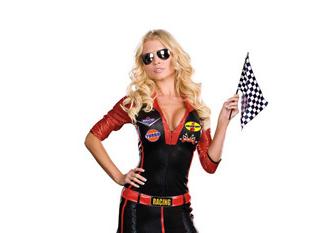 Image via intimatewholesalers.com
Can you name another sport that showcases sponsorships with more enthusiasm than NASCAR? Not only are the sponsors plastered all over the cars and clothing, but during the interviews that is all the drivers speak about.
Try watching an interview that doesn't sound like a Sunday morning infomercial.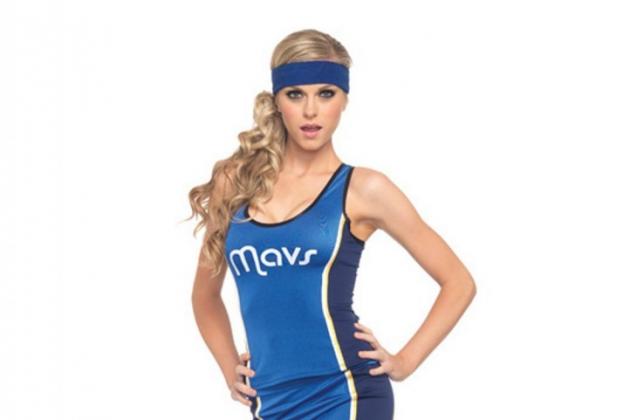 Image via nbacostumes.com
Now that the Dallas Mavericks' cheerleaders have costumes available for all the women of the world to wear, I went out to see what other sexy NBA cheer costumes I could find.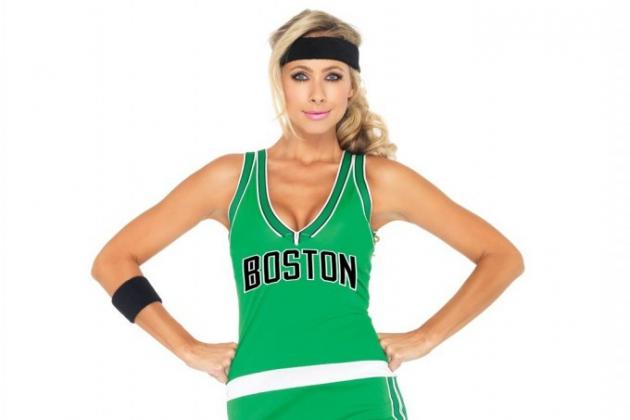 Image via nbacostumes.com
I thought I would run into at least one Celtics costume.
I am just glad I did. Isn't she amazing? Can you picture your woman in this?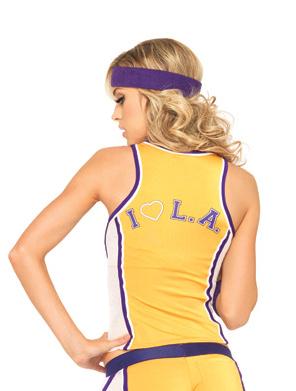 Image via nbacostumes.com
Now if the Celtics and Mavs dancer costumes didn't do it for you, the Laker Girls' costume should.
If not, you might need to check your pulse.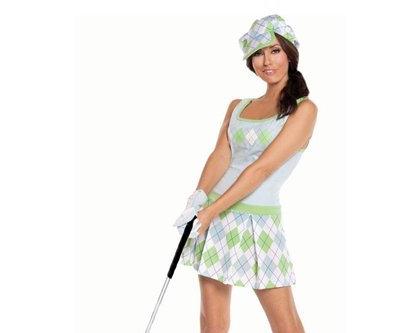 Image via buy.com
I play golf. I enjoy how relaxing it is to walk up and down the green after hitting a great tee shot. I enjoy the atmosphere and the people.
But most importantly, I love the ladies.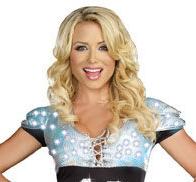 Image via mrcostumes.com
What position should this vixen play? QB? RB? TE?
I don't think it matters, as long as she is playing in my game.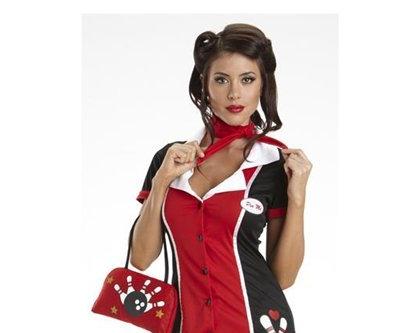 Image via buy.com
Not everyone's girlfriend looks like Alyssa Milano but if they did, this would be a no-brainer.
Even if not, there has always been something sexy about a woman in a low cut bowling outfit.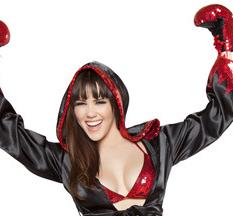 Image via angelbodywear.com
No, she is not actually on fire. This is just a costume.
So please don't call the fire department, everything is OK.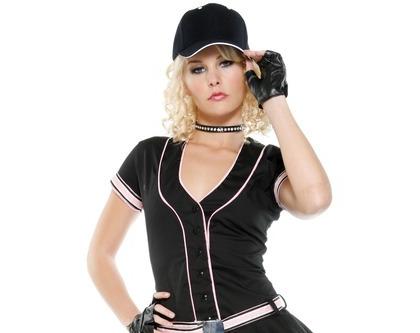 Image via howcool.com
When I go to a Halloween party this year, I hope to bump into some women dressed up as gothic baseball players.
Not because I'm emo, but because women in black lingerie make my heart hurt.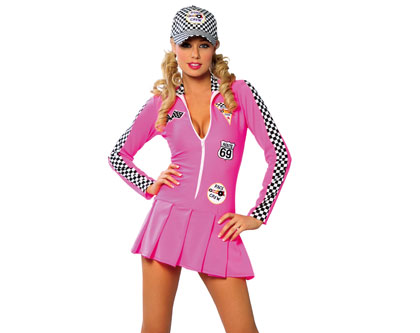 Image via truecostumes.com
The pit crews in NASCAR are great at their jobs. They know what they are doing and are terrific at doing it.
All I wanted to say was that they should add a lady every now and then. It might be nice.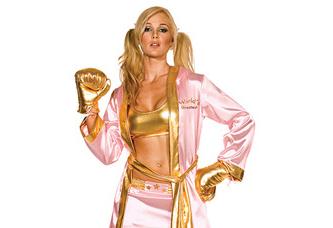 Image via thetoryparty.com
Don't let the smoking hot body fool you, women can box.
Now this model may not be a boxer in real life, but I'm sure she would have no issues handling you.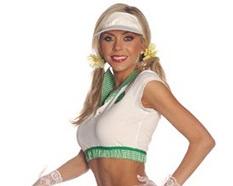 Image via clothhands.com
If you thought Tiger Woods had issues in his past, just imagine how tough his life would be if the women on the golf course all dressed like this.
It wouldn't be tough, it would be impossible for him to concentrate.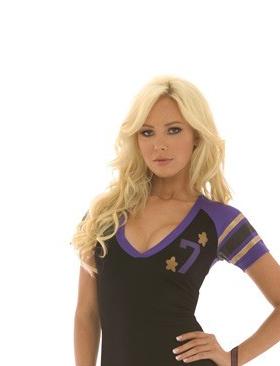 Image via intimatewholesalers.com
This outfit does something that almost seems impossible. It makes football more awesome.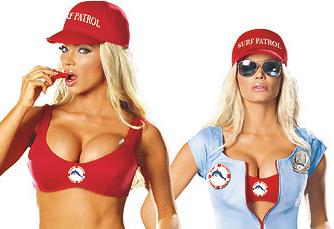 Image via 3wishes.com
Even a surfer needs a lifeguard. That is where the surf patrol comes into play.
Without a surf patrol, surfers would be aimlessly floating around the ocean trying to find dry land.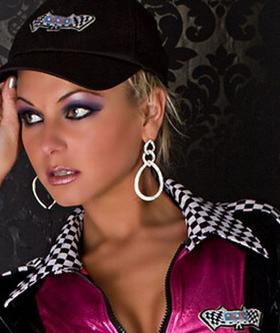 Image via chinagrouponline.com
Say what you want about women with tattoos, but I love them and this woman reminds exactly why.
I also love hot Halloween costumes, so its a win-win for everyone.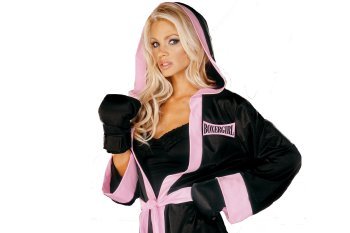 Image via thehunt.com
What happened to female boxers? There was a time, not too long ago, when female boxers and UFC fighters were all smoking hot.
I am not saying they still aren't. I am just having a tough time finding them.
Image via universtores.com
What? Now you are telling me my girlfriend can buy a Dallas Cowboys cheerleader costume?
Game over. Good luck getting me to leave my house now.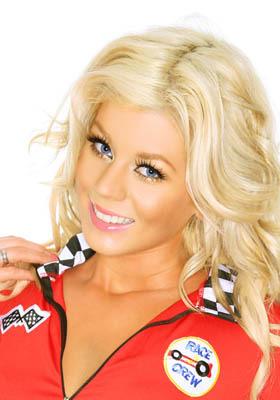 Image via ioffer.com
When I dream about playing sports, outside of football, I dream of being a NASCAR driver. And why not, the ladies are all over the place.
Ever been to Talladega? Go down there and watch a race before judging me.
Image via beertees.com
The greatest invention in beer drinking is beer pong. This is a sport that encourages trash talking. It is a necessity for any tailgate party as well as any bar within five minutes of a college or university.
I don't consider myself good, I just think I could win more games if we didn't have to drink so much beer in-between.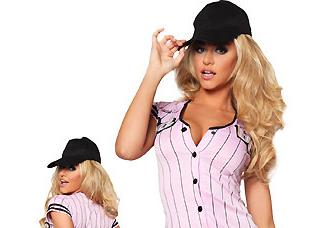 Image via 3wishes.com
No, this isn't a New York Yankees costume. Although, Alex Rodriguez might need to buy this one following his dreadful postseason so far.
How many strikeouts before the fans begin to boo him? What's that? They already are? Never mind then.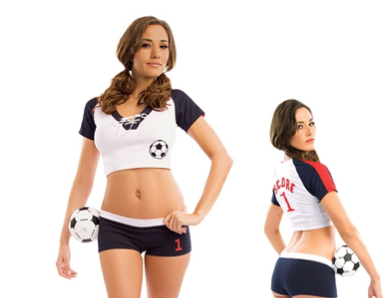 Image via thedenimkit.com
You don't have to be Shakespeare to come up with a classic innuendo for this costume.
How long into the night before that soccer ball becomes a tool instead of a prop?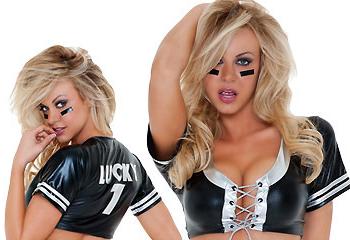 Image via 3wishes.com
The greatest part about this entire costume is the name on the back, Lucky.
Any man lucky enough to bring this babe to a Halloween costume in this gear, deserves that title.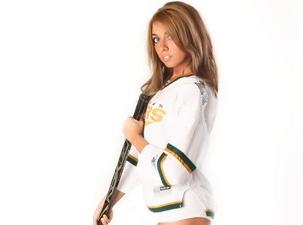 Image via asianathletes.wordpress.com
Whether or not this is an actual costume or if it is just a mega hot chick in a hockey jersey, it is still Halloween time and anything THIS sexy qualifies to me.
I wonder if I can get the costume to come with the girl?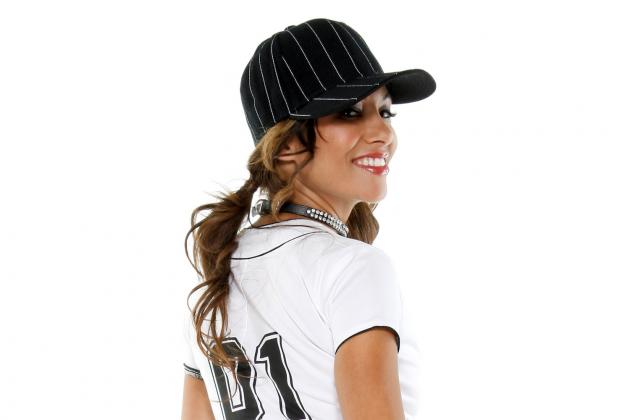 Image via ebay.com
Now that you have seen all the sexiness of the Halloween season, sports style, let's state the obvious: Life doesn't get much better than a female in a sexy Halloween costume.