Tigers vs. Yankees: Full Series Breakdown and Analysis for ALCS Matchup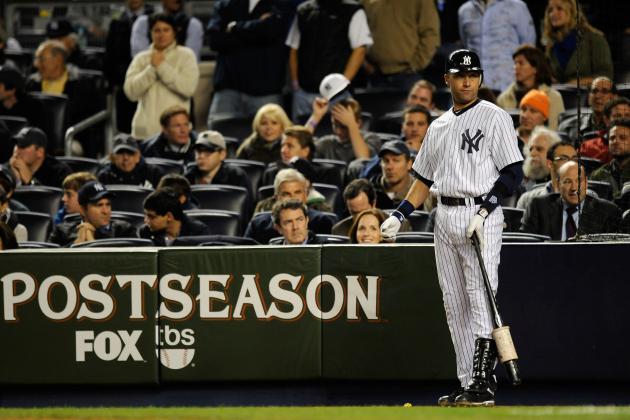 Patrick McDermott/Getty Images

It'll be a rematch of last season's ALDS between the New York Yankees and Detroit Tigers, only this time the winner moves on to the World Series.
It took the Yankees and Tigers five games to eliminate their opponents and move on to the ALCS, but both teams will come in well matched.
During the regular season, the Tigers and Yankees faced off 10 times, with New York winning the season series 6-4.
Both teams used their aces in the deciding Game 5's of the ALDS rounds against the Oakland A's (Tigers) and Baltimore Orioles (Yankees), leading to a possible must-see Justin Verlander vs. CC Sabathia showdown in Game 4 and perhaps Game 7.
The ALCS will kick off on Saturday at 8:07 p.m. ET.
Read on for an analysis and breakdown of both teams in what should be a hard-fought series.
Begin Slideshow

»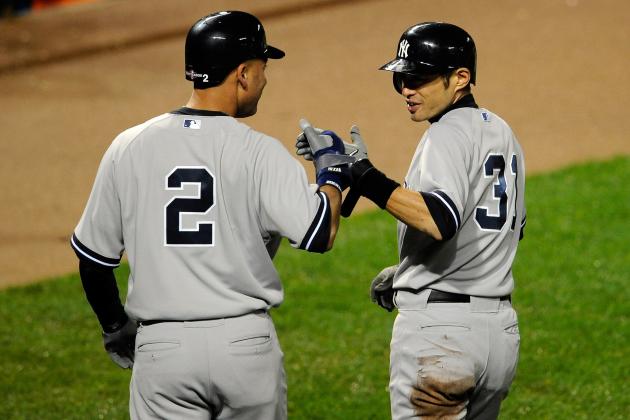 Patrick McDermott/Getty Images

SS, Derek Jeter
LF, Ichiro Suzuki
3B, Alex Rodriguez
2B, Robinson Cano
RF, Nick Swisher
1B, Mark Teixeira
CF, Curtis Granderson
C, Russel Martin
DH, Raul Ibanez
The Yankee lineup could look a little different if manager Joe Girardi decides to bench slumping third baseman Alex Rodriguez.
Girardi benched A-Rod in Game 5 against the Baltimore Orioles in favor of Eric Chavez, who boasted a .516 batting average with a pair of homers in nine games against Detroit this season.
Rodriguez batted .375 with three homers against the Tigers this season.
The Yankees lineup batted .287 against the Detroit Tigers in 2012, scoring 58 times in their 10 games and connecting for 15 homers.
They batted .298 and scored 40 runs in seven games at Comerica Park.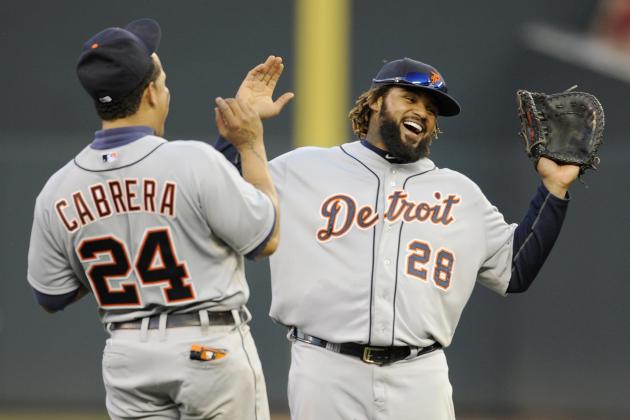 Hannah Foslien/Getty Images

CF, Austin Jackson
LF, Quintin Berry
3B, Miguel Cabrera
1B, Prince Fielder
DH, Delmon Young
RF, Andy Dirks
SS, Jhonny Peralta
C, Alex Avila
2B, Omar Infante
The Tigers feature Triple Crown winner Miguel Cabrera and offseason acquisition Prince Fielder in the heart of their order.
Cabrera batted .308 with five home runs against the Yankees in 2012. Fielder batted .333 with three homers of his own. Andy Dirks led all Detroit hitters with a .421 average in six contests.
The Tigers lineup batted .294 collectively against New York in 2012 and scored 48 runs in 10 games. They connected for 12 homers against Yankee pitching.
They were not nearly as productive in Yankee Stadium, batting just .233 in three games.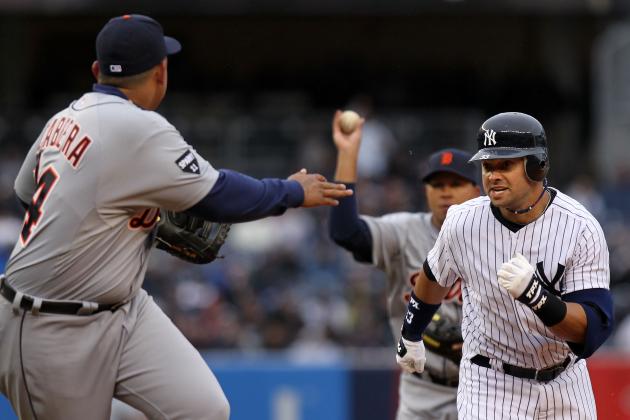 Nick Laham/Getty Images

The quick glances at both lineups gives the edge, on paper, to the New York Yankees.
Detroit hit much better at home than on the road in 2012 (.278 at home, .258 on the road). The Tigers also hit 92 homers at home compared to 71 away.
The Yankees, on the other hand, were very consistent. They batted .266 at Yankee Stadium and .264 in visiting ballparks. They slugged 138 homers in New York compared to 107 on the road.
New York also has a trio of future first-year Hall of Fame inductees in Derek Jeter, Alex Rodriguez and Ichiro Suzuki. Robinson Cano, Mark Teixeira, Curtis Granderson and Nick Swisher all offer power in the lineup.
Detroit counters with Miguel Cabrera, Prince Fielder and Delmon Young in the middle of its order, along with speed threat Austin Jackson at the top of the lineup.
With solid pitching on both sides, this series will come down to which team can squeeze across enough runs to support their pitching.
New York has the more potent lineup, but if Cabrera and Fielder go off, they could cut the gap.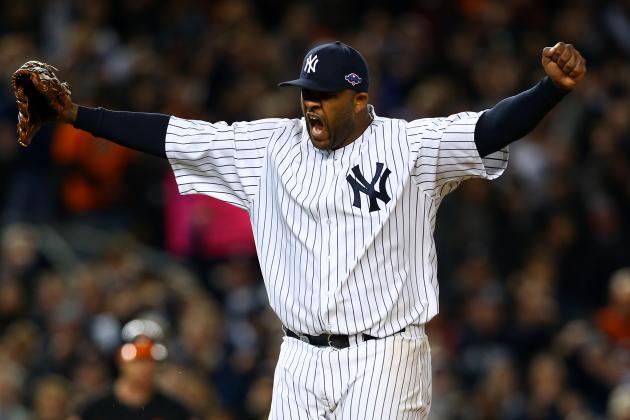 Elsa/Getty Images

CC Sabathia
Andy Pettitte
Hiroki Kuroda
Phil Hughes
CC Sabathia pitched the deciding Game 5 against the Baltimore Orioles, meaning the earliest he would likely pitch in the ALCS would be Game 3 if the Yankees wanted to pitch him on four days' rest (with the travel day).
He could also pitch on normal rest in Game 4, setting him up to potentially pitch a Game 7 on four days' rest if necessary.
Sabathia is currently riding an eight-game winning streak in the postseason. He would likely match up against Detroit ace Justin Verlander—who pitched Game 5 against Oakland—in Game 4 and likely Game 7.
Andy Pettitte has a 19-11 career record in 43 postseason starts and is likely your Game 1 starter in New York.
Yankee pitchers were 6-4 against Detroit this season, but their ERA soared to 4.72.
Sabathia was a perfect 3-0 with a 3.32 ERA against the Tigers, while Hiroki Kuroda and Phil Hughes both posted identical 3.38 ERAs against Detroit.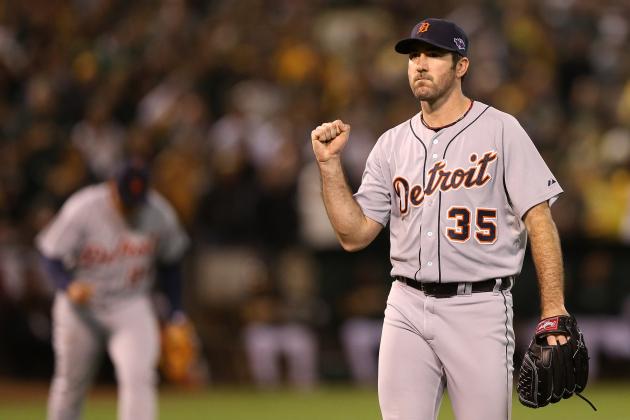 Ezra Shaw/Getty Images

Justin Verlander
Doug Fister
Anibal Sanchez
Max Scherzer
Having Justin Verlander for a postseason series is a very nice weapon to have in your arsenal.
The Detroit ace threw Games 1 and 5 in the ALDS against the Oakland Athletics, so he isn't likely to be an option until Game 4.
Tigers pitching didn't fair so well against the Yankees during the regular season, managing a 4-6 record and a 5.30 ERA.
Verlander was 1-1 with a 3.10 ERA against New York, while likely Game 1 starter Doug Fister posted a 2.84 ERA in his only start (he allowed two earned runs in eight innings).
If necessary, Rick Porcello also pitched well against the Yankees in 2012, posting a 1-0 record and 2.84 ERA in two starts this season.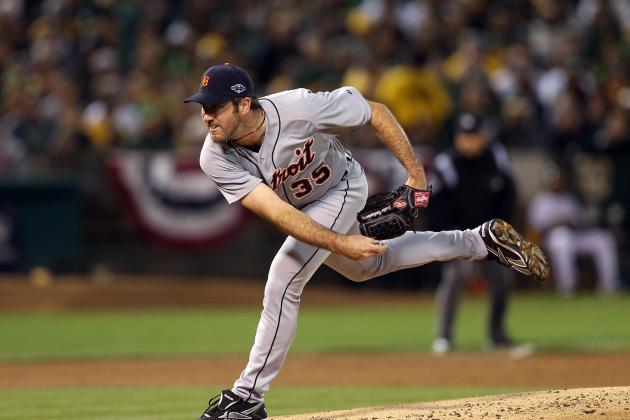 Ezra Shaw/Getty Images

Once again, you have to give the edge to the New York Yankees.
Behind CC Sabathia, Andy Pettitte probably edges Doug Fister, although Fister has transformed into a far more dominant pitcher than he was when the Tigers acquired him from the Mariners.
Anibal Sanchez has the "stuff" to outduel Hiroki Kuroda; however, he doesn't always show up in big moments.
The matchup between Hughes and Scherzer could definitely go either way.
All baseball fans will hope to see Sabathia and Verlander square off. Both pitchers have the ability to shutdown opposing teams. If there was any pitcher you were going to try to counter Verlander with twice in a series, Sabathia would likely be at the top of that list.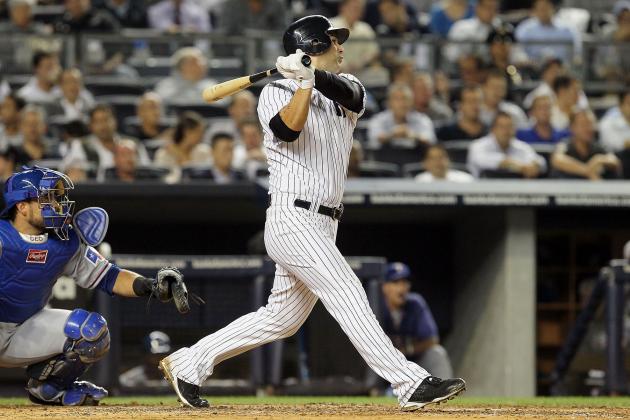 Jim McIsaac/Getty Images

Bench: Brett Gardner, Jayson Nix, Eduardo Nunez, Eric Chavez, Chris Stewart
Brett Gardner played in just 16 games in the regular season, but he managed a .323 batting average in his time.
Jayson Nix and Eric Chavez add some infield depth at third base which, given A-Rod's current position in the doghouse, could be necessary. Chavez had a solid second season in the Bronx, batting .281 with 16 homers in only 278 at-bats.
Eduardo Nunez batted .292 in 38 games and could wind up being the Yankees shortstop of the future.
Chris Stewart makes the team as the backup catcher in the event Russell Martin needs to be replaced. He batted .241 in the regular season.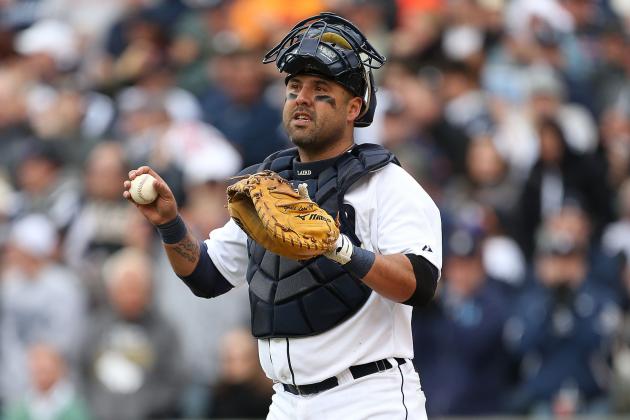 Leon Halip/Getty Images

Bench: Gerald Laird, Don Kelly, Danny Worth, Ramon Santiago and Avisail Garcia
Don Kelly, Danny Worth and Ramon Santiago all batted around .200 for the regular season, but they made the Tigers postseason roster as late-inning defensive replacements.
Gerald Laird also made the team based on his defensive abilities behind the plate. Laird did bat .282 for the season in his 174 at-bats.
Avisail Garcia showed a solid bat in his 47 at-bats in the regular season, batting .319.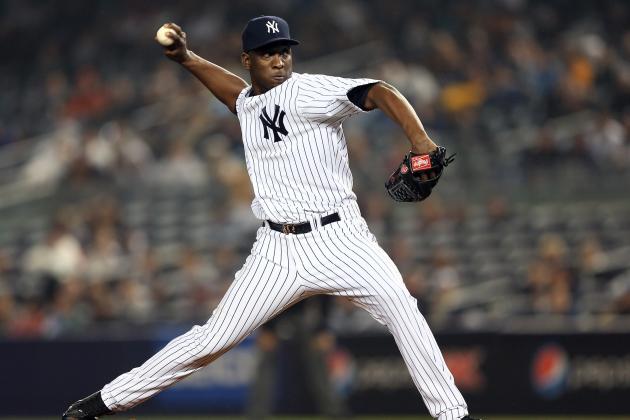 Elsa/Getty Images

The Yankees will turn to Rafael Soriano to close out games.
Soriano was 2-1 and 42-of-46 in save opportunities this season with a 2.26 ERA for the Yankees.
Leading up to Soriano, the Yankees also have Joba Chamberlain, Boone Logan, Derek Lowe, Clay Rapada, David Robertson and David Phelps
It's been nearly automatic this season when the Yankees are able to get the ball to Soriano in the ninth inning.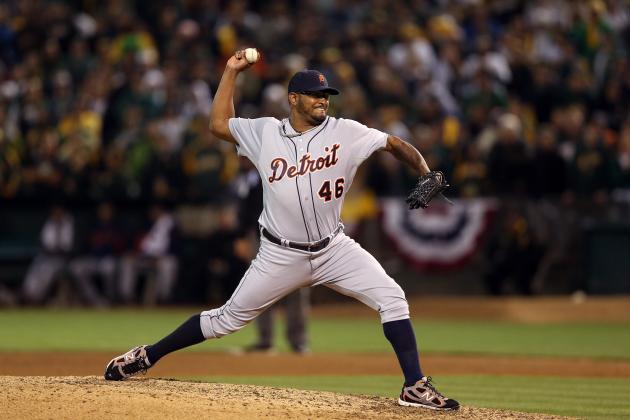 Ezra Shaw/Getty Images

Detroit turns to Jose Valverde in the ninth inning. Valverde was 3-4 with a 3.78 ERA in 2012 and was 35-of-40 in save opportunities.
He blew a save in Game 4 of the ALDS against the Oakland A's, pushing the Tigers into a Game 5 situation, though.
In addition to Valverde, the Tigers also have Al Alburquerque, Phil Coke, Octavio Dotel, Rick Porcello and Joaquin Benoit.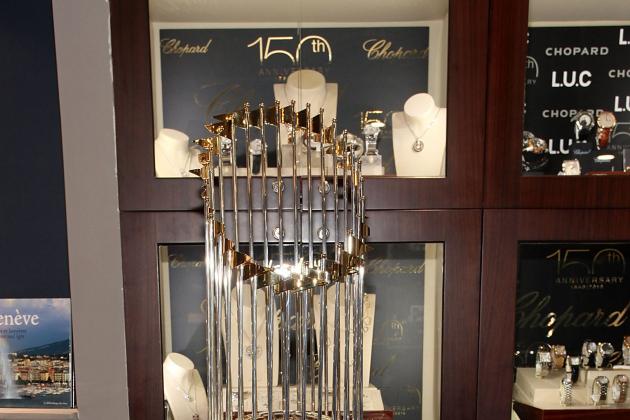 Donald Bowers/Getty Images

While the Tigers are a well-rounded team, the Yankees just match up better than them in seemingly every category.
The Tigers may have the two biggest bats in Miguel Cabrera and Prince Fielder, but the Yankees have more threats one through nine in their lineup.
The Tigers boast one of the best pitchers in the league in Justin Verlander, but New York will counter with its own ace in CC Sabathia.
The Yankees had the better series record for a reason, and they will beat the Detroit Tigers to advance to the World Series.
Detroit will make it a very challenging series and take it to a sixth game before New York closes it out.