Detroit Lions vs. Philadelphia Eagles: Live Score, Highlights and Analysis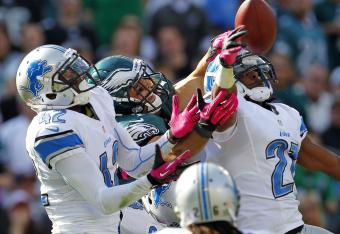 Rich Schultz/Getty Images
Two teams enter this game with apparent talent levels much higher than their record would suggest.
Both teams need a win in a big way. The Eagles need to keep from sinking to .500 from their 3-2 perch, while the Lions need to start climbing up to it from a disappointing 1-3.
Each team has a lot of firepower, and neither seems to have been able to use it properly. Matthew Stafford hasn't been as sharp as he was in 2011, and Michael Vick continues to torpedo his own offense with turnovers.
One of these teams is likely to come out of its funk in a big way this week and start on the road to being taken seriously. The Lions have a longer road than the Eagles do on account of record, but as far as this weekend goes, either of these teams easily win or lose by 30 points.
It has been an unpredictable start to the season for the Lions and Eagles, and neither looks anything like the powerhouse some projected them to be this season. But I still expect (at least) one of these teams to make the playoffs this year, and the result of this game may well give us an indication of who that might be.
Lions fans looking for a breakdown of the game, check out the Lions' 10 keys to victory, presented (as always) by yours truly. NFC North Lead Writer Andrew Garda also draws up a potential roadmap for a Lions victory.
Eagles fans looking for a Philly perspective can check out the Eagles' 10 keys to victory, presented by Eagles Featured Columnist Jasen Shen, as well as NFC East Lead Writer Brad Gagnon's game plan for the Eagles.
For those looking for a completely unbiased look at the game, watch Josh Zerkle, Aaron Nagler and Matt Miller break down the key matchups in the game and give their score prediction.
And once you've done all that, keep it here for the injury report, score updates, highlights, fantasy news and whatever else of interest comes out of this game.
Current Score: Lions 26, Eagles 23 (Final/Overtime)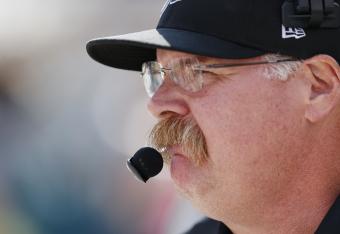 I said it before, and it holds true. This is a game that both these teams needed in a big way.
The outcome brings the Lions to a manageable 2-3 and the Eagles to 3-3.
Both these teams are still very much alive in their divisions, but the Lions snap a three-game losing streak in this one, and send the Eagles to a two-game losing streak of their own.
Ultimately, we haven't figured anything out about either of these teams. Simply put, both teams showed us both the best and worst of what they're capable of.
Michael Vick is still more of a liability than an asset, the Lions offense still lies dormant for the first 50 minutes of every game, and both appear to have a great deal more talent than what shows up on the field.
It's too early in the season to make any final determinations about either of these teams, but what we do know is that the Lions have breathed some life back into their season, and the Eagles may need to make some adjustments to right the ship.
With the game on the line, the Lions send out the oldest player in the NFL to win it.
And from 45 yards away, Jason Hanson is money.
The Detroit Lions win a game that turned out to be a lot more exciting than its first half suggested.
Keep it here for a quick recap.
Final Score: Lions 26, Eagles 23
The Lions' defense just stepped up in a big way, notching back-to-back sacks on Michael Vick to eliminate any chance of a score on the Eagles' first drive.
The Lions take over near midfield, and need only a field goal to win now.
Current Score: Lions 23, Eagles 23 (Overtime)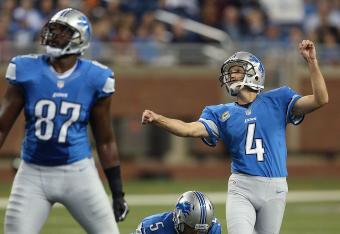 It's time for some free football.
The Lions march down the field, get the ball all the way to the one-yard line, but in classic Lions fashion, can't finish in the end zone.
They settle for another Jason Hanson field goal to tie the game with three seconds left, and after the ensuing kickoff, that time expires and we head to overtime.
The Lions come back from 10 down with about five minutes left in the game to force overtime, but their inability to put the game away with several chances could come back to bite them.
The Eagles win the overtime coin toss and will receive first.
Everyone still buckled in?
Current Score: Lions 23, Eagles 23 (Overtime)
Not only were the Eagles unable to pick up the first down, they did not force the Lions to use any timeouts, and stopped the clock twice on a run out-of-bounds and an incomplete pass.
The Lions now have a lot of time and two timeouts move the football on offense.
They need a field goal to tie, a touchdown to win, and they sit at 1st-and-10 close to midfield with a pair of minutes and timeouts.
I said it once before, but buckle up, everyone. This one's going to get a little crazy.
Current Score: Lions 20, Eagles 23 (1:59 4Q)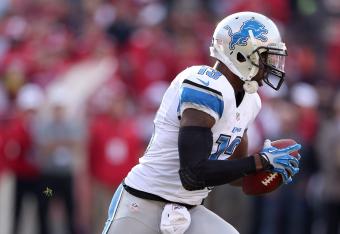 Helped by a 52-yard pass from Matthew Stafford to Tony Scheffler, the Lions earn those points back quickly on a nice 17-yard touchdown pass to Nate Burleson.
There is time left, and the Lions have time left. This game isn't over, but if ever they needed a big stop, this is it.
On the other side, Michael Vick needs to earn a couple of first downs to put this game away, but first and foremost, he needs to take care of the football. If he turns the ball over here, the Lions have new life.
Current Score: Lions 20, Eagles 23 (3:32 4Q)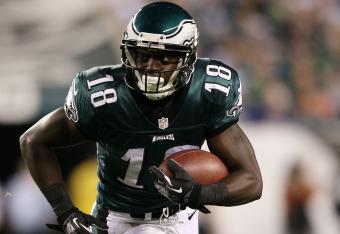 The Lions threaten but do not score.
After getting the ball past midfield, the drive stalls just outside of field goal range.
The Lions punt the ball back to the Eagles, with a chance to put the game away with a long drive and a score.
Or they could just hit Jeremy Maclin for a wide open 70-yard touchdown pass on the second play of the drive. I don't know who blew the coverage, but nobody was within 10 yards on Maclin from the time that pass was thrown.
Eagles are in control in a big way now.
Current Score: Lions 13, Eagles 23 (5:18 4Q)
Injury Update: No word on what happened, but LeSean McCoy is back on the field for the Eagles. Or was, before the score, anyway. Apparently, he's fine.
The Lions went the first four games of the season without an interception, but Chris Houston just pulled down the Lions' second pick of the game on Michael Vick.
Momentum has swung back for the Lions, who take over down only three points and having apparently found their offense.
Current Score: Lions 13, Eagles 16 (9:00 4Q)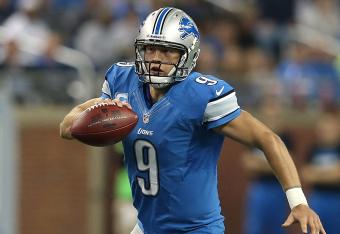 Finally, Matthew Stafford and Calvin Johnson hook up for a touchdown.
Oh, wait, check that.
Like Brent Celek for the Eagles, Johnson got called for offensive pass interference, negating the touchdown.
Johnson made up for it with a 20-yard reception for a first down, though, and Stafford ran in the touchdown on the next play on a naked bootleg.
Once again, the Lions' offense lies dormant for the first three quarters, only to come up big in the fourth. Eagles still lead, but we have a ball game again.
Current Score: Lions 13, Eagles 16 (10:30 4Q)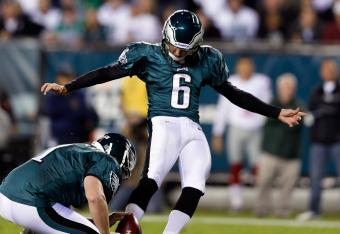 Well, the Lions find themselves in a familiar situation. Again.
For the fifth game out of five, the Lions are down big in the fourth quarter, with the Eagles tacking a 49-yard Alex Henery field goal on to make this a two-possession game.
The Lions can completely turn this game around with a touchdown here, but if the past is any indication, they'll wait until there's five minutes left before the offense comes alive.
And just as I say that, the Lions start driving. Buckle up, folks.
Current Score: Lions 6, Eagles 16 (11:52 4Q)
It was only for six points, but the third quarter of that game was completely dominated by the Eagles on both sides of the ball.
The Eagles offense engineered two long scoring drives in the third, while the Lions ran six offensive plays: a pair of three-and-outs.
This game is far from over, but the Eagles are in Lions territory with the ball again, and another score makes it a two-possession game.
Current Score: Lions 6, Eagles 13 (Start of 4Q)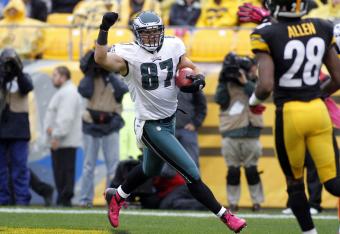 Well, the Eagles scored, but the way it happened might actually be a swing in momentum for the Lions.
After another effective drive for the Eagles, tight end Brent Celek appeared to catch an easy pass wide open in the end zone.
He did, but he pushed off first and was called for (a questionable) offensive pass interference.
The Eagles were unable to punch it into the end zone again, and settled for another short Alex Henery field goal.
Still, the Eagles are scoring, and the Lions are not. It's still a one-possession game, but this game threatens to get ugly if the Lions don't take some semblance of control.
Current Score: Lions 6, Eagles 13 (3:24 2Q)
Injury Updates
LeSean McCoy walked off under his own power, but slowly. He's being checked out on the sideline.
Meanwhile, Jacob Lacey, injured earlier, made it back onto the field but just knocked his helmet on the hip or knee of the ball carrier and is back down. He will undoubtedly be checked out on the sideline for a concussion.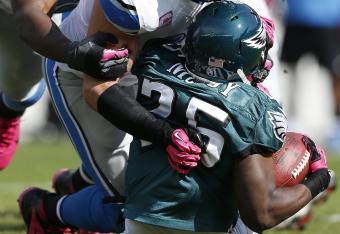 Another Lions drive, another four-yard run and two incompletions.
Whatever limited success the Lions had earlier in the game is over. The Eagles get the ball back and are a scoring drive away from taking complete control of this game on both sides of the ball.
Current Score: Lions 6, Eagles 10 (7:00 2Q)
Injury: Eagles RB LeSean McCoy is down and in pain. Updates incoming.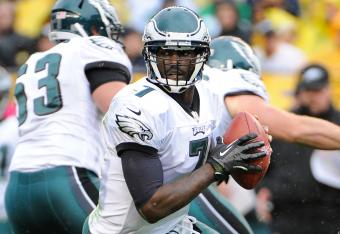 Somebody must have reminded Mike Vick that he's fast at halftime.
The Lions continue to bring pressure, and Vick continues to be unable to find an open receiver, but instead of standing in and taking hits, Vick is extending the play by scrambling for first downs.
The Eagles' first drive of the second half has taken just under seven minutes, and stalls out in the red zone for a 26-yard Alex Henery field goal.
The Eagles have now scored on two of their last three possessions.
If the Lions are going to respond, sooner would be better than later, because the Eagles' offense is starting to find a rhythm.
Current Score: Lions 6, Eagles 10
Injury: Lions CB Jacob Lacey has gone down with an apparent leg injury. His status will be updated as soon as it is known.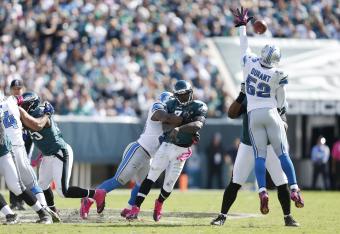 At halftime, we have two teams that have played a disappointing first half.
Both of these teams came in looking to make some adjustments to fix an inconsistent offense, and neither appears to have done so.
Sure, you can credit the defense for that to some extent, but most of the lack of scoring in this game is a result of unforced errors by the quarterbacks.
Matthew Stafford is spraying balls all over the field, and when he does hit his open players, they drop the passes. Stafford is 6-for-18 today with an interception.
On the other side, Mike Vick continues to produce turnovers, and LeSean McCoy (seven carries, 12 yards) has not been able to get going.
However, the story of the first half has been penalties. Lions penalties, specifically. Arguably, the Lions have taken a touchdown away from themselves (personal foul in the red zone) and given one to the Eagles (Jacob Lacey pass interference) with penalties.
In all, the Lions have taken 10 penalties for 92 yards in this game, many of them pre-or post-snap. Neither of these teams is playing an even acceptable game offensively, despite plenty of offensive talent.
The Eagles, however, may have opened the floodgates late in the first half. Don't be surprised if offensive adjustments result in a whole lot more scoring in the second half.
Current Score: Lions 6, Eagles 7 (Halftime)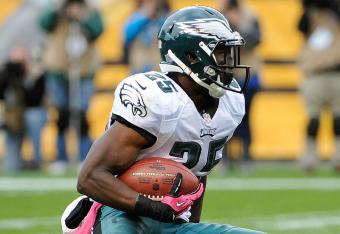 Well, it took almost the entire first half, but we finally have our first touchdown of the game after a huge pass interference call set the Eagles up with 1st-and-goal.
LeSean McCoy took a short screen pass about two yards for a touchdown, and just like that, a mostly dominant first-half defensive performance for the Lions goes to waste as the Eagles take the lead.
This could be a huge shift in momentum, especially heading into halftime.
Current Score: Lions 6, Eagles 7 (0:31 2Q)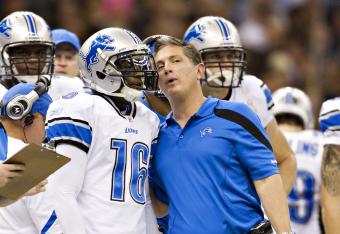 That drive pretty much sums up the Lions' first-half offense this season.
The Lions had opportunities, got a little help from a defensive penalty, and then Titus Young dropped an open pass downfield, and Matthew Stafford missed a wide open Nate Burleson for a first down.
The Eagles take over after yet another Nick Harris punt, and the "who can find their offensive rhythm first" contest continues last into the second half.
Current Score: Lions 6, Eagles 0 (3:12 2Q)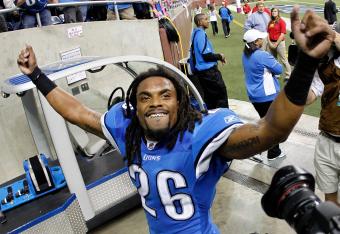 Worst of times and best of times for the Lions defense. Nick Fairley gives the Eagles a first down on an encroachment penalty on 3rd-and-1, and Louis Delmas picks off a deep pass from Michael Vick on the next play.
That's the Lions' first interception of the season, and it comes in their fifth game of the season.
Delmas has played less than a single half of football this year, but given his impact, he might be the Lions' defensive MVP this season. Every good thing the Lions have done on defense today, Delmas has keyed.
Current Score: Lions 6, Eagles 0 (8:00 2Q)
In an odd reversal of roles, these teams' offenses really need to start scoring to support the defense.
I don't imagine this is going to remain a game of field goals forever. Both defenses are playing exceptionally well, but the first team to score a touchdown is going to dramatically change the tone of the ball game.
Both offenses have looked sloppy so far, but the Eagles are starting to drive.
Current Score: Lions 6, Eagles 0 (8:28 2Q)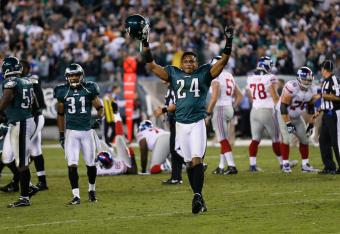 Lions fans have talked about Matthew Stafford trusting his arm too much, and relying on Calvin Johnson too much.
Both just came into play as he launched a ball into tight double coverage downfield, which was easily hauled in by Nnamdi Asomugha in the end zone.
Eagles take over at their own 20, but the offense stalls for their third three-and-out of the day, and the Lions will take over once again.
Louis Delmas seems to have brought a huge boost to the Lions defense, which aside from one penalty-laden drive, looks dominant through the first quarter-and-a-half of this game.
Current Score: Lions 6, Eagles 0 (12:43 2Q)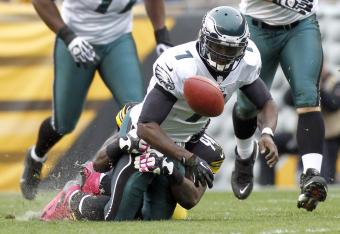 Well that was bizarre. The Eagles were driving, but the Eagles' third botched snap of the drive turns the ball over when the Eagles were in scoring position.
Vick dropped an exchange from center, missed a shotgun snap from his center on a play blown dead by offsides, and then missed another shotgun snap, with it seemingly coming a beat earlier than he was expecting it.
Stephen Tulloch recovered for the Lions, and that ends the first quarter, to a hail of boos from the Philadephia crowd.
That's Vick's sixth lost fumble this season, and a bad sign for him considering the Eagles' biggest key to the game was to limit turnovers.
Current Score: Lions 6, Eagles 0 (2Q)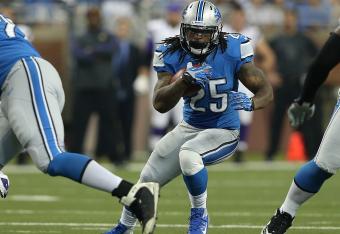 After neither team was able to earn a first down in the first four drives of the game, the Lions earn four in a row to open the fifth drive of the game, including one on a 1st-and-20.
The Lions got runs of 10+ yards for first downs from Mikel Leshoure and Joique Bell, and they drove it all the way in the red zone.
And in classic 2011 Lions fashion, they torpedo the drive with a personal foul. The Lions seemed to try to kill that drive with penalties from the very beginning, and they finally succeeded.
Jason Hanson once again comes out and does what Jason Hanson does, but that's a win for the Eagles' defense, or more specifically a loss for the Lions' offense.
Current Score: Lions 6, Eagles 0 (3:52 1Q)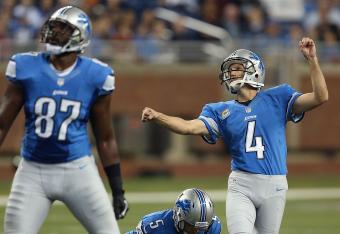 Like clockwork, the Lions start with a short field, stall out, and force Jason Hanson into a long field goal try, which he hits.
So the special teams improves over the bye week, but so far, their first-half offense has not.
Current Score: Lions 3, Eagles 0 (10:30 1Q)
A familiar sight for Lions fans, Detroit starts with a three-and-out after not threatening at all.
The Eagles take over with great field position. Not the start the Lions wanted coming out of the bye, but the defense comes up big to push the Eagles back into an impossible 3rd-and-23.
The Eagles punt, and Stefan Logan gives the Lions the first positive special teams play in about a month when he brings the ball back 48 yards. Lions take over with a short field.
When the Lions have had this situation in the past, they've scored field goals, not touchdowns. If they want to turn this season around, they'll need to change that, and this possession is a good place to start.
Current Score: Lions 0, Eagles 0 (12:00 1Q)
This article is
What is the duplicate article?
Why is this article offensive?
Where is this article plagiarized from?
Why is this article poorly edited?