Even though his club lost the deciding game of the AL Division Series last night, Oakland Athletics GM Billy Beane is pleased with their performance and hopes to take the same roster into battle next season.
The morning after the Detroit Tigers knocked the A's out of the playoffs with an 6-0 shellacking, Billy Beane met with reporters and optimistically discussed the team's offseason plans. Beane was impressed by the Athletics' surprising 94-win season and he's confident the same group of players have what it takes to succeed again next year:
"I think we're in great shape...The satisfying thing about the crowd's response to this team last night was they're gonna get to see, by and large, this team next year. If there [are] moves made, the idea would be additions...I've had situations where we had great seasons and I knew the team wasn't gonna be back (because of) free agency and things like that. We'll try and continue the momentum in the winter. We should be able to build on this next year. I really liked this group."
The Athletics face major roster decisions heading into the winter.
The team's $59.5 million payroll this season is the lowest in the majors, and the franchise annually ranks at the bottom of the league in revenue and value. That makes exercising Stephen Drew's $10 mutual option a tough pill to swallow for the front office and ownership.
Should the A's exercise Stephen Drew's $10 million contract option?
The A's definitely enjoyed Drew's stint with the team, and looking forward, they do have a few reasons to consider re-upping his contract. After coming to the A's at the end of August, via a post-deadline trade, Drew played a key part in Oakland's extraordinary playoff run. His power and plate discipline helped beef-up the team's punchless middle infield. Taking over for at shortstop and as the lineup's two-hole hitter, Drew hit a rock-solid .263/.331/.421 in September. And, his addition allowed the team to cut Jemile Weeks' .609 OPS and -1.0 rWAR.
Drew also possesses top-shelf potential and before injuries shelved him for much of the past two seasons, he'd totaled a .272/.332/.438 line throughout his career--well above average offense for a shortstop. The team's young roster can use another veteran, and Drew is a smart player that can contribute in all facets of the game. He'll celebrate his 30th birthday in March and if the A's believe he can return to his former production level, then signing him would be a smart move.
However, if the A's plan to keep Drew in green 'n gold, they'll be paying him less than the $10 million his contract option dictates. For a fallen star and a soon-to-be thirty-year-old shortstop with a severe injury history, a $5-6 million salary is probably the upper limit—at least in the short term.
Though he's still a quality big leaguer, Drew just doesn't appear to be the same player he used to be, with ankle surgery sapping his power in the box and reducing his range at shortstop. After posting a 10.5 rWAR and 3.4 WAA through his first six seasons, he's barely played above replacement level since the beginning of 2011. It takes time for players to bounce back from broken bones and other more serious injuries, so there's still some upside, but Drew will have to take a hefty pay cut to stick in Oakland.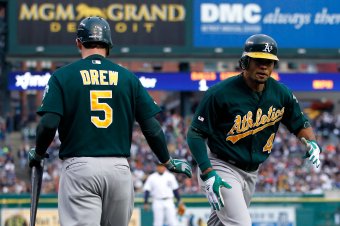 Gregory Shamus/Getty Images
Billy Beane will also have to decide what to do with three other veterans—Johnny Gomes, Brandon McCarthy and Grant Balfour. Both Gomes and McCarthy will be free agents this winter, while Balfour holds a $4.5 millon club option for 2012.
In Beane's eyes, picking up Balfour's club option is just "common sense".
First of all, Balfour's on-field performance has been exquisite during his two-year tenure with the A's. He's posted a 2.50 ERA through 136 2/3 IP, striking out 131 and saving twenty-six games along the way. He was lights-out as the team's set-up man in 2011 and he established himself as the team's closer late in 2012.
After a string of shaky outings relegated him to middle relief duty in May, Balfour responded by dominating his competition for the rest year. After July 1st, he posted a infinitesimal 1.50 ERA, and held batters to a .150 batting average and .387 OPS. He re-took the closer job and proceeded to rack-up seventeen saves in seventeen opportunities.
When he wasn't pitching in the clutch, Balfour still managed to make important contributions to his team.
An intense competitor, Balfour's fiery clubhouse pep talks helped kick-start his teammates on many important occasions this season, including October. The A's were facing elimination last Wednesday night, heading into Game 4 of the ALDS, when Balfour made a memorable clubhouse-rally speech.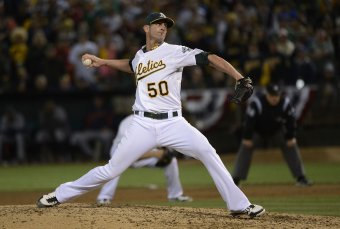 Thearon W. Henderson/Getty Images
His teammates responded with a dramatic, walk-off victory later that evening.
Beane was also impressed by the fan support that the A's received last season—going as far as naming 2012 his best year in Oakland.
Over the past couple of decades, the A's have grown accustomed to weak attendance figures and a small (but dedicated) group of supporters. 2012 was a different story, however, as Moneyball's popularity in movie theaters and their dramatic, underdog playoff run seemed to win over a larger chunk of the Bay Area market. For that reason, Beane and ownership might be more apt to spend on free agents this winter.
Beane also plans on retaining free-agents-to-be Brandon McCarthy and Johnny Gomes. Like Balfour, both McCarthy and Gomes played invaluable roles on the diamond and in the clubhouse.
Signed to a bargain-basement $1 million one-year deal last offseason, Johnny Gomes was one of the A's most valuable players in 2012. In 333 plate appearances, Gomes hit .262 with 18 homeruns, and he led the team with a .377 on-base percentage and ranked second on the team with an .868 OPS.
Adept at hitting southpaws, Gomes also helps balance out the team's lineup, working as Seth Smith's platoon partner and protecting left-handed sluggers like Josh Reddick and Brandon Moss. He hit a monster .299/.413/.561 against left-handed pitchers this season, good for a .974 OPS.
On Friday morning, A's manager Bob Melvin told reporters that Beane was already discussing a new contract with Gomes. He emphasized Gomes' importance to the team and said he believed Beane was on the same page in that regard.
McCarthy, who signed with the A's as a free agent in December 2010, has developed in to the team's ace.
Through 43 starts the past two seasons, he's posted a 3.29 ERA, a spectacular 4/1 K/BB ratio and he's totaled 4.9 rWAR and 2.7 wins above average (click here for an explanation on WAA). He's not flashy, but Brandon is a remarkably efficient pitcher. He walks fewer than two batters per nine innings since 2010, and he led all American League starting pitchers in FIP (fielder independent pitching) in 2011.
The only red flag is McCarthy's health--and it's relatively big one. He's suffered an array of shoulder, elbow and finger injuries throughout his short career, and he's been sent to the disabled list eight times since 2007.
This September, the twenty-nine-year-old suffered a gruesome injury while pitching against the Angels. Erick Aybar's line drive come-backer struck the side of his head, fracturing his skull and causing brain hemorrhaging. Luckily, McCarthy escaped with his life, and he has since recovered relatively quickly. This latest injury was particularly scary, and though it was out of his control, there's no telling how it will affect his future.
The A's roster is already stocked with starting pitching, but the club still has plenty of reason to bring back McCarthy.
Their young rotation, featuring star-level talents like Jarrod Parker, Tommy Milone (yes, he's a star), Brett Anderson and A.J. Griffin, is as dominant as it's been since the Big Three left town. But, without McCarthy taking point, they lack a veteran to add stability and leadership.
In all likelihood, old man Bartolo Colon will seek work elsewhere this off-season and their other veteran, Dallas Braden, is struggling to return from multiple shoulder surgeries.
McCarthy is an ace-level pitcher and if not for a freak injury, he would've finished-out the year atop Oakland's rotation. He isn't the most durable pitcher in the world, starting just 43 games the last two years, but when he's healthy, he performs at an elite level (2.7 wins above average with the Athletics). He's efficient, and his experience adds an important dimension to the A's rotation—especially come playoff time.
McCarthy earned just under $4.3 million last year and because he's accumulated more than six seasons of service time, he's eligible for a pay raise on the open market. In all likelihood though, his injury history will suppress his value this winter and the A's will probably offer him a two-year deal worth between $12-18 million.