USC Football: Players Key to Getting Trojans Back in Championship Picture
The Trojans lined up against Utah last Thursday in their 38-28 win over the Utes.
George Frey/Getty Images
USC is 4-1 after last Thursday's 38-28 victory over Utah. Most teams would be thrilled to have the Trojans record. But for USC, that one loss is jeopardizing the team's chances to win the BCS Championship.
After USC's Week 3 loss to Stanford, the Trojans need to be at their very best if they want to win it all after being ineligible to do so for the last two years.
Here are five players who are key to helping them get there.
D.J. Morgan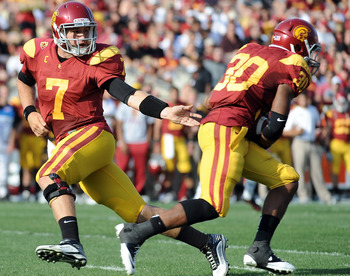 D.J. Morgan takes a handoff from QB Matt Barkley in a USC game against Utah
Harry How/Getty Images
Tailback D.J Morgan played for the first time in three weeks against Utah last Thursday after undergoing knee surgery to remove scar tissue in September.
Morgan rushed for 46 yards on nine carries in his first game back.
Curtis McNeal and Silas Redd had become USC's primary RBs in his absence, but with both players sustaining minor injuries last week, it's a good time for Morgan to make his return.
If he gets much playing time this season behind those two, providing another rushing option for the Trojans will be a big help to the team.
Silas Redd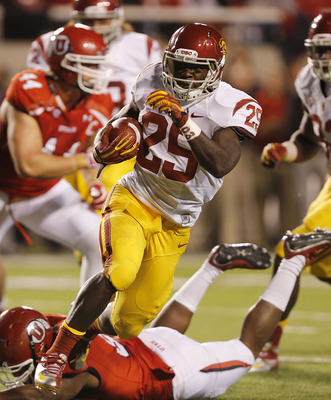 Silas Redd runs in last week's game against Utah.
George Frey/Getty Images
USC tailback Silas Redd transferred from Penn State this year after the Jerry Sandusky scandal. He was a key replacement when sophomore D.J Morgan went out for three weeks to have knee surgery.
Redd has carried for 415 yards this season, including two games of more than 100 yards.
With WRs Robert Woods and Marquis Lee catching big yards from Matt Barkley, Redd is USC's best option for yardage on the ground.
Leonard Williams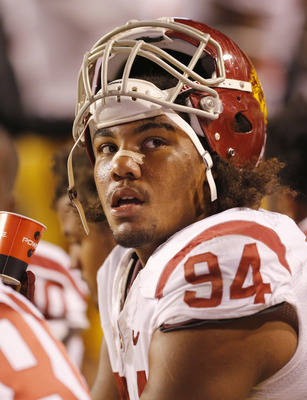 USC's Leonard Williams rests during the Trojans game against Utah last week.
George Frey/Getty Images
Leonard Williams became the starting defensive tackle last week, starting for just the second game he's played with USC.
Williams has a total of four sacks this season, including two in USC's match two weeks ago against UC Berkeley. He also had five tackles last week against Utah.
With offensive players like Barkley, Marquis Lee and Silas Redd, USC must focus on its defense, which hasn't lived up to expectations this year.
T.J. McDonald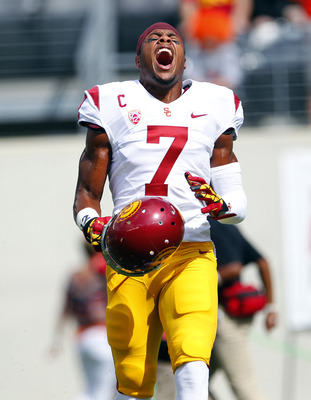 Safety T.J. McDonald in USC's game against Syracuse
Rich Schultz/Getty Images
Senior safety T.J. McDonald has 37 tackles already this season. He's gotten nine in each of the last three games the Trojans have played.
He's considered to be one of the top safeties in college football and he's one of the Trojans' most important defensive players.
His speed and versatility led the Trojans head coach, Lane Kiffin, to play him at different defensive positions.
Again, with USC's defensive struggles, it will be important for the team captain to continue to play well and lead the Trojans defense.
Andre Heidari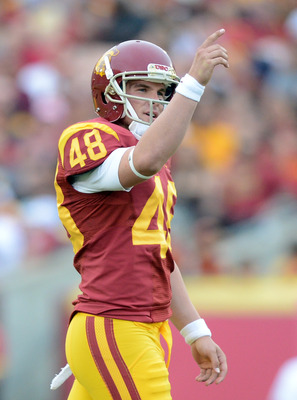 USC's kicker Andre Heidari in the Trojans' game against UC Berkeley
Harry How/Getty Images
USC kicker Andre Heidari played for the first time two weeks ago against UC Berkeley after undergoing surgery to repair a torn meniscus in his knee.
In last week's game, Heidari missed two field goals in the Trojans win against Utah in a game that was closer than it probably should have been. One was from 40, the other from 44 yards out, both well within his range. He also had another miss that wasn't counted because of a penalty.
Heidari hadn't missed a field goal or extra point attempt all season before last week. And he missed just two all of last season.
If the Trojans want to be legitimate Championship contenders, they'll have to be perfect going into the rest of the season. That means not leaving points on the field.
If Heidari can stay focused and healthy, he's pretty much automatic. And that's exactly what the Trojans need.
Keep Reading

USC Football: Like this team?