Navy vs. Central Michigan: Live Scores, Analysis and Results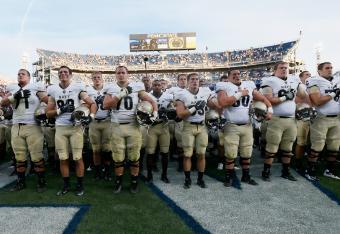 Rob Carr/Getty Images
Navy 31, Central Michigan 13 -- Final
Central Michigan was hardly able to muster up any type of scoring drive all night.
Freshman Keenan Reynolds emerged tonight as a strong player at quarterback for the Midshipmen, throwing for three touchdowns.
Navy was able to control the ball most of the game, and their defense was able to step up in the second half.
Strong showing by the Midshipmen.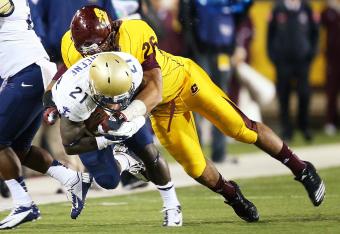 Waiting Game
It's been all Navy for most of the game.
Now it seems like both teams are just waiting for the game to end.
With a backup quarterback in for Central Michigan, it looks as though Dan Enos is trying to get Cody Kater experience.
The Midshipmen haven't really been moving the ball, but they don't really need to.
No need to hang on to your seats, folks.
This one isn't going to be a nail-biter.
Radcliff Out?
Unless he's hurt, why would Ryan Radcliff be out?
Questionable call by Dan Enos.
There is no way Central Michigan can come back with sophomore Cody Kater in at quarterback.
Navy Getting Pass Happy
Over this past drive the Midshipmen have been dropping Reynolds back a little more than usual.
Ken Niumatalolo needs to get back to pounding the ball.
Navy was still moving the ball well on their last drive, but Reynolds was sacked to end it in a drop back pass play.
Central Michigan now has an opportunity to turn things around.
Navy Defense Stepping Up
Since the beginning of the second half, Navy's defense has been playing like they have something to prove.
These guys are flying around and getting in Ryan Radcliff's face.
If they can keep their intensity up for 15 more minutes, the Midshipmen will be making a statement with a big win over Central Michigan.
Navy 31, Central Michigan 13 -- 2:53 left in third quarter
In one play Navy has turned the momentum.
No, not this touchdown to wide open Gee Gee Greene. Ryan Radcliff fumbling the ball back near his own end zone turned the tide for Navy right now.
Three plays later, Reynolds is throwing his third touchdown pass of the night.
Navy has come to play.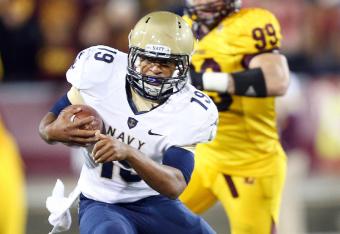 Navy 24, Central Michigan 13 -- 4:08 left in third quarter
What a response by Navy.
After Central Michigan came up with points on the first drive of the second half, the Midshipmen made a statement here.
Once again Reynolds looked sharp and the triple-option kept pounding the ball down the Chippewas' throat.
It was a gutsy call to go on fourth down within kicking range by Niumatalolo, but it paid off.
Navy's defense is going to need to step up if they're going to hold the lead.
Are these names for real?
Wave Ryder. Saylor Lavallii.
I don't know if it's just me, but these names are a little ridiculous.
Not only are they uncommon, but they obviously have everything to do with the Navy (sailors, waves, etc.).
Regardless of who you're rooting for, you have to love how crazy their names are.
Chippewas Inch Closer
With that field goal Navy is still up 17-13, but everything is seeming to go downhill for their defense.
That is the second drive in a row that ended in points for Central Michigan.
Let's see what Keenan Reynolds can do with this possession for Navy.
There's still 9:37 in the third quarter.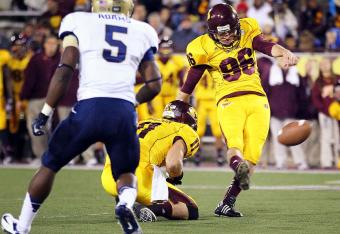 The Offense is Alive!!
After having only 5 first downs heading into their final drive, the Central Michigan offense got onto its feet.
Navy held quarterback Ryan Radcliff in check for most of the first half, while the Chippewas tried their luck at running the ball.
Obviously that wasn't working.
Radcliff looked sharp on their final drive of the half and with Central Michigan getting the ball to begin the third quarter, momentum looks to be on their side.
Still can't say I like the banana-yellow jerseys though.
Reynolds Looks Good
It's pretty obvious Reynolds was the star of the first half tonight.
The freshman has thrown for 74 yards and two touchdowns already on only four completions. He also is leading the team in rushing with 63 yards so far.
Reynolds showed up to play tonight, and he looks like he might be the real deal.
If he can keep it up, Navy has a good shot to come out of this game on top.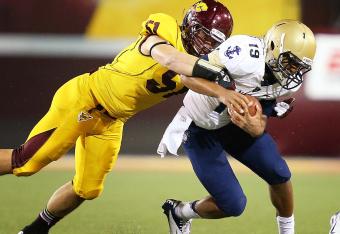 It's All About Control
Up until Central Michigan's final possession, the first half was all Navy.
The Midshipmen were controlling the possession by chipping away and pounding the Central Michigan defense.
Navy has put up 149 yards rushing already in the first half, led by freshman Keenan Reynolds who has rushed for 63 of those yards.
The Chippewa defense didn't do a very good job getting the ball back into the hands of Ryan Radcliff.
Navy controlled the ball for 18:58 in the first half and with Central Michigan's final drive notwithstanding, the Midshipmen controlled the half.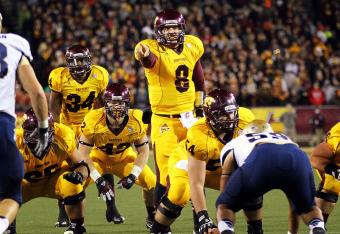 TOUCHDOWN!!!
Radcliff finally has this offense rolling. He picked apart Navy on that entire possession.
That touchdown was a 29-yard reception caught by Titus Davis.
Up until this drive, the Chippewas were held to only six first downs in the entire first half.
Momentum might be shifting in Mount Pleasant.
Central Michigan inches back, but Navy still leads 17-10 with 52 seconds remaining in the second quarter.
It's Good!
The kick goes right through the middle for freshman Nick Sloan.
He's perfect so far this season kicking for the Midshipmen.
Navy goes up 17-3 with 3:10 remaining in the second quarter.
Keep Chippin' Away (no pun intended)
This Navy offense is being run very well.
The Midshipmen keep setting themselves up with third and favorable situations.
They just keep chipping away at the Central Michigan defense, getting four to five yards per carry.
Well done so far.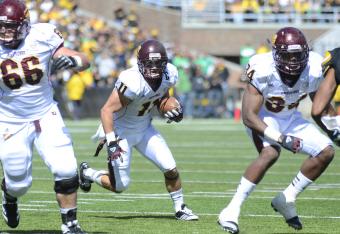 A lot of Nothin'
After starting inside their own 15, Central Michigan's offense still isn't doing what it should be.
Radcliff knows how to move the ball, but he just isn't looking too great.
Although the Chippewas were able to move the ball for some decent yardage, they still ended up in a fourth and seven situation.
When will the high-scoring Central Michigan offense appear?
Their last three games they put up at least 24 points each game.
Now the Chippewa offense turns it over on fourth and seven.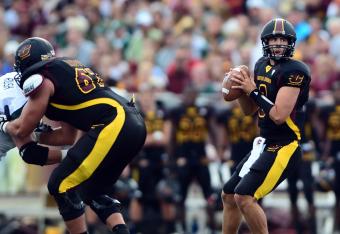 Where is Central Michigan?
For a team that has only scored three points in the first quarter coming into tonight, Navy's offense is gelling to say the least.
So where is the Chippewa defense?
It looks like they showed up on this series.
It's just a little late though, being the second quarter and all.
Keenan Reynolds after practice this week.
Reynolds with a Strong First Quarter
It looks like the decision to start Keenan Reynolds over Trey Miller is paying off.
Reynolds has shown a strong arm and serious poise for a freshman in this triple-option offense.
With two touchdown passes, Reynolds already doubles Miller's production for this year.
This kid's arm is carrying Navy through this first quarter.
Pretty uncommon to see Navy throwing the ball around the yard with their primary offense being the triple-option.
First Stop
It's nice to see a little defense from someone.
I know Navy held Central Michigan to a field goal on their first drive, but this first quarter has been all offense.
Let's see if the Chippewa defense can slow down Keenan Reynolds.
TOUCHDOWN!!
Reynolds hits Green in the end zone wide open for a touchdown.
This is their second passing touchdown tonight, and their third all year.
This freshman for the Midshipmen can really spin it.
Navy goes up 14-3 in the first quarter 3:49 left to play.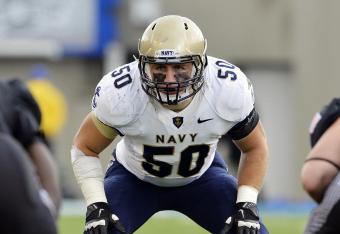 Chip Shot
After a long return it would be a complete fail to come out of that possession with a score.
Both offenses are looking pretty good right now, but the Navy defense really stepped up on that series.
It didn't help that Radcliff couldn't hit his receiver in the end zone.
So how will the Midshipmen respond?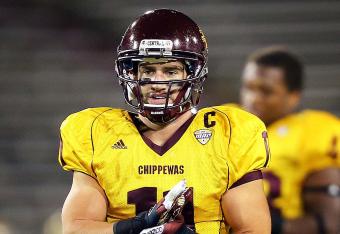 What a Return!
Did I say this might be a shootout?
Those yellow jerseys were flying around on that kick off.
Let's see how Radcliff can run this offense with good field position.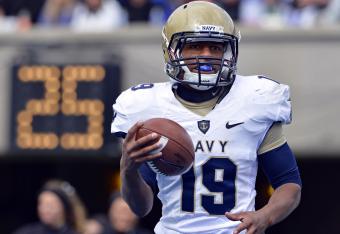 TOUCHDOWN!
Reynolds to Turner for a touchdown, just their second passing touchdown.
Wow. Navy made that look easy.
If the Midshipmen's defense can't slow down Central Michigan's offense, this can turn into a shootout.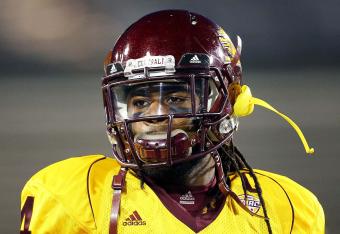 Banana Yellow?
The Chippewas are sporting some bright jerseys tonight, but I'm not sure if I like them.
It looks like the yellow helped Reynolds out on that deep pass to Bo Snelson.
It's very uncommon to see Navy throwing early like that.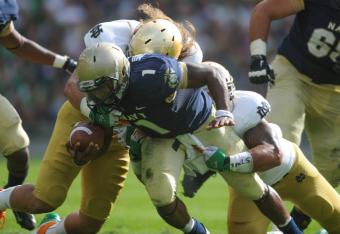 Freshman Keenan Reynolds to Start for Navy
Looks like Trey Miller will not be playing tonight for the Midshipmen.
Reynolds has played in all five games already, but losing Miller is a blow to the Navy offense.
Let's see what this freshman can do.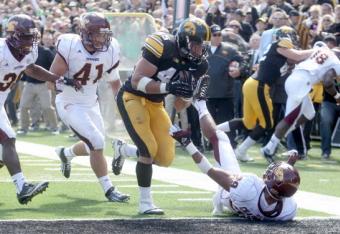 Player to Watch: Joe Cherocci (Central Michigan)
Although the Central Michigan defense has given up 204 points this season, Cherocci has shined so far this season.
The sophomore linebacker has collected 47 total tackles in the five games Central Michigan has played.
Cherocci willing be leading the Chippewa defense again tonight to try to stop Trey Miller and the Navy triple-option offense.
Look for Cherocci to be all over the field wrapping up Midshipmen.
This article is
What is the duplicate article?
Why is this article offensive?
Where is this article plagiarized from?
Why is this article poorly edited?