St. Louis Cardinals vs. Washington Nationals Game 5: Live Score, NLDS Analysis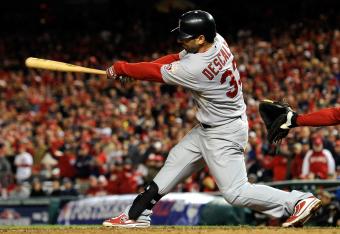 Patrick McDermott/Getty Images
The St. Louis Cardinals and Washington Nationals batted in an epic Game 5 of the NLDS
FINAL - Cardinals 9, Nationals 7
Utter shock is all I have to say right now. Where do you start after a game like this?
The Nationals got up 6-0 in the third inning, starting with a three-run first inning. But, the Nationals chipped away the rest of the night, scoring four runs in the top of the ninth off Drew Storen to take the lead.
After that, the Nationals were deflated and couldn't muster anything in the bottom of the ninth.
Daniel Descalso and Pete Kozma are the heroes of the game, driving in the last five runs for the Cardinals.
The Cardinals will now travel to San Francisco for Game 1 of the NLCS against the Giants.
Honestly, the Cardinals have to be the favorite to win it all again.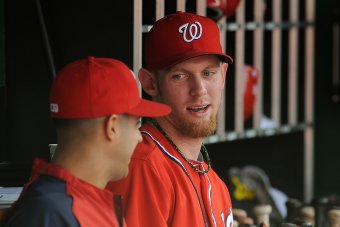 Patrick McDermott/Getty Images
Biggest question now is "What if?"
What if Stephen Strasburg wasn't shut down?
We'll have a full offseason to find out.
This was definitely an exciting game.
Still have to give props to the Nationals and everything they accomplished.
POPPED UP!!!
Only fitting that Descalso catches the final out.
FINAL - Cardinals 9, Nationals 7

Harper strikes out.
TWO OUTS!!!
One out for the Nats.
They seem deflated right now. Doesn't look good.

Kevin C. Cox/Getty Images
I still remember the 2010 playoffs between the Braves and Giants. Braves had a 1-run lead heading into the ninth with Craig Kimbrel in to close. Three separate times, the Braves were within one strike of winning the game and taking a 2-1 series lead. The Giants scored two runs and ended up winning the game. Next game, Giants win again, Braves go home and Bobby Cox is done as a manager.
Have to get that 27th out!!!
It's never over until you do that!!!

Utter shock right now.
Twitter is blowing up right now.
Aaron (insert adjective) Boone = Daniel (insert adjective) Descalso
Bucky (insert adjective) Dent = Pete (insert adjective) Kozma
Who would've thought...Descalso and Kozma with the big hits of the game.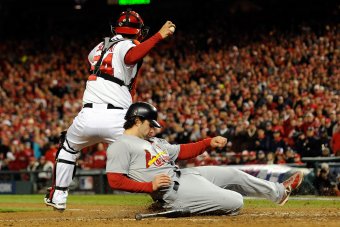 Patrick McDermott/Getty Images
PETE KOZMA LINE DRIVE TO LEFT FIELD!!!!!!!
TWO RUNS SCORE!!! CARDINALS NOW LEAD!!!!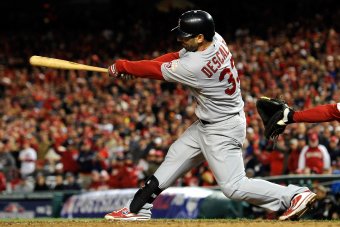 Patrick McDermott/Getty Images
SHARP GROUND BALL OFF THE GLOVE OF DESMOND!!!!
BIG LAST TWO AT-BATS FOR DESCALSO!!!!
YOU'VE GOT TO BE KIDDING ME!!!!
Nationals 6, Cardinals 6

Descalso is 1-for-3 in his career vs. Storen.
Chambers now running at 2nd for Molina. Has enough speed to tie the game if Descalso gets a hit.
BALL FOUR!!!
The bases are loaded for Descalso.
Molina walks.
Tying runs on base.
Last year's Mr. October coming up with a chance to tie or win the game.
Keep in mind Molina has homered off Storen.
Craig chases.
TOP 9TH - 2 OUTS!!!
Beltran moves to third. His run doesn't matter.
Sac groundout.
1 OUT TOP 9TH
Beltran doubles to deep center. His third hit of the game.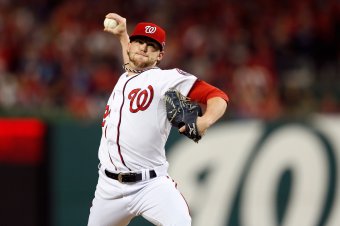 Rob Carr/Getty Images
Setting up the ninth for the Cardinals against closer Drew Storen.
Carlos Beltran - 0-for-1
Matt Holliday - 0-for-4, 1 RBI, 4 Ks
Allen Craig - 1-for-1
Yadier Molina - 1-for-5, 1 HR, 1 RBI
If anyone saw my pre-game predictions, I actually predicted this to be the final score.
WILL I BE A PSYCHIC?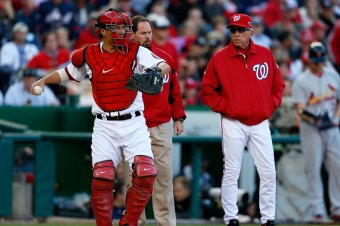 Rob Carr/Getty Images
KURT SUZUKI LINES A SINGLE TO CENTER!!!
HIS THIRD HIT OF THE GAME!!!
Nationals 7, Cardinals 5

Suzuki has never faced Motte.
Big popout induced by Jason Motte. TWO OUTS!!!
This article is
What is the duplicate article?
Why is this article offensive?
Where is this article plagiarized from?
Why is this article poorly edited?