2013 NBA Mock Draft: Projections for the Entire First Round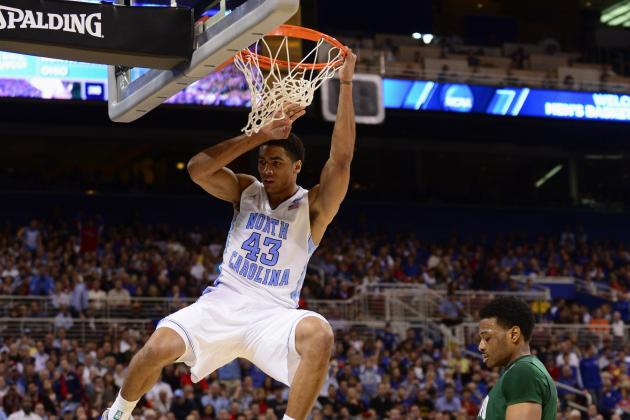 Scott Rovak-US PRESSWIRE

It's that time.
Let's attempt a 2013 NBA mock draft with an order generated from team projections and previous trades. Just pretend we fast-forwarded the season and witnessed Charlotte continue to stink, and Orlando begin stinking.
Also, every team's needs are what they are today: New Orleans needs a wing, Detroit needs a two-guard and the Knicks could use anyone born after 1990.
Don't get too caught up with the order, as it's obviously impossible to predict, and not all traded picks have been made official. But with every team's roster set and the preseason underway, this is a good place and time to get started.
Begin Slideshow

»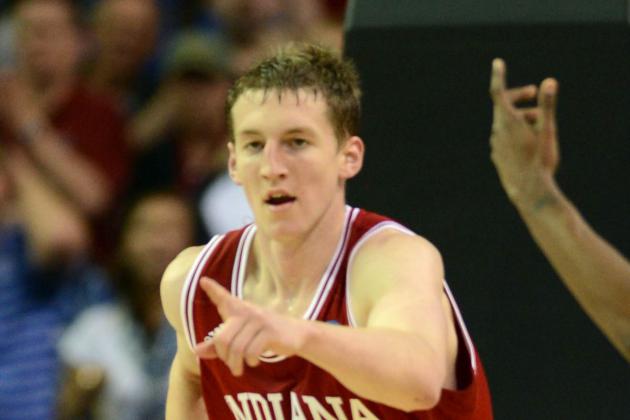 Richard Mackson-US PRESSWIRE

The Bobcats' new regime started with the 2012 draft, when they selected Michael Kidd-Gilchrist as the first long-term building block. They now have the opportunity to add to their core, by selecting Cody Zeller as their future offensive centerpiece.
Zeller's ability to dictate a game from the post makes him a viable candidate to build a team around. He possesses the character and work ethic you want in the face of your franchise, along with an undeniably high skill-level that translates to team success.
Polished seven-footers with scoring instincts and advanced offensive arsenals are capable of dominating games while creating better spacing for teammates. Taking Zeller with the first pick will make it easier for the Bobcats to construct a balanced rotation.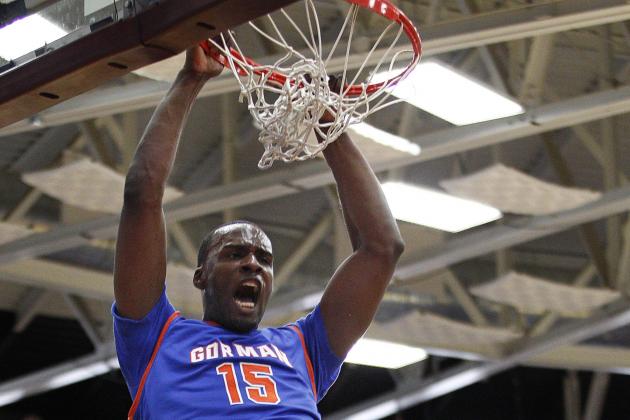 Mark L. Baer-US PRESSWIRE

The Hornets have fixtures at the 2 and 4 spots, and would be lucky to land a 3 with the upside of Shabazz Muhammad.
He's a mesmerizing athlete who complements power with finesse and strength with length. Muhammad would occupy the wing for Charlotte, where he'd contribute as a go-to scorer and off-ball slasher.
While Anthony Davis and Eric Gordon are effective half-court players, Muhammad would give them some explosiveness and aggression in the open floor and transition.
Muhammad has No. 1 overall upside, and would be an ideal piece to stick between their other two fixtures.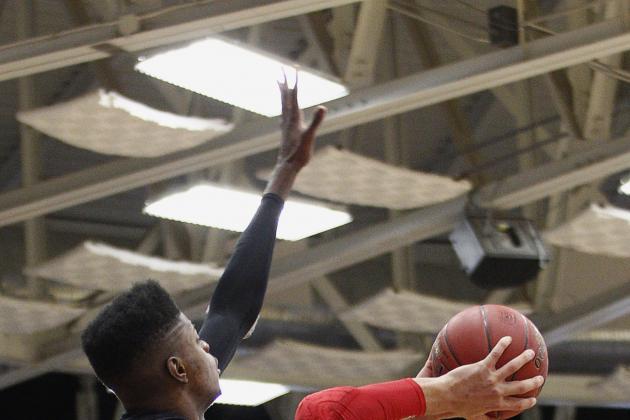 Mark L. Baer-US PRESSWIRE

Realistically, Orlando is starting from scratch with no current long-term cogs after trading their centerpiece.
Nerlens Noel could help the Magic reestablish an identity by slapping the team with a defensive name-tag. Covering a mandatory need early in the rebuilding process could be a savvy move during a draft filled with uncertainty.
He'd provide an immediate advantage on the defensive side of the ball, and a probable long-term answer as an anchor inside. Though his offensive repertoire is limited, he could pose as the moat that deters intruders from storming the castle.
Outside of Zeller and Muhammad, the rest of the pack present risk while lacking the upside of a typical top-three pick. Noel's ability to protect the rim at the highest level make his offensive deficiencies harder to notice.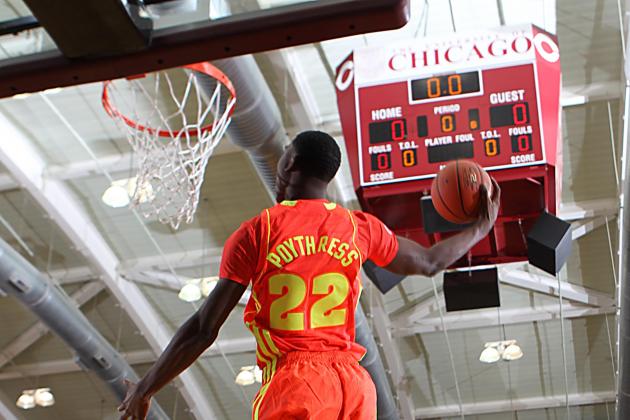 Brian Spurlock-US PRESSWIRE

The Cavaliers' frontcourt lacks versatility and punch, with Tristan Thompson limited to inside work, and Alonzo Gee and Omri Casspi just simply limited.
Poythress would immediately become a top-three scoring option as an athletic face-up threat and walking mismatch. He would provide Kyrie Irving with a scorer on the wing and target off the ball, while adding a new offensive dimension they don't currently employ.
Poythress has top-five upside and is worth a look anywhere outside the top three.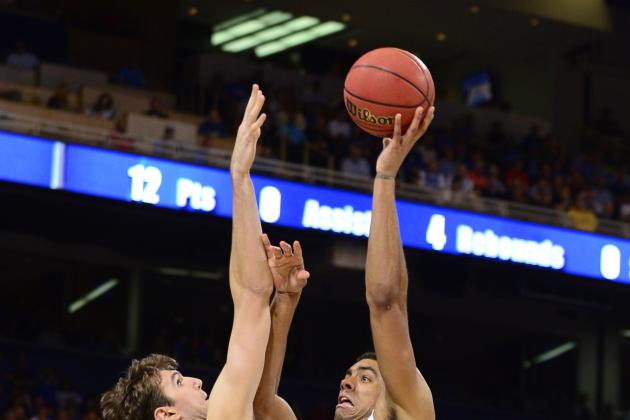 Scott Rovak-US PRESSWIRE

The Kings have a ton of ball-dominant talent in DeMarcus Cousins, Tyreke Evans, Jimmer Fredette, Isaiah Thomas and John Salmons. This generally leads to stagnant offensive possessions and a whole lot of standing around.
James McAdoo would inject a new dimension of versatility in a lineup that sees too much one-on-one and minimal offensive flow.
His game is built to play off others, like a saxophonist in a guitar-heavy band. Though he'll never have a featured part, his ability to complement the main attraction makes for a more balanced overall product.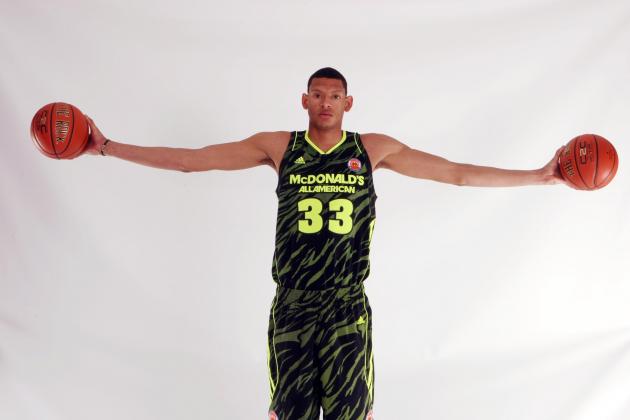 Brian Spurlock-US PRESSWIRE

None of Houston's bigs has the upside of Austin, who combines a guard's mobility with a center's size and length.
Austin is one of the most versatile offensive weapons in the draft because of his ability to operate on the perimeter and make plays at the rim. Omer Asik and Patrick Patterson offer toughness, but not much offensive play-making ability.
Capable of knocking down threes, tipping in dunks or swatting shots, Austin covers a ton of ground both on the ground and in the air. He makes things happen on and off the ball, and offers a high ceiling thanks to his rare blend of size, length, skill and mobility.
Washington's frontcourt duo of Nene and Emeka Okafor lack flare and certainty playing strictly under the rim.
Gobert's unprecedented length and mobility would give Washington a boost on both sides of the ball. Though his intrigue stems directly from his physical tools, his development as a basketball player has been widely praised.
With arms that could simultaneously hug his entire starting lineup, Gobert could give Washington an unmatchable presence. The Wizards should take advantage of any mismatch they can get.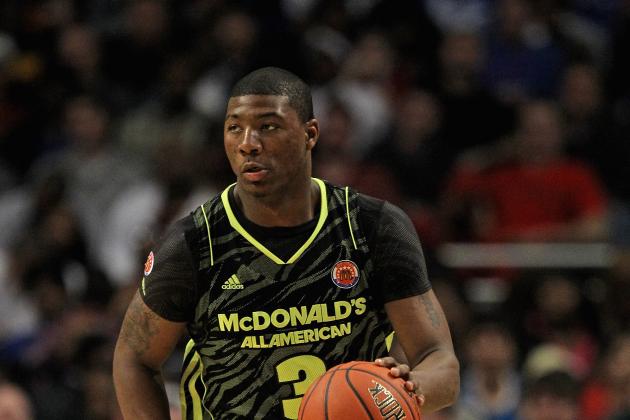 Jonathan Daniel/Getty Images

All it takes is one team to fall in love and overlook his flaws.
Smart already has a number accomplishments at an age where most don't even have resumes. Whether it's been multiple state championships or gold at the U18 FIBA Championships, Smart has played a featured role for multiple successful programs.
Smart is a combo-guard in the shape of Dion Waiters: an offensive bully with a strong, 6'4 frame. He's efficient at a position that typically draws low-percentage numbers, thanks to his unselfish demeanor and high basketball IQ.
Defensively, he's an asset with lockdown potential, lateral quickness and a mature NBA body. The Suns' backcourt is about as dull as a spoon, and it could use a two-way prospect and genuine difference-maker.
Smart should be one of the fastest rising prospects in the country, and a strong candidate for a mid-lotto reach.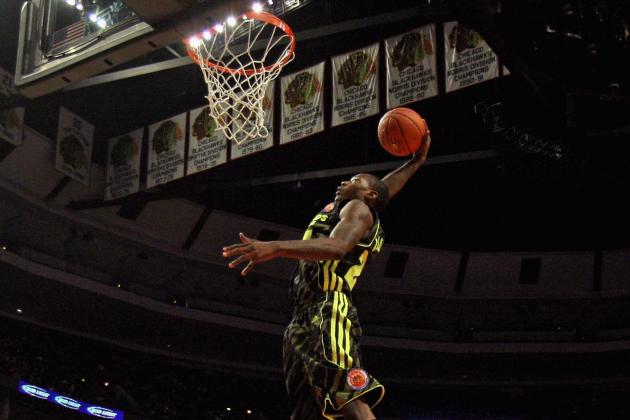 Jonathan Daniel/Getty Images

Call me crazy, but the Rodney Stuckey era in Detroit has seemed to have run its course.
Goodwin is an electric scoring off-guard with the length, size and athleticism to comfortably man the 2. He'd give Detroit a perimeter scoring option that doesn't require double-digit dribbles before a shot.
Goodwin has starting shooting-guard upside, and would give the Pistons some offensive firepower at a position where they struggle to produce consistent results.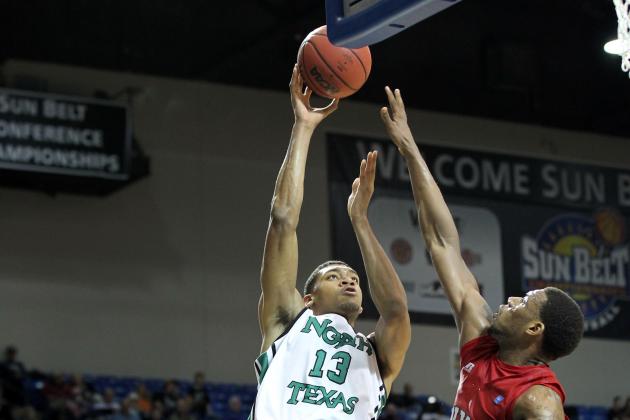 Nelson Chenault-US PRESSWIRE

While David Lee is an admirable rebounder with a soft, scoring touch, he's about as mean and intimidating as the Papa John's Pizza guy.
Tony Mitchell is a feared shot-blocker and aggressive offensive scorer with the mobility of a 3 and power of a 4. He would give Stephen Curry a pick-and-pop option, a floor spacer on the wing and a relentless presence down low.
Though it seems Andrew Bogut's limbs are finally all intact, Festus Ezeli and Tony Mitchell would make for a ferocious front line.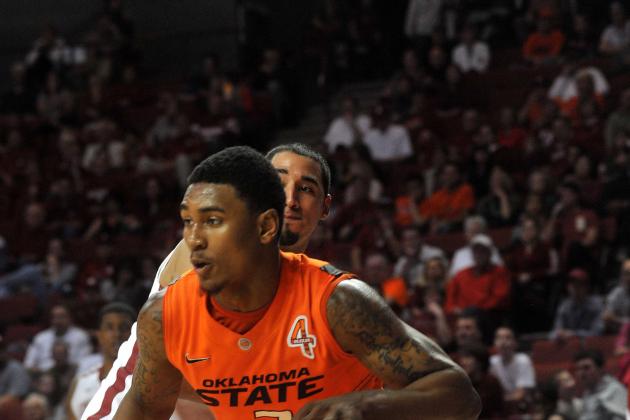 Mark D. Smith-US PRESSWIRE

Nash would give the Bucks a true scoring wing and physical complement to their one-two punch in the backcourt.
Nash fits the mold of a young Ron Artest when he was once considered an offensive weapon. He's got a smooth midrange game, where he's able to create separation and get off a shot as if he were practicing alone in the gym.
With a wide frame and strong upper body, Nash has his way inside with less physical small forwards, and he has the defensive tools to guard opposing perimeter scorers.
Though Milwaukee's primary need is an interior scorer, there's just not many trustworthy options this late in the lotto. Nash offers substantial upside as a potential top-three scoring option in an NBA rotation.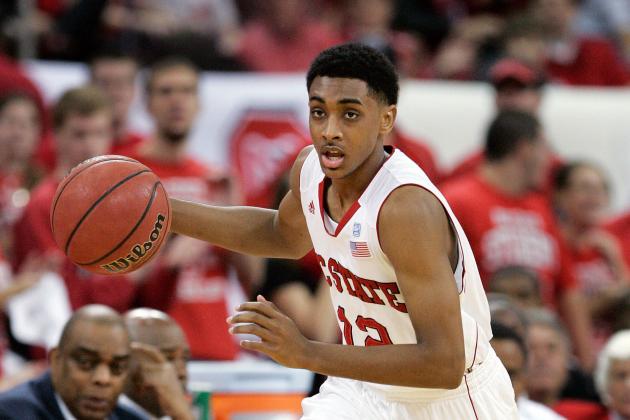 Mark Dolejs-US PRESSWIRE

The Jazz currently dress a quartet of backup point guards, with no youth to even develop over time.
Ryan Harrow has all the tools necessary to make an effective NBA point guard, with lightning quickness, breakdown ability and deadly scoring instincts.
The professional game is suited to Harrow's strengths, which allow him the freedom to take advantage of his elusiveness off the dribble. If you're looking for a comparison, think Brandon Jennings.
John Calipari has been the Mr. Miyagi of preparation for aspiring NBA point guards, and he should be the perfect voice for Harrow's ears.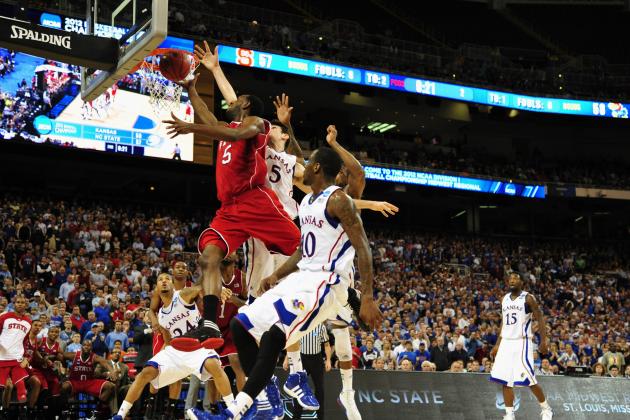 Scott Rovak-US PRESSWIRE

Leslie is an explosive combo-forward with pogo-stick hops. Though Portland's frontcourt seems set in stone, it lacks the above-the-rim athleticism that Leslie provides off the ball.
His mobility should allow him to play some time at the wing, which can work when Nicolas Batum slides down to the 2. If anything, it gives Portland some depth up front and a finishing target for their young floor general, Damian Lillard.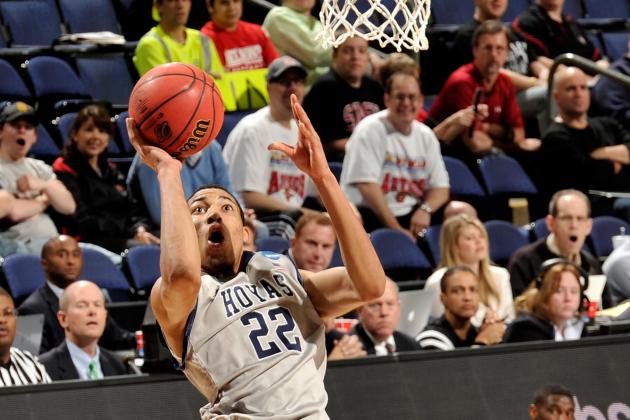 Jamie Sabau/Getty Images

Specialists at the next level generally earn their label by excelling as a shooter (Kyle Korver), rebounder (Reggie Evans), interior defender (Omer Asik) or perimeter defender (Avery Bradley).
Otto Porter is a unique "off-the-ball specialist" who can shoot, slash, run and finish. Porter won't need a specific setting in order to be effective, but he won't provide much creativity, either.
He'll be asked to provide a little bit of everything, depending on the lineup that surrounds him. You could say Porter's specialty is the ability to blend in.
Toronto could use his court discipline and offensive versatility in their erratically performing rotation.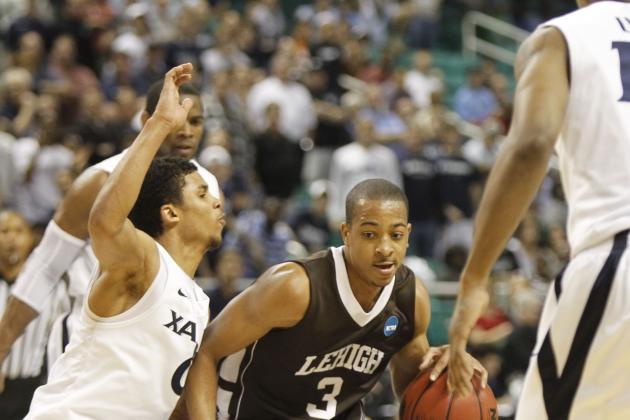 Bob Donnan-US PRESSWIRE

Houston gets this pick in the Kyle Lowry trade, and he might want to look for another ball-handler to work with Jeremy Lin, who consistently gets beaten up.
McCollum is a tough kid who offers a sound balance between scoring and playmaking. He's averaged close to 21 points per game over his three-year career, and he could give Houston some needed depth and offensive firepower from the lead guard position.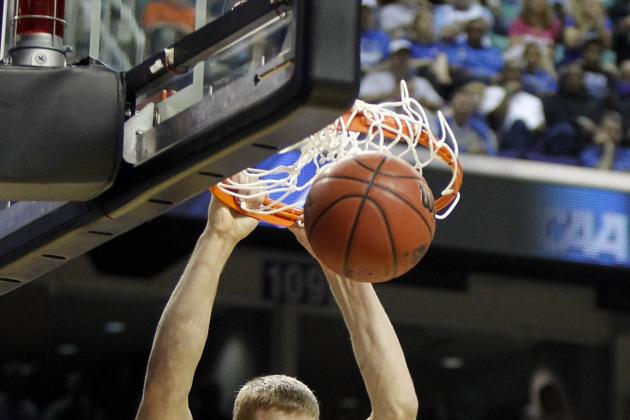 Bob Donnan-US PRESSWIRE

While Kevin Love's strengths make him a stretch-4 and elite "area rebounder," he's doesn't have that above-the-rim athleticism Mason Plumlee can add off the ball.
Few players in the country have Plumlee's size, mobility and hand-eye coordination, which help offset some of his offensive limitations. Though Nikola Pekovic has been a nice interior option, he's got the agility and weight of a phone booth.
Plumlee would add some life and kick to a slow but steady frontcourt in Minnesota.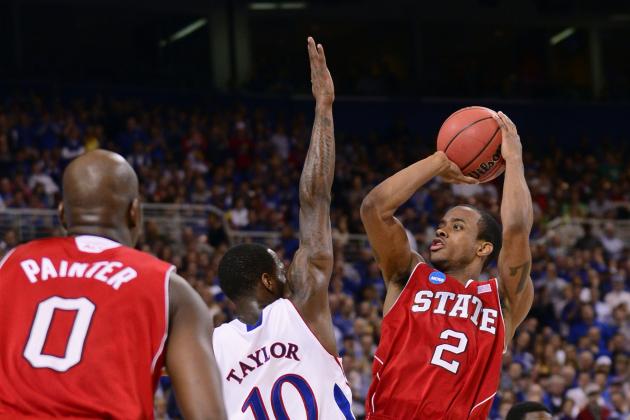 Scott Rovak-US PRESSWIRE

Miami gets Philadelphia's pick from last draft's Arnett Moultrie trade, and should be looking for someone to create for their stars.
Lorenzo Brown is arguably the country's top orchestrator and game manager, and he would allow LeBron to play more in the post where he's difficult to contain.
Rajon Rondo was put in a similar situation as a rookie, and he excelled setting up an established Big Three.
With weapons around Brown, he can focus on using his crafty handle to manipulate the defense and create open looks for Miami's scorers.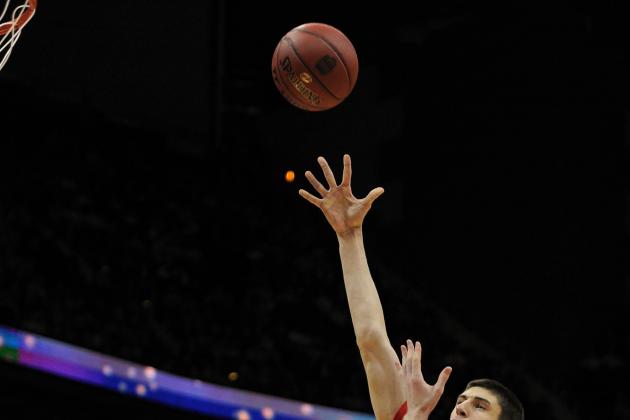 Bob Donnan-US PRESSWIRE

Though still effective, Chris Kaman and Elton Brand are not long-term answers.
Alex Len is a tough, 7'1'' athlete whose physical tools increase his upside. As a sophomore, he'll be a larger focus of the Maryland offense, where he'll look to improve upon his four shot attempts per game.
Though a project, he's got starter potential if drafted in the right situation where there's room to learn and grow.
Though Cleveland drafted Dion Waiters in 2012, McLemore would provide a different service at the off-guard position.
One of the most athletic players in the draft pool, he does most of his damage as a slasher and shooter off the ball. He also has the makeup to guard opposing scoring guards, giving him two-way appeal and legitimate upside.
Though still raw, he's probably a better candidate to start down the road based on his particular skill-set, with Waiters best suited as a scoring sixth man.
This pick is part of the LeBron sign-and-trade.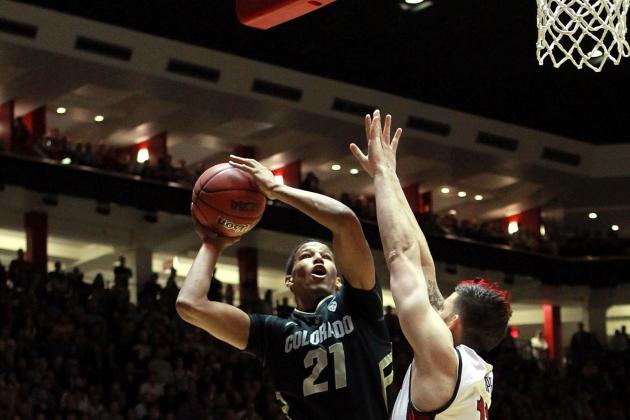 Ronald Martinez/Getty Images

The Hawks' top option at the small forward position is Kyle Korver, and that just shouldn't be.
Roberson brings a sense of toughness as a "dirty work" type of player, which is something Atlanta could use in the middle of their lineup.
Though his ceiling is limited, he presents minimal risk as an NBA-ready rebounder, defender and finisher. Think Shawn Marion best case, Matt Barnes worst.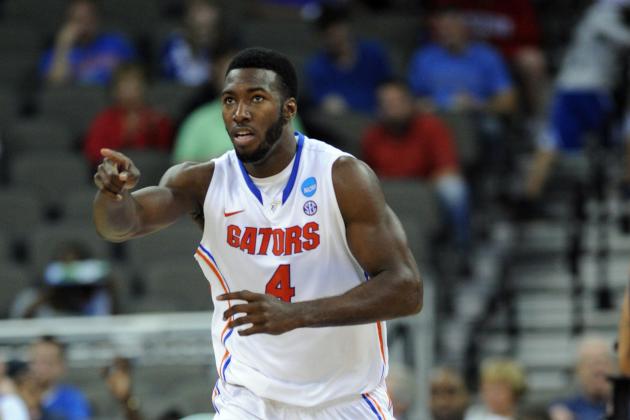 Peter G. Aiken-US PRESSWIRE

While JaVale McGee is more of a roaming rim protector, Young can provide on-ball interior defense as a physical enforcer.
If given the ball on the low block, Young has the touch and strength to either finish over his shoulder or overpower his defender. He's limited offensively, but Denver actually has balance on that side of the ball.
Young could provide Denver with an intimidating interior force both as a finisher and defender.
Andy Lyons/Getty Images

Mbakwe would be able to contribute right away as a high- and low-post scorer, and he should complement Kris Humphries' strengths as a rebounder and janitor.
Had he not blown out his knee last year, the 2012 lottery was a realistic landing spot. If anything, it just made him a value pick in 2013, and someone who can add depth, toughness and an alternative scoring option within 15 feet of the rim.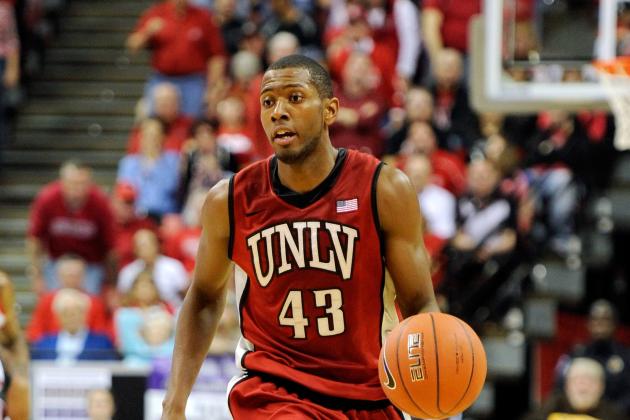 Ethan Miller/Getty Images

New York has committed to winning now, and therefore will be searching for youth rather than help right away.
Moser, whose strengths revolve around the ability to make plays off the ball, seems like an appropriate complement to a rotation with under-the-rim front-court depth and numerous ball-dominant scorers.
Moser has appeal as a glue guy and would give New York a lengthy, athletic forward with both offensive and defensive flexibility.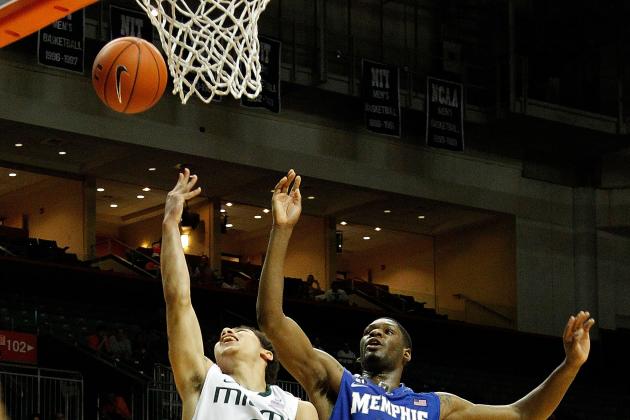 Mike Ehrmann/Getty Images

Boston needs youth and athleticism at almost every spot on the floor, and Thomas can give them both at multiple positions.
Thomas combines explosiveness with brains, and he presents a versatile offensive package as a finisher and spot-up shooter.
He has lottery-type upside but is still looking to find his identity as a promising NBA prospect.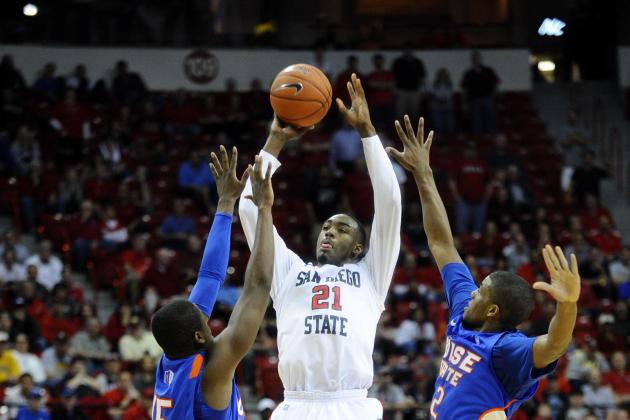 Ron Chenoy-US PRESSWIRE

Chicago has been looking for some scoring production from the off-guard position for a while now and can potentially fulfill that need with a late first-round pick.
Jamaal Franklin's athleticism and scoring prowess should allow him to occupy the wing as both an on-ball perimeter scorer or off-ball slasher.
Outside of Luol Deng and an injured Derrick Rose, Franklin would immediately become one of the team's top offensive playmakers.
He'll need to cut down on turnovers and improve his shot selection, but these are issues than can be fixed. Franklin could be a value pick based on his ability to put points on the board in various ways.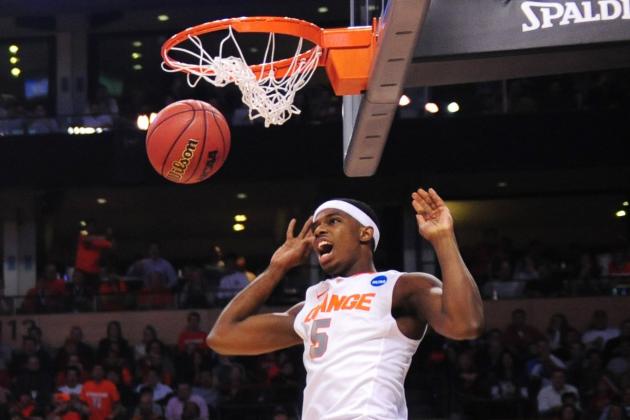 Michael Ivins-US PRESSWIRE

Fair would give Indiana a complementary piece and reliable depth behind Danny Granger and David West.
He's gotten better with every rep over his two-year career, and continues to expand his game as a face-up option.
A tough rebounder with a soft, midrange stroke and keen sense for the rim, Fair seems like a serviceable role player and inside/outside threat.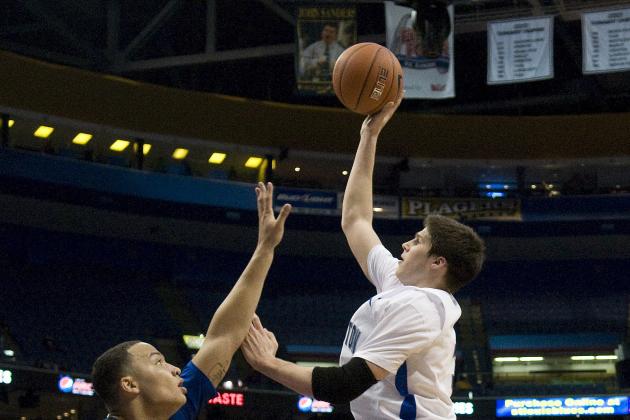 Jeff Curry-US PRESSWIRE

The Clippers are missing a forward who can stretch the floor as a three-point specialist. While McDermott excelled in college as a complete offensive weapon, his appeal as an NBA prospect is associated with that 48 percent three-point stroke.
Caron Butler and Lamar Odom haven't exactly been poster boys for reliability. McDermott could help improve the Clippers' spacing and give Chris Paul and Blake Griffin more room to operate.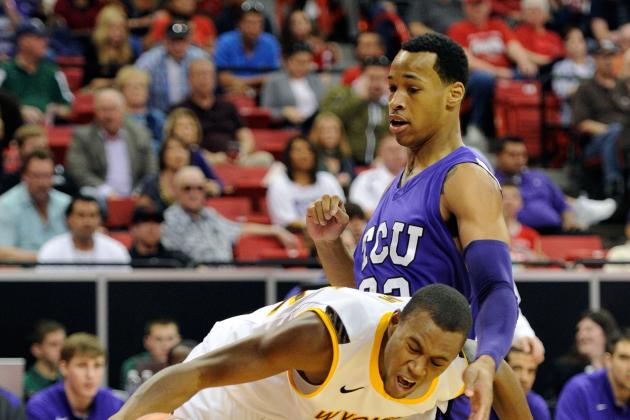 Ethan Miller/Getty Images

Phoenix gets the Lakers' first rounder in the Steve Nash trade, and should be looking to add some frontcourt athleticism.
M'Baye can play both the 3 and the 4, using his length, bounce and athleticism to present mismatches up front.
Though he still needs polish, M'Baye could be a value pick with upside this late in the first round.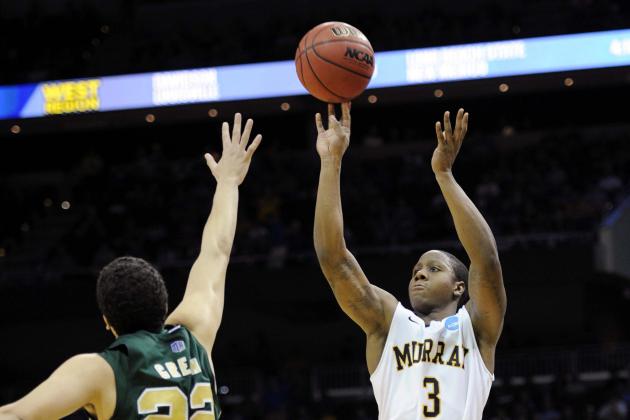 Jamie Rhodes-US PRESSWIRE

Canaan's character plays to San Antonio's interests as a humble mid-major prospect with strong leadership qualities.
Though generally regarded as a shoot-first point guard, he's pretty much forced into that role as the team's best scorer.
Murray State uses a ton of pick-and-rolls, which should help prepare him for life at the next level and make for an easier transition process.
With so much wear on tear on Tony Parker's body, it wouldn't be a bad idea to start training his potential replacement. Canaan has the tools to fill that role.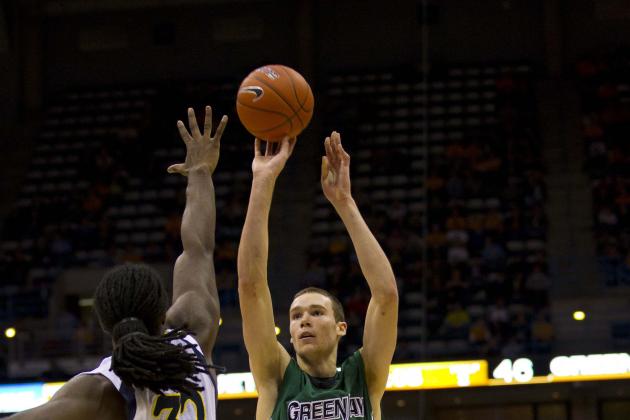 Jeff Hanisch-US PRESSWIRE

The big man from Green Bay has generated substantial buzz from scouts who seem intrigued with his size and offensive feel.
He's more of a threat with the ball in his hands than both Kendrick Perkins and Cole Aldrich, and he could be a project to work on with time to develop.
Brown should solidify his spot in the first round with another strong year against inferior competition.