MLBers Who'll Be Grossly Overpaid Next Year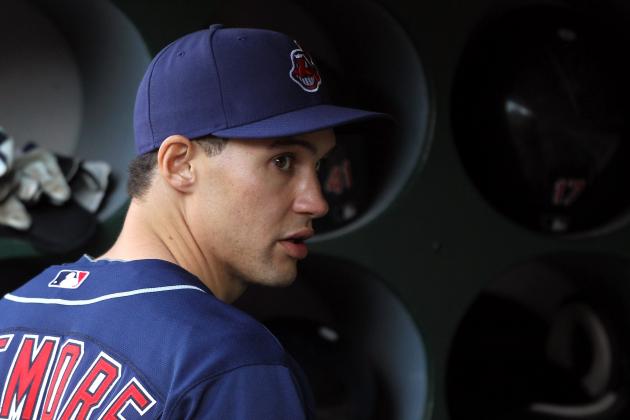 Ezra Shaw/Getty Images

The 2012 MLB playoffs are still going on, but Grady Sizemore and other players are already thinking about trying to cash in during the offseason.
This year's free agent class is relatively weak and should not be very exciting. Josh Hamilton will be the major prize of the offseason and Zack Greinke of the Los Angeles Angels of Anaheim will be the top pitcher on the market.
Will Hamilton leave the Texas Rangers after a disappointing finish to the season?
The rest of the free agents will not make big splashes, but several players will be overpaid because of the lack of depth in available talents. The New York Yankees are currently one game from being eliminated in the ALCS, so they could be looking to make some roster changes going into the 2013 regular season.
Desperate teams give average players big contracts. The players on this list are talented, but will be overcompensated by teams this winter.
Whether the players are free agents or eligible for arbitration, they will get a nice payday in the offseason.
*All stats are from MLB.com
Begin Slideshow

»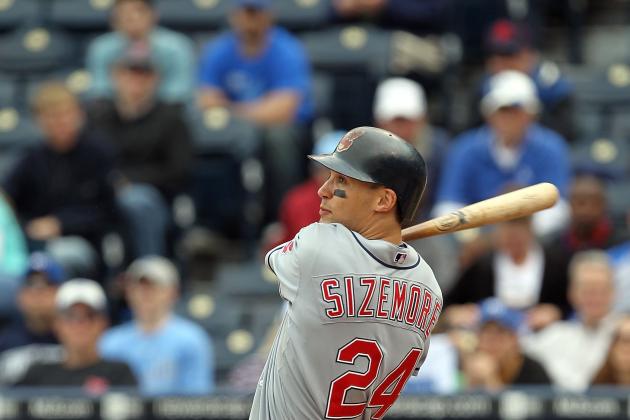 Jamie Squire/Getty Images

Stats: .224/.285, 10 HR/32 RBI (2011)
Grady Sizemore will not receive a big contract, but anything over the minimum will be overspending for the outfielder.
The former American League All-Star has stayed healthy for a full season in only four seasons since reaching the majors. However, he has been compensated fairly well throughout his career. He has failed to play in more than 106 games since 2009.
During that time, he has only played in 210 games and hit .234. (Baseball-reference.com lists his salaries for every year of his career.) He accumulated more than $18.4 million while sitting on the bench or struggling at the plate when healthy in the past three seasons.
The Cleveland Indians kept faith in the outfielder hoping he could stay healthy and return to his productive years. The team gave him new contracts hoping for a bargain, but the money was a wasted investment. Cleveland is not a big-market team so wasting money is not helping the franchise rebuild.
Sizemore accepted a one-year, $5 million deal last offseason hoping to prove his value and get a bigger deal this year. That plan backfired after the 30-year-old injured his back fielding ground balls during spring training, and he ended up missing the entire 2012 season.
In his prime, he was an exciting player to watch. Now, he has to prove he can stay healthy and be productive on the field.
The Indians have hopefully learned their lesson and should move on. Sizemore, on the other hand, should be willing to sign with the Indians for the minimum (and that's still overpaying for them) after they have handed him free money in recent years.
Some team may be willing to give him a multi-million dollar deal, but every team should be cautious about giving Sizemore a contract.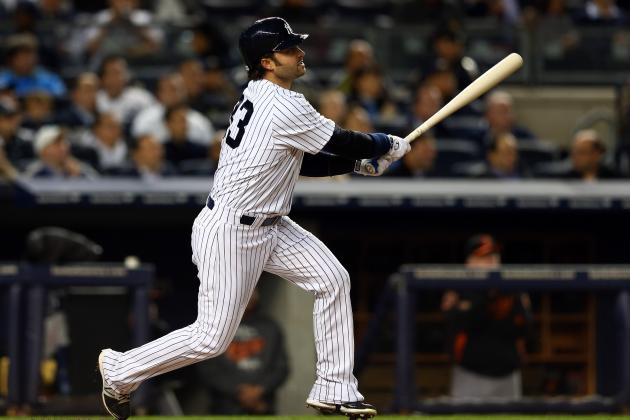 Elsa/Getty Images

Stats: .272 batting average/.364 on-base percentage, 24 HR/93 RBI
Let's be clear about this: Nick Swisher is a very good baseball player. However, he is not worth the money he reportedly wants.
According to CBS Sports' Jon Heyman, Swisher will be looking for a contract similar to what the Washington Nationals gave Jayson Werth a few years ago (seven-year, $126 million). He is a very productive player, but not worth $18 million per year.
Swisher probably won't return to the Yankees next season after getting booed at home in Game 2 and benched in Game 3 of the ALCS. It has been a tough postseason for most of the New York lineup, but Swisher's .154 average has cost him some playing time.
Teams give out big contracts to players who will lead them to a World Series title. Swisher owns a .167 career average in the postseason, so teams may not be willing to give him what he wants.
The 31-year-old would be a big addition to most teams, but he will need to lower his asking price. His bat can help lead a team to the postseason. However, the teams who could use him the most do not have tons of money to spend.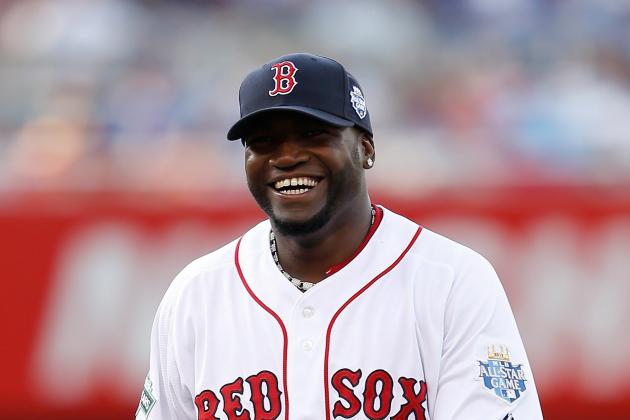 Jamie Squire/Getty Images

Stats: .318/.415, 23 HR/60 RBI
Despite the dismal season his team suffered through, David Ortiz had a productive 2012 season.
The season was a failure in Boston, and ownership unloaded huge contracts during the season. With money freed up for this offseason, the Red Sox are in position to pay Ortiz big money.
Since 2007, Ortiz has been paid at least $12.5 million per season. Even though he was injured for most of the second half of the season this year, he will demand a lucrative multi-year deal.
Boston has plenty of money to give him, but the organization was reluctant to sign him to a multi-year deal last offseason. The 36-year-old is nearing the end of his career but showed he can still swing the bat.
The designated hitter will likely stay in Boston, but the team should be careful about giving him the money he wants. He has been in "contract years" the past two seasons and put up good numbers after several down years.
If he goes somewhere else, Ortiz is likely to get a nice raise.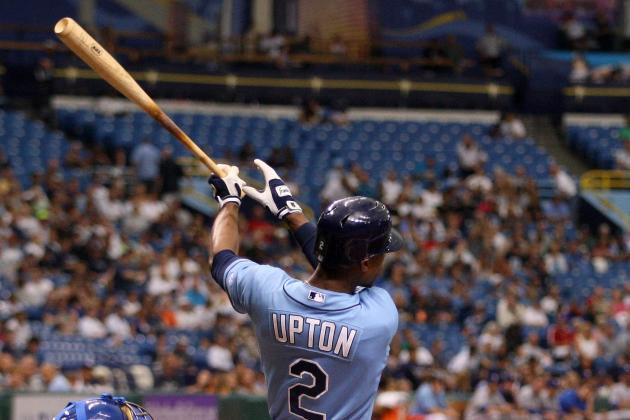 Charles Sonnenblick/Getty Images

Stats: .248/.298, 28 HR/78 RBI
B.J. Upton is probably the trickiest free agent to figure out.
Early in his career, he could hit for average and power. He was a threat to steal a base whenever he got on and was one of the game's most exciting players.
Now the 28-year-old will hit the market looking for a big contract. He won't get a huge deal, but some team will be willing to give him a lot of money.
With the Tampa Bay Rays, Upton was a talented player but had his issues. He had issues with hustling in the field and on the bases. The man has extraordinary talent, but he is not always taking advantage of it.
There will never be any question on whether or not his talent will hold him back. The centerfielder's talent warrants him getting a nice payday, but it will be interesting to see how he performs once he gets paid.
The Rays probably can't afford to keep him, so hopefully he will go to a team and fit in nicely. He has the ability to be productive at the plate, and his talent will make several teams take a look at him.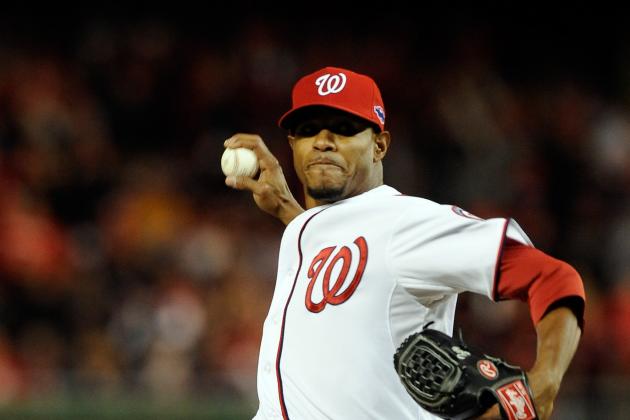 Patrick McDermott/Getty Images

Stats: 10-11, 4.03 ERA, 189.2 IP
After being a big trade deadline acquisition for the St. Louis Cardinals in 2011, Edwin Jackson failed to find a multi-year deal in the offseason.
He signed a one-year, $11 million deal last offseason and got off to a great start with the Washington Nationals. Although was only 4-4 near the end of June, the right-hander had an earned run average of only 2.97 before struggling during the second half of the season.
The Nationals needed Jackson to step up when they shelved Stephen Strasburg, but Jackson posted an ERA of nearly 8.00 in September. He was not much better in the postseason as he was roughed up in Game 3 and contributed to the Game 5 collapse.
With an All-Star selection, a no-hitter and a World Series ring already in his career, Jackson will be looking to get a lucrative multi-year deal and establish himself as a great pitcher.
The 29-year-old has shown glimpses of brilliance, but he also has his issues throughout a season. He will be looking for top-of-the-rotation money, but he should not get it. He is a solid No. 3 pitcher, but has the talent to be better. Until he puts it together for a full season, he will be a risky investment.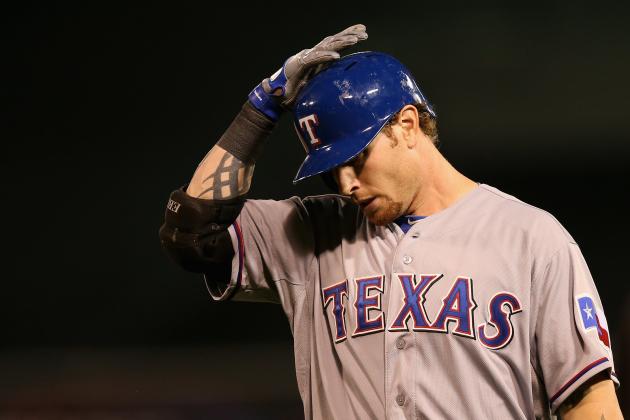 Ezra Shaw/Getty Images

Stats: .285/.354, 43 HR/128 RBI
Josh Hamilton is an extremely gifted baseball player, but he is a risky investment. I'm not talking about his off-the-field problems. He is an injury-prone player, but is very talented.
The 31-year-old is one of the best offensive players in the game and has a tremendous arm in the outfield. He is everything you could ask for in a ballplayer.
However, giving him a huge deal could be risky. We have seen him perform in the postseason and in the World Series in two of the past three seasons. Yes, the Rangers collapsed in September and October this year. Hamilton was not the only reason the team went home early.
Texas fans booed him in the Wild Card game, which may have signaled the end of an era in Arlington. The Rangers had a great offense with Hamilton in the middle of it, but he may choose to play elsewhere next year.
The 2010 AL Most Valuable Player has proven he can play when he has been healthy. He did not bring a championship to Texas, but he put them in position to win at least one.
Hamilton is worth a big deal, but he will be the top free agent this offseason. He will set the market and command big money. There is just too much risk in giving him a deal that will put him among the elite players in baseball.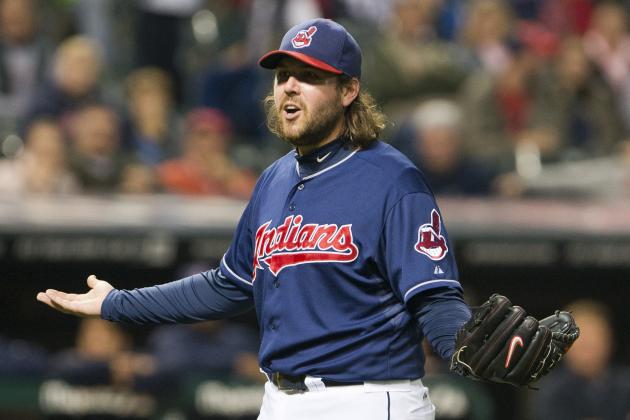 Jason Miller/Getty Images

Stats: 0-4, 34/39 saves, 3.59 ERA
Sorry Indians fans, but another player makes the list. I think most of the team's fans would agree that Chris Perez is more trouble than he's worth.
For those of you who do not know about Cleveland's closer, just Google "Chris Perez comments" or "Chris Perez fan" and see what comes up. His comments have some truth to them, but he is going about it the wrong way.
He has made two consecutive All-Star teams, but he is replaceable. Of the ten closers with 36 or more saves, Perez has the highest batting average against and has the second-fewest strikeouts. It is a dangerous combination to allow runners to get on base and not be able to blow people away.
The 27-year-old closer made $4.5 million last season. He is eligible for arbitration this offseason and will likely get at least $7 million for next season. With Vinnie Pestano in the bullpen, Perez is expendable.
Cleveland can afford to give him a raise with Grady Sizemore and designated hitter Travis Hafner no longer on the payroll. Now the team just needs to decide what to do with Perez.
Ownership could decide he is more trouble and try to trade him for a cheaper starting pitcher or left fielder. The outspoken closer has worn out his welcome in Cleveland, so the team would be smarter to spend the money to fill other needs.