7 Crucial Flaws with New York Knicks' Roster That Will Prevent Winning a Title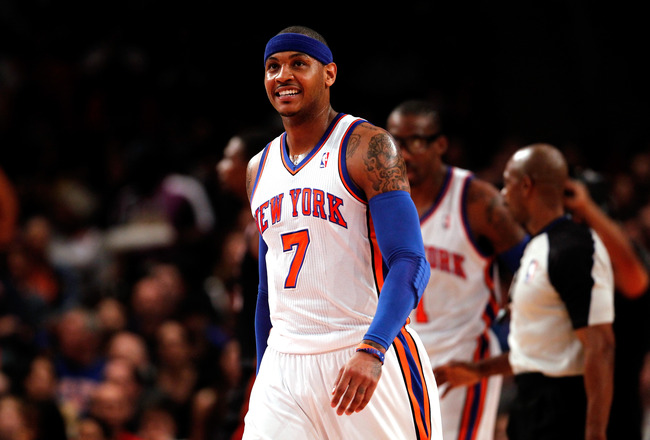 Jeff Zelevansky/Getty Images
The New York Knicks should be better during the 2012-13 NBA season than they have been in quite some time. Between increased practice time for Carmelo Anthony and Amar'e Stoudemire to work out the remaining kinks between them, stability on the sideline under head coach Mike Woodson and a deeper, more seasoned bench, the Knicks have the requisite pieces in place to hearken back to the good ol' days of the Jeff Van Gundy era.
And by that, I mean rack up between 45 and 50 wins. Not exactly a gaudy total, but the Knicks haven't claimed more than 42 victories in a single campaign since 2000-01.
As big of an improvement as that would represent, it'd hardly put New York anywhere near the league's elite, much less within an earshot of the Larry O'Brien Trophy. The Miami Heat, who ousted the Knicks from the playoffs in five games this season, have the Eastern Conference on lockdown until further notice, with the Boston Celtics and the Indiana Pacers ranking as the most likely challengers to LeBron James' throne.
If the Knicks hope to crack that conversation this season, they'll have to figure out how to work around these seven shortcomings inherent on their incumbent roster. Otherwise, Amar'e and company might as well prepare themselves, physically and mentally, for a wasted season.
Carmelo's Not so Mellow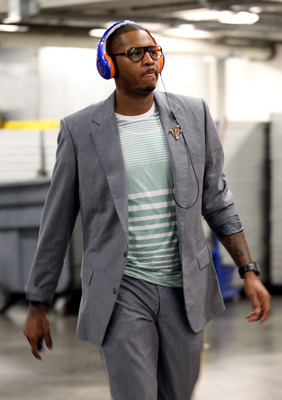 Marc Serota/Getty Images
All eyes will be on Carmelo Anthony from first tip to final buzzer, and rightfully so. He was touted as the savior of a wayward franchise after the Knicks moved heaven and earth to bring him to the Big Apple in February of 2011.
Since then, Anthony's done what he always does—score a bunch, rebound a bit and defend only when it's convenient. Not surprisingly, the Knicks have stagnated with 'Melo being 'Melo.
Nonetheless, there's reason to believe that Anthony's due for a career year in 2012-13. He's coming off a virtuoso performance at the 2012 London Olympics, wherein he led Team USA in scoring during it's gold-medal run. As a result of his national duties, along with offseason workouts with his teammates, 'Melo came into camp in great shape, perhaps the best of his playing career.
And, at 28, he'll be so while squarely in his prime.
Some things never change, though. 'Melo has already expressed an unwillingness to play power forward in New York, even though all signs indicate that both he and the Knicks would be better off with him up front.
'Melo can have it his way, and likely will because he's the most talented player on the team. But if Mike Woodson's going to sort out the Knicks' logjam in the middle, he'll need Anthony to keep an open mind.
Which, at this point, seems like wishful thinking.
The Frontcourt Quagmire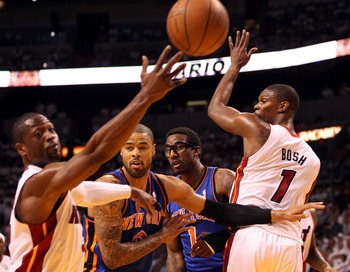 Marc Serota/Getty Images
Speaking of New York's issues up front, there's still no word yet as to how the team plans to sort out the clash of spacing between Amar'e Stoudemire and Tyson Chandler.
At this point in his career, STAT is clearly better-suited to playing center. He thrived as the man in the middle during his days with the Phoenix Suns and with the pre-Melo, pre-Chandler Knicks, when his squad was more inclined to get up and down the floor and he could operate in the middle with impunity.
Stoudemire will be defensively challenged at any position, though he's even more vulnerable at power forward, where he's left to contend with quicker, more athletic "stretch fours." Having him handle slower centers, then, would make some sense.
Trouble is, more time for Amar'e in the middle invariably means less for Chandler, who was arguably New York's best player last season. According to Team Rankings, the Knicks leaped from 22nd in the league in defensive efficiency in 2010-11 to seventh last season, thanks in no small part to Chandler, who earned Defensive Player of the Year honors for his efforts anchoring what would've otherwise been a sieve-of-a-frontline.
Chandler's impact was hardly restricted to the defensive end, though. He led the league in field goal percentage, was among the best in getting to the free-throw line and was a superb finisher in the pick-and-roll, particularly when Jeremy Lin was at the point.
But Lin is gone and Stoudemire's specialty has long been the two-man game. Moving Amar'e to the bench would make eminent sense as far as fit is concerned, but, as with 'Melo, convincing a six-time All-Star on a massive contract to accept a change in his role is anything but a walk in the park.
Two-Way Street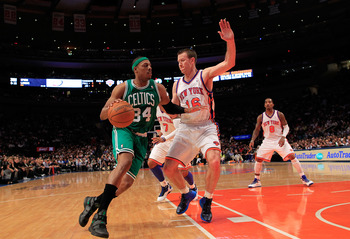 Chris Trotman/Getty Images
Mike Woodson's juggling act between Amar'e's offense and Chandler's defense, though not entirely dichotomous because of Tyson's finishing, is but a microcosm of a bigger issue that pervades the Knicks' roster.
For optimists, New York sports an abundance of specialists—lockdown defenders like Ronnie Brewer, Iman Shumpert and Kurt Thomas, shooters like JR Smith and Steve Novak, and rebounders like Marcus Camby.
In the eyes of pessimists, though, this same collection of spare parts more closely resembles an overabundance of one-dimensional players. Carmelo and Amar'e can score, but what of their defensive contributions, especially in a conference where they'll have to handle the likes of LeBron James, Chris Bosh, Paul Pierce and Kevin Garnett to advance through the playoffs? Brewer and Shump can wreak havoc on the perimeter against opposing wings, but can they shoot straight enough to not be liabilities in crunch time? Can the Knicks afford to let Smith and Novak spread the floor for extended stretches if they're not going to contribute defensively?
And what of Thomas, Camby and Rasheed Wallace, in whose old age offensive contributions and fleetness of foot are at a premium?
The optimists will say that Mike Woodson has a full 82-game schedule and ample practice time to tinker with different combinations and figure out what works best. The pessimists will inevitably retort that the Heat and the Pacers have already figured out their rotations, for the most part, and will keep the Knicks at bay as a result.
Not Just a Number
Otto Greule Jr/Getty Images
With Rasheed Wallace limping out of the retirement, the Knicks can now claim to employ four of the seven oldest players in the NBA. Kurt Thomas is the oldest in the league, at just over 40 years of age, followed by the 39-year-old Jason Kidd and 38-year-olds Wallace and Marcus Camby.
The Knicks even boast the NBA's oldest rookie in 35-year-old Pablo Prigioni. With those five on the team, Madison Square Garden could just as easily double as a convalescent home.
Jokes aside, there are certainly some perks to having such a seasoned bench. Patrick Ewing was 36 when the Knicks made it to the NBA Finals in 1999, though by some accounts, it was Ewing's absence for the latter part of that playoff run that propelled New York past the rest of the East.
Ewing aside, those Knicks squeezed quality minutes out of thirty-somethings like Chris Dudley, Chris Childs and Dennis Scott. And, as will be the case with this year's brazen bunch, those guys didn't have to log major minutes, which allowed them to stay fresh for an entire season.
Then again, the 1998-99 season was a sloppy, lockout-truncated mess, which the Knicks survived by some stroke of good fortune. An 82-game slate won't be so forgiving, especially with some of New York's elderly subs already struggling with injuries and conditioning.
If the Knicks can't count on their old guys to stay fit now, how can they hope to keep them standing seven months from now, when the games will really matter? And what will become of the depth that was supposed to be one of New York's greatest strengths?
That's Amar'e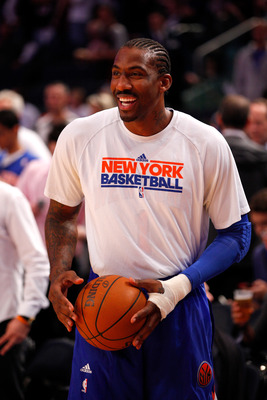 Jeff Zelevansky/Getty Images
Amar'e Stoudemire isn't exactly a spring chick in basketball years, either. But as easy a scapegoat as Stoudemire may be, blaming him for the Knicks' issues is a futile endeavor.
Much of the problem stems from the fact that STAT just isn't the player he once was. Age (he'll be 30 in November) and injuries have robbed him of much of the athleticism and agility that once made him the NBA's most ferocious finisher. Without his explosive first step and his otherworldly leaping ability, Amar'e is little more than a big body who doesn't dribble or pass well, struggles to shoot from midrange (34.6 percent between the rim and the three-point line last season) and can barely keep up with his own shadow.
Not that all is necessarily lost for STAT. He could work to regain his touch on long twos and reinvent himself as a pick-and-pop threat, a la Karl Malone.
Still, such would hardly justify Stoudemire clogging the Knicks' cap for nearly $20 million this season and upwards of that in each of the following two campaigns. Neither would it do much to alleviate New York's issues in the interim, as they seek to pry open a short (if at all existent) championship window with the NBA's oldest team.
What's the Point?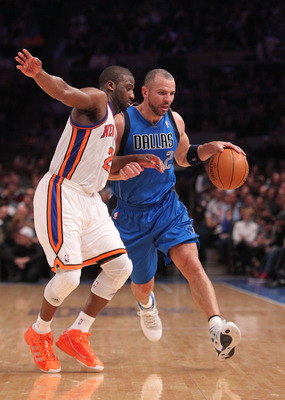 Nick Laham/Getty Images
There's some good news for Amar'e, though. Raymond Felton is back.
Well, that might not be all good news. Felton is coming off a miserable stint with the Portland Trail Blazers, during which he drew the ire of fans at the Rose Garden for his poor conditioning, his role in the revolt against head coach Nate McMillan, his poor shooting (40.7 percent from the field, 30.5 percent from three) and his propensity to "Feltdown" in crunch time.
It's never a good sign when a player hits a career nadir at the age of 27, when he should be at or near his peak.
There may be hope for him yet, though. Felton played some of his best ball during a 54-game stint in New York during the 2010-11 season, and word out of Knicks camp is that he's is back in shape.
Still, Felton isn't exactly starting material, especially on a team with hopes and dreams of the Larry O'Brien Trophy. At this point, he's much better suited to backup duty.
Jason Kidd would've been the better pick to start if this were, say, 2009, or perhaps even 2010.
But it's not, and Kidd's game has fallen off precipitously since. In his last two seasons with the Dallas Mavericks, Kidd shot a woeful 36.1 percent from the field, albeit a respectable 34.5 percent from three and with 7.2 assists per game.
Kidd can still contribute effectively to a winning cause, thanks to his floor vision and leadership, which remain as strong as ever at the age of 39. That being said, he can't be counted on to play big minutes, which may turn out to be the case if Felton falters again.
No Bending, Only Breaking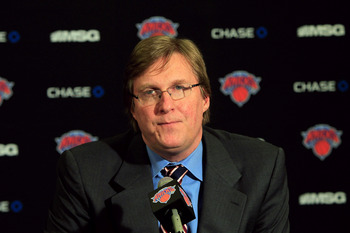 Chris Trotman/Getty Images
What if something should go wrong with the Knicks' roster as currently constituted? What if someone should fall prey to the injury bug or fail to fit in to what the rest of the team is attempting to do?
These sorts of issues are facts of life in the NBA, albeit facts that the Knicks will have little leeway to deal with for the foreseeable future. Their payroll currently sits at a shade under $81 million for the 2012-13 season, which leaves them more than $10 million clear of the league's luxury-tax line at $70.3 million.
As such, should GM Glen Grunwald need to go out and get a player or two to fill his roster, he'll have only the veteran's minimum and league-minimum contracts with which to lure aging free agents, waiver wire casualties and D-League journeymen.
That is, unless Grunwald can somehow swing an in-season trade involving one of his highly-paid stars and/or a handful of the bunk at the end of the Knicks' bench.
To be sure, a number of the East's best teams (i.e. the Heat, the Nets, the 76ers, the Bulls) are cap-strapped, with little leeway to reshape their respective rosters during the season.
Nonetheless, the Knicks can't do much more than keep their fingers crossed that their band of near-retirees and injury-prone stars won't crumble before they reach the finish line.
Wherever that finish line may be.
Keep Reading

New York Knicks: Like this team?