UFC 153: A Fan's Guide to Anderson Silva vs. Stephan Bonnar Fight Card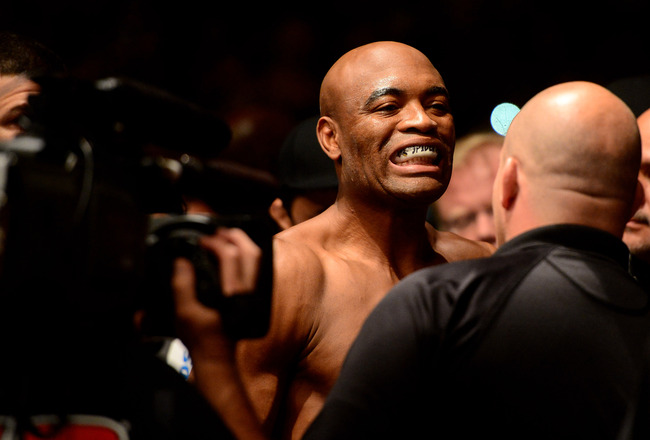 Mark J. Rebilas-US PRESSWIRE
Since the UFC's first outing in Brazil under the Zuffa banner in August of last year, the promoters have fallen in love with the place.
This Saturday, UFC 153 will mark Zuffa's third pay-per-view event in the country in 2012 alone, and the second time visiting the HSBC arena in Rio De Janeiro, when Jose Aldo and Anderson Silva inspired a wave of MMA fanaticism in this otherwise soccer-mad country.
And, despite all the injuries that are now de rigueur for any UFC event, it's an electrifying card throughout.
That might be hard to swallow considering the main event. The fight between Anderson Silva and Stephan Bonnar, seems like little more than an exhibition match—a three-rounder with nothing at stake.
But the card is replete with Brazilian talent, some old, some new, and intriguing matchups from the bottom to the top.
Here's a fan's guide to the entire card.
11. Cristiano Marcello vs. Reza Madadi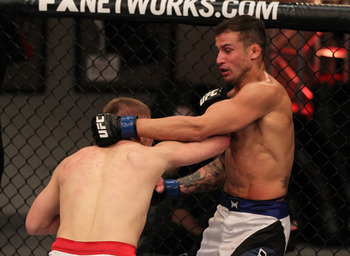 Source: Heavy.com
Lightweight
See it on: Facebook
At the bottom of the card is a lightweight bout between TUF alumni Cristiano Marcello from Brazil and Swedish-Iranian Reza Madadi.
Both men are in their 30s, and both men will be fighting for the second time in the UFC. They both also have similar MMA records—12-4 for Marcello and 12-2 for Madadi—so there's not much disparity between the two.
We know that Marcello is an exceptional BJJ practitioner. A fourth-degree black belt, trained by Gracie royalty (Rickson and Royler), he's been the go-to man for the best in MMA who are looking to sharpen their ground skills.
Those men who've called on Marcello's services in training have included Wanderlei Silva, Cris Cyborg, Evangelista Santos and Murilo Rua, among others.
However,all the expectation is on Marcello. We saw how weak his striking was during the TUF Live finale back in June, when he was picked apart and knocked out by Sam Sicilia.
And let's not count out Madadi. He made a much more successful debut fighting under the UFC banner and has a string of submission wins to his credit.
Unfortunately, submissions are not where he's going to win against Marcello, and we've yet to see much from his striking.
This one could be fought to a stalemate
10. Luiz Cané vs. Chris Camozzi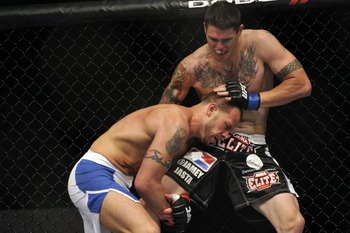 Joe Camporeale-US PRESSWIRE
Middleweight
See it on: Facebook
Two men with a much deeper history in the UFC make up the second, and last, Facebook preliminary, before we switch proceedings to FX.
Brazilian Luiz Cané is dropping down to middleweight for the first time after going 1-3 at 205 lbs, and will bring with him a powerful set of fists.
However, his opponent, Chris Camozzi, is also an expert striker, although he hasn't put anyone to sleep in four years.
That might tip the balance in Cané's favor, if it wasn't for the fact that the 25-year-old Camozzi has never been knocked out or TKO'd in his career.
Optimistically, we can hope for a Muay Thai clinic that goes the distance.
9. Sergio Moraes vs. Renee Forte
Source: Graciemag.com
Welterweight
See it on: FX
Now we get to the first televised event of the evening, with two relatively unknown Brazilians facing off against each other.
Why Sergio Moraes and Renee Forte are on the first televised prelim, I have no idea. Neither fighter has electrified in their short career—30-year-old Moraes is coming off a loss in his UFC debut to Cezar Ferreira, and Forte has yet to prove himself in this, his first match for the UFC, either standing up or on the ground.
It's anybody's guess how this match will go down, though you'd give the edge to Moraes in the grappling.
9. Diego Brandao vs. Joey Gambino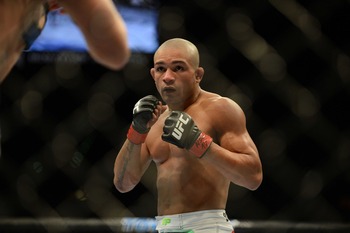 Ron Chenoy-US PRESSWIRE
Featherweight
See it on: FX
Diego Brandao was by far the most impressive fighter on the last season of TUF to air on Spike TV, back in December 2011.
He was mean, he was aggressive, he could knock you out, and he broke Dennis Bermudez's arm in the finale, one of the most vicious submissions ever seen in the Octagon.
What a shame that he was so lackluster in his decision loss to Darren Elkins at UFC 146, where we saw none of the ferocity so evident on the TV show.
Perhaps it was another one of those "Team Greg Jackson" errors, with whom he trains in Albuquerque, NM.
Will we see the dangerous, furious Brandao that became so familiar to us on TUF? I certainly hope so,
And if that's the case, then 23-year-old Joey Gambino, in only his second UFC fight and coming off a first-round submission loss, is being fed to a lion.
8. Gleison Tibau vs. Francisco Trinaldo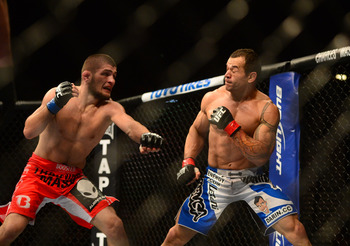 Mark J. Rebilas-US PRESSWIRE
In the second all-Brazilian match of the night, UFC veteran Gleison Tibau is taking on Francisco Trinaldo, who is only fighting in his second-ever match in the UFC.
Tibau has promised much throughout his career, fighting professionally since 1999, but has always failed to deliver in the big matches.
Any time he's managed to string together anything resembling a run of victories, he's been stopped by superior talent, whether it was Nick Diaz at UFC 65, Tyson Griffin in UFC 81, Joe Stevenson at UFC 86 or Jim Miller two years ago. Tibau has never had quite what it takes to break into the top tier of MMA.
Still, he's a rugged, endurable fighter with high-level grappling skills, and will prove more than a handful for the little known Trinaldo.
Bizarrely, Trinaldo fought at middleweight in his last match and UFC debut against Delson Heleno, despite having been a lightweight throughout his career. Suffice to say, Heleno made short work of him in that fight, finishing him in the first round.
Could Tibau do the same?
7. Rony Bezerra vs. Sam Sicilia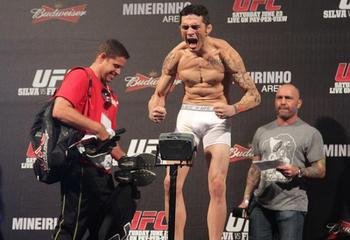 Source: fightbulletin.net
Featherweight
See it on: FX
And the final prelim, before we head into the main card, is a featherweight contest between 28-year-old Brazilian Rony Bezerra who is up against 26-year-old Washington-native Sam Sicilia.
Sicilia electrified TUF 15 when he defeated Cristiano Marcello by knockout in the second round, fighting at lightweight.
He returns to his usual featherweight on Saturday to take on another TUF winner in Bezerra.
Both men have a well-rounded game, both are young and hungry.
They were outstanding on the reality TV show, and seeing them coming face-to-face is like seeing the best of TUF America taking on the best of TUF Brazil.
Expect the partisan crowd to go wild for Bezerra for this one, the potential fight of the night.
6. Demian Maia vs. Rick Story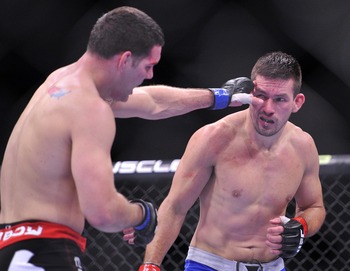 Mike Dinovo-US PRESSWIRE
Welterweight
See it on: PPV
Kicking off the main card is a welterweight bout between Demian Maia and Rick Story.
This will be Maia's second fight at welterweight, after being chased out of the 185-lb-division due to losses to Mark Munoz and Chris Weidman.
We didn't really get a hint of what the Brazilian jiu-jitsu expert is capable of at this weight class, since in his 170-lb-debut his opponent, Dong Hyun Kim, injured himself after only 47 seconds.
In other words, UFC veteran Rick Story will be Maia's first fight at the lower weight, and he's likely to prove quite a test.
The men have contrasting styles of fighting, however. Story is comfortable in the clinch, and a grappling-oriented approach may just be the trap Maia is looking to set.
Nevertheless, this is a tough one to call.
5. Phil Davis vs. Wagner Prado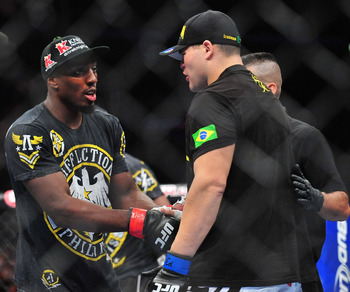 Gary A. Vasquez-US PRESSWIRE
Light Heavyweight
See it on: PPV
Finally, Phil Davis will go up against Wagner Prado for the second time, after their first match was ruled a no-contest due to an eye-poke.
That first match promised fireworks, and we all watched tentatively wondering whether Davis, with his wrestling, will grind out a ground-and-pound win, or Prado would catch him with a devastating strike, like he has done to so many throughout his career.
Davis was clearly wary of the Brazilian, and tentatively stuck his hand out Jon Jones-style for most of the first round back in August, trying to keep his opponent at a distance. That inevitably led to the eye-poke that ended the fight.
Prado's cry of anguish as the match was called off probably meant that he thought he'd lost the contest due to "doctor stoppage," but now he's been given a second chance to re-fight his UFC debut.
So what to expect?
Well, we've seen a lot of Davis now, and this will be his eighth fight for the UFC.
Until his loss to Rashad Evans in January, he was standing firmly in line for a shot at Jon Jones' belt.
That potential is still there, and a convincing win at UFC 153 will put him and rival light- heavyweight Alexander Gustafsson on a collision course for a contender's spot.
As for Prado, we've heard a lot about what a devastating striker he is. In his eight fights leading up to his UFC debut, the Brazilian KO'd or TKO'd seven of his opponents, most within the first round.
Davis has a five-inch reach advantage, and he could be looking to use that to keep his opponent at bay.
Or he could decide that, considering his superior grappling, tying his opponent up in the clinch and wearing him down over the course of three rounds is the correct option.
Either way, fans will be waiting for a boom from Prado which could come at any moment, keeping them on the edge of their seats the entire fight.
Don't blink.
4. Jon Fitch vs. Erick Silva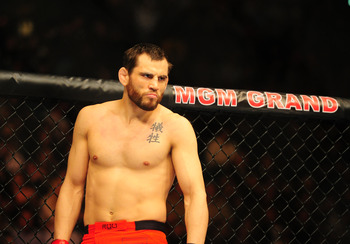 Mark J. Rebilas-US PRESSWIRE
Welterweight
See it on: PPV
Only a year ago, Jon Fitch was considered the No. 2 welterweight in the world. But one well-timed punch later from the hands of ascendant Johny Hendricks, and the fighter has been all but forgotten.
That's mainly because he's never been a fan favourite, and even his boss, Dana White, must have been relieved that his first-round KO precluded contemplating a Fitch vs. GSP title fight.
Until his fight against Hendricks, Fitch had dropped one match in 23, an amazing record, but one that still kept him away from a rematch against GSP, who had handed him that one loss back at UFC 87.
Fitch will be looking to make a point. After being called the most boring fighter in MMA, he knows he'll have to do something spectacular to be back "in the mix."
His opponent, Erick Silva, will be fighting for the fourth time in the UFC on Saturday, and will be looking to exploit the fact that Fitch hasn't fought in almost a year to seal the victory.
3. Glover Teixeira vs. Fabio Maldonado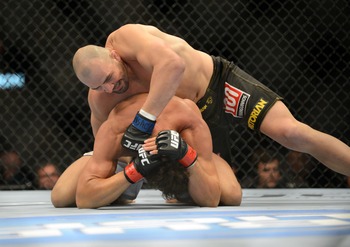 Ron Chenoy-US PRESSWIRE
Light Heavyweight
See it on: PPV
We have heard so much about Glover Teixeira, but have seen so little.
They say he's the next big thing in MMA, the man no one wants to fight.
He's currently riding a 16-fight win streak, but has only fought once for the UFC, defeating Kyle Kingsbury by submission in the first round at UFC 146.
Admittedly, the only man we know who refused to fight him was Mauricio Rua, but the UFC has made a lot of that refusal and capitalised on the notoriety Teixeira has gained since.
That may be unfair to his opponent, Fabio Maldonado, a late replacement for the injured Quinton Jackson. But still, the 32-year-old has lost his last two matches in the UFC, which includes a losing decision to Kingsbury, the man Teixeira was able to put away so deftly.
This fight will be an eagerly-watched contest, if only to see whether any of the hype Teixeira has generated is real. Perhaps Maldonado can never be the opponent to prove that.
We'll find out on Saturday.
2. Antônio Rodrigo Nogueira vs. Dave Herman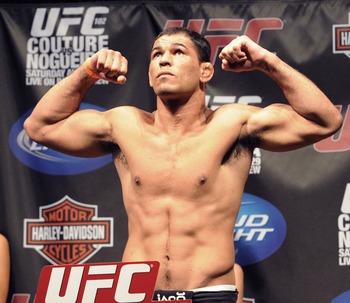 Jon Kopaloff/Getty Images
Heavyweight
See it on: PPV
MMA legend Antônio Rodrigo Nogueira returns to the scene of his last victory in the sport. It will be the first time see the cage since Frank Mir snapped his arm last December.
It's been a long and painful rehabilitation for the man, who spent months out of training waiting for his arm to heal—but now he's back.
His opponent, 28-year-old Dave Herman, has done all the trash talking, saying he will retire his 36-year-old opponent and disparaging Nogueira's beloved jiu-jitsu as an ineffective style in MMA.
But it's Herman who has it all to prove. The heavyweight is on a two-fight losing streak, having been stopped by both Stefan Struve and Roy Nelson, and a similar outcome here could see him exit the promotion.
Nogueira, on the other hand, such a legend in the sport, is unlikely to be facing such a similar demise. The screaming fans at the HSBC arena in Rio will testify to that.
The Brazilian's boxing and ground game are exceptional, and the partisan crowd could see him through to victory, just like they did in his last fight here against Brendan Schaub.
1. Anderson Silva vs Stephan Bonnar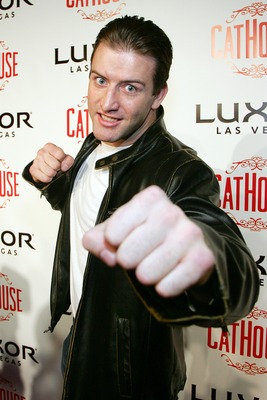 Ethan Miller/Getty Images
And so we come to the main event. A non-title, three-rounder between arguably the best fighter in the world, Anderson Silva, against one of the UFC's bit players.
The betting lines have Anderson Silva at -1350 against Stephan Bonnar at +800, probably the most one-sided odds you will ever see in MMA.
No one gives Bonnar a chance, not even his mum.
And I won't go against the trend on that one, either.
Silva is fighting out of his normal 185-lb weight class, but he has made short work of his opponents at 205 before, and he's going to do it again for his Brazilian fans come Saturday.
Keep Reading