UFC 153 Preview: Staff Picks for Silva vs. Bonnar Main Card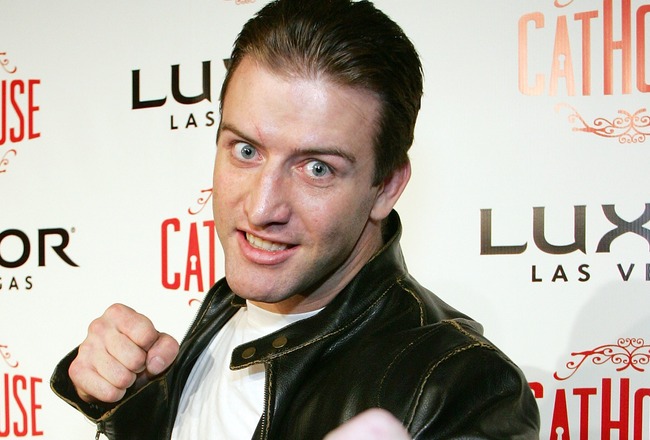 Ethan Miller/Getty Images
When Stephan Bonnar steps in the cage against Anderson Silva in Rio de Janeiro on Saturday night, he'll do so as one of the most historic underdogs in the history of mixed martial arts.

That's the draw of this fight, in its own unique way. Few people in the world give Bonnar much of a chance, not because he's a terrible fighter, but because the man he's facing is the greatest fighter in the history of the sport who has already proven that a size disadvantage against light heavyweights doesn't faze him a bit.

But what happens if Bonnar does the impossible? Can you imagine? All of those comparisons about this being the UFC's version of Rocky would come to fruition.

But enough about the main event. From top to bottom, the UFC 153 pay-per-view card is one of the more stacked events of the year. Not in terms of superstar power, but in terms of intriguing fights featuring athletes with the potential to go a long way in the sport.

The Caged In staff is here to break down the fights. Let's get started.
Anderson Silva vs. Stephan Bonnar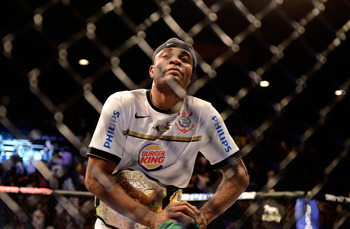 Mark J. Rebilas-US PRESSWIRE
Jeremy Botter: I'd love to pick Bonnar here, but I really can't. Not because I don't think he can win, because I think he certainly can. I don't think he has a great chance of winning, but I also realize that MMA is a sport ripe for historic upsets, and it's been a while since we've seen one. I don't think it's happening here, though. Silva will do what Silva does. Silva by KO, Round 2.
Jonathan Snowden: This is a no-win situation for the UFC. If Silva wins easily, as most expect, then he just beat a mid-level fighter, certainly nothing to write home about. If he loses? If Bonnar pulls off an upset? Well, then your legendary star just lost to a fighter whose career highlight came seven years ago, a losing effort during a reality television show. Silva by KO, Round 1.
Matt Roth: I really hope that people aren't sleeping on Stephan Bonnar. I hope that Stephan Bonnar isn't sleeping on Stephan Bonnar because I think he has the skills and ability to really push Anderson Silva. I mean, that's not going to happen, but it could. This is as easy of a fight to pick as there ever will be. Silva by TKO, Round 2.

Scott Harris: Earlier this week, I compared this fight to bull riding. Exciting while it lasts, but you know how it's going to end, and that the end could come any second. Here's hoping we get a good ride for the money. Silva by TKO, Round 1.
Antonio Rodrigo Nogueira vs. Dave Herman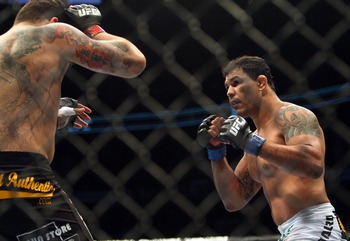 Tom Szczerbowski-US PRESSWIRE
Snowden: I certainly hope the old dog can still hunt. But Nogueira is both ancient and coming off an injury. This could be Herman's chance to make his bones in the UFC. Herman by decision.
Roth: BJJ expert against a fighter who has said that jiu-jitsu is stupid? Yeah, I'm gonna go with Antonio Rodrigo Nogueira here in what should be one of the most one-sided fights in UFC history. Big Nog by anaconda choke, Round 1.
Harris: This is a very interesting fight. There's a lot of pressure on Nogueira, but he handled that just fine the last time (see Brendan Schaub, UFC 134). Nogueira may also be rusty, but I think he'll demonstrate to Herman that jiu-jitsu does, indeed, work. Nogueira by submission, Round 2.
Botter: I'm of the same mind as Roth and Harris here. Jiu-jitsu doesn't work? Dave Herman's about to find out what a dumb statement that really was. Nogueira by submission, Round 2.
Glover Teixeira vs. Fabio Maldonado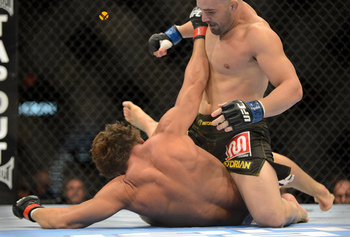 Ron Chenoy-US PRESSWIRE
Roth: I know everyone loves talking about the boxing of Fabio Maldonado, but what I see is a guy who has no idea how to defend punches. Glover Teixeira hits really hard and is also one of the top fighters on the ground. There's just nowhere for Maldonado to run. Teixeira by TKO, Round 1.
Harris: Maldonado's standup is excellent. His grappling game is not. That's why, sooner or later, this one is going groundward, despite Teixeira's general tendency to headhunt. Teixeira by submission, Round 2.
Botter: I love Maldonado's boxing game. I hate his grappling defense. If Teixeira is smart, he'll avoid a prolonged standing punchfest here and get it to the ground, because he can likely win very swiftly there. I think he'll do just that. Teixeira by submission, Round 1.
Snowden: I think the Teixeira hype is a little out of control. He has a ton of potential but hasn't earned his accolades in the cage. But whether or not he's a future champion, he's definitely too much for Maldonado. Teixeira by KO, Round 2.

Erick Silva vs. Jon Fitch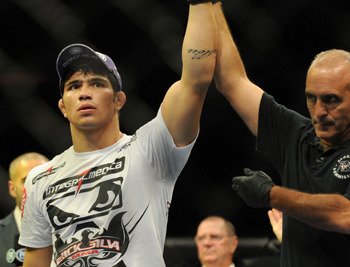 Steve Mitchell-US PRESSWIRE
Harris: It's easy to root for Silva. It's almost as easy as rooting against Fitch. No matter—Fitch is going to grind the young Brazilian into the ground. Fitch by unanimous decision.
Botter: I am more excited about this fight than should be humanly possible, mostly because Silva has answered every question thrown his way thus far. Fitch is, by a wide margin, the toughest test of his career, and I can't wait to see how he handles it. Silva by TKO, Round 1.
Snowden: I'm excited about Silva's potential. Unfortunately, I think Fitch may be too much, too soon for the young Brazilian. Silva will spend a lot of time looking up at the lights. Fitch by unanimous decision.
Roth: I've become an Erick Silva fan because I believe that he is violence incarnate. While his ground game remains questionable, he has the standup to put anyone to sleep. His next victim is Jon Fitch. Silva by TKO, Round 1.
Phil Davis vs. Wagner Prado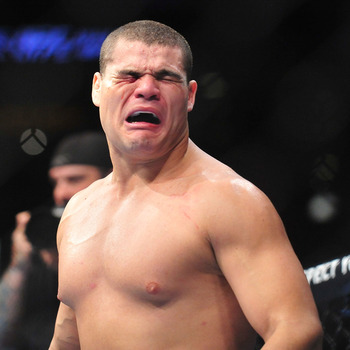 Gary A. Vasquez-US PRESSWIRE
Botter: Remember what happened the last time these two fought? It ended with Prado making the face you see in the photo on this page. That wasn't a fun time, right? Expect Davis to put this one on the canvas quickly and use his patented one-arm kimura to get the submission win. Davis by submission, Round 1.
Snowden: Just take Fitch's plan for Erick Silva, feed it for months until it is 205 pounds and then release it in the cage in the form of Phil Davis. Davis by decision.
Roth: Wagner Prado is considered one of the top light heavyweight prospects right now. He's got pretty good standup and serviceable wrestling. That won't make much of a difference since Davis is more athletic and better when and where it counts. Davis by decision.
Harris: I've got a feeling about this rematch. Something crazy is going to happen. Prado by KO, Round 1.
Demian Maia vs. Rick Story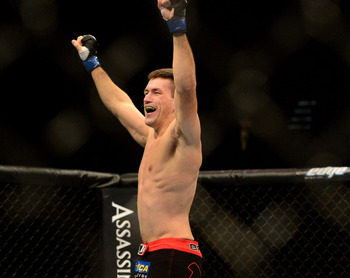 Mark J. Rebilas-US PRESSWIRE
Snowden: This might end up being an extended bathroom break. I see Maia working off his improving jab to take it to Story standing, a feat made possible by the fact that Maia is absolutely terrifying on the mat. Story will be forced to keep it standing and fall just a bit short. Maia by unanimous decision.
Roth: Demian Maia is still one of the best fighters on the UFC roster. While I believe that his UFC 148 victory was a bit of a fluke, he's just an all-around better fighter than Rick Story. I expect this to be a quick submission victory. Probably a triangle. Yes, definitely a triangle. Maia by submission, Round 1.
Harris: I see this one being a bit of a snoozer, with Maia wanting to "show off" his "improved striking" for the crowd. That, plus the mere specter of his jiu-jitsu, should be just enough. Maia by unanimous decision.
Botter: I agree with Roth. Maia is still a great fighter...when he's working on the mat, which hasn't been the case over the past few years. I think Maia's leisurely stroll through standup waters is over, though, and I expect him to put this fight on the mat quickly. From there, well, that's all she wrote. Maia by submission, Round 2.
Keep Reading