Antigua & Barbuda vs. USA: World Cup Qualifying Live Score, Highlights, Recap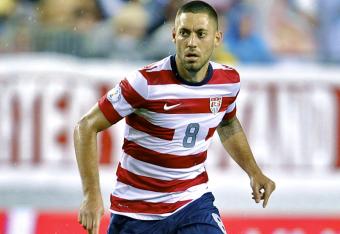 World Cup 2014 Qualifying Live Updates
Antigua & Barbuda 1-2 United States (full time)
A&B: Molvin James; Marc Joseph, George Dublin, Quinton Griffith, Akeem Thomas, Luke George, Zane Francis-Angol, Randolph Burton, Peter Byers, Tamorley Thomas, Dexter Blackstock
USA: Tim Howard; Steve Cherundolo, Clarence Goodson, Geoff Cameron, Carlos Bocanegra (capt.); Graham Zusi (Sasha Kljestan 78'), Danny Williams (Jermaine Jones 56'), Michael Bradley, Eddie Johnson; Clint Dempsey, Herculez Gomez (Alan Gordon 73')
GOALS: Eddie Johnson (USA) 20', 90'; Dexter Blackstock (AB) 25'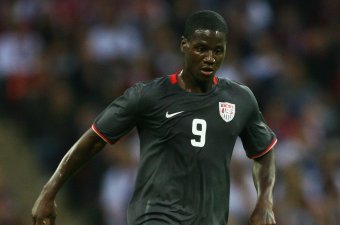 Clive Mason/Getty Images
FULL TIME
The U.S. and Jurgen Klinsmann were moments away from disaster, but Eddie Johnson, who hadn't played for the team since 2010, popped up with the late winner—his second goal of the match.
So is Klinsmann a genius? Or are we upset about the performance?
Make no mistake: This was a poor, poor performance from the U.S.
On the other hand, it's three points in the bag in a tough away match in World Cup qualifying. The U.S. lives to fight on, and that's a great thing.
Let's hope it's a little less stressful next week back in the States against Guatemala.
FULL TIME: A&B 1, USA 2
There's the final whistle! Everyone breathe.
It's an ugly, awful performance, but it's three points anyway. We'll take it, right?
90+3
Corner for Antigua. It's cleared by the U.S. Can't be long now…
Tweet Tweet
Not much left in stoppage time…
Alan Gordon and EddieJohnson... Who'd a thunk it a year ago? #USMNT

— Drew Carey (@DrewFromTV) October 13, 2012
Tweet, Tweet
The question of the night:
Is @j_klinsmann a genius for starting @eddie_johnson7? Or, um, something else because it took two EJ headers to down A&B?

— American Soccer Now (@ThisIsASN) October 13, 2012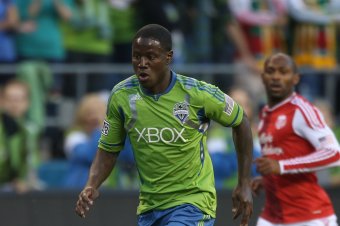 Otto Greule Jr/Getty Images
MORE ON THE GOAL
Alan Gordon crosses from the right. Eddie Johnson is unmarked in the middle of the box, and he powers his header into the net.
What a relief!
90'—GOAL USA!
Eddie Johnson with a dramatic header! YES!
89'—ANTIGUA SUB
Peter Byers heads off, taking an eternity to do so. Stefan Smith comes on.
Another A&B is "injured." This is ridiculous. It's Burton again…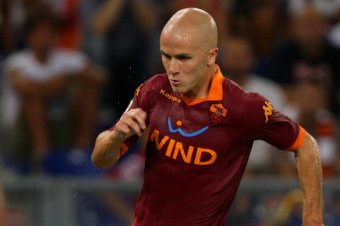 Paolo Bruno/Getty Images
It was Bradley with the glancing header moments ago. James pushed the header onto the bar for the save.
85'—PENALTY???
Eddie Johnson pulls back for Michael Bradley, who's absolutely demolished by Dublin in the box. No call.
Replays show Dublin got some of the ball, but still.
Moments later, James makes a great save from the corner. Not looking like the Americans' day.
Tweet, Tweet
Not a good sign…
Kljestan's shot was USA's first shot on goal this half.

— Paul Carr (@PCarrESPN) October 13, 2012
82'—SHOT!
Byers flashes a shot across the U.S. goal. It's wide, but only barely.
My heart just stopped. Everyone still breathing?
81'—SHOT!
Kljestan shoots from long distance, and it's a wicked, dipping effort that forces a save from James.
That's why Kljestan is on the pitch.
80'—AB 1, USA 1
Griffith charges forward with those short shorts and shoots wide of the post. That was a dangerous attack.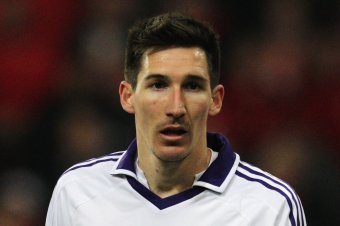 Dean Mouhtaropoulos/Getty Images
78'—SUB
Third and final sub for the U.S.
Graham Zusi leaves the match. He was good in the first half but ineffective against the wind in the second.
Sasha Kljestan enters.
Gordon has been great this season in MLS. Can he be the spark for the U.S. in his first cap?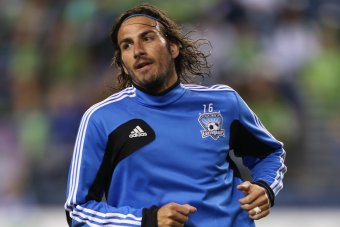 Otto Greule Jr/Getty Images
73'—SUB
Alan Gordon replaces Herculez Gomez, who has been ineffective tonight and wasted a great chance in the box.
72'—AB 1, USA 1
Gomez crosses from the left for Dempsey, who gets a head to the ball but can't put it on goal.
Still nothing doing for the U.S. this half. And they're running out of time.
71'—SHOT!
Thomas turns suddenly and shoots from outside the U.S. box.
It's wide, but not by much.
Tweet, Tweet
While we wait through another A&B "injury."
Most of Antigua's players play in the US third division. Meaning they aren't good enough for MLS.

— Keith Hickey (@usarsnl) October 13, 2012
Tweet, Tweet
Dear Herculez Gomez, TAKE THE SHOT. STOP THE EXTRA TOUCH ATTEMPTS. Love, a million nervous USMNT fans.

— Ives Galarcep (@SoccerByIves) October 13, 2012
64'—CHANCE!
Herculez Gomez has the ball in the A&B box, but he touches the ball to the keeper. He took one too many touches there.
This is frustrating…
Jermaine Jones will miss the next qualifier through suspension, by the way.
The BeIN commentator is really letting Klinsmann have it over Jones' yellow card…
62'—YELLOW CARD
Jermaine Jones earns a yellow card for handling the ball in a 50-50 challenge. That was dumb, and it gives A&B a dangerous free kick, which comes to nothing.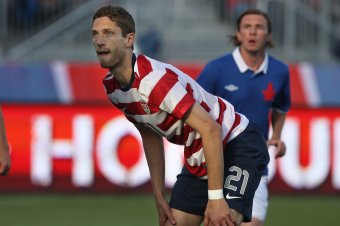 Tom Szczerbowski/Getty Images
61'—AB 1, USA 1
Free kick for the U.S. Michael Bradley takes it, and Clarence Goodson falls inside the box.
He wants a penalty. The ref says no.
This article is
What is the duplicate article?
Why is this article offensive?
Where is this article plagiarized from?
Why is this article poorly edited?