Predicting the Milwaukee Brewers 2013 Starting Rotation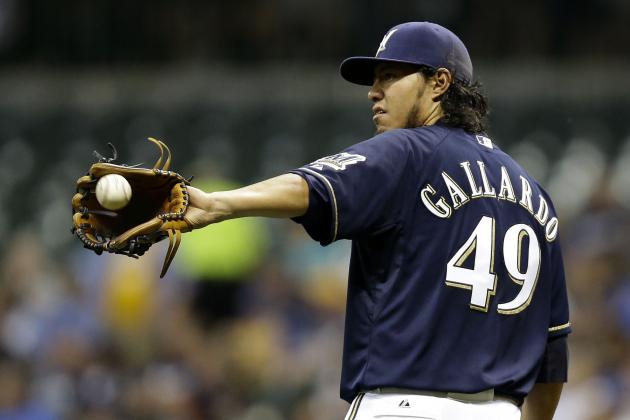 Mike McGinnis/Getty Images

First of all, I know baseball isn't even done for the season. I'm not an idiot.
But it's never too early to speculate about your favorite team's future.
Key word above: Speculation. That's all this article is.
The Brewers, for all of their faults this past season, managed to string together and excellent two-month finale and make a push to the playoffs that unfortunately fell short. This was, thanks in large part, to the young pitching from the Milwaukee Brewers system.
Mike Fiers, Mark Rogers, Wily Peralta and Tyler Thornburg all made big starts and showed the promise of becoming great pitchers. Any one of them could fill one of the open spots.
Rogers, Peralta, Fiers and Thornburg are all still young and growing. Factor that into the fact that the Brewers farm system has solid pitching still in the minors, and things are looking bright.
And, let's not forget the atrocity that was this Brewers bullpen. Whatever hand can't be used in the rotation could see significant time in the bullpen. This will mess with their inning counts, but anything that can help win should be considered.
I'm going to take a stab at the upcoming starting rotation and try to predict some stats to see if the Brewers rotation can improve on what could have been a very bad year but ended up being much better than most thought.
Disclaimer: All predicted stats are just that—predicted. I have no formula, I have no reason for the numbers, these are just ballpark numbers I think the pitchers will be around. No formula was used, nothing even remotely scientific.
Begin Slideshow

»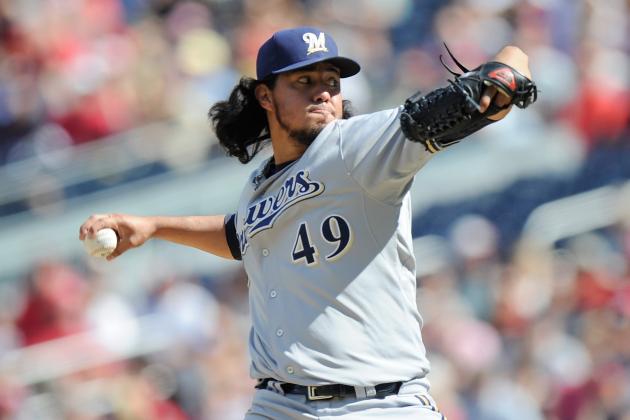 Greg Fiume/Getty Images

2012 Stats: 16-9, 3.66 ERA, 204.0 IP, 204 K, 1.304 WHIP, 2.8 WAR
Yovani Gallardo, especially after the departure of Zack Greinke, became this club's unquestioned ace for yet another season. The 26-year-old has had a remarkably consistent career, hovering in the mid-threes with his ERA, and posting around a strikeout per inning (9.2 K/9) every year of his career.
That said, this season was something of a disappointment from my favorite pitcher.
His numbers dropped across the board from last season's great year. He didn't have a bad year, it was just not as great as I was expecting.
Still, that elite year is coming sooner or later.
Yo is still only 26 and is just now entering his prime as a pitcher. Yo has all of the stuff an ace needs: a solid fastball in the low-to-mid 90s, a hard, fierce curveball, an improving cutter/slider combination and the reemergence of his fantastic changeup.
He still has problems with giving up home runs, which is really the arrow that shoots his ERA into a tree every season. He consistently posts peripheral stats that should belong to someone with ERAs in the low-threes to upper-twos, but thanks to his propensity to give up homers, it hovers in the mid-threes.
Gallardo also took a step back with his control this season, issuing many more walks than the 2011 campaign. I don't think it's anything to worry about, but definitely something to keep an eye on if Gallardo is going to make the transition from a great pitcher to elite pitcher.
He's going to be leading a pretty young rotation next season, even with the addition of an outside veteran. He's used to leading already at this point in his career, so it shouldn't be a problem.
2013 Predicted Stats: 18-6, 3.30 ERA, 219.0 IP, 230 K, 1.282 WHIP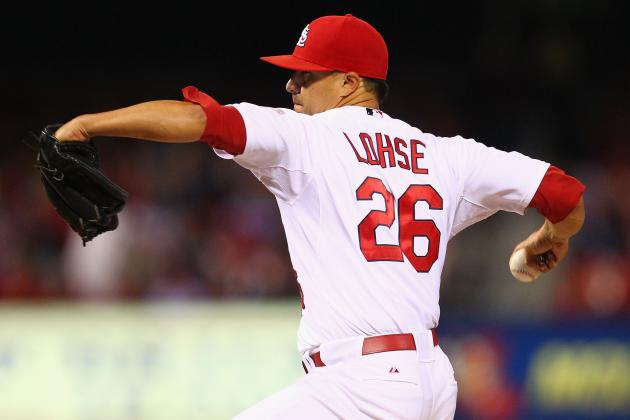 Dilip Vishwanat/Getty Images

2012 Stats: 16-3, 2.86 ERA, 211.0 IP, 143 K, 1.090 WHIP, 3.9 WAR
The free agent market for starting pitchers got quite thin when Matt Cain and Cole Hamels signed lucrative long-term deals with their clubs. Now the cream of the crop is Zack Greinke, who I have refused to remove as an option for the Brewers next year.
Greinke loved playing here, he was disappointed to be traded, and I think he'd like to be back.
But if the Brewers fail to make headway with Greinke, they should make a move on Kyle Lohse, currently with the St. Louis Cardinals.
He'd be a great replacement for Shaun Marcum. My biggest problem with Marcum is his inability to survive consecutive seasons without breaking down.
To make it worse, after he broke down this season, he never really came back.
He pitched very poorly at the end of the season. The Brewers should not pursue him, especially since he'll likely be trying to find a fairly lucrative deal.
As will Lohse, but at least Lohse is healthy, and he won't demand anything too long-term given his age (34) and past mediocrity.
Lohse would be a bit of a gamble given his up-and-down history (at times, downright horrible). The velocity of his fastball has decreased as he's aged, but still sits around 90 MPH. His other pitches (changeup, slider and curveball) have all improved as his fastball velocity has fallen, the sign of a smart pitcher.
2013 Predicted Stats: 14-8, 3.55 ERA, 210.0 IP, 150 K, 1.240 WHIP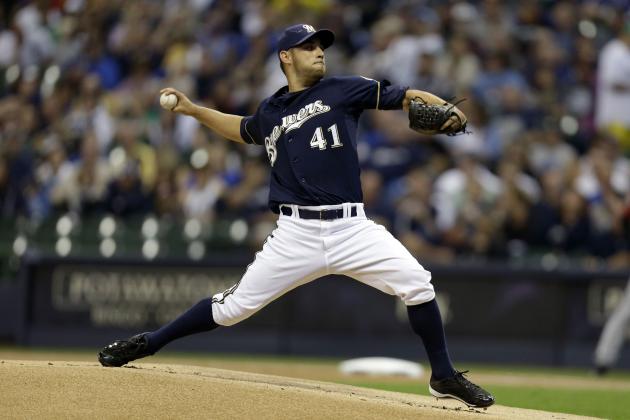 Mike McGinnis/Getty Images

2012 Stats: 5-7, 3.64 ERA, 138.1 IP, 143 K, 1.142 WHIP, 1.4 WAR
At this point, debating whether or not Marco Estrada will be in the starting rotation at the beginning of next season seems completely ridiculous.
He did suffer an injury that kept him out for a month of the season (end of May/majority of June), but he began the season in the bullpen with what was initially a healthy rotation. Estrada made his first start of the season on April 21st after Chris Narveson's season-ending injury, going five innings and only giving up one run while striking out nine.
That was pretty much what you saw from Estrada for the majority of the season.
Like any pitcher, he had bad games where he wouldn't hit his spots or he'd leave the ball over the plate a little too much, but the fact is, Estrada was absolutely brilliant for most of the season.
He has great stuff, highlighted by a swing-and-miss fastball that sits around 90-93 mph and complimented by his excellent changeup that he delivers identically to his fastball, a big part of the reason for his high strikeout per nine numbers. He also throws a good curveball and the occasional cutter.
Estrada is as underrated as they come, and with his control (2012: 1.9 BB/9, 4.93 K/BB) and his swing and miss pitches, he has the potential to be a mid and possibly even top-of-the-rotation pitcher.
2013 Predicted Stats: 13-7, 3.55 ERA, 180.0 IP, 192 K, 1.090 WHIP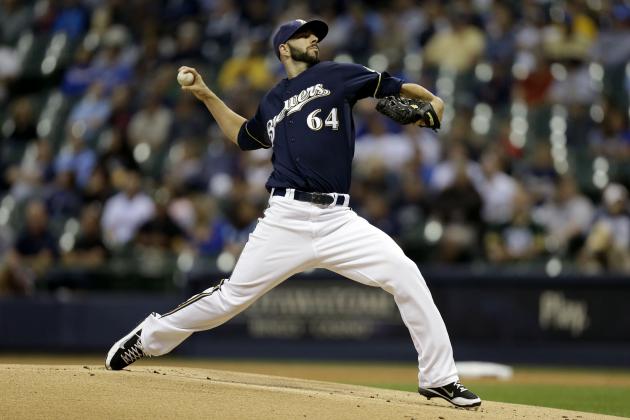 Mike McGinnis/Getty Images

2012 Stats: 9-10, 3.74 ERA, 127.2 IP, 135 K, 1.261 WHIP, 1.7 WAR
Mike Fiers burst onto the major league scene after what was looking to be a disappointing minor league season at AAA Nashville. Fiers was called up to help with the fact that the Brewers starting pitchers were dropping like flies.
With Randy Wolf being horrible, injuries plaguing starters and trades removing Wolf and Zack Greinke, the Brewers were thin on starting and knew Fiers could handle himself in the majors.
Fiers is too old to be considered a prospect, but now that he's had a breakout season in the majors, he shouldn't have to be considered one.
Fiers maintained over a strikeout per inning despite a fastball that sits at 88-90 mph. He threw the kitchen sink at his opposition to supplement his relatively slow fastball and has a wacky over-the-top delivery that apparently caught most hitters off guard.
His slow, low-70s curveball was arguably the best pitch in the Brewers' rotation at the end of the season. It could be thrown for strikes and dropped off the table right before reaching the plate, causing many swing-and-misses.
He showed fatigue at the end of the season, and his ERA is bloated from a very bad September. I think it's fair to chalk that up to fatigue, because up until then he was virtually un-hittable.
2013 Predicted Stats: 11-7, 3.46 ERA, 175.2 IP, 168 K, 1.200 WHIP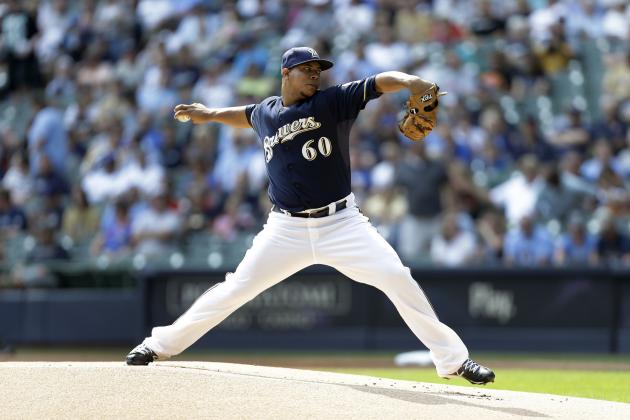 Mike McGinnis/Getty Images

2012 Stats: 2-1, 2.48 ERA, 29.0 IP, 23 K, 1.207 WHIP, 0.9 WAR
As far as I'm concerned, the first four slots are filled, providing the Brewers decide to spend money on a solid veteran pitcher. Marco Estrada and Mike Fiers are in barring catastrophically poor spring trainings or injuries.
The fifth spot, then, is up in the air between Wily Peralta, Mark Rogers, Chris Narveson and Tyler Thornburg.
All have their strengths, all have their weaknesses, but it's time to give Peralta his chance to be a major league starter.
Of his five starts in the majors this season, four of them were fantastic, including one start where Peralta went eight innings and only gave up two hits and no runs while striking out five and only walking one.
His fifth and final start of the season (5.1 innings, two hits, one walk, six strikeouts, no runs) was unfortunately interrupted by a sore shoulder, but it's nothing to worry about. Peralta was pulled out and shut down for precautionary reasons. No point in pushing your No. 1 prospect too hard at the end of the season if he's hurt.
Peralta's fastball is as good as any in baseball, typically resting around 94-96 MPH and capable of touching 98 MPH. It has good movement, he controls it well and it will blow by hitters in the MLB on a consistent basis.
His secondary pitches—a solid slider in the mid-80s, and a much-improved changeup—give him a full starting arsenal, and while his two breaking pitches are good to keep hitters honest, his fastball will be his bread and butter.
2013 Predicted Stats: 9-6, 3.89 ERA, 135.2 IP, 120 K, 1.282 WHIP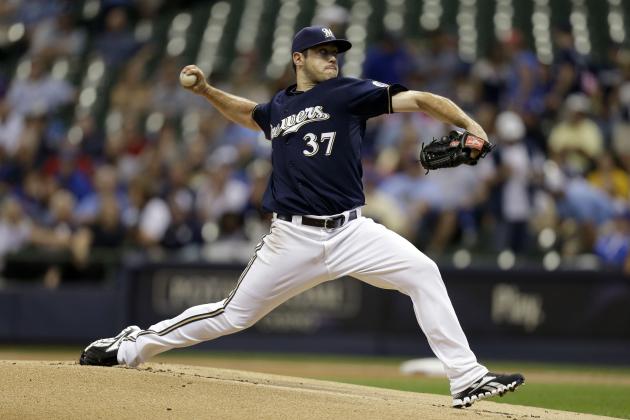 Mike McGinnis/Getty Images

It was tough to give up that last spot over three other very deserving candidates, but when it comes down to it, Wily Peralta has done the most to deserve it.
Mark Rogers: Mark is the other main candidate for that last starting job, and after a very good 2012 major league showing as a starter (3-1, 3.92 ERA, 39.0 IP, 41 K, 1.28 WHIP).
Rogers is on yet another comeback trail.
With Rogers' bountiful list of past injuries and control problems, I think the Brewers are going to play it safe and give that last spot to Peralta for those reasons. Rogers will be a candidate to be the long reliever and back-up starter.
I can't imagine Rogers starting the season at AAA to get starter experience, especially when you consider he will likely have another innings limit imposed on him. I expect him to at least make the Brewers bullpen and to make several starts.
Worth noting is that, despite all of his injuries and control problems in the past, Rogers still features a deadly pitching arsenal, highlighted by a fantastic mid-90s fastball with great movement.
Chris Narveson: Narveson only made two starts in the 2012 season, neither of which were effective, before suffering a season-ending injury. Narveson has more major league starting experience than both Peralta and Rogers, but the Brewers will have him on a short leash considering his health and his struggles on the mound.
I would be extremely surprised if Narveson got a spot in the starting rotation at the beginning of the season.
Tyler Thornburg: Thornburg had two stints in the majors this year, and appeared as both a starter and reliever. The results were mixed but promising. Thornburg (like Rogers and Peralta) has a fiery fastball that he relies on, but could stand to use some work on his other pitches.
Thornbug also needs to be aware that his fastball, albeit quick, is very straight, and that he needs to mix it in with effective breaking pitches for it to be a good pitch in the majors.
I'd like to see Thornburg in the bullpen to start the season, but he'll probably start at AAA to get starter's innings. Thornburg would be a good candidate to be a solid set-up man if the Brewers continue to have troubles in the pen.
Offseason Acquisitions: The addition of Lohse was merely speculative. The Brewers have already made it known they're searching for a veteran starter to help round out their rotation. My hope? Doug Melvin and Mark Attanasio reach out and reacquire Zack Greinke with a long-term deal.
Greinke loved playing in Milwaukee and he was extremely effective as a Brewer.
He'll demand a large, long-term contract (which he deserves), but if the Brewers reach out, maybe he'll give them a discount. Otherwise, the Brewers are going to hopefully acquire an effective starter and not another clunker of a vet like Randy Wolf.