7 NFL Teams Most Likely to Select a Quarterback in 2013 NFL Draft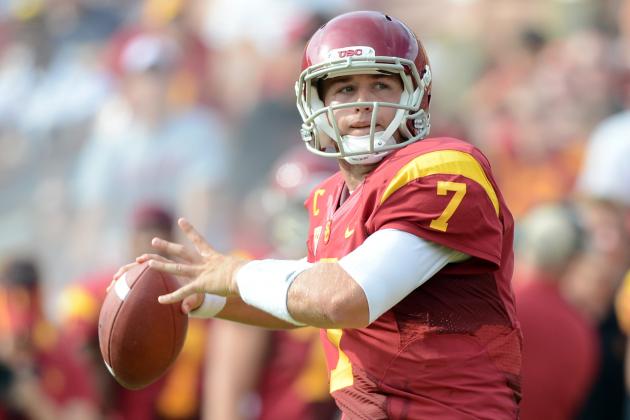 Harry How/Getty Images

There may be only 32 starting quarterback jobs in the National Football League, but there seem to always be openings for the top rookies in each draft class, and in many cases, there are more openings than there are first-round caliber quarterbacks, which results in teams drafting players higher than their value because of their desperation to upgrade at the quarterback.

Looking ahead to the 2013 NFL draft, USC's Matt Barkley and West Virginia's Geno Smith are in position to be very high draft selections, while quarterbacks such as Arkansas' Tyler Wilson and Tennessee's Tyler Bray could be in the first-round mix depending on how many teams decide that they need to make a change under center.

Seven NFL teams have emerged as potential destinations for first-round quarterbacks, and getting one of the top two quarterbacks is not out of the question for any of them. While it is unlikely that all seven of these teams will draft quarterbacks, the teams are ranked from the least likely to use a first-round pick on a quarterback upgrade, to the most likely to go no longer without adding a new franchise quarterback.
Begin Slideshow

»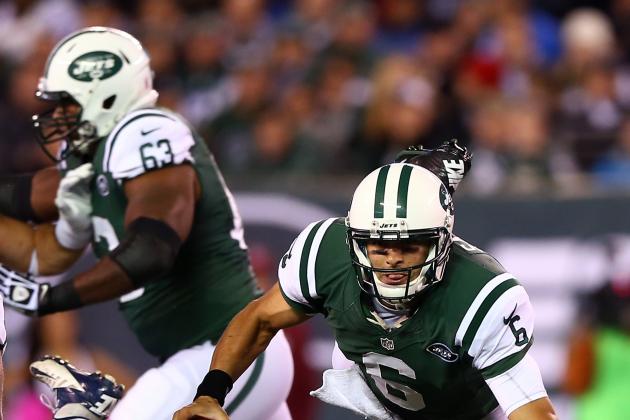 Elsa/Getty Images

The New York Jets have the most complicated, and one of the worst, quarterback situations in the National Football League.

Starting quarterback Mark Sanchez has responded to a three-year, $40.5 million contract extension by completing a paltry 48.4 percent of his passes in the Jets' first five games. Backup quarterback Tim Tebow won a playoff game in 2011 and is a fan favorite, but his presence does little more than create controversy, as Jets fans push for a quarterback change while the organization continues to assert that Sanchez is their franchise quarterback.

In truth, it seems neither is a franchise quarterback. Sanchez has failed to improve since showing promise as a rookie, and if he does not step up his play, he could be in line for his worst season ever. Tebow showed an uncanny ability to make plays and win games as the Denver Broncos' starting quarterback in 2011, but with a career completion percentage of 47.3 percent, he does not have passing skills up to the caliber of an NFL starting quarterback.

At this point, it's hard to see the Jets returning to contending status without a series of wholesale changes to their team, but it's unlikely they will make a major move at quarterback in the 2013 NFL draft. The Jets are committed to $8.25 million of guaranteed money for Sanchez in 2013, so the Jets should be giving Sanchez at least through next season to prove himself, for his contract becomes non-guaranteed in 2014.

Where this situation could become interesting for the Jets is if they end up in a position high enough in the draft where they have the opportunity to draft Barkley or Smith. If the Jets have the opportunity to draft a quarterback who can be the star they expected Sanchez to be, can they afford to pass him up?

It is probably more likely that the Jets would draft a quarterback in the second or third round, so that they can develop a young quarterback in the event that Sanchez continues to struggle.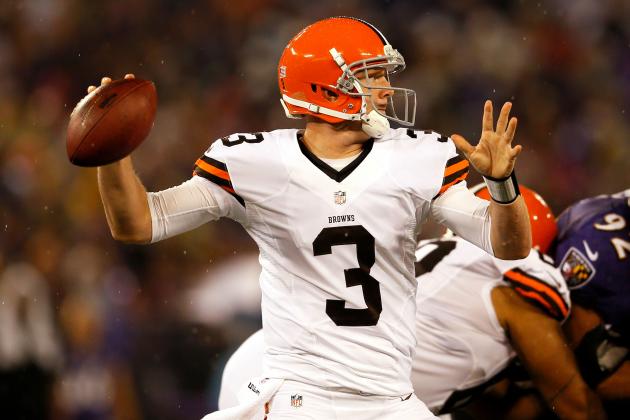 Rob Carr/Getty Images

The Cleveland Browns just drafted Brandon Weeden with the No. 22 overall selection in the 2012 NFL draft, but that doesn't rule out the possibility that they could draft a first-round quarterback for a second consecutive season in 2013.

Weeden's rookie season has gotten off to a very rough start: he has a league-low passer rating of 64.5 through five games, has completed only 55.4 percent of his passes and has thrown nine interceptions to only five touchdowns. However, while his rookie struggles have been rough in the midst of an 0-5 start to the Browns' season, there are two other factors that could lead to an immediate change.

First of all, Weeden turns 29 on Sunday, meaning that if he is going to be the Browns' franchise quarterback, they are expecting that time to start now. Secondly, the Browns have a new owner, Jimmy Haslam, who could very well fire head coach Pat Shurmur and Mike Holmgren at the end of the season, and bring in a new regime to make wholesale changes, which could include going in a new direction at the quarterback position.

Considering the importance of getting value from first-round picks, and the many needs that the Browns have, it would seem that the Browns should be inclined to stand by Weeden through at least a second season. But if Weeden fails to make significant progress, and the Browns end up at or near the top of the draft board with one of the NFL's worst records, they could be hard-pressed to pass up the opportunity of a younger, more talented franchise quarterback in Barkley or Smith.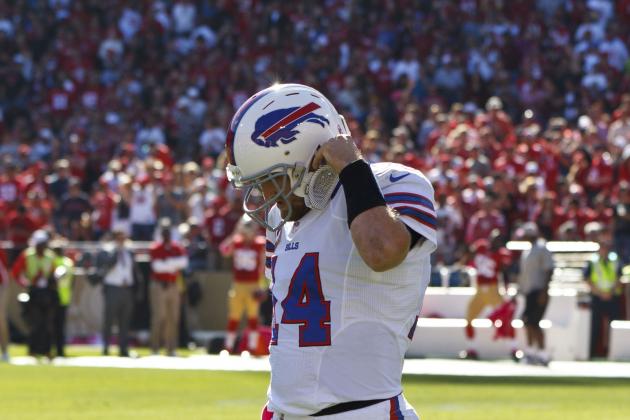 Jason O. Watson/Getty Images

The New York Jets are not the only team in the AFC East that invested too heavily in an average-at-best starting quarterback. The Buffalo Bills overpaid last October when they signed Ryan Fitzpatrick to a six-year, $59 million contract extension, but although the Bills certainly paid him to be their franchise quarterback, he hasn't played like one.

Fitzpatrick, who led the NFL in interceptions in 2011, has already thrown eight interceptions in five games this season. He also grades out very poorly based on premium statistics by Pro Football Focus, an organization which grades every play for every player of every NFL game. Fitzpatrick's passing grade of -13.5 for the season is the worst among all NFL starting quarterbacks, while he ranks tied for 29th in accuracy percentage and deep passing.

Fitzpatrick is a talented quarterback, but he is too mistake-prone and his game has limitations, especially with deep-ball accuracy. At 29 and in his eighth NFL season, he is unlikely to improve considerably at this point, and if the Bills are going to make the necessary strides to become a playoff contender, Fitzpatrick might not be the right man for the job.

With that said, Fitzpatrick is a very good quarterback when he is at his best, and if he can find his groove in the second half and put the Bills in position for a playoff run, they will not make a change. Unless the Bills collapse enough to be in a position to draft Barkley or Smith, the Bills would be best suited sticking with Fitzpatrick for another season.

If the Bills do, however, end up in a position for a top quarterback, they could be hard-pressed to pass up the opportunity, even with all the money they have invested in their current starter. It's hard to see the Bills making any serious challenge in the AFC East at the Patriots as long as Fitzpatrick and Brady are the two quarterbacks.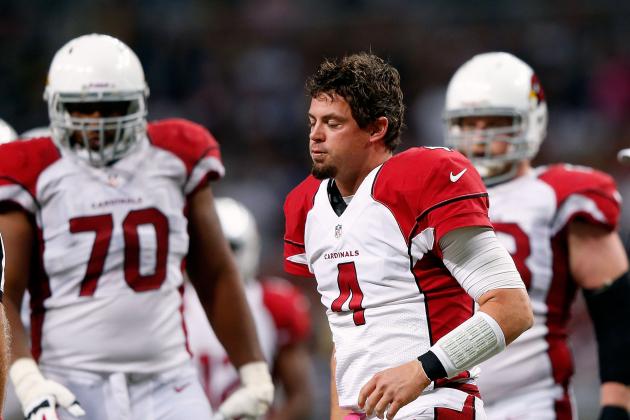 Jamie Squire/Getty Images

Of all the teams in this list, the Arizona Cardinals are the least likely to be in position to draft a top quarterback, but this team is still likely to be looking for an upgrade.

The Cardinals got the season off to a surprising 4-0 start, and remain in playoff contention, in part due to surprisingly effective play by starting quarterback Kevin Kolb. Kolb, however, still does not look like the long-term answer that the Cardinals expected him to be when they signed him to a five-year, $63.5 million contract.

While the Cardinals have a 4-1 record, they also rank 31st in the NFL in total offense and Kolb is only putting up 208 yards of offense per game. He has certainly been better this year, completing more than 60 percent of his passes and throwing seven touchdowns and two interceptions in his first five games—all of which came after he had initially lost his starting job to John Skelton in the preseason, before Skelton went down with injury in the season opener.

The Cardinals will most likely come back to the pack with such a weak offense, but given their hot start, they should still be picking toward the middle of the first round. Also, even though Kolb may not be a franchise quarterback, they are less likely to draft a quarterback in the first round because they are actually weaker in many other areas.

The biggest issue with the Cardinals' offense is that they have arguably the league's worst offensive line, while they are also currently without their top two running backs. Kolb probably is not the quarterback to lead them to the postseason, but unless they build up the offense around the quarterback, they're not going to be a contender anyways. Therefore, if Kolb continues to be steady this season, the Cardinals are more likely to continue playing out their investment in 2013, and focus on drafting much-needed offensive linemen in the early rounds.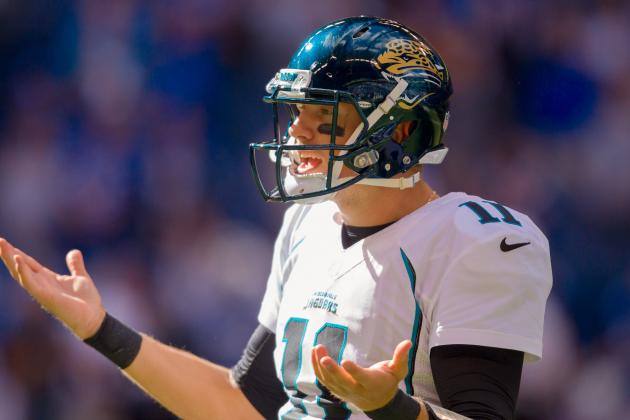 Michael Hickey/Getty Images

Yes, second-year quarterback Blaine Gabbert has gotten better from his rookie season, but not significantly enough to dispel the thought that the Jaguars could invest a second top-10 draft pick in three years on a quarterback.

Gabbert is dead last among NFL starting quarterbacks with only 5.45 yards per passing attempt, just as he was at the end of the season last year. He also ranks dead last with only 159 passing yards per game, only a slight upgrade from 148 in his rookie season.

The Jaguars simply haven't been able to put together any sort of reliable passing offense with Gabbert under center. While this can be also blamed on a weak wide receiving corps, it still reflects back badly on Gabbert, for whom accuracy, decision-making and pocket presence have all been significant problems.

In addition, the Jaguars just aren't winning with Gabbert. The Jaguars have started the season out 1-4, and appear slated to have a very high pick in the 2013 NFL draft. While a team should never be giving up on a top-10 pick quarterback after just two seasons, can they really afford to pass up an opportunity to draft Barkley or Smith if they have that chance?
Justin Edmonds/Getty Images

Statistically, Carson Palmer has actually been better than expected as the Oakland Raiders' starting quarterback this season. Through the first four games of his season, Palmer has completed 61.1 percent of his passes, thrown for 270 yards per game and thrown only two interceptions.

But although the Raiders traded a 2012 first-round and 2013 second-round pick last season for Palmer to be their quarterback, he is no franchise quarterback anymore at the age of 32, and he hasn't made the Raiders into winners.

While the Raiders admittedly have many other problems than at quarterback, and Palmer has played decently this season even with a weak group of receivers, new Raiders general manager Reggie McKenzie should be in the market for a new franchise quarterback if he truly wants to rebuild the team.

Off to a 1-3 start, the Raiders appear bound for at least a top-10 draft pick. There are many areas where the team could look to upgrade with their first draft choice, but if they have a chance to draft a star quarterback prospect in Matt Barkley or Geno Smith, they should not pass it up.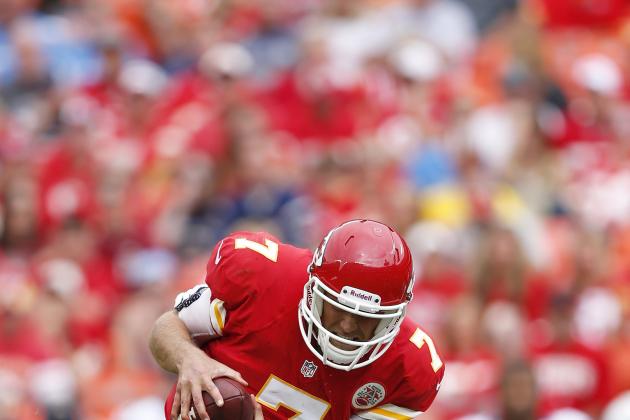 Joe Robbins/Getty Images

While all of the other teams on this list could use upgrades at quarterback and could be in position to draft one early, there may be only one team whose absolute biggest need is at quarterback. That team is the Kansas City Chiefs.

The Chiefs certainly had high hopes when they traded a second-round pick to the New England Patriots in 2009 for Matt Cassel, then signed him to a six-year, $63 million contract. Cassel, however, just hasn't lived up to expectations.

In his career thus far with the Chiefs, Cassel has completed just 57.3 percent of his passes. He had one strong season in 2010, in which he threw 27 touchdowns and led the Chiefs to a 10-win season and playoff appearance, but since then, a talented team has struggled around him.

When Cassel, off to a poor start with the 1-4 Chiefs this season, was cheered off the field after suffering a concussion in Kansas City last week, it became quite clear that it is time for a change. Brady Quinn, a bust in his own right for the Cleveland Brown, is no quarterback whose entry in an NFL game should evoke cheers from a home crowd.

The Chiefs' season seems to be falling apart quickly already, meaning chances are good they will be in position for a top quarterback. If the team is in position to draft Matt Barkley or Geno Smith, the selection should be a no-brainer.

With that said, the Chiefs may be the most inclined of any team in the draft to either trade up for an opportunity to draft Barkley or Smith, or reach for another quarterback in the first round. Cassel is still under contract for three more seasons, but it is hard to see the Chiefs going past this season with him still in place as their starter.

Dan Hope is the New England Patriots gameday correspondent and an NFL draft Featured Columnist for Bleacher Report. Follow him on Twitter @Dan_Hope.