UFC 153 Weigh-in Results: Anderson Silva vs. Stephan Bonnar Fight Card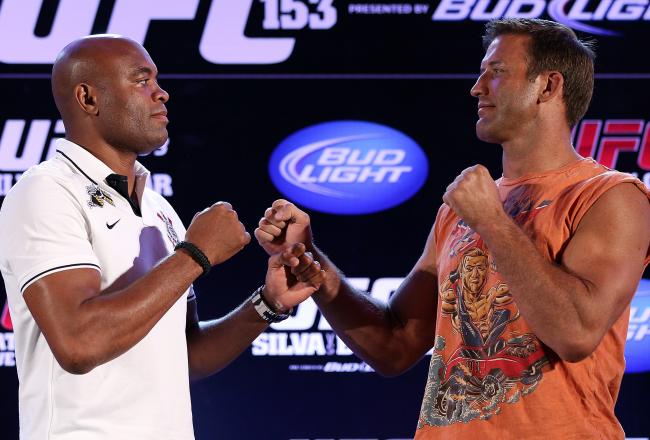 Josh Hedges/Zuffa LLC UFC via Getty Images

MMA fans seem divided on Saturday's UFC 153 fight card. Some see the main event of Anderson Silva versus Stephan Bonnar as a huge mismatch. The oddsmakers seem to agree with those fans, listing Silva as a 93 percent favorite to win.
Others, and I include myself in this group, will tell you that you should pony up the scratch to watch this event as you never know how many more chances you will get to see Silva work his magic inside the Octagon.
In all the, card will feature 12 bouts with six being shown on pay per view, four on FX and two streaming on the UFC's Facebook page.
Full Weigh-In Results:
Anderson Silva (202) vs. Stephan Bonnar (205)
Dave Herman (244) vs. Antonio Rodrigo Nogueira (243)
Fabio Maldonado (203) vs. Glover Teixeira (204)
Jon Fitch (170) vs. Erick Silva (169)
Phil Davis (206) vs. Wagner Prado (204)
Demian Maia (170) vs. Rick Story (170)
Rony "Jason" Mariano Bezerra (145) vs. Sam Sicilia (146)
Gleison Tibau (155) vs. Francisco Trinaldo (154)
Diego Brandao (144) vs. Joey Gambino (146)
Renee Forte (169) vs. Sergio Moraes (169)
Chris Camozzi (185) vs. Luiz Cane (184)
Reza Madadi (155) vs. Cristiano Marcello (155)
The main event, which will be contested at 205 will feature Anderson Silva and Stephan Bonnar. Bonnar takes to the scale first and he comes in at a tan 205. Silva comes out to a great deal of applause and looking a little NASCAR with the mainstream sponsors that adorn his shirt. Silva comes in at 202 and there's a handshake, a bow and a hug between the fighters.
Up to the heavyweights and Dave Herman takes to the stage first and comes in at 244. As for Antonio Rodrigo Nogueira he hears a huge ovation and weighs in at 243.
On to the light heavyweights. First to the scale is Fabio Maldonado, who weighs in at 203, while Glover Teixeira comes in at 204.
On to the welterweights. Erick Silva checks in at 169, his opponent, Jon Fitch comes in at 170.
A pumped up Wagner Prado comes to the stage for his light heavyweight bout against Phil Davis and weighs in at 204. Still don't understand why this guy flexes when Phil Davis follows him to the scale. Anyway, Davis comes in ripped (as always) and weighing 206.
Prado and Davis share a laugh as Prado throws and eyepoke block for the staredown.
On to the pay per view card. First up is a welterweight bout between Demain Maia and Rick Story. Story takes to the scale first and he comes in at an even 170. Maia, gets a healthy round of applause from the crowd before stepping on the scale at 170 as well.
Story and Maia shake hands before Story steps right into Maia's face, Maia is unfazed.
The final fight on the FX card will see Rony "Jason" vs. Sam Sicilia. Sicilia tips the scale at 146, while Rony "Jason" comes in at 145.
On to the lightweight division. First to the scale is Francisco Trinaldo who seems to have a whole lot of tape covering something on his shirt. Trinaldo comes in at 154, while Gleison Tibau comes in at 155.
Next up we have Diego Brandao vs. Joey Gambino. Gambino makes his way to the scale first and he comes in at 146. As for Brandao, he checks in at 144.
On to the FX portion of the card. First up to the scale is Renee Forte and he comes in at 169, his opponent, Sergio Moraes comes in at 169 as well.
Next up Chris Camozzi versus Luiz Cane. Camozzi comes in at 185, while Cane comes in at 184. The staredown between these two is much more civil.
Joe Rogan on stage doing his thing and it's right into the Facebook fights.
Reza Madadi hits the scale first and he checks in at 155, his opponent Cristiano Marcello gets a nice hand from the crowd and he weighs in at the same weight.
The two get into it right away and Dana White has to step between them.
This article is
What is the duplicate article?
Why is this article offensive?
Where is this article plagiarized from?
Why is this article poorly edited?