One Critical Adjustment Each NY Knicks Key Player Must Make in 2012-13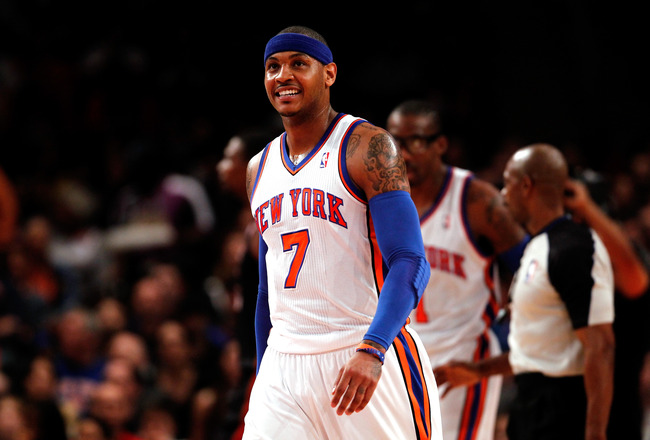 Jeff Zelevansky/Getty Images
After a generally disappointing 2011-12 season, the New York Knicks went into this offseason with a hungry attitude and improved the team immensely.
Yet, though Carmelo Anthony and his teammates are in a prime position to do well and bring smiles to some long-suffering Knicks fans, the team is far from perfect. This old squad's key players still have some flaws that if ignored, could result in another mediocre campaign in the Big Apple.
The fact of the matter is that basketball is a game of adjustments, and the Knicks have a lot to do in that department.
After spending the past four and a half years in a fast-paced offensive system without any regard for defense, they now need to move back to the hard-nosed defensive game associated with the New York Knicks teams of the 1990s, and here is where the problem lies.
Out of all of the key players on the team's roster, all but two of them apply an offense-first approach to the game.
Thus, from now up until the regular-season opener Nov. 1 against the Brooklyn Nets, each of these key Knicks players needs to make an adjustment to their game in order for the season to be a success. If they can't change, then it's going to be another long year at Madison Square Garden.
Iman Shumpert: Choose the Jump Shots Carefully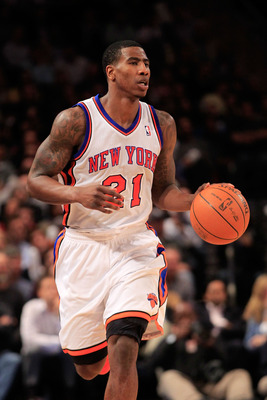 Chris Trotman/Getty Images
Shumpert is going to miss the first two months of the season recovering from ACL surgery, but his defense is quality enough that he can indeed be considered a key player.
That being said, once he returns, it is imperative that he realize his job is to play tough defense and not be a shoot-the-lights-out guard necessary in former coach Mike D'Antoni's run-and-gun system.
Though the former Georgia Tech Yellow Jacket played fine defense last year to the tune of 1.8 steals per game, he shot just 40 percent from the field and 30 percent from long range.
That isn't to say that Shumpert's offensive skills are absolutely terrible. There were a handful of games last year in which he actually did a decent job of scoring points. Yet, at least at this point, Shumpert's best offense is his defense and if the Knicks are going to be contenders this season, he needs to choose his jumpers wisely.
While he works on that adjustment, let him also focus and help the team by being a pest and throwing down the occasional thunderous dunk.
J.R. Smith: Know and Accept Your Role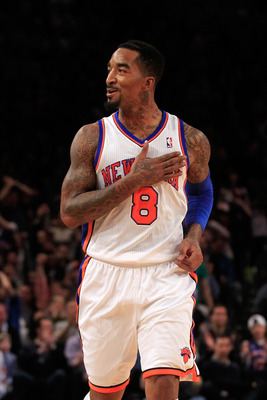 Chris Trotman/Getty Images
In head coach Mike Woodson's system, Smith's job is to be the sixth man. This means his specific role is that of a bench player who can enter the game and put up starter-quality numbers and play starter minutes, if need be. Smith has done a fine job of this his entire career, establishing himself as a reliable three-point shooter and, on occasion, a sick dunker.
Yet, now that Shumpert is recovering from an injury and guard Ronnie Brewer is anything but reliably consistent on offense, chances are that Smith could open the season as the Knicks' starting shooting guard, and here's where it gets interesting.
According to Jared Zwerling of ESPNNewYork.com, Smith has said he would prefer to start and no longer wants to be labeled as a mere sixth man.
Not to take away from Smith's skills, as he is one of the most reliable shooters in the game, but he just isn't the shooting guard that Mike Woodson needs.
In an isolation system where the two go-to guys are already set in place, those two being Carmelo Anthony and Amar'e Stoudemire, starting Smith full-time runs the risk of the offense looking too much like that of the aforementioned D'Antoni.
He's fine to start there for now, but he needs to realize he is more valuable off of the bench and if that's going to be a problem, team management should deal with it accordingly.
Steve Novak: Develop a Mid-Range Jumper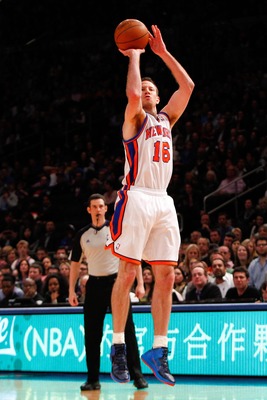 Debby Wong-US PRESSWIRE
Novak was one of the most pleasant surprises of last season, as he went from being an end-of-the-bench player into the most deadly shooter in the game. In just 18.9 minutes over 54 games played, the former Marquette Golden Eagle averaged 8.8 points and led the league in three-point percentage, shooting 47 percent from downtown.
Yet, while Novak's work from beyond the arc is definitely fun to watch, he relies on it way too much. He averaged 6.2 field-goal attempts per game in 2011-12, and 5.2 of those came from behind the three-point line. Not to say he's a one-sided player, but adding a little something to his game wouldn't hurt at all.
That said, Novak needs to use his size just a bit more. He has a long and lean figure at 6'10", 235 pounds and has a natural shooting touch that coaches dream of.
If he can learn to drive in front of the three-point line just a little bit and be able to consistently make a jumper from about 15 feet away, his game will become all the more deadly.
Sure, the three-point shooting is essential and will definitely be helpful to the team, but it can't hurt to at least try developing another shot.
Raymond Felton: Stay in Shape All Season Long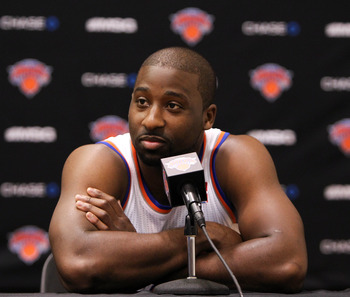 Debby Wong-US PRESSWIRE
Playing for the Portland Trail Blazers last season, Felton had one of the worst seasons of his career. The former North Carolina Tar Heel averaged a career-worst 11.4 points per game while shooting just 41 percent from the floor and 30 percent from long range.
After the Knicks signed him this summer, Felton then acknowledged that his struggles were due to his being out of shape all of last year.
He has come into training camp this season with a new attitude and a slimmer figure, so the most important adjustment he can make is to keep his new physique over the duration of the season.
When in game shape, he is a fine distributor, shooter and even plays good defense, which is important in Woodson's system.
By staying focused in the training room and knowing his role on the court, he'll be a great help to the team.
Tyson Chandler: Stay out of Foul Trouble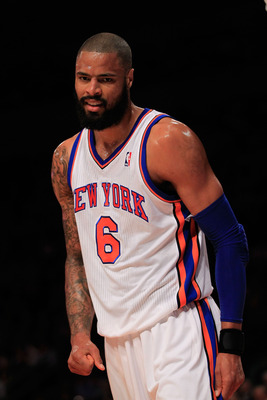 Chris Trotman/Getty Images
Chandler is the reigning NBA Defensive Player of the Year and only averaged three fouls per game last season, but one performance in particular has me concerned.
In Game 1 of the Knicks' playoff series against the Miami Heat, Chandler played just 21 minutes and picked up four fouls, all of which were called on him in the first half. I understand that he's a center and part of his job is to be aggressive, but there's a limit.
That said, though it isn't a glaring concern, all Chandler needs to do is pick his battles wisely. He's a top defender who makes life difficult for any opposing offense, but sometimes he tends to get a bit overexcited and that can get him in trouble.
If he can do what he does best and stay on the court with minimal fouls, then he and the team will be set.
Amar'e Stoudemire: Get More Involved on the Inside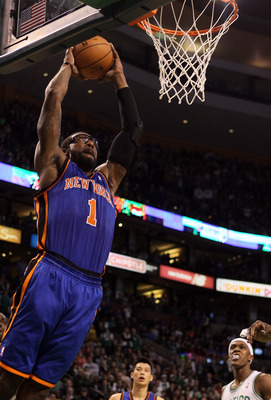 Elsa/Getty Images
The best adjustment Stoudemire can make is to stay healthy, but how his body reacts to certain things isn't really in his control. Thus, while he's healthy and playing, the most important thing for him to do is not be afraid to get his hands dirty under the basket, on both sides of the floor.
Don't get me wrong. Stoudemire is a great scorer who can also hold his own in the rebounding department, holding career averages of 21.6 points and 8.7 rebounds per game, but he is also 6'11", 245 pounds and doesn't use his size nearly as often as he should.
Rather than fight for rebounds under the basket and rely on high-percentage shots, the former first-round pick instead chooses to utilize his jump shot.
While Stoudemire's jump shot is fine and has helped him become a success in the NBA, that's an approach that is best used in an offensive system.
Under Woodson, he is going to be expected to score points consistently and play solid defense. In order to do that, he needs to stop being afraid of the paint and take some more layups in favor of his jumper.
Seeing as how he's a good athlete to begin with, this shouldn't be a problem.
Carmelo Anthony: Share the Sugar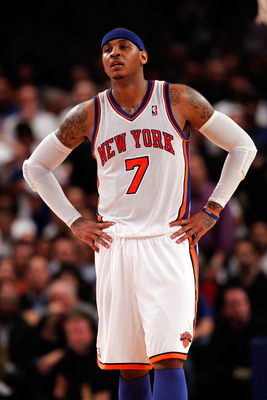 Jeff Zelevansky/Getty Images
Anthony is one of the most clutch scorers in the game today, but that's just it. Though he can pull down his fair share of rebounds, his greatest strength is his scoring and little else.
Last season, his desire to take multiple mid- to long-range shots rather than drive hard to the basket every so often hurt the Knicks and may or may not have led to the resignation of Mike D'Antoni.
However, this offseason, Anthony pulled a complete 180 and said that he was ready to relinquish the scoring duties in favor of being a team player. In terms of scoring 30 or more points per game, the former Syracuse Orange star was blunt and simply said "I don't want to do it anymore."
Though it's great to hear him say that, there is one lesson Anthony needs to take to heart: actions speak louder than words. Thus, once the season begins, let's see him actually try and stay true to his statements.
The Knicks thrived in a team-play system under Woodson last year, though Anthony did his fair share of scoring in that time, and being committed to that approach will only spell success for them.
Still, just how successful they are depends on Anthony and how willing he'll really be to stop doing so much on offense.
Keep Reading

New York Knicks: Like this team?