The sound you heard late Thursday night of a door creaking open wasn't some bad Halloween related sound effect, it was UFC light heavyweight champion Jon Jones ever so slightly opening the door to a possible bout against Chael Sonnen.
If you recall, and I'm sure you do, it wasn't that long ago that Jones turned down the opportunity to face Sonnen on short notice after Dan Henderson was forced from the main event of UFC 151. Jones, citing the fact that he had only eight days notice to prepare for Sonnen, turned the fight down, igniting a firestorm of commentary from almost every corner of the MMA world.
Jones got the talk started himself on Thursday when he tweeted:
Who would you guys like to see me fight next?

— Jon Bones Jones (@JonnyBones) Oct. 11, 2012

Four hours after throwing that question out there Jones returned to tweet:
The more I realize how bad the fans want to see me fight Sonnen the more I am beginning to disregard whether he deserves it or not

— Jon Bones Jones (@JonnyBones) Oct. 11, 2012

That comment from the light heavyweight kingpin refers back to statements he made about Sonnen in August when he said that there was no way he would let the verbose Sonnen talk his way into a title fight.
Jones closed out his brief tweets for the evening by adding:
A part of me wants to do it for the fans the other part of me feels as if it delegitimizes the importance of championship

— Jon Bones Jones (@JonnyBones) Oct. 11, 2012
Jones is correct, there are many fans that want to see this fight. Sonnen can sell a fight with the best of them and Jones—being one of the best fighters in the sport—is no slouch in putting butts in the seats.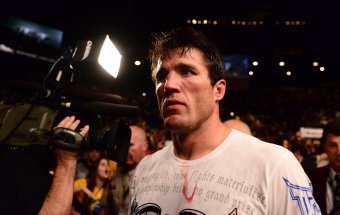 Mark J. Rebilas-US PRESSWIRE
During the UFC 152 press conference UFC president Dana White ran down the top five pay-per-view draws for the organization and two of those five names were Jones and Sonnen. If the fight between these two is booked, there's no doubt that the card would draw at the gate as well as from the pay-per-view buyers.
Jones' highest pay-per-view numbers were his UFC 145 bout against Rashad Evans, a fight that brought in 700,000 buys, according to the MMAPayout.com Blue Book. As for Sonnen, his UFC 148 bout against UFC middleweight champion Anderson Silva drew 950,000, the highest number since UFC 121 brought in 1.05 million buys in October 2010.
From a give the people what they want angle, Jones versus Sonnen is a no brainer. It will sell; fans will watch.
As to when the fight could happen, that's another question entirely. Jones is currently awaiting a second opinion on his elbow, which was injured in his title defense against Vitor Belfort at UFC 152, while Sonnen is booked to face Forrest Griffin on December 29.
As for Sonnen's take on Thursday's talk from the champ, he tweeted the following:
You don't GIVE.I TAKE.Remembah that, Bonesie-Boy @jonnybones
—

chael

sonnen

(@sonnench) Oct. 11, 2012