Ranking the Top 5 QBs in Steelers History After Roethlisberger Record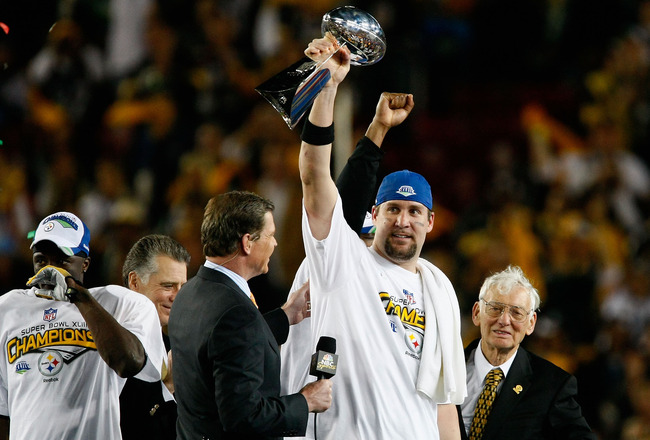 Win McNamee/Getty Images
Ben Roethlisberger continues to stake his claim to being the best quarterback in Pittsburgh Steelers history.
Big Ben just surpassed Bradshaw (27,989) for most pass yards in @steelers history. #PITvsTEN

— Jon Zimmer (@NFLhistory) October 12, 2012
Taking ownage of such a prolific stat is certainly impressive, but it is hard to argue with the four Super Bowls that Terry Bradshaw brought to the Steel City.
So, which one tops this list?
Does Kordell Stewart or Bubby Brister sneak onto the countdown?
And was it wrong to even mention Brister?
Here are the top five quarterbacks in Steelers history.
5. Kordell "Slash" Stewart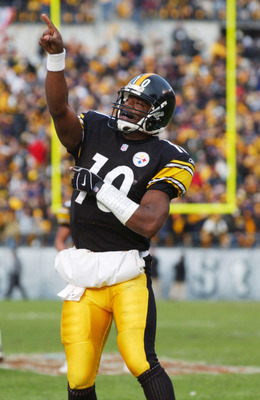 Doug Pensinger/Getty Images
Oh, "Slash".
Opinions on Kordell Stewart range from terrible to great—and everything in between. Yet, it is hard to argue that he was not one of the best quarterbacks in Pittsburgh history.
He won 46 games as a starter and lost just 29; he provided a dual-threat option at a time when the fad had not yet come to prominence.
Stewart would undoubtedly be higher on this list had he not thrown more career interceptions than touchdowns, or perhaps brought a title to a town that demands success.
Still, over 13,000 passing yards and over 2,500 rushing yards with the franchise deserve inclusion on this list.
4. Bobby Layne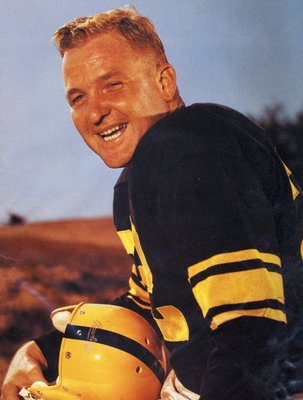 Bobby Layne is best remembered as a member of the Detroit Lions. The Motor City is of course where he played the majority of his Hall of Fame career; but he was also a quality starter for the Steelers between 1958-62.
He had 66 touchdowns in that time, ranks sixth in team history on the all-time passing list and went 27-22-2 with the franchise.
The late 50s and early 60s were not the most storied times in Steelers history, but Layne made them just a bit more bearable.
3. Neil O'Donnell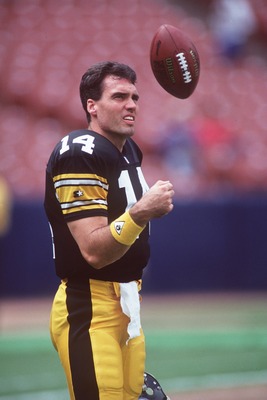 Stephen Dunn/Getty Images
Neil O'Donnell has a terrible legacy with the Steelers, a somewhat unfortunate, but mainly earned legacy.
His two interceptions thrown to Larry Brown in Super Bowl XXX cost Pittsburgh a championship—something a city never forgets.
Still, there was a lot of good that came before that performance. O'Donnell was 39-22 as a starter and helped lead the turnaround from 1980s gloom to 1990s boom.
Pittsburgh made the playoffs every season of his four year rein at QB and while O'Donnell was never the most exciting player, he managed games well. The Steelers were always in a position to win with O'Donnell under center.
Well, except for that Super Bowl.
2. Terry Bradshaw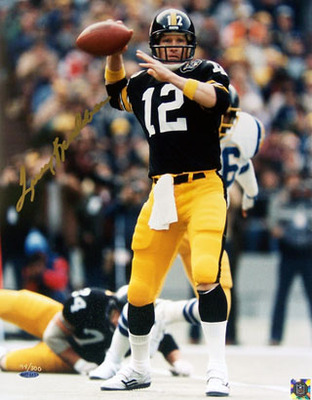 It is hard to imagine that Terry Bradshaw is not the best QB in Pittsburgh history. After all, he led the Steelers to four Super Bowls. He is one of the most iconic players of all time, and until recently, led the team in career passing yards.
His career passer rating stood at mere 70.9 and he completed only 52 percent of his passes. However, it was never about the raw numbers for Bradshaw.
It was the way he could step up in the biggest games, on the biggest stages and get the job done. Bradshaw was 14-5 in playoff games during his 14 seasons, and no QB has hoisted the Lombardi Trophy more often—though Joe Montana can also boast four wins.
There is often a lively debate about who is the best QB in Steelers history, but it is hard to argue with the production of this next guy...
1. Ben Roethlisberger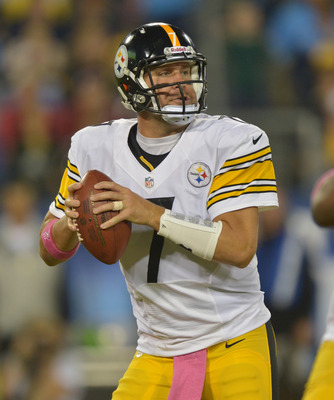 Don McPeak-US PRESSWIRE
The oldest of Steelers die-hard fans may still dispute it, but Ben Roethlisberger is the best QB in Pittsburgh history.
His 27,989 yards are the most in team history, he has two Super Bowl Championships to his credit, is the youngest QB ever to hoist the Lombardi Trophy and beats out Bradshaw in nearly every statistical category.
From QB rating, yards per attempt, and even completion percentage, Roethlisberger has the edge in them all. Yes, the league is much friendlier to quarterbacks nowadays, but that does not detract from what Roethlisberger has been able to accomplish in just nine short seasons.
The former Miami (Ohio) Redhawk has had his fair share of off field drama and controversy, but his on field record speaks for itself, and at 30-years old his career is far from over.
Keep Reading

Pittsburgh Steelers: Like this team?