ACC Basketball: The Best Player on Every Team for 2012-13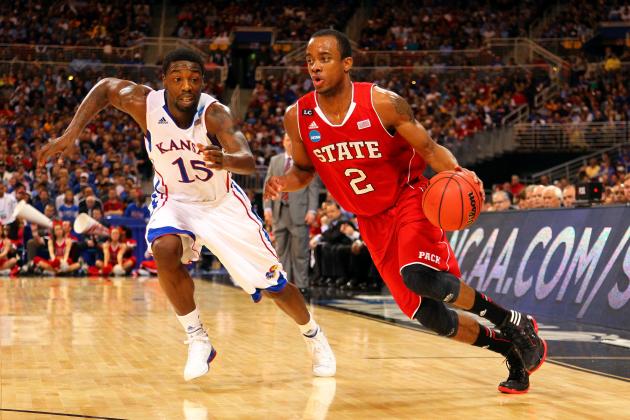 Dilip Vishwanat/Getty Images

Despite having supplied five of the NBA's top 17 draft picks in June, the ACC isn't exactly going to be short on star power this season. The bottomless talent pools at Duke and North Carolina are reloaded for another round of their great rivalry, but another in-state foe may steal the show.
N.C. State returns all five starters from a Sweet 16 team, none better than point guard Lorenzo Brown. He ranked in the top 15 nationally in assists a year ago, but his abilities as a distributor are only a small part of what he'll bring to the Wolfpack in 2012-13.
Read on for more on Brown and the rest of the key players for each team in the ACC this year.
Begin Slideshow

»
Bob Donnan-US PRESSWIRE

Boston College was a one-man team in last season's last-place campaign, but at least they kept the one man around for another year.
Standout freshman Ryan Anderson is now a sophomore, and he'll need to lead a roster that still doesn't have much in the way of weapons aside from its 6'8", 220-lb power forward.
Anderson led last year's Eagles with 11.2 points and 7.4 rebounds a night, and he'll only be better with a year of experience. Look for him to toughen up defensively after posting a disappointing 0.5 steals and 0.5 blocks per game in his first collegiate season.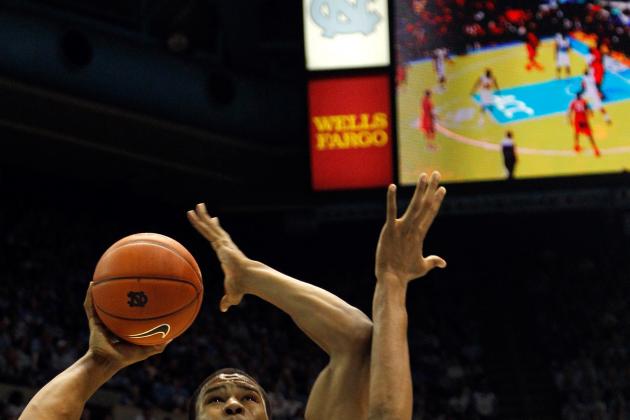 Streeter Lecka/Getty Images

After his brother Trevor's success at Clemson, Devin Booker's rise to a starring role in the Tiger frontcourt hardly came as a surprise.
The younger Booker is now a 6'8", 250-lb senior who will need to put a depleted Tiger roster on his back in 2012-13.
With backcourt stars Andre Young and Tanner Smith gone, Booker is the leading returning scorer (10.5 points per game) as well as the team's top rebounder (seven boards a night).
He's a hard worker on defense, but he'll only be able to do so much in support of a backcourt that will have few impact players on either end of the floor.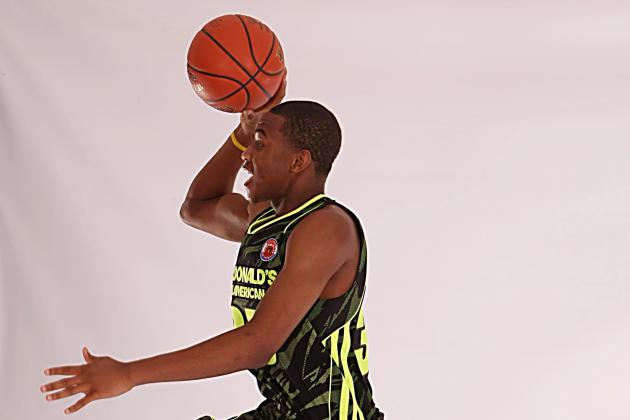 Brian Spurlock-US PRESSWIRE

This spot is a virtual coin toss thanks to the return of senior PF Mason Plumlee, but Rasheed Sulaimon gets the nod by virtue of his explosiveness.
The prize of Coach K's small-but-impressive recruiting class, Sulaimon is a 6'3" freshman who has every chance to be among the best shooting guards in the country this season.
Sulaimon isn't a pure three-point gunner, though he can certainly get in a rhythm from beyond the arc.
Where he really has a chance to be special, though, is attacking off the dribble to go to the rim or pull up for the mid-range jumper—a skill he'll have ample opportunity to display on a Duke team lacking a traditional point guard.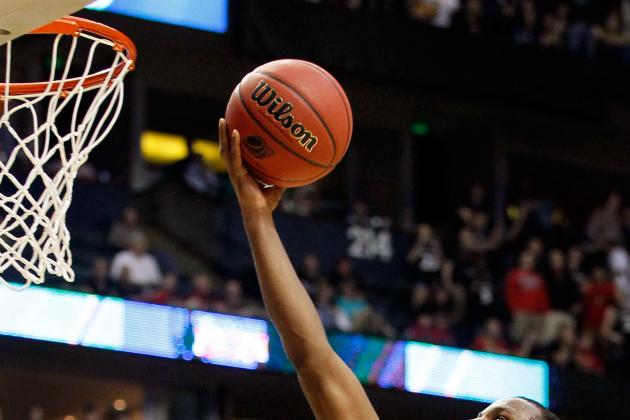 Kevin C. Cox/Getty Images

Graduation hit the Seminoles hard after last year's 25-10 finish, but one key cog returns from last year's ACC Tournament champs.
Leading scorer Michael Snaer brings his 14.5 points per game and .421 three-point shooting back to Tallahassee for his senior season.
Overshadowed by his stellar offensive performance last season was Snaer's improvement on the other end of the floor.
He recorded a career-high 1.1 steals per game, and with his 6'5" frame, he has the potential to be an even bigger contributor to Leonard Hamilton's always-punishing defense.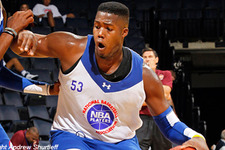 Image from Rivals.com
The low post was already going to be a strength for Georgia Tech in 2012-13 thanks to junior defensive specialist Daniel Miller.
Behind a surprisingly successful recruiting effort from coach Brian Gregory, though, the Yellow Jackets will have an all-around force in the frontcourt who will push even the towering Miller out of the spotlight.
Robert Carter is a 6'8", 250-lb bruiser who has remarkable footwork for a player his size.
Even more extraordinary, he has a first-class offensive game as both a post scorer and a face-up jump shooter—enough so that he'll even knock down the occasional trey given the opportunity.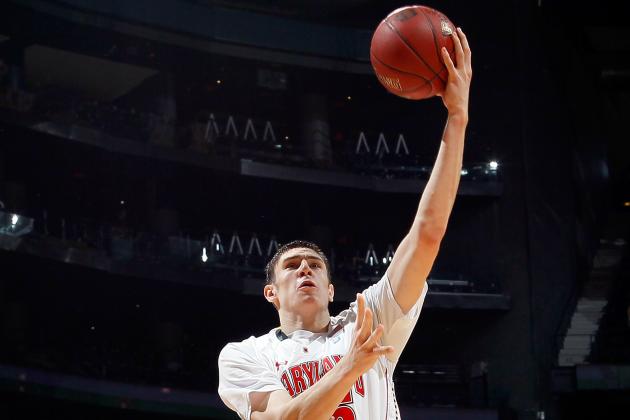 Kevin C. Cox/Getty Images

After his first year of college ball, Alex Len is clearly a work in progress. Even so, the 7'1" Ukrainian is already the most dominating force the Terrapins have.
Len played just 21.2 minutes a night last season, but he grabbed 5.4 rebounds and blocked 2.1 shots per game in that time.
Len scored an unremarkable six points per contest, but even with Shaquille Cleare joining the frontcourt, that number should rise significantly thanks to Len having a year of college ball behind him.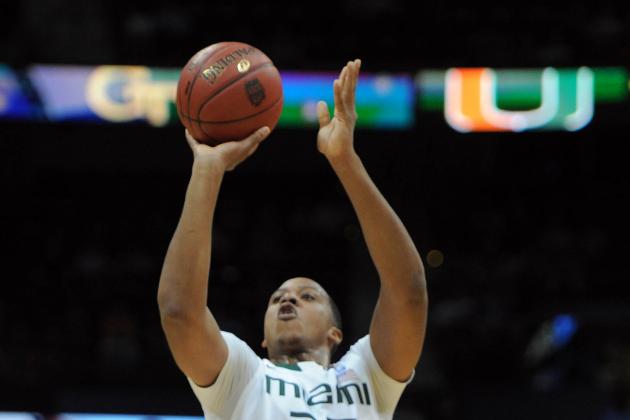 Bob Donnan-US PRESSWIRE

After two seasons as a benchwarmer for Florida, Kenny Kadji headed south and found a home with the Hurricanes. The 6'11", 251-lb center hammered his way to 11.7 points and 5.3 rebounds a night last year.
In addition to being the team's second-leading scorer and rebounder, Kadji led the 'Canes with 1.6 blocks a night.
With the equally massive Reggie Johnson (6'10", 284 lbs) alongside him for another go-round, Kadji should put up even more impressive numbers in his final collegiate season.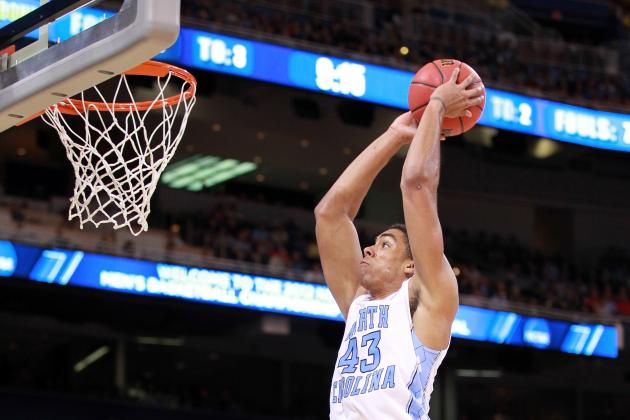 Andy Lyons/Getty Images

In 2011-12, Kansas' Thomas Robinson went from solid reserve to first-team All-American. This year, James Michael McAdoo has an excellent chance to duplicate that performance—and maybe even lead his team to the Final Four as Robinson did.
McAdoo is a hyper-athletic 6'9" PF with the offensive skills to rank among the ACC's scoring leaders. He's not half bad on the glass, either, having grabbed 3.9 boards in just 15.6 minutes a night off the bench as a freshman.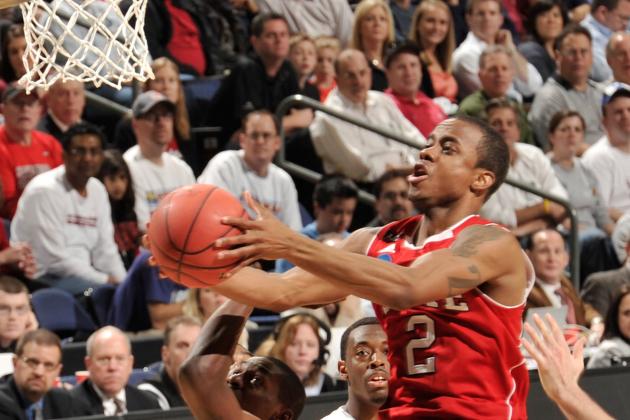 Jamie Sabau/Getty Images

For a rarity, N.C. State has a legitimate claim to being the preseason favorite in the ACC.
Although several different members of the balanced Wolfpack roster have a share in earning that distinction, the biggest factor is the presence of the best point guard in college basketball: Lorenzo Brown.
The 6'5" Brown keyed last year's surprise Sweet 16 run with 12.7 points, 4.5 rebounds, 1.8 steals and 6.3 assists per game (all among the top three on the roster).
After placing 12th in the country in assists as a sophomore, Brown has every chance to blow away even that performance on a loaded team, featuring five returning starters and a pair of elite freshmen.
Geoff Burke-US PRESSWIRE

After a season of serving as Mike Scott's right-hand man, Joe Harris gets to be the main man for the 2012-13 Cavaliers. The leading returning scorer on the roster, the 6'6" Harris amassed 11.3 points a night from his shooting-guard spot.
Harris is a terrific three-point shooter (.380 last year), and without Scott to anchor the offense inside, the three-ball could become a much bigger part of Virginia's attack.
That's going to mean more missed shots, but fortunately, Harris is also well equipped to clean those up (3.9 rebounds a night last season).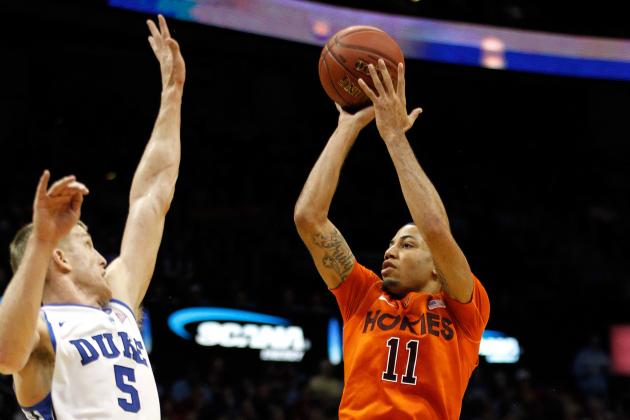 Streeter Lecka/Getty Images

Good news was thin on the ground in Blacksburg this offseason, but at least standout point guard Erick Green is still around to carry the offense.
He won't have Dorian Finney-Smith to feed anymore—the freshman sensation transferred to Florida—but Green should still put up his share of impressive performances as a senior.
Green led last year's Hokies with 15.6 points and 2.8 assists a night.
With minimal help around him, his assist totals (and win totals) aren't likely to impress anyone, but at least Green's scoring punch will provide a few highlights for coach James Johnson's ill-starred debut.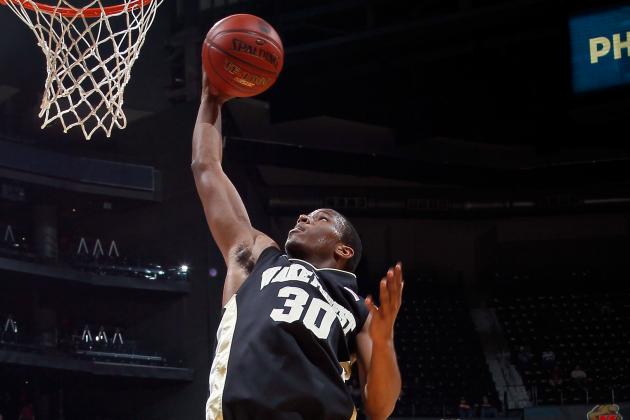 Kevin C. Cox/Getty Images

Although C.J. Harris' emergence as a star was the big revelation for the Demon Deacons in 2011-12, Travis McKie remains the most effective player on the roster.
The 6'7" PF finished a close second to Harris in scoring last year, racking up 16.1 points per game to Harris' 16.7.
However, unlike Harris, McKie is an impact player even when he's not shooting, having led Wake Forest with seven rebounds a night as a sophomore.
He won't be able to make an ACC contender out of the Demon Deacons—especially given the team's atrocious defense—but McKie himself should at least be able to duplicate last season's second-team all-conference showing.