West Virginia Football: Key Storylines to Watch for Against Texas Tech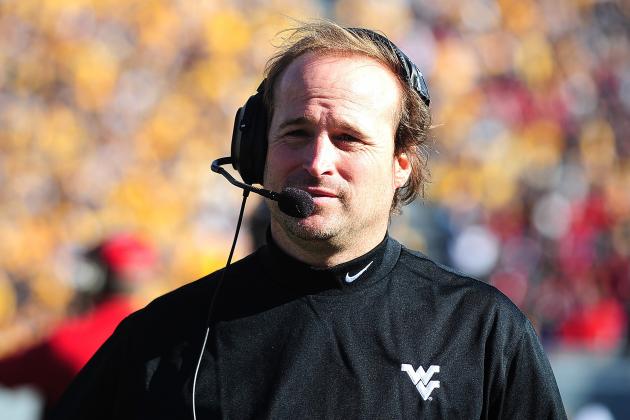 Andrew Weber-US PRESSWIRE
Dana Holgorsen knows full well just how hostile Jones AT&T Stadium can be
This weekend will mark just the second time West Virginia has ever squared off with Texas Tech. The only other meeting between the two schools occurred all the way back in the 1938 Sun Bowl.
The two teams are coming into this game with very different emotions. The No. 5-ranked Mountaineers are riding high after a huge 48-45 statement win on the road at Texas last week, while the Red Raiders are trying to regroup after getting blown out by Oklahoma 41-20 at home.
On paper, West Virginia is clearly the more talented overall squad. However, the boys in Las Vegas have installed the Mountaineers as just four-point favorites for this one, which is certainly a bit eyebrow-raising.
Dana Holgorsen was an offensive assistant at Texas Tech from 2000-2007, so he knows just how rowdy Jones AT&T Stadium can get for a big game.
It will be interesting to see if Holgorsen will have the Mountaineers ready for the tough road battle they're about to face against a potentially explosive Red Raiders squad.
Here's a look at the 10 key storylines to pay attention to for Saturday's game.
Begin Slideshow

»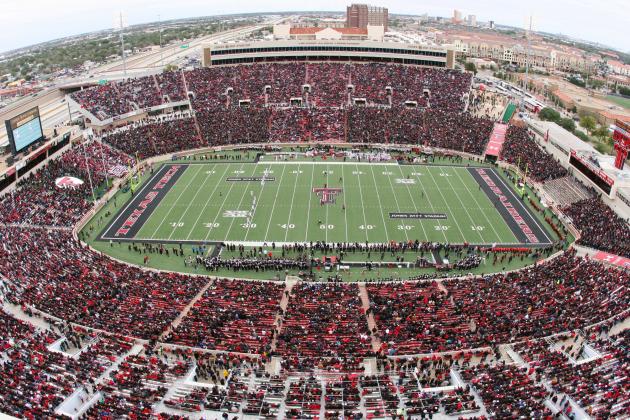 Michael C. Johnson-US PRESSWIRE

In the world of college football, any time a team goes on the road to play a quality opponent, there are always legitimate concerns.
There are even more concerns when a team has to play consecutive road games in back-to-back weeks.
What makes it so tough in West Virginia's case is that this will be the second time in the last week that the team has had to make the 1,400-mile trip down to Texas.
That's a lot of traveling in a short amount of time.
You have to wonder if it will have a negative effect on the team's energy and endurance.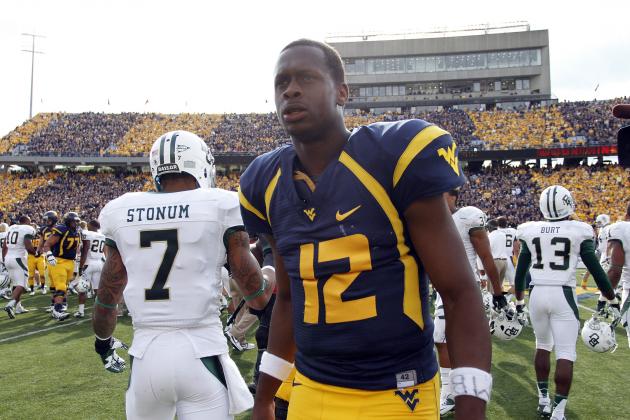 Justin K. Aller/Getty Images
Geno Smith
Geno Smith has not been perfect so far this season, but he's been about as close as a quarterback can possibly get.
Smith has completed an astounding 81 percent of his passes for nearly 2,000 yards and thrown 24 touchdowns without tossing an interception.
The senior signal-caller's 202 passer rating isn't just the best in the country, it's unheard of!
Still, you have to wonder if Smith will eventually come back down to earth at some point.
Andrew Luck, Cam Newton and Robert Griffin III were three of the best college quarterbacks of the last decade, but even they had a few less-than-stellar games when they weren't dominant.
Will this be the week that the current Heisman favorite finally shows some flaws?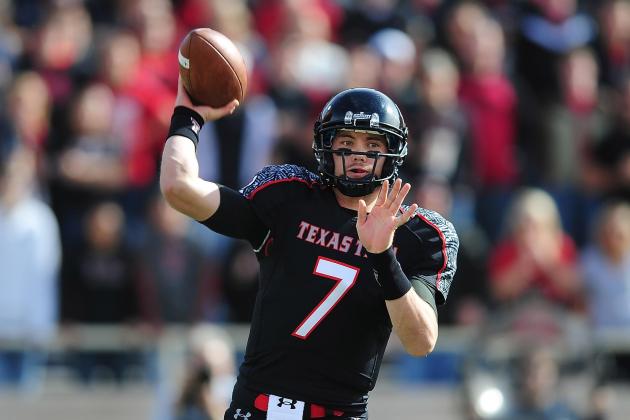 Andrew Weber-US PRESSWIRE
Seth Doege
Geno Smith's quarterback counterpart in this weekend's game, Texas Tech's Seth Doege, showed plenty of flaws last weekend against Oklahoma. Doege totaled just 201 yards through the air, threw three interceptions and failed to hit a touchdown pass in the blowout loss.
It was a very different showing than the ones we saw from the second-year starter in his first four games of 2012.
The senior looked very impressive against weaker competition in wins over Northwestern State, Texas State, New Mexico and Iowa State.
The question is, which Doege will show up this Saturday—the one we saw struggle mightily against Oklahoma or the one who started off the season so hot?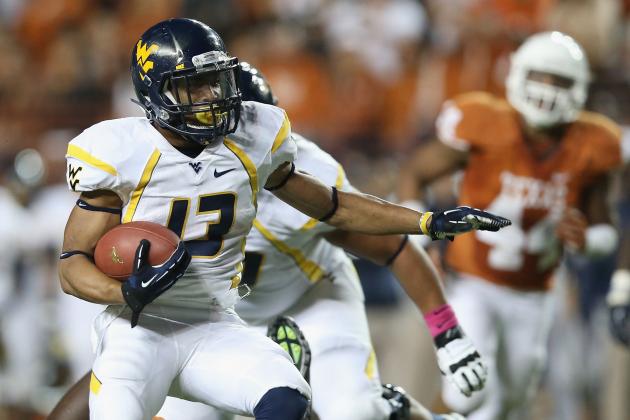 Ronald Martinez/Getty Images
Andrew Buie
RB Andrew Buie had the big breakout game of his young college career last week against Texas.
Buie played a key role in West Virginia's offensive success against the Longhorns.
He rushed for 207 yards on 31 carries, caught three passes for 66 yards and scored two crucial touchdowns in the 48-45 win.
The 5'9'', 187-pound sophomore has proven that he can handle a big workload, and he's shown the type of flashes that you want to see from a featured back.
It will be interesting to see how Buie fares this weekend against a Texas Tech defense that currently ranks 13th in the nation in run defense, allowing just 92 yards on the ground per game.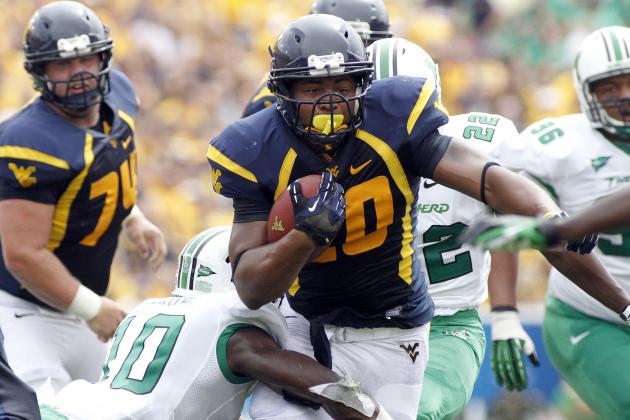 Justin K. Aller/Getty Images
Shawne Alston
West Virginia's two other top running backs, Shawne Alston and Dustin Garrison, have been limited by injuries during the early part of the season.
Alston has been battling a deep thigh bruise, which has limited him in practice over the last few weeks. He hasn't had a carry in the last three games and did not make the trip to Austin last week.
Garrison, on the other hand, finally returned from the knee injury he experienced back in January, when he saw action against Maryland in Week 3. However, he's only had eight carries for 42 yards in three games.
Andrew Buie has shown that he can lead the way on the ground. Nonetheless, it would certainly help if Alston and Garrison were also involved in the offense as well.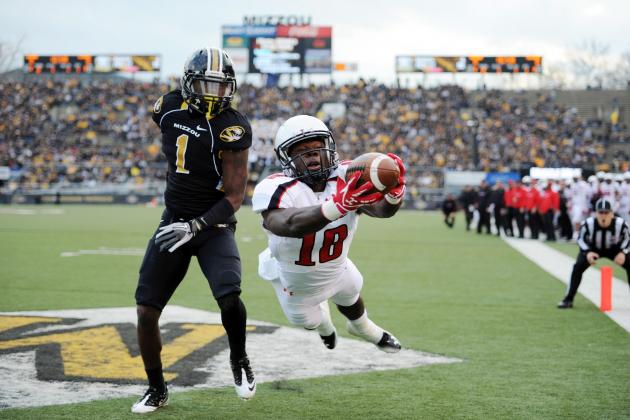 Peter G. Aiken-US PRESSWIRE
Eric Ward
Texas Tech currently ranks seventh in the nation in passing offense, averaging 341 yards through the air per game.
Much of the team's success in the passing game can be attributed to its deep and dangerous receiver corps.
The Red Raiders have three explosive playmaking pass-catchers—Eric Ward, Javon Bell and Darrin Moore—who can all cause a lot of problems for West Virginia's secondary.
So far this season, Ward, Bell and Moore have combined to catch 57 passes for 749 yards and nine touchdowns.
The Mountaineers will certainly have their hands full trying to slow them down on Saturday.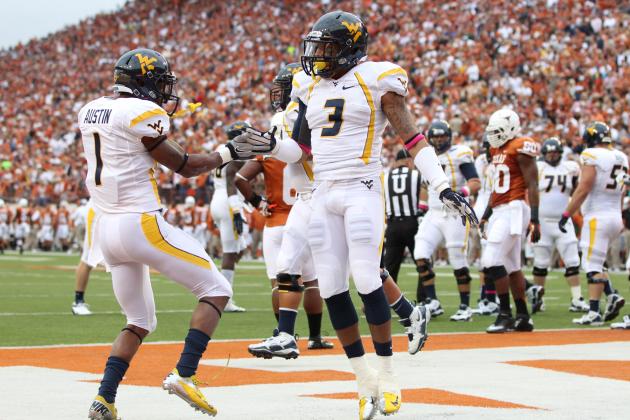 Tim Heitman-US PRESSWIRE
Tavon Austin and Stedman Bailey
West Virginia's offense is one of the most explosive attacks in all of college football this year. But the Texas Tech offense is pretty explosive in its own right.
In fact, the Red Raiders have 107 total plays of 10 yards or more compared to West Virginia's 100 plays of the same variety.
Texas Tech's defense has given up just 40 plays of 10 yards or more, while West Virginia's defense has given up more than double that amount (82 plays).
This is a game that looks like it could turn into a full-blown offensive shootout, and whichever team can come up with the most big plays on offense will definitely have a decided advantage.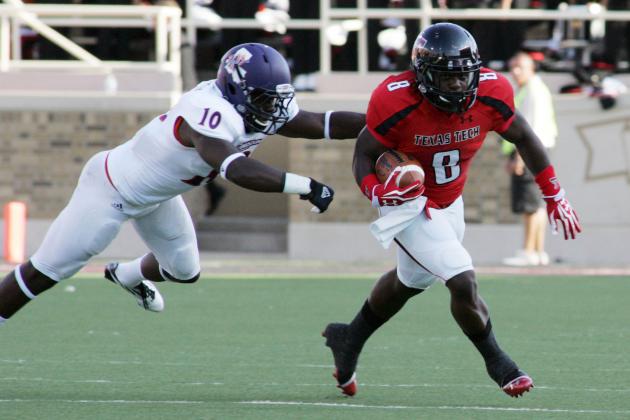 Michael C. Johnson-US PRESSWIRE
SaDale Foster
Texas Tech does have a secret weapon that West Virginia will have to be wary of, and it's RB SaDale Foster. The 5'7'', 187-pound Foster may not look all that intimidating, but he's the type of athletic and versatile playmaker that's capable of doing major damage as a runner, a receiver or a returner.
The Mountaineers better know where No. 8 is any time he's out on the field.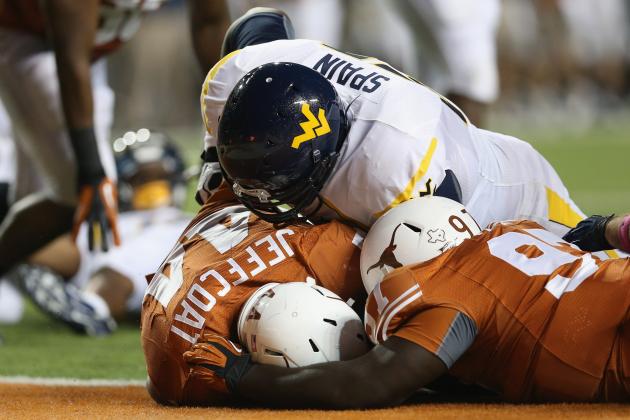 Ronald Martinez/Getty Images
Quinton Spain
As a whole, West Virginia's offense has looked outstanding so far this season. However, the offensive line has been a notable weak spot early on.
The Mountaineers have only allowed eight sacks this year. Far too often, the line has allowed penetration by defensive linemen on running plays, which is evidenced by the 38 tackles for loss the team has allowed.
Last week, the line gave up a crucial strip-sack near its own goal line, which resulted in a momentum-swinging touchdown for Texas.
The unit can't allow something like that to happen again in Lubbock this weekend.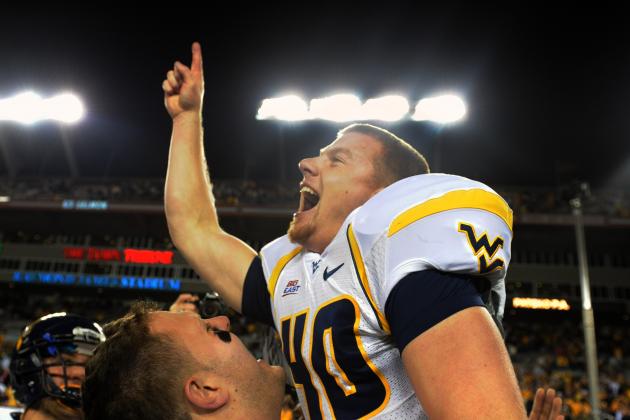 Al Messerschmidt/Getty Images
Tyler Bitancurt
West Virginia's special teams haven't really played a huge role in the team's success so far this season. That could change on Saturday.
If this game does turn out to be a wild shootout, it wouldn't be surprising if it ultimately came down to a clutch, late field goal to win it.
Kicker Tyler Bitancurt has only attempted five field goals so far and he's missed two of them.
If Bitancurt is asked to boot through an important fourth-quarter kick on Saturday, it will be fascinating to see if he can actually deliver.