Breaking Down West Virginia's Spot in the BCS Rankings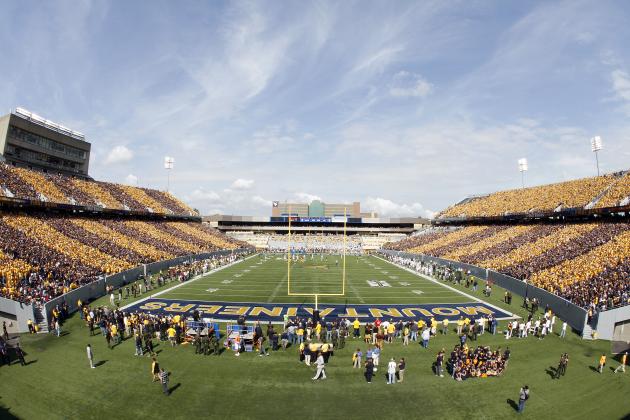 Justin K. Aller/Getty Images

After West Virginia's devastating upset at the hands of Texas Tech, Mountaineer fans woke up the following morning surprised to find that the earth was still simultaneously spinning and revolving around the sun.
Gravity had not been reversed, there was still oxygen to breathe and everyone would still have to clock into work or trudge uphill to class on Monday.
Most importantly, WVU will still have something to play for on the gridiron.
The Mountaineers' once-bright national title hopes were essentially eradicated the moment the Red Raiders were led out of the tunnel by a Harley Davidson motorcycle on Saturday, but the Big 12 Conference title is still well within reach.
Despite the loss, West Virginia still basically controls its own destiny to reach a BCS bowl at season's end.
Here's a breakdown of WVU's current national standing and how the Mountaineers will move forward from now until January.
Begin Slideshow

»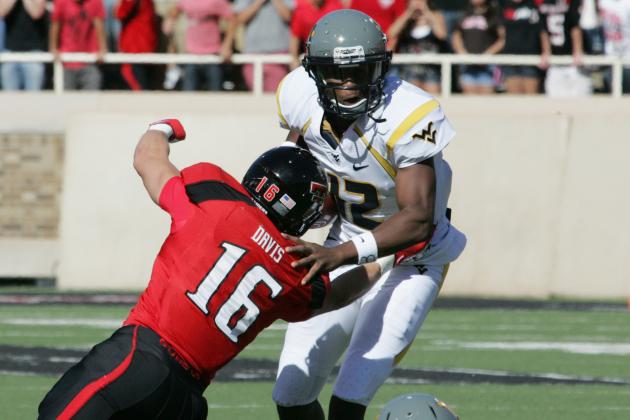 Michael C. Johnson-US PRESSWIRE

West Virginia was rolling through the first five games of the season on the heels of an apparently unstoppable offense.
WVU picked up two rivalry wins over Marshall and Maryland in its non-conference slate and another over a top-five FCS team in James Madison.
Next, the Mountaineers exploded for 70 points in their Big 12 Conference debut against Baylor and followed that up with an enormous road win against Texas.
After the first five games, WVU was averaging 52 points per game. Also, quarterback Geno Smith was the outright Heisman Trophy favorite and had his team at 2-0 in conference play and in the top five of the polls.
Then the Mountaineers flew face first into a wall in Lubbock, mustering just 14 points against a stingy Texas Tech defense.
The loss all but erased West Virginia's hopes at playing for a national title.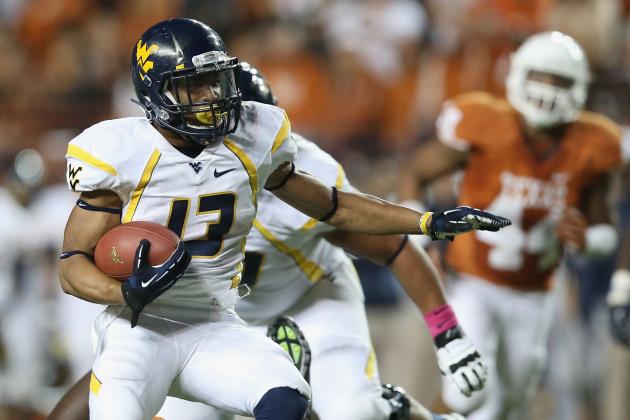 Ronald Martinez/Getty Images

West Virginia's signature win to this point came on the road against then-No. 11 Texas.
Against one of the strongest secondaries they will see all year long, the Mountaineers delivered a powerful statement upsetting in UT-Austin.
Quarterback Geno Smith was pressured heavily by Texas' NFL-caliber pass rushers, forcing him into two fumbles that nearly cost WVU the game. Despite his struggles, the Mountaineers posted 48 points in the win.
Sophomore running back Andrew Buie, who has taken over the starting role in the absence of senior Shawne Alston, slashed and dashed his way to a career game. His 207 yards and two touchdowns, including 63 and the game-sealing score on WVU's final drive, secured the enormous victory for his team.
Additionally, the West Virginia secondary, considered to be the most glaring weakness of the team, came up big when it mattered most. Senior cornerback Pat Miller registered a sack and two vital fourth-down pass deflections to stymie the Texas comeback.
However, UT was embarrassed against Oklahoma the following week, making this win less impressive. Still, the computers looked favorably upon Texas and the Big 12 in general. Also, WVU will have as many as four more cracks at BCS-ranked opponents before the season is over.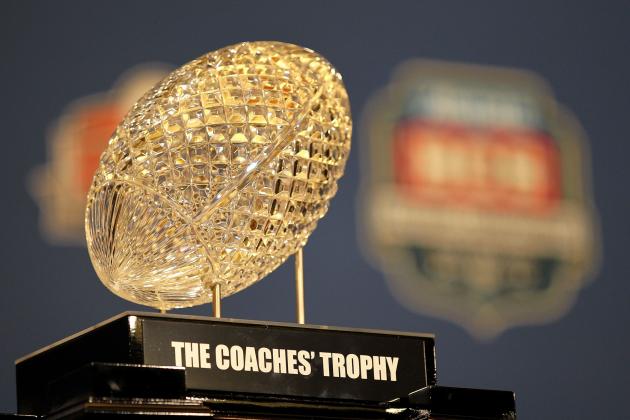 Andy Lyons/Getty Images

The computers looked very favorably upon the Mountaineers, ranking them two spots ahead of where the coaches tabbed them and four spots ahead of where they landed in the Associated Press poll this week.
At No. 13, WVU is four spots ahead of Texas Tech and four behind Oklahoma.
West Virginia, with a computer average of .4793, is also just slightly behind two SEC teams in undefeated Mississippi State and one-loss Georgia.
The Mountaineers also have a considerable lead over No. 14 Florida State of more than 0.05 points and will have a considerable strength of schedule advantage going forward as well.
Seven of the Big 12's 10 teams are ranked in the initial BCS poll, which is excellent news.
This means that the computers highly value the strength of the conference from top to bottom, which will only continue to help its teams as the season goes forward.
Check out the full rankings from ESPN.com below (Big 12 teams bolded):
| | | |
| --- | --- | --- |
| Rank | Team | Avg |
| 1 | Alabama | .9761 |
| 2 | Florida | .9092 |
| 3 | Oregon | .8993 |
| 4 | Kansas State | .8963 |
| 5 | Notre Dame | .8774 |
| 6 | LSU | .7522 |
| 7 | South Carolina | .6930 |
| 8 | Oregon State | .6808 |
| 9 | Oklahoma | .6664 |
| 10 | USC | .5959 |
| 11 | Georgia | .4980 |
| 12 | Mississippi State | .4846 |
| 13 | West Virginia | .4793 |
| 14 | Florida State | .4277 |
| 15 | Rutgers | .4083 |
| 16 | Louisville | .4061 |
| 17 | Texas Tech | .3572 |
| 18 | Texas A&M | .3379 |
| 19 | Clemson | .3341 |
| 20 | Stanford | .2654 |
| 21 | Cincinnati | .2483 |
| 22 | Boise State | .1978 |
| 23 | TCU | .1377 |
| 24 | Iowa State | .1139 |
| 25 | Texas | .0640 |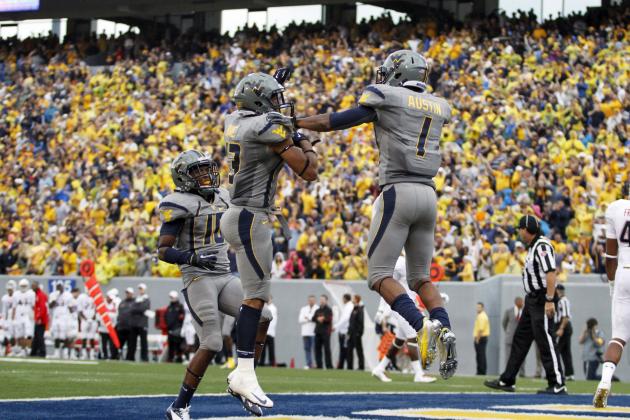 Justin K. Aller/Getty Images

West Virginia came in higher than expected in the initial BCS rankings.
However, considering where its opponents are ranked, this is just about right. The teams ranked behind WVU—Florida State, Rutgers and Louisville—don't have much to brag about as far as impressive wins.
Also, FSU's loss to NC State looks much worse than WVU's loss to a ranked Texas Tech squad.
It is a bit puzzling that Texas Tech is four spots behind WVU after last week. Especially considering the two both have a 5-1 record.
At the same time, it's hard to argue that West Virginia should be any higher than it is. Mississippi State is still undefeated and Georgia's only loss was to a Top 10 team on the road.
All in all, the Mountaineers have to be happy with where they are at right now.
Brett Deering/Getty Images

West Virginia is far from being out of the woods in 2012.
This week, WVU will host the only team that is still undefeated in Big 12 play, No. 4 Kansas State.
Next week, the Mountaineers will take on another team ranked in the BCS at home in No. 23 TCU. The following week, they will take on Oklahoma State who has also been ranked in the Top 25 this year, but was left out of the initial BCS poll.
Then comes another pair of foes ranked in the BCS starting with No. 9 Oklahoma in Morgantown and ending on the road with No. 24 Iowa State.
Regardless, West Virginia's BCS standing will only be boosted by its schedule, a welcome change from life in the Big East Conference.
You'll notice that West Virginia will benefit from four home games in its final six contests. The trip to Ames will go down the day after Thanksgiving, which could potentially be trouble just six days after what is sure to be an emotional matchup with Oklahoma.
| | | | |
| --- | --- | --- | --- |
| Date/Time | Team | Record | Location |
| Oct. 20 | 7 p.m. | No. 4 Kansas State | 6-0 | Morgantown, W. Va. |
| Nov. 3 | TBD | No. 23 TCU | 5-1 | Morgantown, W. Va. |
| Nov. 10 | TBD | Oklahoma State | 3-2 | Stillwater, Okla. |
| Nov. 17 | TBD | No. 9 Oklahoma | 4-1 | Morgantown, W. Va. |
| Nov. 23 | 3:30 p.m. | No. 24 Iowa State | 4-2 | Ames, Iowa |
| Dec. 1 | TBD | Kansas | 1-5 | Morgantown, W. Va. |
| | Opp. Combined Rec: | 23-11 | |
Matthew Holst/Getty Images

West Virginia learned the hard way against Texas Tech that any game in the Big 12 can be a pitfall.
This week, WVU will face No. 4 Kansas State, the highest ranked team remaining on its schedule. In just over a month, the Mountaineers will take on another Top 10 BCS team, No. 9 Oklahoma.
Luckily for them, both of those games will take place in Morgantown. No. 23 TCU, one of four teams sitting at 2-1 in Big 12 play, will also come to Milan Puskar Stadium.
However, the Mountaineers still have a couple of tough road games ahead. The first will be in Stillwater, where Oklahoma State nearly beat Texas earlier this year.
The second will come on a Friday in Ames where, last year, No. 24 Iowa State became the only team all season long to beat Big 12 champion OSU—a game that also took place on Friday.
At this point, a win over Kansas isn't even a sure thing given the way the Jayhawks performed in a near-upset of the Cowboys last week.
The main point here is that the Mountaineers can't play flat like they did against No. 17 Texas Tech or they can kiss the BCS goodbye.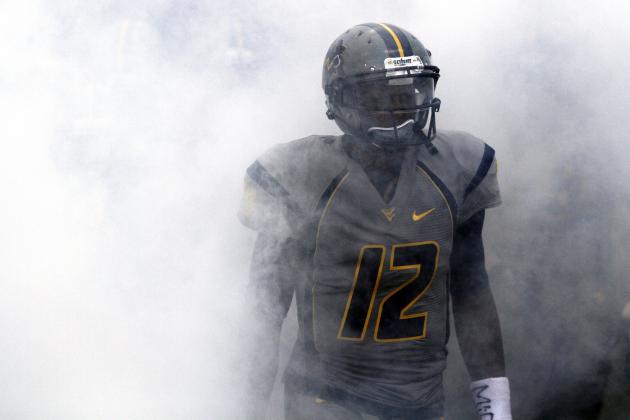 Justin K. Aller/Getty Images

West Virginia is still led by the Heisman Trophy favorite at quarterback, Geno Smith.
He had an off day against Texas Tech, but at his best, he's almost untouchable and the most dangerous signal caller in college football.
In his senior season, you can bet he'll do anything within his power to earn a BCS berth for WVU.
Additionally, WVU has another scintillating senior at wide receiver in Tavon Austin. He led the nation in all-purpose yardage last year and is a threat to score a touchdown every time he touches the ball.
West Virginia's leadership doesn't end there either. The Mountaineers have three senior offensive linemen, another senior starting wide receiver and a senior at running back in Shawne Alston (once he returns).
The Mountaineers also have seniors on all three levels of the defense, so if they have anything going for them, it's leadership.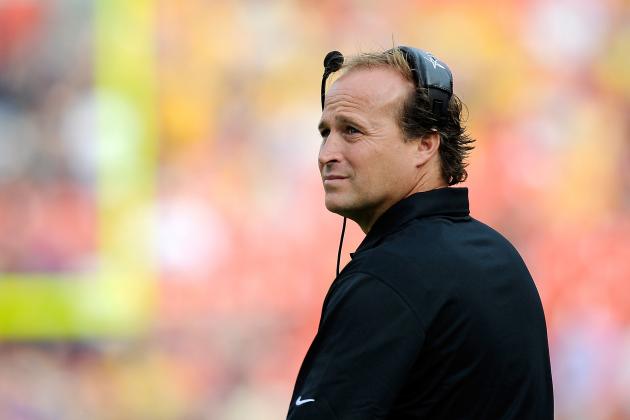 Patrick McDermott/Getty Images

While an initial ranking of No. 13 is great, WVU's best chance at the BCS is to win the Big 12.
If the Mountaineers don't win the Big 12 it will likely be because they have two losses, unless Texas Tech manages to win out. If that happens and WVU wins out as well, it will be almost a lock for an at-large bid.
If this doesn't happen, and West Virgina does lose one of its remaining games, an at-large bid will be very unlikely.
Making the BCS with two losses is something WVU just can't count on, especially since Notre Dame has all but sewn up one of the at-large spots and the SEC is essentially guaranteed another.
So, West Virginia needs to focus on taking the Big 12 crown by winning all of its remaining games.
The margin for error is microscopic, but with an abundance of leadership and a favorable schedule, West Virginia has what it needs to rebound from its most recent loss and make a BCS run over the end of the season.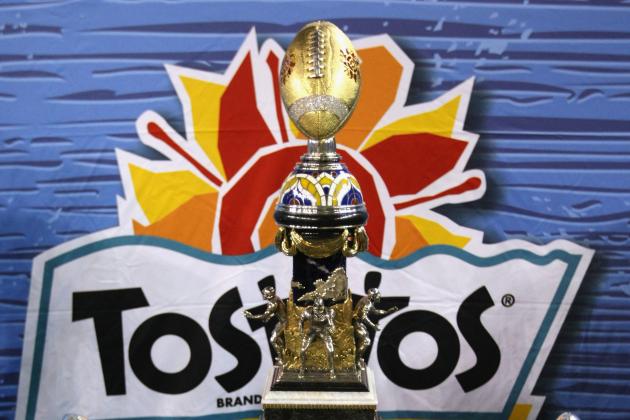 Doug Pensinger/Getty Images

Call me crazy, but West Virginia is still in great position to win the Big 12 Conference and earn a Fiesta Bowl berth.
The Mountaineers match up well with Kansas State, as KSU's offensive strength is also WVU's defensive strength.
Meanwhile, the Wildcats are No. 76 in the nation in passing defense, which bodes well for Geno Smith and the air raid offense.
Oklahoma will be a very tough out, especially considering how the Sooners have improved recently, but WVU will have them in Morgantown.
In the end, WVU has the easiest road of all potential Big 12 title contenders.
The Mountaineers could just as easily end up in the Alamo Bowl or Buffalo Wild Wings Bowl at third or fourth in the conference.
However, Smith and the surplus of leadership in Morgantown make this exactly the type of team that is capable of growing stronger with adversity and making a run.