After 17 mostly outstanding seasons in the big leagues, Reds third baseman Scott Rolen looks prepared to hang it up.
In Thursday's Game 5 NLDS matchup between the Reds and the Giants, Rolen sealed Cincinnati's loss by striking out to end the game, putting an end to the lineup's ninth-inning rally.
Immediately following the sour ending to Rolen's postseason performance, reports like this one from CBS Sports surfaced that the veteran had suited up for the last time. According to USA Today's Bob Nightengale, Rolen is "preparing for retirement," but will delay any official announcement.
During Rolen's somber post-game interview, he didn't confirm or deny the reports, but expressed doubts concerning his professional future. He responded to questions about his retirement by saying (via MLB.com):
"My contract is up...I don't know what I'm doing, I'm going to go home and pitch some balls to [my son]...Sometimes you can't make your own decisions...Sometimes you have to see what's going on. Right now, I'm going to go home and take my kids to school, be dad, decompress a little bit and see where I'm at."
Six months ago, on opening day, Rolen hinted to reporters that he was mulling retirement. At the time, he said he would trying to "soak in" every last bit of the season. Tonight, after capping off the worst season of his career with an ugly playoff performance, he sounded far less optimistic (via Cincinnati.com):
"This game is too damn hard. You're dealing with cutters, guys throwing 100 out there. That's not fun. You don't soak that up and you're miserable when you get annihilated at the plate. It was a great thought, a great idea. My heart was in the right place, but that didn't happen."
In your opinion, does Scott Rolen deserve a Hall of Fame plaque?
After winning the first two games of the best-of-five series, the Reds were only a run away from sweeping the Giants and earning a ticket to the National League Championship series.
It was the top of the 10th inning, with the score knotted at 1-1, when Giants utility infielder Joaquin Arias hit a soft ground ball in Rolen's direction—99 percent of the time, that would mean an out.
Rolen, who hit just .245/.318/.398 this season, was manning third base, and he sure wasn't playing there because of his excellent offense. The old man's bat disappeared a couple of years back.
He was playing third for Dusty's Reds because of his superb defense. Rolen has eight Gold Gloves to his name, and throughout his long career, he's built a reputation as one of the best fielders of his generation.
So, when Arias yanked a weak grounder in Scott's direction, it should've been business as usual. But it wasn't. Rolen fumbled the rock, and the Giants took the lead.
Heading into the late innings all tied-up in Game 3, Reds manager Dusty Baker decided to stick with Rolen at third base rather than replacing him with Todd Frazier's (much) more potent bat.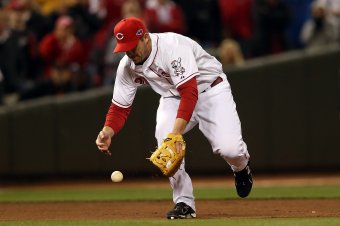 Jonathan Daniel/Getty Images
To Dusty, it was an easy decision. Rolen was the long-time veteran, with a World Series ring and one of the best gloves in history, while Frazier was a rookie, armed with a loud bad but a so-so glove.
At first, the Reds skipper appeared to make the right choice, but when Arias pulled a dribbler Rolen's way in the 10th, the unthinkable happened. The veteran Hall of Famer, in a game-deciding situation, blew it.
A soft ground ball, a play that Rolen made look easy hundreds of times before, bounced off his hands. He recovered quickly and gunned it to first, but Arias was safe by a half-step, allowing Buster Posey to cross home plate with the go-ahead run. After a one-two-three bottom of the ninth, the Giants left the ballpark as the extra-innings victors.
Four days later, the Giants are headed to the NLCS and the Reds are headed home. After they lost their footing in Game 3, Cincinnati completely collapsed, and a lot of the blame falls on Rolen's shoulders.
Though he went 2-for-5 tonight, in the Reds' losing effort, Rolen's postseason performance has been sub-par overall. Scott hit just .250/.294/.250, and he failed to collect a single extra-base hit in 17 plate appearances.
He wilted in the clutch, too. Outside of his crucial error in game-three, he went one-for-five with runners in scoring position and killed the Reds' ninth inning rally tonight, striking-out with the tying run on base to end the game.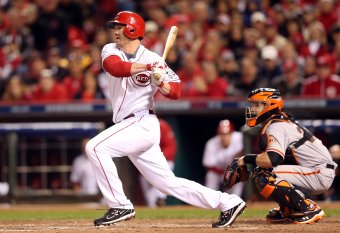 Andy Lyons/Getty Images
Obviously, Rolen's poor postseason performance plays into his decision to return for 2013. If he doesn't retire now, this winter he'll file for free agency for the first time in a decade. He'll be 38 next April, and his declining performance over the past two seasons won't warrant much more than a one-year deal and a job off the bench (think Eric Chavez).
He's hit just .244/.301/.397 since the beginning of 2011, and injuries have limited him to playing in less than half of his team's games. His glove remains solid, and in part-time duty, he could still be an effective hitter. But in reality, Rolen doesn't have many compelling reasons to return, especially if his heart isn't in the game anymore.
Rolen's big league career might be closing on a sour note, but that doesn't take anything away from nearly two decades of extraordinary production. Rolen is a sure-fire Hall of Famer, no doubt about it.
Through 17 seasons, Rolen hit .282/.364/.490, with 876 extra-base hits, 316 home runs and 1,287 runs batted in. He earned the 1998 National League Rookie of the Year with the Phillies, and proceeded to make seven All-Star teams.
A terrific all-around third baseman, Rolen contributed more to his club than a slugging, middle-of-the-order bat. His golden glove set him apart from other stars of his generation, and for nearly two decades, he played like the second coming of Brooks Robinson.
Rolen's career 20.7 defensive WAR ranks first all-time among National League third baseman, and fifth all-time at the position overall...behind Robinson, Buddy Bell, Clete Boyer and Adrian Beltre. He's the hot corner's active leader in total zone runs (150), and only Robinson (293), Bell (167), Boyer (162) and Robin Ventura (154) have higher totals.
Beyond stats, his eight Gold Gloves also put him in elite company. There are only four other National League infielders with that much defensive bullion packed in their trophy cases: Ozzie Smith (13), Keith Hernandez (11), Mike Schmidt (10) and Ryne Sandberg (nine).
Rolen put together his finest season in 2004, while playing his second season with the Cardinals. By then, the 29-year-old had already established himself as one of the game's top third baseman, averaging a .282/.374/.510 line and 24 home runs a year through his first eight seasons.
But his 2004 campaign put his name in to the future Hall of Famer debate. He hit .304, rapped 34 home runs and slugged .598, and he posted phenomenal .409 on-base percentage. By October, his name sat atop the league in nearly every stat, both offensive and defensive.
He ranked second in the NL, driving in a whopping 124 runs, and he topped his peers with a 3.3 defensive WAR. In the postseason, he played a leading role in the Cardinals' dramatic pennant-winning series against the Astros, batting .310 with three home runs—including a bomb off Roger Clemens in Game 7.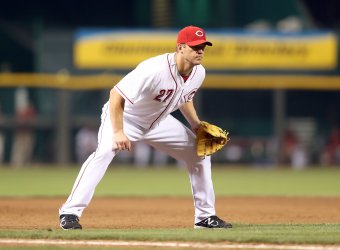 Andy Lyons/Getty Images
Rolen's outstanding 2004 performance warranted an MVP award. He did it all, ranking among league leaders in nearly every performance statistic, and he led the Cardinals to the World Series. His 8.9 rWAR was second only to Barry Bonds' 10.4 mark, and while Bonds' ended up taking home the MVP, subsequent evidence of his steroid use suggests that Rolen was the more deserving candidate.
Rolen missed out on a World Series ring and an MVP Award in 2004, and after shoulder surgery knocked out most of his 2005 season, it appeared his best years were behind him.
He was old for a guy in his early 30s. He'd already played in 1,251 big league games, and he'd spent nearly two seasons fighting through a slew of injuries that included a torn labrum.
But Rolen, true to his gamer character, and he wasn't going to let up at all. And when he was activated from the disabled list in 2006, he returned with a bang. He hit .296/.369/.518 with 22 home runs, and he posted a 5.6 rWAR (All-Star level production). His 48 doubles ranked fourth in the league, and he powered the Cardinals to their second World Series appearance in three seasons.
Last time around, Rolen went 0-for-15 in the Fall Classic, the series' longest-ever hit drought. 2006 was a very different story, however. Scott broke the streak with a long home run off young Tigers' ace Justin Verlander in the series' first game, and proceeded to hit .421/.476/.737 the rest of the way.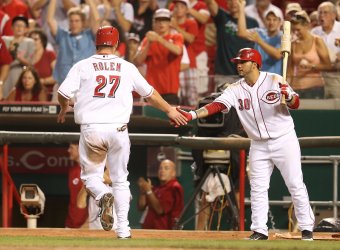 Andy Lyons/Getty Images
He led Cardinals hitters in OPS (1.213), runs scored (five), batting average, on-base percentage and he was responsible for one of the lineup's two home runs. The Cardinals ended up winning the World Series in five-games, outscoring the Tigers 22-11. While his fan-favorite teammate David Eckstein ended up taking home the MVP award, Rolen was arguably the superior performer.
If Rolen does retire, he'll leave the diamond as one of the elite third baseman to ever have played the game. His star-studded resume includes a World Series ring, eight Gold Gloves, a Silver Slugger, seven All-Star games and it has all of the statistical prerequisites for Cooperstown.
If there's any doubt in his candidacy, consider this: Rolen's 44 wins above average (click here for an explanation on WAA) ranks him directly behind Hall of Famer Rod Carew (46.2 WAA), and in front of Cooperstown legends Ozzie Smith (42.0 WAA), Brooks Robinson (39.7 WAA), Ryne Sandberg (38.4 WAA), Paul Molitor (37.7 WAA) and Eddie Murray (27.4 WAA).
Among HOF third basemen, his .490 career slugging percentage would rank third out of 12 players, his 316 home runs would rank fifth (he's two shy of fourth place), and both his .364 on-base percentage and 1,287 RBI would rank sixth.