2012 MLB Playoffs: Ten Impressive Defensive Plays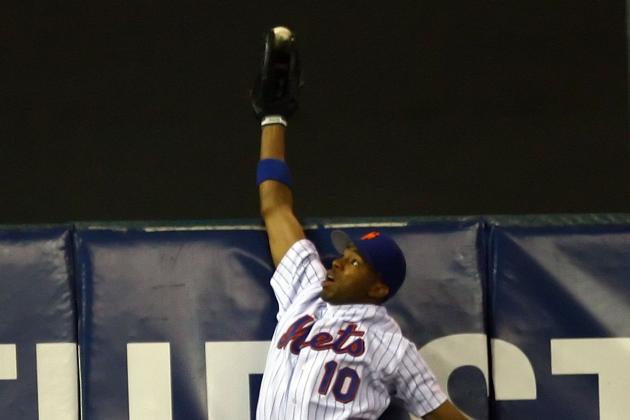 Al Bello/Getty Images
Even though his team ultimately lost, there's no debating that this Endy Chavez theft in the 2006 NLCS is one of the greatest catches a human being has ever made.
According to legend, defense wins championships, and we've been privy to a good helping of it throughout this 2012 first round of playoffs.
All eight teams have contributed to the highlight reels and, in the end, their displays of leather will help earn one of them a Championship trophy.
This is a slideshow of 10 impressive defensive plays from around the Wild Card Games and Division Series. I judged the final 10 selections on degree of difficulty, "wow" factor and its' role in a game's outcome.
Following the 10 (which are in no particular order) are a few honorable mentions—noteworthy fielding efforts that may have cracked the 10 in a different postseason, or if they played a (larger) role in the game's outcome.
Now that all of the Division Series have concluded, here's the slideshow:
Begin Slideshow

»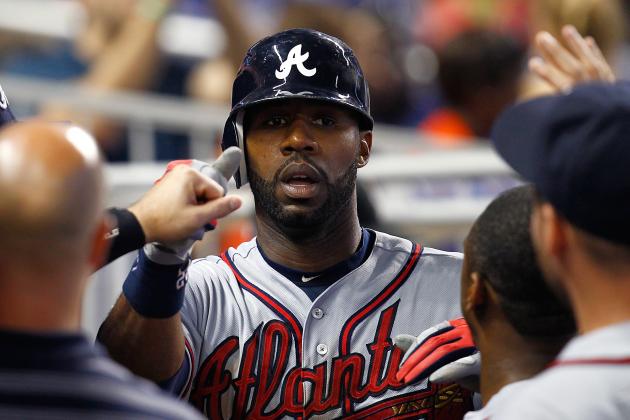 Sarah Glenn/Getty Images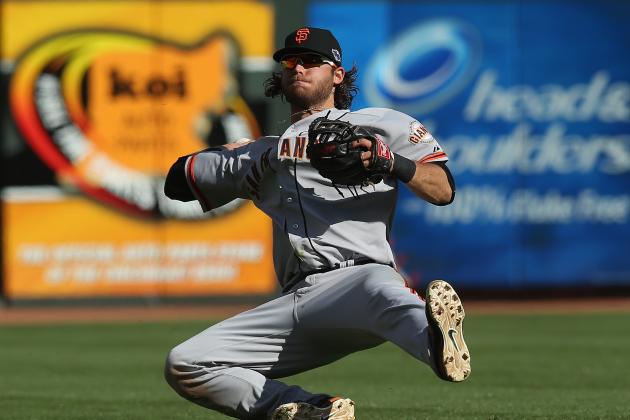 Jonathan Daniel/Getty Images

The Giants had taken a 6-0 lead in the 5th inning of this decisive Game 5, but were hardly on cruise control. By the 8th, the Reds had halved their deficit and put a man on 1st with one down. Facing RP Santiago Casilla, Reds C Ryan Hanigan lined one to the left side that seemed earmarked for a hit...until SF shortstop Crawford went airborne to his right and snagged it for the out.
Two batters later, the Reds sent up PH Dioner Navarro with two men on against new reliever Sergio Romo. Romo induced a weak bloop that appeared destined for no-mans land, but CF Angel Pagan sprawled out and snagged the ball practically off the grass as he tumbled back onto his feet.
The two highlight plays kept the Reds at bay; San Francisco would hang on for a 6-4 win thanks in no small part to the efforts of Crawford and Pagan.
http://sanfrancisco.giants.mlb.com/video/play.jsp?content_id=25384717&topic_id=37975852&c_id=sf
http://sanfrancisco.giants.mlb.com/video/play.jsp?content_id=25386291&topic_id=37975852&c_id=sf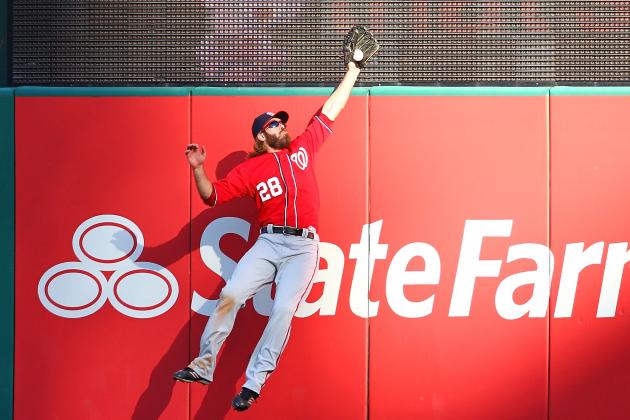 Dilip Vishwanat/Getty Images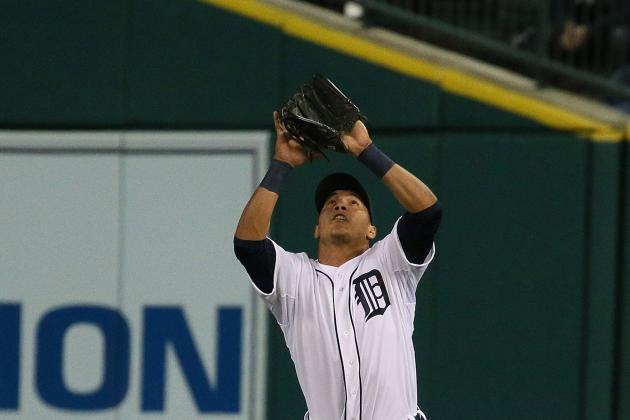 Dave Reginek/Getty Images

Garcia made the Tigers' postseason roster despite being a virtual unknown.
Recipient of but 47 AB's during the regular season, all in September (he was called up 8/31, barely eligible for the postseason roster), Garcia turned a head or two when he gunned down Oakland's speedy OF Coco Crisp in the 3rd inning of Game Two.
The A's had just gone up 1-0, as three of their first four batters in the 3rd notched hits against Tiger starter Doug Fister. Oakland 1B Brandon Moss made it 4 of 5 with a hit to right. Crisp dashed home from 2nd but Garcia's strong throw erased him, freezing Oakland's momentum.
Garcia's Tigers went on to win 5-4.
http://detroit.tigers.mlb.com/video/play.jsp?content_id=25350173&topic_id=8878994&c_id=det
Ezra Shaw/Getty Images

If the 2012 ALDS were ever made into a feature film, Coco Crisp would receive star billing. As both hero and goat, Crisp was anything but inconspicuous throughout the series.
In Game 2 alone, he was gunned out at home and later fumbled a routine popup into the go-ahead Tiger runs. However, in Game 4, he drilled a dramatic walk-off single off star Detroit closer Jose Valverde that just about brought the Oakland Coliseum down.
Leading off the 2nd inning of Game 3 against A's starter Brett Anderson, Tigers' 1B Prince Fielder got his weight behind one, sending it deep to center field–potentially out of the park. Coco went back and to his left, never breaking stride, soaring into the Coliseum wall to haul the drive in before landing flat on his belly on the warning track.
It wasn't quite the marvel that his 2006 miracle diving catch against the Mets was...but pretty darn close.
http://www.usatoday.com/story/gameon/2012/10/09/coco-crisp-makes-amazing-catch-alds-game-3-athletics/1623589/
Joy R. Absalon-US PRESSWIRE

In the 5th inning of a tied Game 1, Yankee ace C.C. Sabathia induced a check-swing 30-footer off the bat of Baltimore's Lew Ford. Martin exploded from behind the dish and while falling to the ground, fired off a laser-beam one-hopper to first base. Teixiera, owner of multiple Gold Glove awards, made a very difficult scoop to retire Ford.
The Orioles wouldn't score that inning or any others. New York eventually won 7-2.
http://newyork.yankees.mlb.com/video/play.jsp?content_id=25360067&c_id=mlb&topic_id=vtp_must_c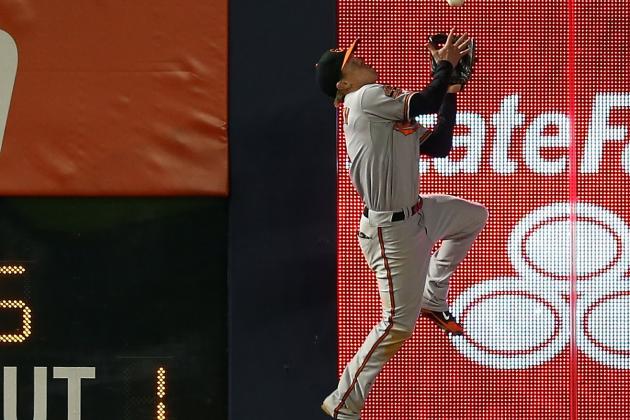 Elsa/Getty Images

McLouth's spectacular play kept his Orioles up 1-0 in a Game 4 they'd ultimately win 2-1 in 13 innings. The ex-All-Star Pirate, cut by the team earlier in 2012, raced down a drive off the bat of Yankee SS Jayson Nix in deep left field that would have possibly driven in Russel Martin from first base.
Instead, Martin—who'd already made it around 2nd base when the ball was caught—wound up easily doubled off first base 7-6-3 to end the threat and the inning.
http://baltimore.orioles.mlb.com/video/play.jsp?content_id=25388557&topic_id=37975632&c_id=bal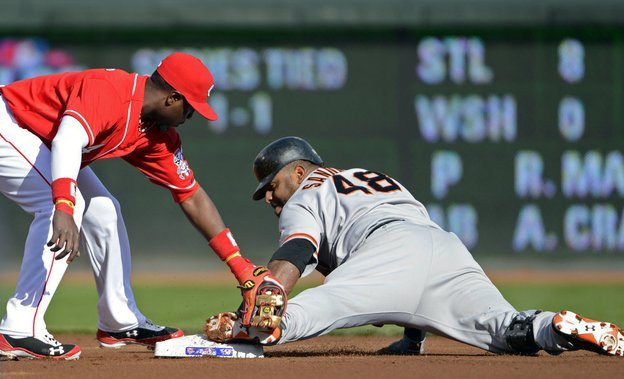 It's no secret Brandon Phillips is a walking defensive highlight reel. Sprawls, dives, leaps, flips, barehands—he is less a second baseman than an athletic artist.
When his final highlight reel is produced one day, a special spot must be reserved for a heads-up play made by Phillips during Game 1 of the '12 NLDS.
Gregor Blanco of the Giants bunted with two outs in the 6th. Reds 3B Scott Rolen's off-balance throw went down the line toward the corner.
But the Reds star 2B proved he's not just in it to make SportsCenter by diving onto his belly to corral the wild throw, holding Blanco at first base–which is where he was soon stranded. Up 3-1 at the time, the Reds went on to win 5-2, with three of those runs driven home by Phillips.
http://mlb.mlb.com/news/article.jsp?ymd=20121006&content_id=39543942&vkey=news_cin&c_id=cin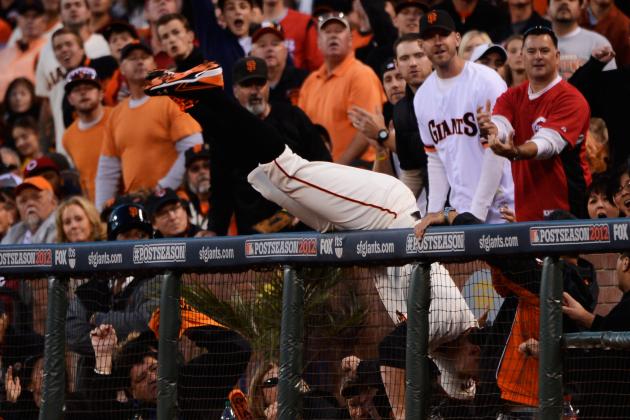 Thearon W. Henderson/Getty Images

As seats get closer and closer to fields and players become bolder and bolder, we are seeing an increase in over-the-rail catches, equal parts dangerous and awesome. Giants 3B Pablo Sandoval made an amazing such catch in the division clincher that seemed untoppable.
Enter The Giraffe.
Second-year 1B Brandon Belt risked life and limb for his pitcher Matt Cain in the very first inning of the playoffs. Reds SS Zach Cozart popped up to the right side, toward a section of slightly-below-field-level premium seats. Belt, known for his defense, was unfazed by the impending danger as he went completely heels over head to snag the ball.
http://sanfrancisco.giants.mlb.com/news/article.jsp?ymd=20121006&content_id=39549050&vkey=news_mlb&c_id=mlb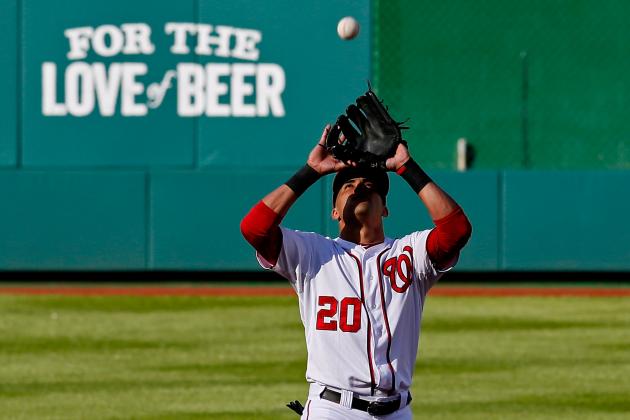 Rob Carr/Getty Images

Desmond makes the list courtesy of a play he made on St. Louis PH Matt Carpenter in the top of the 9th inning of an NLDS Game 4 knotted at one.
Carpenter popped a full-count pitch to shallow left, headed for the "triangle." SS Desmond, the only Nat with any hope of catching it, did exactly that with an over-the-shoulder grab, the momentum of which sent him sprawling backwards onto the ground.
Later, Jayson Werth sent everyone home with a solo walk-off home run.
http://washington.nationals.mlb.com/video/play.jsp?content_id=25386823&topic_id=37975482&c_id=was
Reds' OF Ryan Ludwick's diving catch to rob Brandon Belt (Game 1, CIN @ SF, NLDS)
A's 2B Cliff Pennington's over-the-shoulder catch of an Austin Jackson pop (Game 1, OAK @ DET, ALDS)
O's RF Chris Davis' corner catch of Curtis Granderson's deep foul (Game 1, NYY @ BAL, ALDS)
Giants' LF Xavier Nady's diving catch of Jay Bruce's shallow pop fly (Game 2, CIN @ SF, NLDS)
Reds' 2B Brandon Phillips' full-extension dive on a Brandon Belt grounder (Game 5, SF @ CIN, NLDS)
and, any you the reader may suggest as list-worthy...