MLB Awards: Predicting the Winners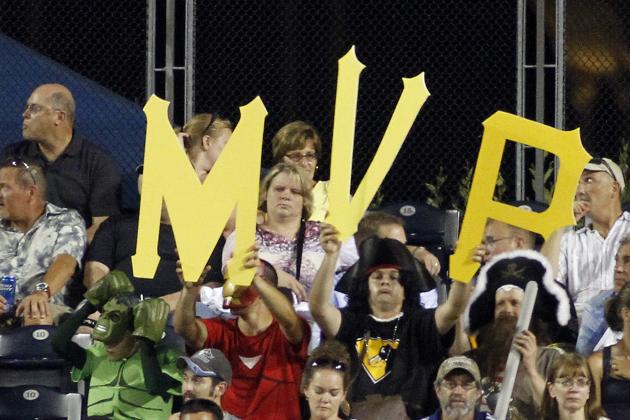 Justin K. Aller/Getty Images

The 2012 baseball season was one of the most memorable of all-time. History was made seemingly every week, some big-name players hung up their cleats and it was the first season with the second Wild Card slot in play.
In a season that has seen so many crazy twists and turns, it's only natural that most of the major award races will be coming down to the wire.
Aside from American League Rookie of the Year, which is more of a sure thing than Mariano Rivera in the ninth, you can argue that the rest of the major awards have at least two legitimate, big-time candidates.
And you know what? I WILL argue. Thank you very much.
Read on to see who I think will win both MVP, Rookie of the Year, Cy Young and Manager of the Year awards.
Begin Slideshow

»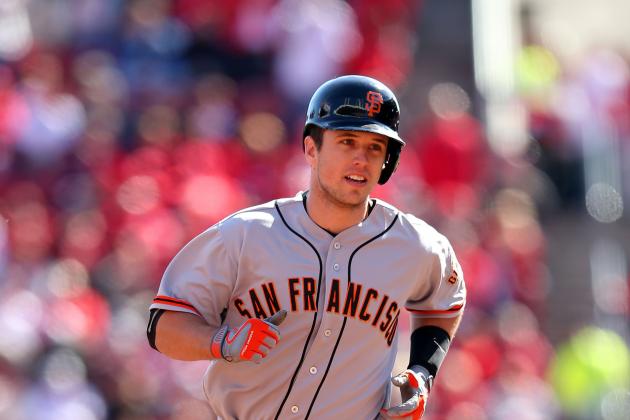 Andy Lyons/Getty Images

The Contenders
Buster Posey, Giants (.336 avg./24 HR/103 RBI)
Andrew McCutchen, Pirates (.327/31/96/20 SB)
Ryan Braun, Brewers (.319/41/112/30)
The Winner
Buster Posey is the first National League catcher in a million years to win the batting title, and he was undoubtedly the biggest spark plug to the Giants' running away with the NL West. Once Melky Cabrera was suspended, Posey stepped it up a notch, saving his best for the second half.
Even though McCutchen and Braun had better power numbers and were more valuable on the bases, they fell short of the playoffs. Usually, I hate that argument. For example, last season, Matt Kemp was the clear-cut winner of the MVP because he led almost every single statistical category. He lost to Braun, whose team made the playoffs.
The difference this season is that these three guys are all splitting categories, and in that event, I side with the guy who reached the postseason. Braun and McCutchen are both good defensive outfielders too, but Posey is one of the better catchers in the game, a far more important position in my opinion.
If the voters needed any more convincing, Posey's clutch grand slam against the Reds in the clinching game of the NLDS should take care of that.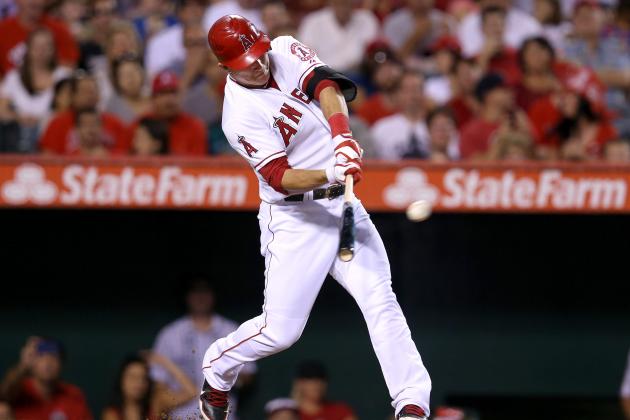 Stephen Dunn/Getty Images

The Contenders
Mike Trout, Angels (.326/30/83/49)
Miguel Cabrera, Tigers (.330/44/139)
The Winner
I'll be sure to receive a ton of crap for this one, but Mike Trout is my American League MVP. I realize Cabrera won the Triple Crown—the first winner in the American League since 1967—but I have a beef with everyone crowning him MVP because of it.
First of all, there's precedent for this. Out of all the Triple Crown winners in the past, most did not win MVP in the same season. Hard to believe, yes. But I think 2012 is another one of those seasons. Without a doubt, Cabrera is the best overall hitter in baseball. But to be the most valuable player, there needs to be more considered.
The things that Mike Trout did defensively and on the basepaths are unprecedented. He robbed at least four home runs and is most likely taking home a Gold Glove in his rookie season. No other player has ever hit .325 with 30 homers while scoring 125 runs and stealing 49 bases. It's never, ever been done before. The Triple Crown has been achieved.
Yes, Cabrera's team made the playoffs. They also won 88 games in a weak division. The Angels won 89 in the best division in the league, including holding the best record in the majors from the day Trout was called up to the end of the season. Whether you believe in the stat of Wins Above Replacement (WAR; basically, how many wins a player is worth), Trout was almost four points higher than Cabrera.
I rest my case.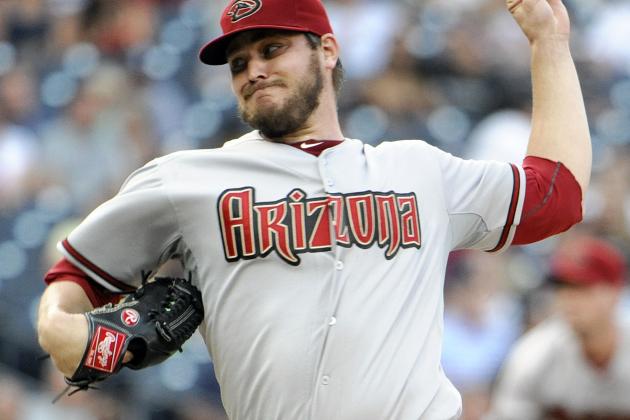 Denis Poroy/Getty Images

The Contenders
Wade Miley, Diamondbacks (16-11/3.33 ERA/1.18 WHIP/144 K)
Bryce Harper, Nationals (.270/22/59/18)
Todd Frazier, Reds (.273/19/67)
Norichika Aoki, Brewers (.288/10/50/30)
The Winner
Today on the TBS broadcast of the Reds and Giants game, one of the announcers said the National League rookie race would come down to Frazier and Harper. Personally, I was a little ticked off. Forget that the Reds and Nationals both made the playoffs, the guy that needs to win is Miley.
He was the rock of that Arizona rotation this season, pitching more consistently than even aces Ian Kennedy and Trevor Cahill. When Miley started dominating early in the season, I figured it was one of those things when opposing hitters just hadn't seen his stuff yet.
Game after game, Miley proved me wrong. He continued his dominance throughout the entire regular season. I'm not one to buy into wins as an important stat for a pitcher, but 16 wins in a rookie season is not something you ignore. The ERA is fantastic and the WHIP is respectable, but what really stands out for Miley is his consistency.
Besides September, when he had a couple pretty rough starts, Miley never had an ERA in a month above 3.52.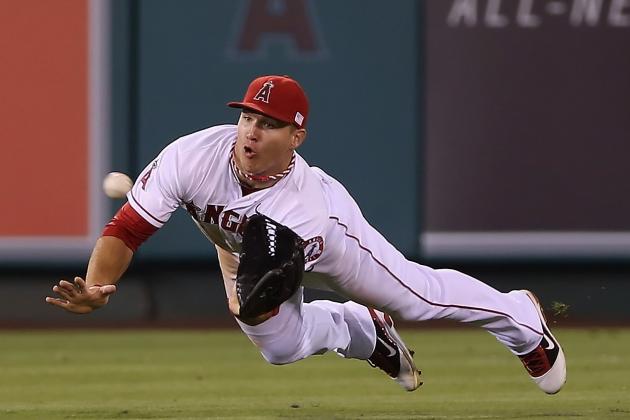 Jeff Gross/Getty Images

The Contenders
Mike Trout, Angels
The Winner
The guy above. See the American League MVP slide. There is no contest. Bad year to be Yoenis Cespedes, Jarrod Parker or Yu Darvish.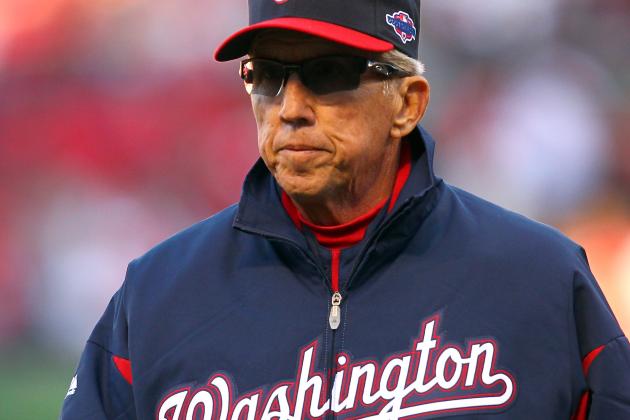 Dilip Vishwanat/Getty Images

The Contenders
Davey Johnson, Nationals
Clint Hurdle, Pirates
Don Mattingly, Dodgers
The Winner
All apologies to Hurdle and the Bucs, but if they had cracked the .500 barrier, I might have leaned his way. That being said, it's got to be Johnson, who led a perennial bottom-feeder to a National League East division title and 98 wins, most in the majors.
Before the season, Johnson told the media that if the Nationals didn't make the playoffs, he wasn't doing his job and that he should be fired. Bold, sir. Very bold.
But Johnson came through by pulling together a young team to put up runs for an incredible pitching staff on their way to a remarkable season.
Youngsters like Bryce Harper, Ross Detwiler and Steve Lombardozzi played huge roles in the Nationals' success, and you have to credit the seasoned skipper for helping along their development. And it's also a difficult task to keep those young guys focused and confident for 162 games.
With such young arms in the bullpen, there was a recipe for disaster, but Johnson kept those guys in lockdown mode to help the pitching staff rack up the best team ERA in the National League.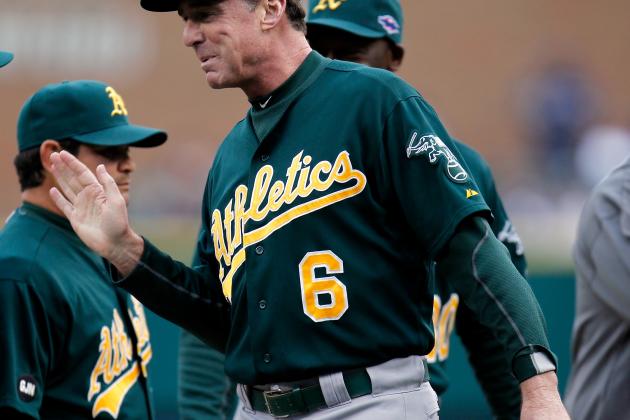 Gregory Shamus/Getty Images

The Contenders
Bob Melvin, Athletics
Buck Showalter, Orioles
Robin Ventura, White Sox
The Winner
This race came down to the wire, as both the A's and Orioles clawed their way into the playoffs with similar formulas: good, young pitching, strong bullpens, timely hitting and walk-off magic. Neither playoff run would have been possible without their respective managers leading the way.
So how do you choose? I'm going with Melvin, by a hair, for a couple reasons. First of all, the O's came into spring training with a more established roster. Sure, it didn't look great on paper, but at least they knew what they had in Adam Jones, Mark Reynolds, Matt Wieters, etc.
In Oakland, it was sure it had a good defensive catcher in Kurt Suzuki (since traded to the Nationals), and...well, that's about it. After trading ace Gio Gonzalez to the Nationals (for Derek Norris and Tommy Milone) over the winter, along with Andrew Bailey to Boston (for Josh Reddick) and Trevor Cahill to the Diamondbacks (for Jarrod Parker, Ryan Cook), I thought it was toast.
Eight months later, the A's are reaping the benefits of those trades (not to mention the signing of Cuban rookie Yoenis Cespedes) in the postseason, as they won 94 games and secured an American League West title on the last day of the season. Melvin played a huge role pulling Billy Beane's rag-tag group together to turn them into the clutch, inspired team they are now.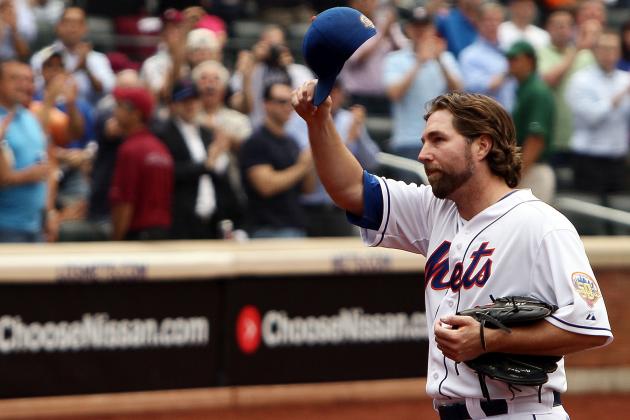 Alex Trautwig/Getty Images

The Contenders
R.A. Dickey, Mets (20-6/2.73/1.05/230)
Clayton Kershaw, Dodgers (14-9/2.53/1.02/229)
Gio Gonzalez, Nationals (21-8/2.89/1.13/207)
Kris Medlen, Braves (10-1/1.57/0.91/120)
Matt Cain, Giants (16-5/2.79/1.04/193)
Kyle Lohse, Cardinals (16-3/2.86/1.09/143)
Craig Kimbrel, Braves (42-45 SV/1.01 ERA/0.65 WHIP/116 K)
The Winner
All of the above have really strong cases for the award this season, but the two that stand out to me are Dickey and Kershaw.
For me, it's a toss-up. And the reason the coin lands on Dickey is two-fold. First of all, he won 20 games on a really bad team. Second, he primarily throws a knuckleball.
The fact that Dickey dominated this season mostly just throwing a knuckler is beyond me. It's a lost art in baseball today, and Dickey has mastered the pitch in ways we have never seen. Though Kershaw led the league in ERA and WHIP, just missing his second straight pitching Triple Crown by one strikeout, he has to come up short.
I'm the biggest Kershaw fan in the world, but I can not discount what Dickey meant to the New York Mets this season. I'm not picking him to win the Cy Young because of his great story. It's simply because I believe he was the best, most consistent pitcher in the league overall in 2012.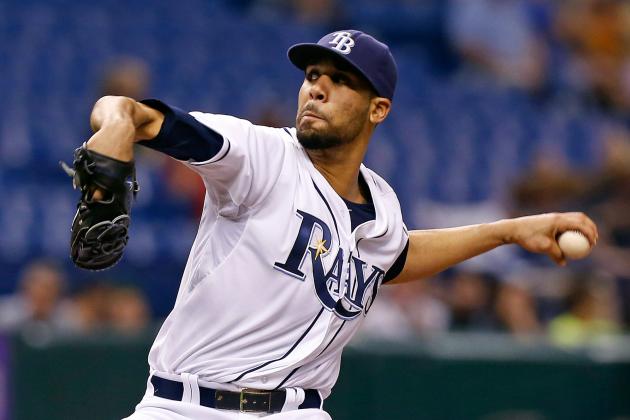 J. Meric/Getty Images

The Contenders
David Price, Rays (20-5/2.56/1.10/205)
Justin Verlander, Tigers (17-8/2.64/1.06/239)
Jered Weaver, Angels (20-5/2.81/1.02/142)
Felix Hernandez, Mariners (13-9/3.06/1.14/223)
Chris Sale, White Sox (17-8/3.05/1.14/192)
Fernando Rodney, Rays (48/50 SV/0.60 ERA/0.78 WHIP/76 K)
The Winner
Again, I'm not much one for believing in wins being a controllable stat for the starting pitcher. That being said, Price and Verlander were absolutely dominant this year and separated themselves from the pack at the end of the season. At least enough for me to compare their numbers, and their numbers only, in order to pick a winner.
Though last year's Cy Young and MVP winner had the most strikeouts in baseball and a slightly lower WHIP than Price, he did suffer from a higher ERA. Most splits were very similar. In fact when you add it all up, you can hardly make a choice based on anything like K per 9 or walk to hit ratio.
So it comes down to the numbers we see in every box score. I believe the fact that Price did crack the 20-win mark will push him over the edge with voters, but it could go either way. I'm sticking with my gut here and giving Price his first career Cy Young over Verlander, but it's going to be extremely close.
Comment below to debate. I welcome any and all opinions on this year's MLB awards. You can also hit me up on Twitter @Jamblinman if you want to be publicly embarrassed in an argument.