Which Young NFL Quarterback Should Fear for His Job the Most?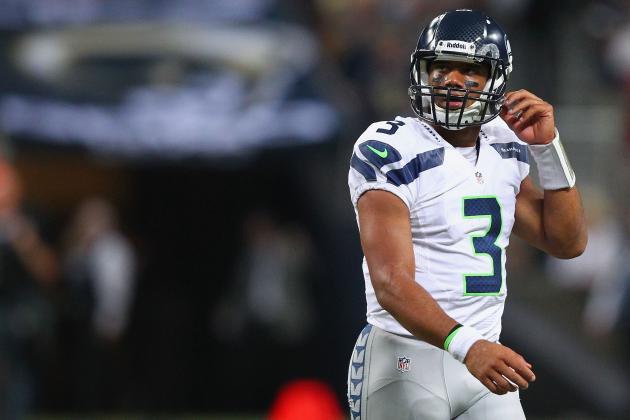 Dilip Vishwanat/Getty Images

There are a variety of young NFL quarterbacks starting for teams throughout the league right now, but a select few should be seriously fearing for their jobs at the moment.
This shouldn't come as a surprise, considering the quarterback position is quite possibly the most important position in sports. A great quarterback can make a mediocre team infinitely better, while a horrible quarterback can ruin an otherwise elite roster.
NFL teams are taking risks to find the young quarterback of the future, and recently, with surprising success. Others are not and are paying the price for their mistakes.
When we think of young quarterbacks, we have narrowed it down to rookies and second-year starters—10 to be exact. In the following slideshow, we have ranked the 10 youngsters in order, with No. 10 having absolutely nothing to worry about and with No. 1 in serious danger of losing his job in a matter of weeks.
Let's take a look at which quarterback should fear for his job the most.
Begin Slideshow

»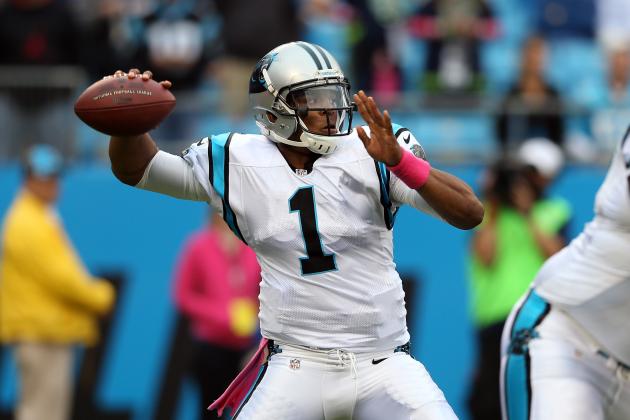 Streeter Lecka/Getty Images

Cam Newton will likely never lose his job in Carolina. As a former No. 1 overall pick, Newton has lived up to expectations in a big way, even with his slow start this season.
Newton is still a raw player physically and especially mentally, but he had one of the best rookie seasons in NFL history last year with over 4,000 passing yards and 21 touchdowns through the air, and another 706 yards and 14 touchdowns on the ground.
Cam has been sluggish so far in 2012, and his childish antics and attitude have not helped his cause, but he is in no way close to having to fear for his job. Even if he has a mediocre season when it is all said and done in 2012, it will be chalked up to a sophomore slump and the Panthers will continue to build around him rather than seek his replacement.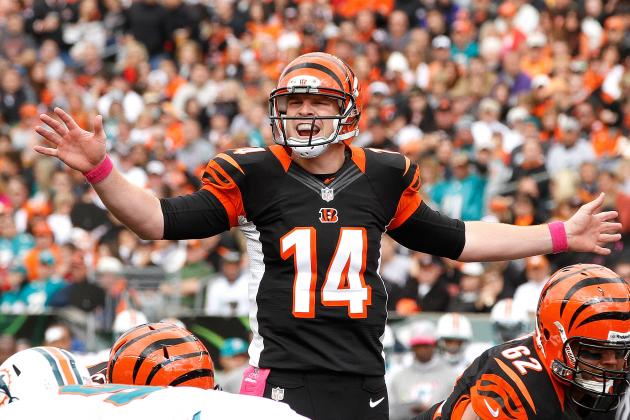 Tyler Barrick/Getty Images

Like Cam Newton, Andy Dalton has nothing to worry about in Cincinnati. The first rookie quarterback selected outside of the first round to start in all 16 games his rookie season, Dalton is the long-term starter for the Bengals.
Dalton was efficient, as he orchestrated a West Coast offense for the Bengals on the way to the postseason in 2011. He threw for over 3,000 yards and 20 touchdowns while playing like a seasoned veteran and allowing Cincinnati to forget about Carson Palmer rather quickly.
In 2012 so far, Dalton has been magnificent. The Bengals are not close to being the best team in the league, but his play has, for the most part, been good enough to win the team some games, and that won't change moving forward.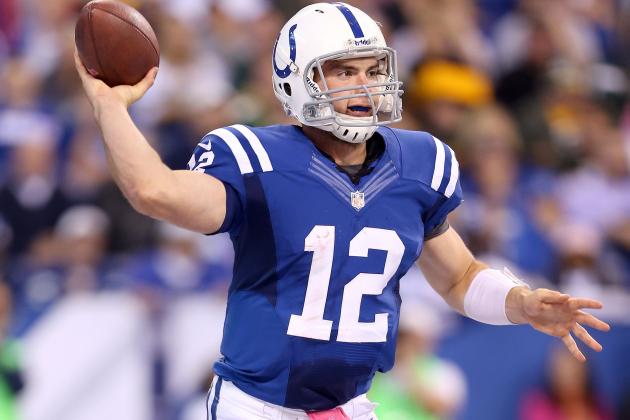 Andy Lyons/Getty Images

Andrew Luck has been exactly as advertised for the Indianapolis Colts as the No. 1 overall pick in the 2012 NFL draft.
To date, Luck has thrown for 1,208 yards with seven touchdowns and five interceptions while leading the Colts to a 2-2 record—an impressive feat considering the severe lack of talent surrounding the franchise quarterback.
Only the tip the iceberg of his potential has been shown so far, and thanks to his upside and the hope that the Colts organization will build around him properly, he should turn out to be one of the better quarterbacks in the NFL.
Luck is the next big thing at the position.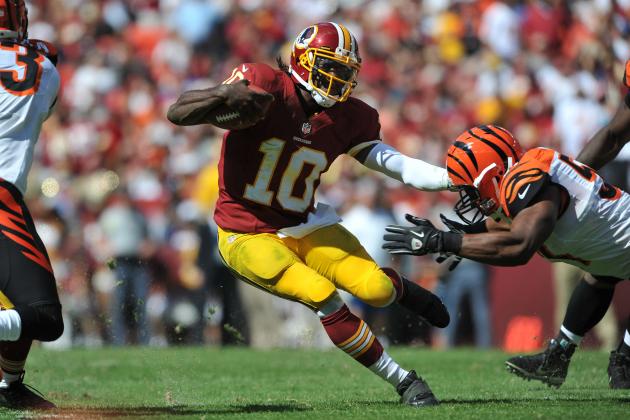 Larry French/Getty Images

Robert Griffin III was a hot commodity in the 2012 draft, and the Washington Redskins were the team to completely break the bank to get the versatile quarterback.
Griffin has performed well so far and eased the minds of those who felt he may not be worth everything Washington gave up to land him. He has thrown for 1,161 yards and four touchdowns with only one interception. He has also rushed for 241 yards and four touchdowns.
The only issue with Griffin moving forward is his health, as his willingness and ability to beat teams with his legs leaves him susceptible to big hits from defenders—the perfect example being Week 5 when he was knocked out of a game with a concussion while scrambling.
Griffin vs. Andrew Luck could be the next big quarterback debate in the NFL, but only if Griffin can stay healthy enough to be on the field.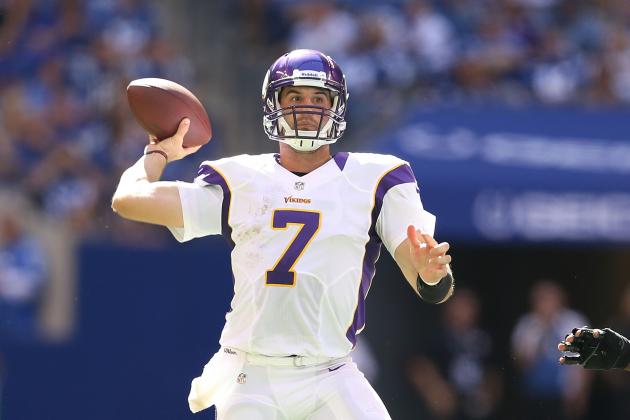 Andy Lyons/Getty Images

Christian Ponder was mediocre at best in his rookie season with the Minnesota Vikings, but has turned things around in a big way so far during his sophomore campaign.
In 2011, Ponder only appeared in 11 games and struggled, throwing for 1,853 yards and 13 touchdowns and interceptions. He showed enough to keep a starting job moving forward, and his potential combined with the lack of weapons around him meant the move made sense.
Ponder has looked great thus far with 1,082 yards, six touchdowns, two interceptions and a pristine 95.5 quarterback rating—all while shocking the NFL with a 4-1 record sitting atop the NFC North.
It appears as if Ponder has managed to pull off a reverse sophomore slump, and his job doesn't look to be in jeopardy for a long time.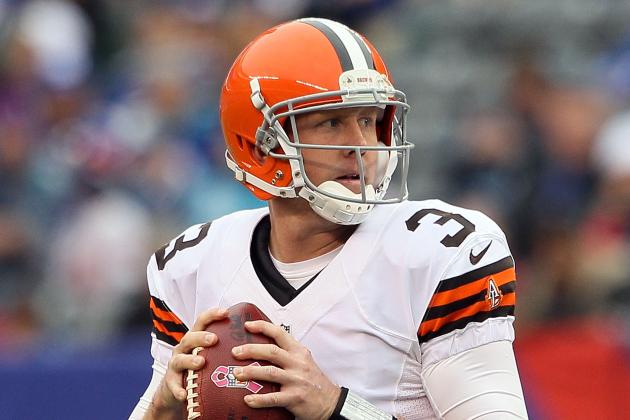 Alex Trautwig/Getty Images

The Cleveland Browns took a massive gamble by going with Brandon Weeden in the first round of the 2012 NFL draft considering he is already 28 years old and played in a pass-heavy collegiate offense.
So far, the gamble has paid off for Cleveland.
While the Browns have yet to win a game in 2012, Weeden has mostly looked like a solid option and the right choice for the Browns. His stats are not sexy, with 1,288 yards, five touchdowns and nine interceptions, but he has shown flashes of being a big-time quarterback.
It doesn't help matters for Weeden that he may have the worst set of receivers in the NFL. Still, the positives have outweighed the negatives for Weeden so far, and the only way he loses his job if the Cleveland front office decided to ditch a quarterback after two years again instead of building up the talent around the position.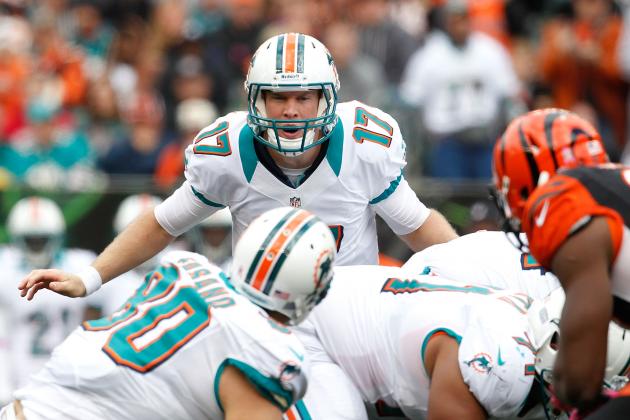 Tyler Barrick/Getty Images

Ryan Tannehill is similar to Brandon Weeden in that the Miami Dolphins took a major risk in selecting him in the first round of this past draft, but it was a great risk considering the upside.
So far, Tannehill has a similar statistical story to Weeden as well—nothing sexy, but he has shown serious flashes of being a franchise quarterback when given time to throw the ball and hit his receivers.
With 1,269 yards and two touchdowns to go with six interceptions, Tannehill doesn't look great on paper, but when watching the film, it is easy to conclude that the naysayers that criticized Miami for taking him so high were incorrect.
Tannehill has a bright future in the NFL, but the issue will continue to be the team around him. It's hard for a quarterback to put up impressive numbers with mediocre receivers, and the QB position always receives the brunt of the blame.
Tannehill has a lot of developing to do, but if he falters, the fanbase and front office will be quick to oust him in favor of another young option in the upcoming drafts.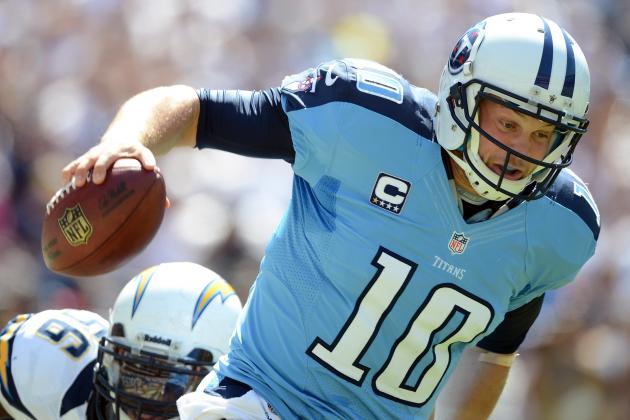 Harry How/Getty Images

The Tennessee Titans elected to go with second-year quarterback Jake Locker over the savvy veteran Matt Hasselbeck this offseason.
That proved to be a big mistake.
The Titans are 1-4 and one of the worst teams in the league so far with Locker at the helm. Granted, Locker has only essentially played in three games due to injury, but he has only thrown for 781 yards with four touchdowns and two interceptions.
In Locker's case, his statistics look better than he has actually performed. He has decent weapons around him such as tight end Jared Cook and receiver Kenny Britt, but Locker has failed to improve on his rookie campaign.
Locker is hurt now, but when he is healthy, he may not have a starting position. It's early to give up on Locker, but so far, he hasn't shown much in the franchise quarterback department.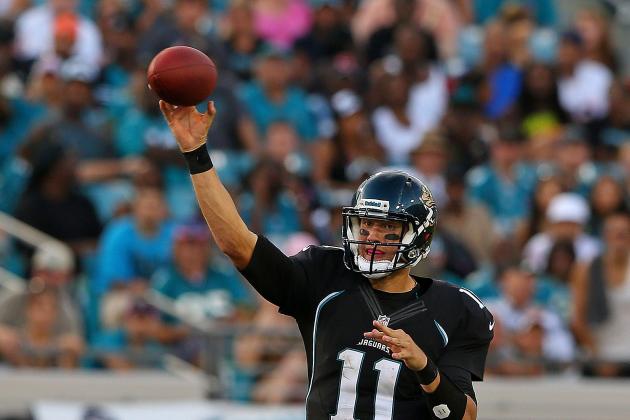 Mike Ehrmann/Getty Images

Blaine Gabbert was laughably bad in his 2011 rookie campaign, with the highlight being his 65.4 quarterback rating in 15 appearances. Or it may be his 50.8 completion percentage. You decide.
This year, Gabbert has not been much better. In five starts, he has only thrown for 796 yards, five touchdowns and three interceptions. His rating is an improved 73.3, but he is still only completing 55 percent of his passes.
In the process of Gabbert's horrific performances, the Jacksonville Jaguars have only mustered a 1-4 record. He's not the only reason the team is struggling, but he is a big part of it.
If Gabbert has another horrible season this year, he could lose his job rather quickly. The 2013 draft class is littered with talented quarterbacks, and some may be a better option than Gabbert in Jacksonville management's eyes.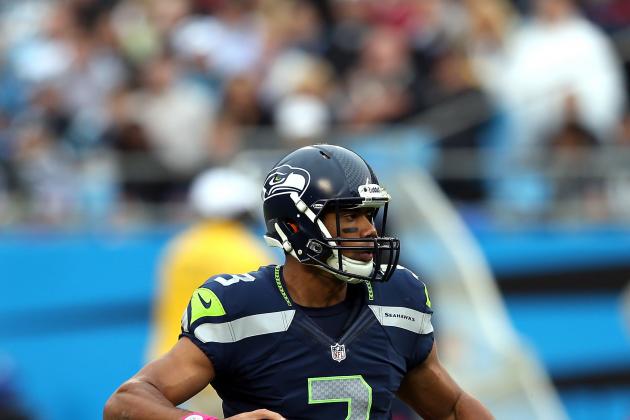 Streeter Lecka/Getty Images

Rookie Russell Wilson was the surprise of the 2012 offseason when he managed to steal the starting quarterback job for the Seattle Seahawks despite only being a third-round selection in the past year's draft.
Wilson has been mediocre at best so far, leading the Seahawks to a 3-2 record while throwing for 815 yards, five touchdowns and six interceptions.
The issue for Wilson is that he is on a short leash as a rookie. Behind him is veteran Matt Flynn, who learned the position from, arguably, the best quarterback in the NFL in Aaron Rodgers.
The Seahawks brought Flynn in during the offseason for a large amount of money, as the organization expected him to be the starter. The money and expectations for Flynn mean that Pete Carroll and Co. will not hesitate to make a change at any point.
Wilson has the chance to have a long NFL career, but with his recent play and the situation he currently finds himself in, he could be out of a starting gig as early as next week.