Arizona State vs Colorado: Live Scores, Analysis, and Results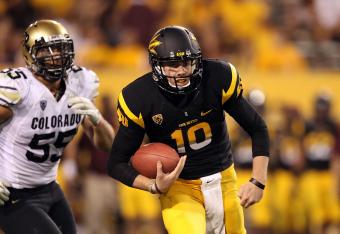 Christian Petersen/Getty Images
Arizona State 51, Colorado 17

Final

That's all folks. In the words of Denny Green, "They are who we thought they were" and by "them" I mean Colorado and by "they were" I mean not very good.
The Sun Devils took care of business and are now primed for a huge Pac-12 showdown against Oregon next Thursday.
Don't forget to check out the 10 Things We Learned From the Sun Devils in Their Win over Colorado for an in-depth analysis of the Sun Devil's performance.
Next week is when we really find out what this Sun Devil team is made of.
Final: ASU 51, Colorado 17. Sun Devils improve to 5-1, 3-0. Up next: No. 2 Oregon.

— Doug Haller (@DougHaller) October 12, 2012
And that's the game, my friends.
If you're an Arizona State fan, congrats and good luck next week.
If you're a Colorado fan, the sun will come up tomorrow, but your team will still not be very good. Keep your head up.
Well, I hate to say I told you so, but I definitely told you so. It was fun while it lasted but Arizona State's talent just completely outlasted Colorado's will.
From the very beginning of the 2nd half you could tell it was the beginning of the end and ASU completely owned that half in every phase of the game.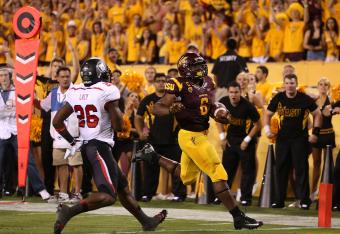 When it rains, it pours, people. Cameron Marshall just found the end zone from 14 yards out.
Arizona State 51, Colorado 17
3:34 left in the 4th Quarter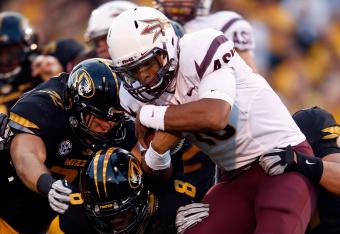 Michael Eubank comes in relief for Taylor Kelly and looks pretty good on his feet.
Considering he's only a freshman, he may have a bright future.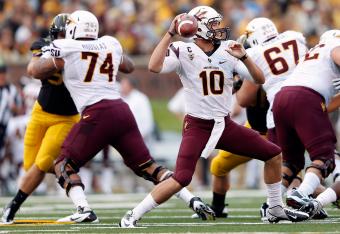 ESPN names Taylor Kelly the player of the game and it's hard to argue with that.
The guy played an almost flawless game.
Back-up QB, Nick Hirschman throws an interception and this has officially gotten ugly.
The FCC may want to take this violent showing off the air at this point.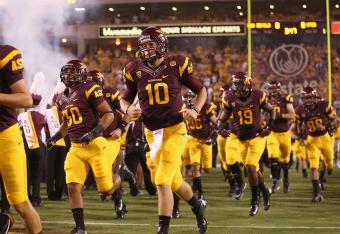 Every once in a while, the Colorado defense steps up and looks like a legitimate group.
Then they get completely gashed and you realize they're a below average unit.
Arizona State scores again, this time on a 31 yard connection from Kelly to Richard Smith and for some reason I feel guilty for watching this "game".
Arizona State 44, Colorado 17
5:38 left in the 4th Quarter
Colorado goes for it on fourth and one and gets completely stuffed. You know that moment in a game where you can tell it's over and the lack of talent has caught up to one team?
Yeah, that happened a while ago.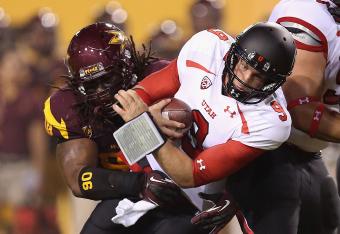 Watching this game, I can't wait to see this Sun Devil D-line go up against Oregon's high octane offense.
Should be an entertaining match-up.
ASU produces a field goal on that drive and this game is just about over.
Arizona State 37, Colorado 17
9:27 left in the 4th quarter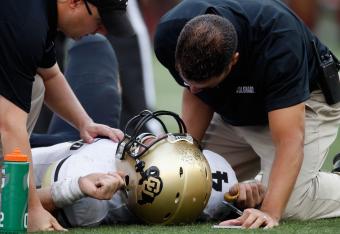 At this point, I have nothing but pity for Jordan Webb.
The dude is just getting destroyed back there.
I'm a genius people!
Not really, it was pretty obvious that was a fumble and now Colorado will start their drive at the Sun Devil's 34 yard line.
Fans were upset that the refs kept the Buffaloes from returning the fumble and I don't blame them. It could have been a big play and they don't get to see their team make too many of those these days.
Uh-oh. ASU just fumbled and the refs blew the play dead. Could have been a fumble recovery for a touchdown.
It was close but I expect this to be overturned.
Here's a noteworthy stat line for you. Taylor Kelly is 16 for 22 for 260 yards and four touchdowns.
Oh yeah, and he has 12 rushes for 38 yards.
Another Sun Devil sack and that brings up a fourth and long and the end of the 3rd quarter. The Buffaloes have struggled to protect Webb, and that is the sole reason they have not moved the ball.
I really hope Webb gets a nice hug from someone after the game. He deserves/needs one.
Colorado's defense gets a big stop and if this offense can't put the ball in the endzone here, they'll be in big trouble.
Marion Grice has been a touchdown machine tonight. Great receiver out of the backfield.
Marion Grice always seems to find a way to make something out of nothing.

— Doug Haller (@DougHaller) October 12, 2012
Yeah, there's this thing called a screen, and Colorado seems to have never seen one before. It's been working all night and it just worked again for yet another touchdown pass to Marion Grice.
By the way, Marion Grice himself has almost put up as much points himself as the entire Colorado offense.
Arizona State 34, Colorado 17
5:19 left in the 3rd Quarter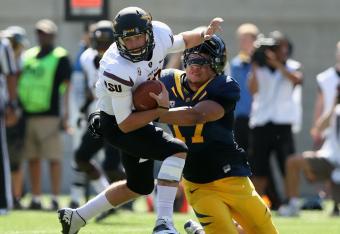 I've been extremely impressed with Taylor Kelly tonight. The guy's an effective runner, great thrower on the run, and a complete gamer. Hard not to like this guy.
Colorado is forced to punt and that's a pretty big disappointment. They had a good chance to grab some serious momentum with any kind of score.
Arizona State starts the drive on their 24 and a TD on this drive could be crippling.
After a big sack, the Buffaloes force a three and out.
I definitely didn't see that coming. Colorado has been getting gashed all game but they came up big there.
Well put. Webb has made some nice throws but seems to lack the consistency to win this game for the Buffaloes.
For every nice pass Jordan Webb throws, there seems to be two like the last two he has thrown killing this drive.

— Kyle Ringo (@KyleRingo) October 12, 2012
Webb was almost chasing a Sun Devil defender. Risky throw there and the Buffaloes will punt. They did however, pick up a few first downs and flipped the field so there's that, I guess.
Simply, but so effectively put. Rashad Jones is indeed fast and completely blazed past the Buffaloes kick coverage on that TD.
Rashad Ross is fast. Returns second-half opening kick-off 100 yards. Special-teams makes a big play. ASU, 27-17.

— Doug Haller (@DougHaller) October 12, 2012
This article is
What is the duplicate article?
Why is this article offensive?
Where is this article plagiarized from?
Why is this article poorly edited?

Arizona State Football: Like this team?