Grading the Dallas Mavericks' Current Two-Deep Depth Chart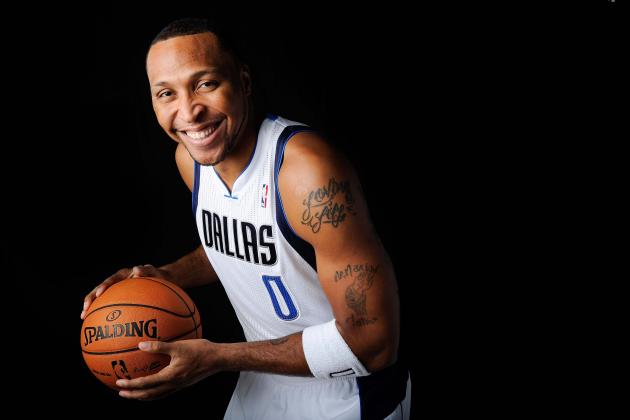 Jerome Miron-US PRESSWIRE

The roster turnover has left the Dallas Mavericks as a shell of their 2011 Championship team, but with an infusion of youth and new faces, this team has given fans small glimmers of hope in each of their first three preseason games.
Dirk Nowitzki's apparent knee injury has put a damper on the beginning of this 2012-13 season for the Mavericks. If Nowitzki isn't at full strength, this team could be sniffing the lottery.
But the diagnosis on Europe's greatest player of all time isn't all negative, and it's likely Dirk, whether or not he chooses to opt for surgery, will be available for the season opener against the heavy Western Conference favorite Los Angeles Lakers.
After two preseason games abroad and one in the Mavs' own backyard, expectations and grades are here for this squad and their eight new faces.
Keep reading for grades at each two-deep position on the roster, including the seldom-used reserves, based on how each has performed after these early preseason tests and how that is expected to translate into the regular season.
Begin Slideshow

»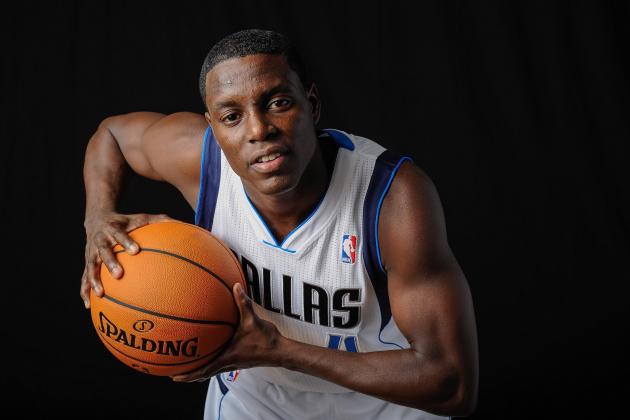 Jerome Miron-US PRESSWIRE

Collison is faced with the impossible task of replacing Jason Kidd, one of the most dynamic point guards the NBA had the privilege of watching.
He's off to a great start, however, playing the most minutes of any player on the roster so far and setting himself apart as the clear frontrunner for the bulk of the minutes at the position.
The reason Collison avoids an A is due to some issues with the offense so far; he's missed a few pick-and-roll looks and hasn't been able to get the ball to Nowitzki or Chris Kaman where they like it just yet.
Those are things that come with consistency and practice time, something this team has had very little of. As of right now, though, Collison is this team's MVP. Of course, that's an absurd thing to say, but that statement proves that he's been every bit as advertised as the quick, penetrating guard Rick Carlisle wants to run his offense.
We'll continue to monitor the turnovers and small intricacies of the position, but so far the guard from UCLA is one of the bright spots of training camp and the preseason.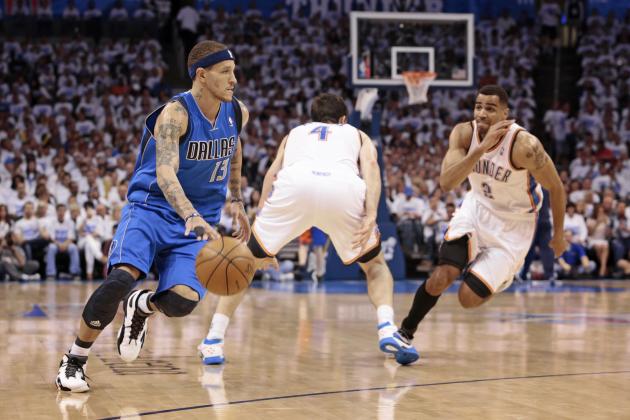 Brett Deering/Getty Images

Delonte West is suddenly the model of consistency for this Dallas team, as his toughness, veteran knowledge and intensity are welcome additions to a suddenly young group.
Other than Nowitzki, there isn't a player on this roster that coach Rick Carlisle trusts more than West, who will be expected to command the second unit on a nightly basis, and even occasionally seeing the starting lineup in a pinch.
However, news has emerged that he has been suspended indefinitely for conduct detrimental to the team, reportedly due to a locker room outburst following the 123-104 win over the Houston Rockets.
What West was yelling about is unclear; he played only 17 minutes against the Rockets, putting in two points and two assists before giving way to Dominique Jones and Jared Cunningham down the stretch of the team's first home preseason game.
This is exactly the kind of risk involved with West. When he's right, he can be a valuable veteran presence and versatile guard for Dallas. When he's not, Dallas is forced to deal with media distraction and the off-the-court issues that they need West to rid himself of. He gets a failing grade for his most recent outburst, although it might open the window for Jones or Cunningham to grab his minutes.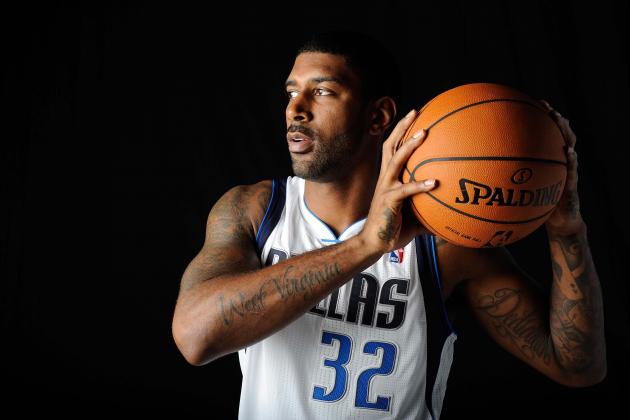 Jerome Miron-US PRESSWIRE

Although his defensive instincts have been good and you can tell he's fighting for coach Carlisle, O.J. Mayo hasn't found any offensive rhythm to date, scoring just one point in the 99-85 loss to FC Barcelona Regal.
Dallas expects much more from Mayo, whether he's being underpaid or not. Expected to pick up the 15-point-per-game average Jason Terry left behind on his way to Boston, Mayo is going to have to find a way to be more effective from the floor.
After three games, he's been more insistent on shooting from the three-point line than attacking the rim, which was a point of emphasis in signing the fifth-year guard away from the Memphis Grizzlies this offseason.
Some of that inconsistency has been attributed to the hand injury Mayo suffered in a freak accident while the team was in Barcelona. It's not expected to make him miss any significant time, but it's something the team will monitor for the rest of the preseason.
He had a nice first half against the Rockets, shooting 3-of-6 from the floor and attacking the rim on his way to 10 points by halftime. He would finish with 20 points on the night, which is a huge step in the right direction toward his place in the pecking order of the offense.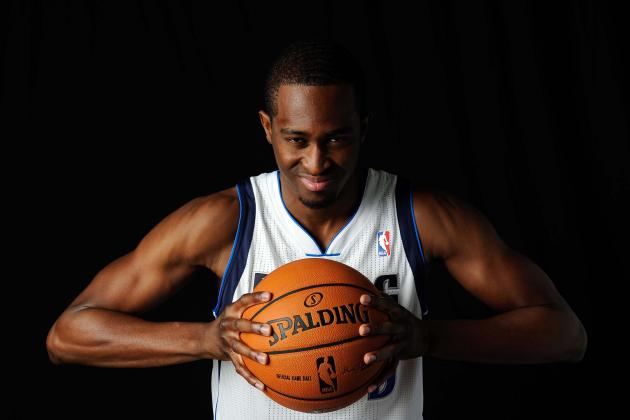 Jerome Miron-US PRESSWIRE

Dallas is going to give Roddy Beaubois every opportunity to prove that he was worthy of the "untouchable" label Mark Cuban gave him during his second season.
He can't do that if he's not on the court.
If Delonte West is Carlisle's most trusted player behind Dirk Nowitzki, Beaubois might be the guy he trusts the least. His latest ankle/foot injury happened during his team's first preseason game against Alba Berlin, when he went down towards the end of the third quarter.
Roddy can't do anything to dispel the theory that he can't put together a string of good games if he isn't on the court. He'll get an F while rehabbing from this injury, and it will stay that way until he returns from his latest setback in the final year of his rookie contract.
He was unavailable against the Houston Rockets on Monday night, but we'll continue to monitor the ankles of the young guard from Guadeloupe.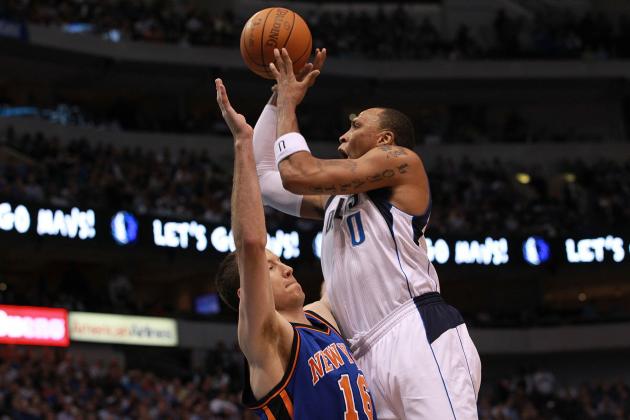 Ronald Martinez/Getty Images

Shawn Marion is my pick for most important player on this roster not named Nowitzki. Over the course of the last three seasons, his numbers have varied, but he always seems to put in 12 points and grab close to seven rebounds per game.
The biggest piece of the defensive jigsaw puzzle now that Tyson Chandler and DeShawn Stevenson are gone, Marion now shadows point guards, shooting guards and small forwards; he guards whoever his coach needs him to.
With Darren Collison and O.J. Mayo in tow, hopefully Marion can be more free on a night-by-night basis to not be tasked with the most taxing defensive assignment.
It's looking like another great season for Marion, who knows his role and relishes it. Those who doubted the $9 million he's making per season won't be able to doubt it after his time in Dallas is done, and the trade to acquire him might be one of the shrewdest in franchise history.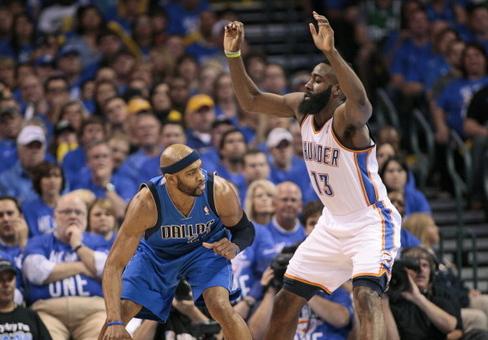 Brett Deering/Getty Images

Carter is no longer "half-man, half-amazing," but he's a very valuable veteran presence on this team. Almost exclusively a three-point shooter in the first preseason game, Carter showed he can still get to the basket and did some good things against FC Barcelona.
If you look at Rick Carlisle's substitution patterns, it's not hard to infer that Carter will play roughly 20 minutes per game during the regular season, and those minutes will be split about 80-20 between small forward and shooting guard.
Right now Carter is a road block to Jae Crowder emerging as a building block for the franchise, which is why he gets a slightly lower grade than he probably should. However, he can still play intelligent, hungry basketball and will be on the court until the coaching staff thinks Crowder is a better option.
Carlisle doesn't normally trust rookies, so you can bet we'll be seeing a lot of Carter three-point attempts this season. Here's hoping he trends toward the 40+ percent shooting during the first half of 2011-2012, and not the second half.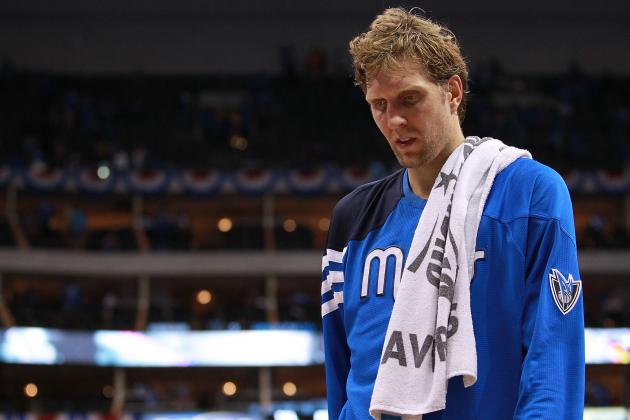 Ronald Martinez/Getty Images

Plagued by a sore knee and unable to find his rhythm during his trip overseas, Dirk sat out Monday's game against Houston with more problems. It seems like he's inching towards having surgery, which would sideline him at least until the season opener, if not longer.
Nowitzki is dealing with three new starters, the knee problems and trying to find a new role on this team that's been constructed to finally give him less responsibility in carrying the offense.
Questions are starting to pop up about his ability to play a full 82-game season, though, and after three possible games, Dirk has only seen the court once.
For now, Nowitzki is just another above-average player with creeping injury problems, hence the "C." Should he miss any regular season time or come back from potential surgery slow out of the gate, Dallas is certainly in for a rude awakening with the state of the Western Conference stronger than ever.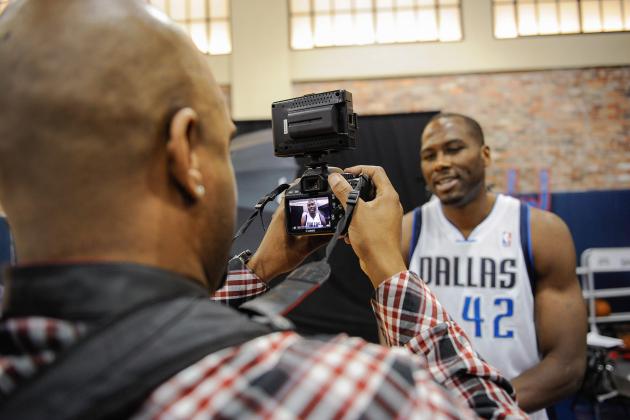 Jerome Miron-US PRESSWIRE

Elton Brand will split time with both Nowitzki and Chris Kaman at the power forward and center spots, and will be the first big man off the bench in virtually all substitution patterns for coach Carlisle.
So far, he's shown a nice ability in the pick-and-roll game, and found his range on some free-throw line extended jump shots after the offense has created penetration opportunities.
Dallas needs Brand to hold that role of enforcer that Tyson Chandler, and to a lesser extent Brendan Haywood, held over the past few seasons. He's had a string of nice preseason games, and seems to be fitting in nicely with his teammates.
Brand looks like a key pickup for this Dallas team right now, especially with the injury bug looming on both starters Nowitzki and Kaman. He could end up being the pivotal piece in carrying the frontcourt should either miss any time, and so far he's shown plenty of motor and good basketball left in his tank.
Jerome Miron-US PRESSWIRE

Kaman hasn't seen a quality offensive center through three games, but he's been every bit the tough, smart and gifted scorer the Mavs hoped they were getting on a one-year contract.
Bouncing back from an early training camp injury earned him some major brownie points in my book, and that toughness will be key if Dirk Nowitzki is forced to miss any time.
It's looking more and more like Kaman and Elton Brand will rekindle their relationship from their L.A. Clipper days, and if the preseason is any indication of what kind of offensive player he can be for this team, then the Mavs cerainly got some good value on his contract for a starting center.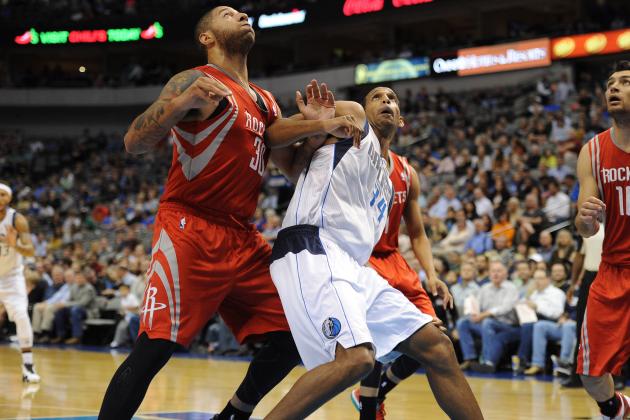 Jerome Miron-US PRESSWIRE

After a quad injury forced him out of the first preseason game in Germany, Wright took some adjustment time in getting back to his normal, high-flying self.
He found it during the the Mavs' preseason inter-squad scrimmage and again against the Rockets on Monday night. He's a weapon for guards O.J. Mayo and Darren Collison off penetration, and has developed a nice ability to finish around the rim.
Again, playing no real threats to the rim, we'll have to see if the offseason program has helped to beef up Wright to play against bigger centers. His playing time faltered in the first-round series against the Oklahoma City Thunder, losing coach Carlisle's trust and not playing much down the stretch of the 4-0 OKC sweep.
With Bernard James behind him, you can bet he'll be under the microscope to expand on his bounce-back season of 2010-2011. If he doesn't, he could very quickly find himself in the "spark-plug" role rather than the true backup one.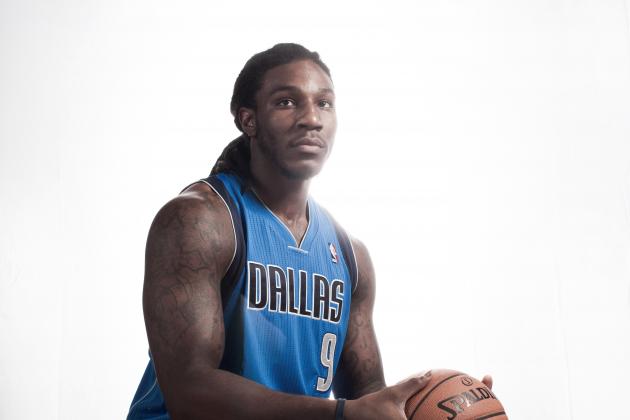 Nick Laham/Getty Images

This Jae Crowder fellow is going to make it hard on Rick Carlisle. He's a high-energy, high-effort player that seemingly jumps the electricity in the building up a few notches when he's on the court. In only 14 minutes and change against the Rockets, Crowder put in 20 points and stuffed the box score down the stretch.
Crowder gets an A, as does Dominique Jones, who looks hungry to capitalize on Rodrigue Beaubois' injury by stepping into that reserve-guard role. He's also a stat-stuffer and distributor that looks comfortable for the first time in three seasons. Can he help this team against elite competition, though? That remains to be seen, and with Delonte West now suspended, he'll get first crack at the reserve point guard minutes.
Rookies Jared Cunningham and Bernard James figure to both be under the learning curve, although both have showed flashes of why they were chosen in the 2012 draft. Cunningham can be explosive, but needs time to adjust to the speed of the NBA, while James will likely receive more opportunities to contribute in a somewhat injury-filled frontcourt.
The wild card of the group is Dahntay Jones, who some though would be a DeShawn Stevenson-like presence for this team coming in from Indiana. He doesn't have a role right now, but like Stevenson during the championship season, that could all change in a flash.
So, there you have it. After three games, plenty of positives and negatives for this new-look Dallas team. The biggest storyline is Dirk's knee, so make sure you're checking in with Bleacher Report for all the latest updates on the German star and when he will suit up this season.