Detroit Tigers vs. Oakland A's Game 5 Press Box Diary and Live Chat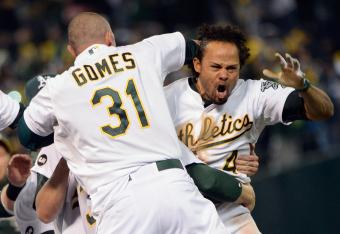 Greetings, for the third straight day, from Oakland, California.
One way or another, the American League Division Series between the Detroit Tigers and the Oakland A's is going to come to an end tonight. The A's forced a Game 5 with their epic comeback in the ninth inning of Game 4 against Jose Valverde, and they'll look to finish the job behind rookie right-hander Jarrod Parker.
There's just one problem: Parker will be opposed by none other than Justin Verlander, the reigning AL MVP and Cy Young winner.
Complicating matters is the weather. It's a dark, cold, ominous day in Oakland. I can't say I've ever set foot in Detroit, but this certainly looks like Detroit weather.
Hopefully, there will be no rain and the show will go on.
Either way, our show will go on. We had some fun with a live chat during Games 3 and 4, so we're going to have another live chat. Leave me your baseball questions in the comments section below, or you can send them to me via Twitter.
I'll also be chiming in with notes, quotes and anecdotes from my perch here in the O.co Coliseum press box. I shall be candid, though not overly so.
Updates will appear as soon as I post them. Welcome aboard.
That's your ballgame, folks. Tigers win 6-0 behind a complete-game shutout by Justin Verlander.
Gonna head down to the interview room in just a bit. If you don't hear from me again, it's been real.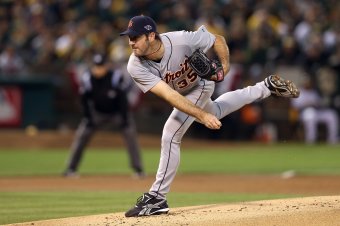 Ezra Shaw/Getty Images
Welp, this game appears to be over.
No, really. The game actually appears over this time. Justin Verlander has a 6-0 lead through seven innings, and the A's haven't come close to touching him all night. He's pitching the game of his life, which is saying something seeing as how he's, you know, Justin Verlander.
It's pretty clear that he's going to be the story when this one is in the books, so I'm cranking out some Verlander worship stuff as we speak while also prepping for the postgame press conferences.
The A's had a magical season, but it's going to be over very soon.
[Jinx?].
Cue the between-innings Gangnam Style silliness.
Damn you, stadium audio people. Go ruin a song that sucks. Like, you know, Sweet Home Alabama or something.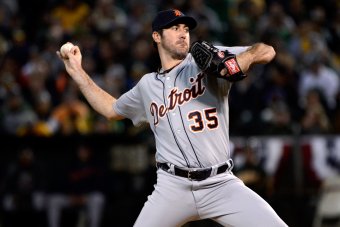 Thearon W. Henderson/Getty Images
Through three innings, it's already obvious that it's going to take something drastic for the A's to get any runs off of Justin Verlander. He's dealing, already sitting comfortably in the mid-90s with his fastball and hitting his spots.
Jarrod Parker, meanwhile, is pitching well, but he shot himself in the foot in the third inning with a couple wild pitches.
Since the Tigers are up 2-0, my 2-1 prediction for the A's has already been blown to hell. That's the Rymer jinx at work.
Because, you know, I'm sure it has nothing whatsoever to do with simple incompetence.
The game is officially underway. I won't be posting that many updates throughout the course of the game, but if you want commentary/snark, you can follow me on Twitter.
Zach Dupuis casts his vote for the Tigers:
@zachrymer Tigers win 6-2

— Zack Dupuis (@ztiberiusd) October 12, 2012
I'd say he has a 1,000/1 chance of getting the score right, but there's a 50 percent chance he'll get the winning team right.
Hey, the great Theo DeRosa agrees with me:
@zachrymer 2-1 A's on a walkoff

— Theo DeRosa (@Phisportsfan11) October 12, 2012
Great minds occasionally reach the same conclusions at random. Science has no explanation for it.
With first pitch just about a half hour away, I may as well go ahead and give a prediction.
For starters, the A's aren't doing much against Justin Verlander tonight. He played them like a cheap fiddle in Game 1, and I doubt anything is going to change in this game. Verlander's the best pitcher in the game, and he put all those nonsense big game questions to rest in Game 1.
But Jarrod Parker will hold his own. It's not always pretty, but he has a tendency to get through six innings on a regular basis while only allowing two or three earnies.
I have a gut feeling this game is going to be decided by a big home run. Both clubs can hit 'em, and the Tigers have a guy who's due for one in Miguel Cabrera.
The final score will be 2-1.
And the A's will be their winners. The difference will be their bullpen, which is so, so, so much better than Detroit's bullpen.
Don't get too excited, A's fans. You see, there's this thing called the "Rymer jinx"...
And now for some notes from the Tigers, for your reading and pondering pleasure:
Tigers starters have posted quality starts in each of the first four games of this series, compiling a 1.75 ERA in the process.
Miguel Cabrera has now reached base safely in all 15 postseason games he's played with the Tigers. His is the third-longest such streak in Tigers history behind Charlie Gehringer (16) and Hank Greenberg (18).
This is the eighth time in franchise history that the Tigers have had a series go the distance. They went 3-4 in the previous seven series.
Justin Verlander is 4-4 with a 2.47 ERA in nine career starts at O.co Coliseum.
So there's that. Go, tell the people.
A few interesting notes from the A's, for your reading and pondering pleasure:
The A's will advance to their 12th ALCS with a win tonight. Only the Yankees have played in more ALCS's with 14.
A's pitchers have struck out 30 Tigers in this series, and walked only five.
A's hitters, meanwhile, have already struck out 39 times. That's an A's LDS record.
Coco Crisp's walk-off hit in Game 4 was Oakland's first postseason walk-off since Ramon Hernandez's bunt in Game 1 of the 2003 ALDS against the Red Sox (I remember because I was there).
Game 4 was the second time in A's postseason history that they managed to erase a two-run ninth-inning deficit. The last time they did it was Game 5 of the 1929 World Series.
So there's that. Go, tell the people.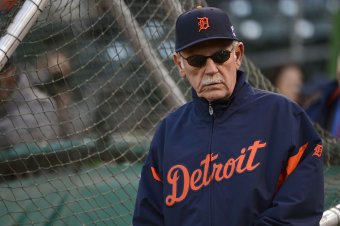 Thearon W. Henderson/Getty Images
Curious about what the mood of the Detroit Tigers is like ahead of this decisive Game 5?
So is Jim Leyland, actually. He said in his pregame presser that he's not much of a mingler regardless of the situation:
I would say they're pretty normal, to be honest with you. I usually don't go out there a lot in the clubhouse. I think that's their place, that's their house. I walk through once in a while...I'm not really sure what they're supposed to be doing. They do what they do every other day.
Are all managers like this?
I couldn't tell you, to be honest. I can tell you that Bob Melvin seems to be a mingler, as he seems to know his players inside and out. Plus, every player you talk to swears by Melvin's leadership. That kind of support doesn't come from nowhere.
But you know what they say. Different strokes. Personally, Leyland strikes me as the kind of guy who doesn't need to have intimate relationships with guys in order to command respect.
I'm admittedly just thinking out loud here. Take it for what it's worth.
Here's a good TV-related question from Ryan Sinclair:
The games so far this postseason has been great. But do you think that MLB is worried about ratings this yr? Not sure a B-more v Cards series is gonna bring in great numbers.
Do I think MLB is worried about TV ratings this year?
Yes. How do I know that? Because MLB is worried about TV ratings every year.
As with any other year, there are best- and worst-case scenarios. I'm think MLB would rather not see a A's vs. Orioles ALCS, and I actually wonder if Orioles vs. Nationals is actually the worst World Series matchup that could possibly happen. O's vs. Cards wouldn't be very great either.
The good news for MLB is that there's been a ton of excitement in these playoffs in all of the different series. The extra buzz can't hurt the league's cause.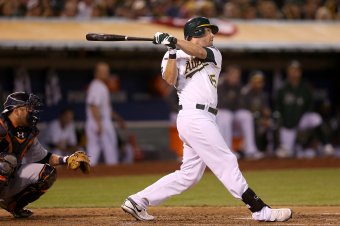 Ezra Shaw/Getty Images
FYI, Melvin has tweaked his lineup for tonight so that he has Seth Smith batting cleanup and Brandon Moss all the way down in the No. 7 spot.
Nothing too complicated as far as Melvin's thinking goes. He's just going with the proverbial "hot hand."
Not that Moss should worry. "We still have a lot of confidence in him," said Melvin.
Chris Carter, meanwhile, still hasn't logged an at-bat in this series. My guess is that he probably won't unless he goes up against Phil Coke or Drew Smyly and Leyland forgets to make a pitching change.
That's probably not happening. Wouldn't count on it, anyway.
During Bob Melvin's pregame presser, somebody beat me to the punch by asking what the team's demeanor is like after such an exciting win in Game 4.
His response:
I think the same as we've been. It's been the same thing here the last three games. We know we have to win. So you don't go any farther than today's game, and that's the way we'll remain as far as philosophy goes. It was a very exciting game. And we've to an extent seen that movie before, as far as the walk-off goes, but maybe not under the same circumstances as last night.
Par for the course. A UFO could land on Melvin's front lawn, and he'd come out and tell everyone that everything is all hunky dory.
For all we know, that actually happened.
Hmmm...Maybe I should ask him.
We have officially entered the nebulous two-hour window between the pregame press conferences and game time.
That means it's officially time for me to pass time however I can. My initial plan is to pour over the pregame stuff for any interesting information while simultaneously eating lunch and drinking about eight cups of coffee (it's been a long couple of days).
If you have any questions, by all means leave them in comments section or on my Twitter feed. I'd love to shoot the you-know-what to help kill the next two hours.
Just got back from Jim Leyland's pregame presser. Somebody there asked him what he thought of Joe Girardi pinch-hitting for Alex Rodriguez in New York on Wednesday night.
Before the question was even finished, Leyland interrupted and said, "I'm not pinch-hitting for Cabrera."
So there's that, just in case anybody had any sort of notion.
Perhaps the most interesting development of the day so far was Oakland's announcement that the tarps on the west side of the third deck at O.co Coliseum are going to come off if the A's make it to the ALCS. If the A's make it that far, there will be close to 11,700 extra seats up for grabs at $55 a pop.
A's manager Bob Melvin was asked about the club's decision at his pregame press conference. His response:
For me, it's going to be louder. We certainly need to get there first, [so we better not] get ahead of ourselves. Boy it's loud to begin with. I was having a tough time communicating with my coaches last night in the ninth inning, it was so loud. If you put another 12,000 people in, it's going to be deafening.
Game 3 drew over 37,000 people. Game 4 drew just over 36,000 people.
Melvin noted in his postgame press conference last night that 36,000 people sounds like about 56,000 people at the Coliseum. If the A's get 47,000 people, they'll sound like -- what? -- 68,000 people?
Something like that.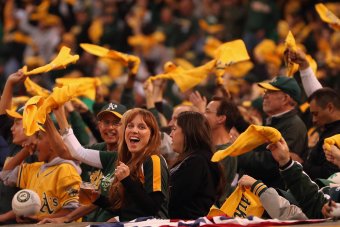 Ezra Shaw/Getty Images
I've got about 15 minutes to kill before Bob Melvin's pregame press conference, so I figure I'll share my story from Wednesday night.
Through the first eight and a half innings, Game 4 looked like it was going to go the way of the Tigers. In times like that, one is behooved to start outlining and generally pondering a story about the Tigers. A Detroit win would have been kind of a big deal, you know.
I wrote a rough outline of an article, and I had questions prepped for Jim Leyland and whatever players may have appeared down in the interview room after the game.
And then the A's ruined everything, albeit in a super-awesome and a super-exciting way.
There went my story. I immediately had to start scrambling to come up with a new one. Thankfully, it wasn't that hard to come up with an angle because the general energy of Oakland's comeback win pretty much guided all the writerly instincts that I have.
At any rate, I bolted down the interview room about two minutes after the game ended, got my quotes, came back to the press box, took some notes, and then I had to bolt for home before the last BART train left the station. I ended up finishing my piece at around 2:00 a.m. local time.
It was a hectic experience and a totally exhausting experience in the end, but it was good fun too. A good walk-off win puts everyone on edge.
This article is
What is the duplicate article?
Why is this article offensive?
Where is this article plagiarized from?
Why is this article poorly edited?