5 Rivalries That Should Have Had Hell in a Cell Matches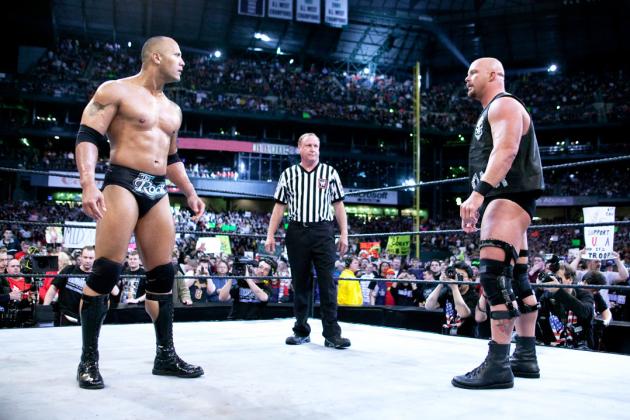 Photo From WWE.com
Before Hell in a Cell became another gimmick to strengthen one of WWE's second tier pay-per-views, the cell was the arena of choice to end the most intense feuds in WWE history.
Iconic moments, such as Mankind being thrown off the cell, Brock Lesnar leaving the Undertaker broken and bloodied, and Kane's inaugural appearance, have together crystallized the horror of the match. These memories helped create a special aura around Hell in a Cell matches, which further emphasized the importance of any match that was arranged for the structure.
It is a shame that those days have passed, as underwhelming outings such as DX against Legacy and Mark Henry going up against Randy Orton have shown.
Yet there are rivalries out there through WWE history that deserved a Hell in a Cell match—under its original menacing concept—but never happened. These five legendary feuds would not have been made better by the cell, as that is not the structure's purpose, but it would have created one last abiding memory.
Begin Slideshow

»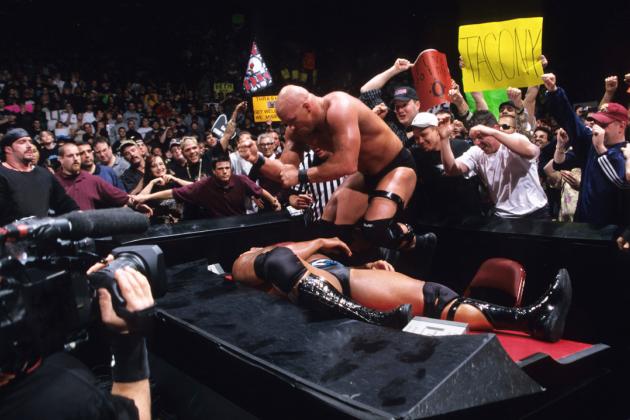 Photo From WWE.com
Weirdly, these two have been in a Hell in a Cell at the same time, as both men were involved in the six-man single-elimination Hell in a Cell at Armageddon in 2000.
However their great rivalry, probably the greatest between two wrestlers during the Attitude era, deserved a final hellacious showdown between these two men.
Their final encounter at WrestleMania XIX should have been the last great moment between those two warriors—although no one knew at the time that it would be the last time fans would see Austin in the ring at the WWE's showcase event—but the match never lived up to expectations.
Had the match been in a cell, then there would have been an extra level of danger that would have had both men at the top of their games. The fans were the best part of the real final match, so their participation would have also made it a truly special occasion that would have gone down in history alongside the first two battles between the men.
Of course there are many reasons why the WrestleMania XIX encounter could not have been a Hell in a Cell match.
Austin's neck, Rock's movie career and the desire not to overshadow the WWE title—in the good old days when the title really mattered—are all valid reasons for this impossibility, but there can be no doubt that such an epic feud deserved to finish on WWE's most iconic stage.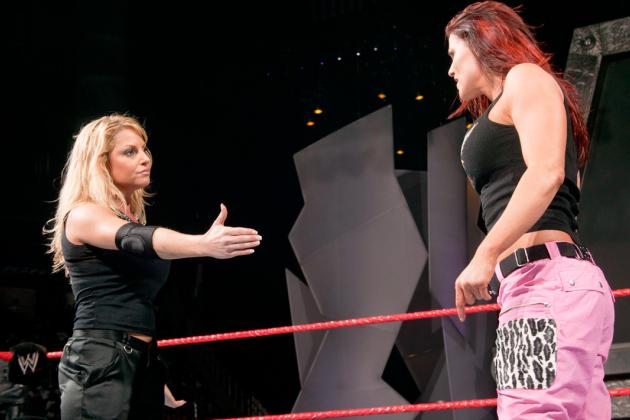 Photo From WWE.com
Possibly the only women's rivalry in WWE history that deserved the chance to have a Hell in a Cell match.
These two athletes, Trish Stratus and Lita, took women's wrestling to a high point in the WWE that is unlikely to be matched any time soon.
Neither woman had any fear of spilling blood or throwing themselves off the top rope. These battles inside and outside the ring could rival in quality any women's division in wrestling history.
Yet they never had that final showdown where fans could say that was the moment that took their feud from one that was memorable to one that will go down in legend. Their wrestling craft, in hindsight, has elevated these women into a place of high acclaim, but it would still have been great to have that one iconic match.
Hell in a Cell would have set their feud apart from any other in WWE women's wrestling history, and both performers were more than capable of living up to the standards set by the original few matches.
It was a missed opportunity that is unlikely to come around again until serious investment is made in training the women of WWE.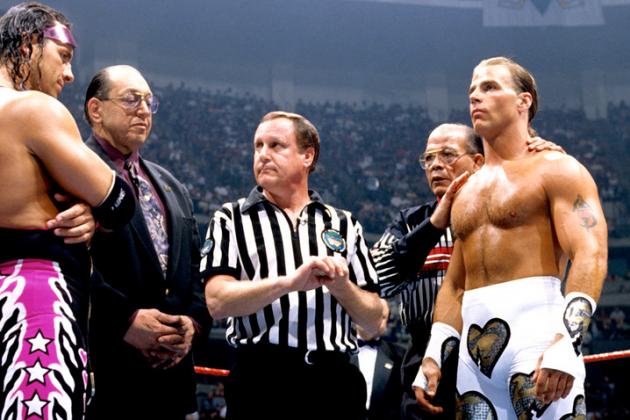 Photo From WWE.com
It was Shawn Michaels winning the inaugural Hell in a Cell that set up the infamous "Montreal Screwjob," where the line between wrestling and reality merged and the Mr. McMahon character was born.
For many, that night in Montreal will always be the iconic moment of a feud that defined mid-90's wrestling in the WWE and went far deeper than pure entertainment ever could. Yet one final showdown between the two men in that feared structure, hatred and all, could have been the greatest Hell in a Cell match of all time.
The high-risk environment would have offered unique opportunities for two wrestlers whose technique, rather than brawn, won over the audience.
Use of the cell beyond simply ramming an opponent into the side of the cage—or throwing them off the top—has been limited, and so, had these two had the opportunity then, originality in the cage may have been much higher.
The Montreal incident, Michaels' health and the fact that Hart had moved to another company all stood in the way of the match happening, but it would still have been the cherry on the top of one of wrestling's greatest feuds.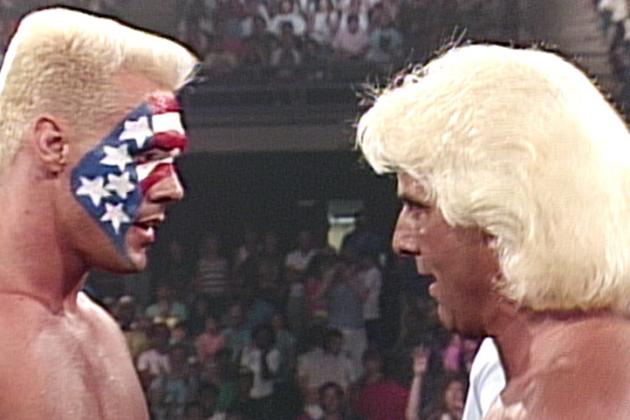 Photo From WWE.com
Over the twenty-plus years these two men have been feuding, the one structure that they have never encountered is Hell in a Cell, yet it could have been the one that brought the best out of them both.
Ric Flair's iconic red blood would have surely flowed as the bigger, stronger Sting used the environment to his advantage, with Flair eventually finding some underhanded but brilliant way to even up the situation.
With every move creating a new level of danger in the audience's mind, they would have masterfully utilised crowd expectation to build to an inevitable big spot. The result would have left one man victorious with the other broken at his feet.
A match that could have gone down with the many other classics in their back catalogue, this would have done even more to build the status of the Hell in a Cell match itself.
Strictly speaking, both men are active wrestlers today and could have a final showdown in the WWE, but frankly no one would want to see that match as dreams of what could have been would be lost forever.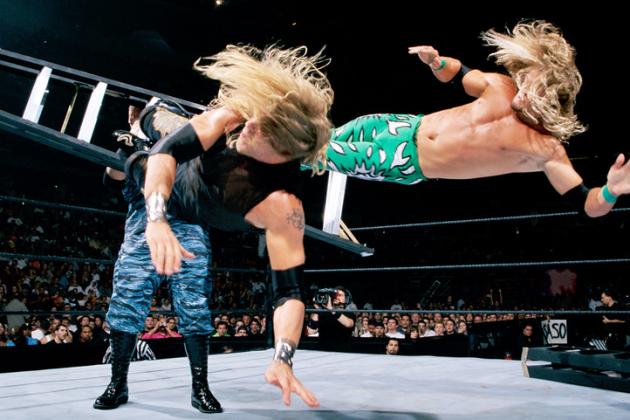 Photo From WWE.com
Many great tag teams have existed and fought long, brutal campaigns against one another, but none of them would have suited a Hell in a Cell match like these three teams.
These teams made tag team wrestling important again as their three-way battle for the gold took tag team wrestling somewhere it had never been before. In fact, the buzz they garnered using weaponry in those matches transformed the way all wrestlers used tables, ladders and chairs on the big stage.
Of course the teams were the perfect storm of styles to complement one another.
The Dudley Boyz had years of hardcore know-how from their time in ECW, while The Hardys provided the natural athleticism and stunt work learned in the backyard wrestling scene. Edge and Christian perfected the mix, with their classical but adaptable style helping stop the bouts turning into spot-fests.
Their two Tables, Ladders and Chairs matches have never been equalled, but a third and final highly anticipated meeting of these three teams in extreme circumstances never happened. Had the third meeting turned into a Hell in a Cell match, with tables, ladders and chairs being introduced through various methods in the no-disqualification environment, it could have blown all the other matches away.
This match, more than any other, could have taken Hell in a Cell's legacy to a new level.