Kansas vs. Oklahoma State: KU Seniors That May Lose Snaps to Youngsters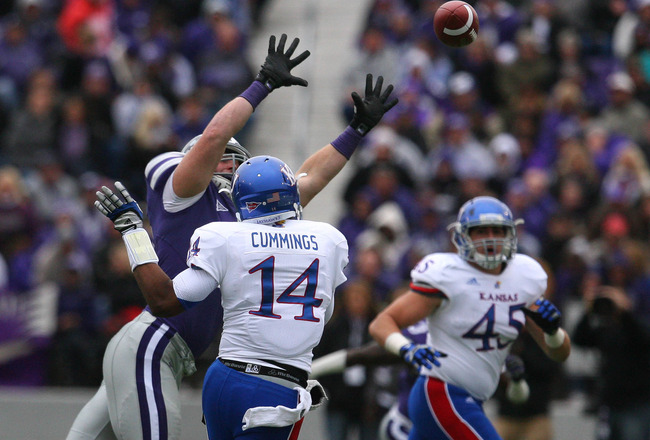 Scott Sewell-US PRESSWIRE
Kansas head coach Charlie Weis made waves and received harsh criticism from the national media following a practice on Sunday in which he worked with no seniors, a move many called disrespectful to his players.
Following a second half meltdown in Manhattan, in which Weis inserted redshirt freshman quarterback Michael Cummings for his golden boy and former Golden Domer Dayne Crist, the look to 2013 began almost immediately.
Without question Crist has been a major disappointment and a big reason for their 1-4 start, particularly in their two close losses to Rice and Northern Illinois.
Weis made it clear that the practice method used on Sunday was to separate the players that will be on the team next year from the players that will not be on the team next year. The previously mentioned whispers of disrespect are understandable and controversial, but are Kansas fans legitimately expecting them to win more than 1-2 additional games in a transition season?
Following the bland risk-free regime of Turner Gill that produced no optimism outside of an impressive victory over Georgia Tech in 2010, the Jayhawk faithful should be willing to swallow tough, risky decisions by Weis and Co.
Who wasn't blown away by a fake punt and fake field goal call on the same drive last Saturday?
Nineteen Kansas starters are upperclassmen: 13 seniors and 6 juniors. Tanner Hawkinson, Bradley McDougald and Daymond Patterson have provided consistency for four seasons, but the future of the KU program does not lie in their hands.
Cummings is just one youngster that could see additional playing time this weekend when Oklahoma State rolls into Lawrence...
Dayne Crist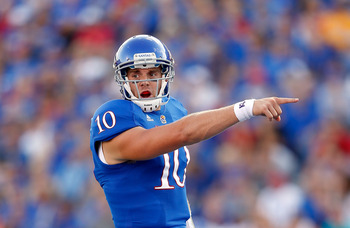 Jamie Squire/Getty Images
It is unclear if the move to the Killeen, Texas native Michael Cummings was an effort to avoid injury to Crist or to get Cummings much-needed development snaps as they look to determine who will compete with BYU transfer Jake Heaps for the starting job in 2013.
Weis has said he would rather lose by 100 trying to win than simply attempting to keep things close. Although the Cowboys are defensively challenged, much like KU, it is unlikely Cummings could lead the Jayhawks to victory in Lawrence, therefore Crist should continue to see all the snaps.
They have run the Wildcat formation with both Kale Pick and Christian Matthews, however, so letting the dual-threat Cummings take a few of those snaps might be in the cards against Oklahoma State.
Daymond Patterson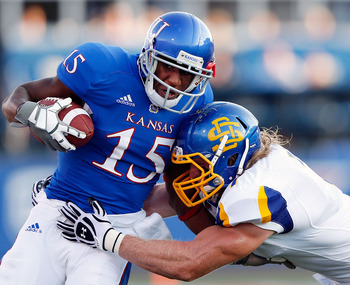 Jamie Squire/Getty Images
Senior wide receiver Daymond Patterson has provided fans with more than a few highlight reel catch-and-runs during his career, but the Jayhawks' leading receiver two seasons ago has struggled to get open and appears to have little chemistry with Dayne Crist.
True freshman Tre' Parmalee is resting behind Patterson on the depth chart, occasionally getting snaps on offense, but typically is regulated to special teams duty, a duty he botched last weekend with his third quarter fumble after KU had to pulled to within 12.
Catastrophic game-changing turnovers can destroy a youngster's confidence, but coaches tend to agree that the best way to move on is getting the ball in their hands immediately, especially when it is a promising and dynamic playmaker like Parmalee.
Look for Parmalee to continue his return role, but receive a couple targets as they look to pull the upset.
D.J. Beshears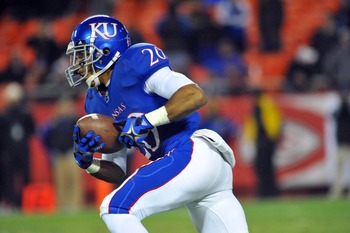 Denny Medley-US PRESSWIRE
Andrew Turzili officially lept above senior wide receiver D.J. Beshears on the depth chart two weeks ago, therefore this is not a wildly enthusiastic prediction, especially considering Turzilli's 212 receiving yards to Beshears' 44.
Beshears was also replaced on kickoff return with freshman Tre' Parmelee, but still remains on the field as the second returner. Could he also be replaced at this position with another youngster, such as JaCorey Shepherd, Josh Ford or even Tyree Williams?
It appears his productive time in Lawrence is dwindling and this week's game may give insight as to his role for the remaining eight games: None.
Keep Reading

Kansas Jayhawks Football: Like this team?