Creating an All-Star Team of the Top Arizona Fall League Prospects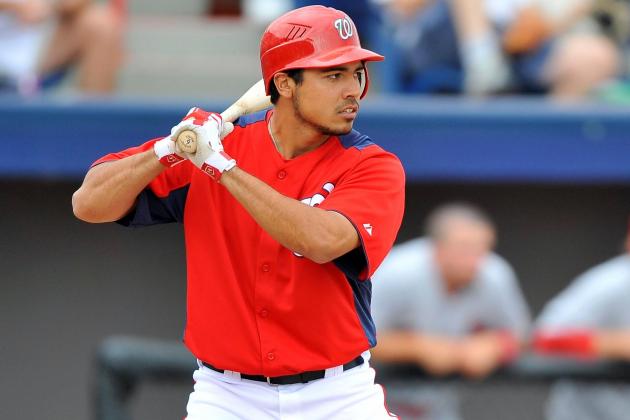 Brad Barr-US PRESSWIRE
3B Anthony Rendon (Nationals)
With the Arizona Fall League season now underway—it began Tuesday—I've decided to continue my coverage by highlighting more of its participants.
So, I've assembled a preseason All-Star team comprised of many of league's top prospects and, for good measure, included an "honorable mention" (or runner-up) as a means of recognizing additional players. However, due to the lack of legitimate pitching prospects, the bonus feature only applies to position players.
Begin Slideshow

»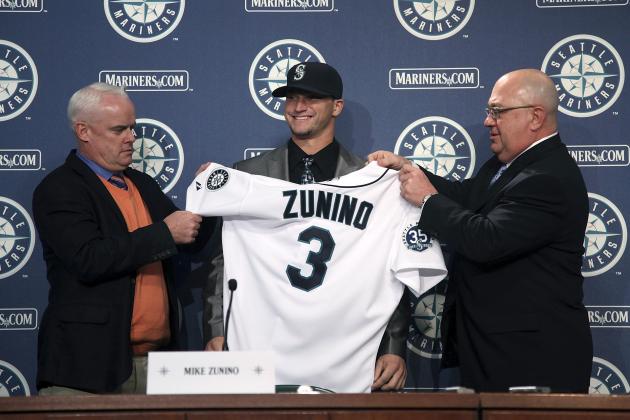 Otto Greule Jr/Getty Images

C: Mike Zunino, Seattle Mariners
Zunino enters the AFL after reaching Double-A in his first professional season, making the rare triple jump from Class-A Short Season. The 21-year-old absolutely raked, batting .360/.447/.689 with 13 home runs and 33/23 K/BB in 44 games.
Honorable Mention: Jacob (J.T.) Realmuto, Miami Marlins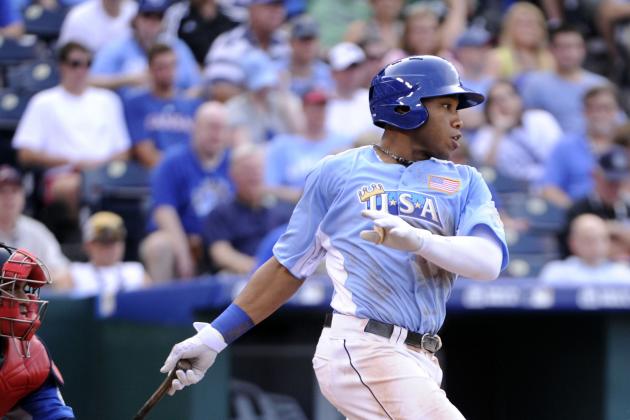 H. Darr Beiser-USA TODAY
1B Jonathan Singleton (Astros)
1B: Jonathan Singleton, Houston Astros
Singleton, the top first base prospect in the minor leagues, saw his power emerge in a big way this season as a 20-year-old at Double-A. The left-handed hitter batted .284/.396/.497 with 21 home runs and 131/88 K/BB, though he struggled against southpaws once again. Still, with no one in his direct path, it shouldn't be long until Singleton reaches the major leagues.
Honorable Mention: Hunter Morris, Milwaukee Brewers
2B: Kolten Wong, St. Louis Cardinals
Wong entered the season with a chance of reaching the major leagues by September, as he's a left-handed hitter who posted a .911 OPS in 47 games last season at Low-A.
However, Wong didn't produce as expected this season, batting .287/.348/.405 with nine home runs and 21 stolen bases in his age-21 season at Double-A. But a strong AFL and spring training could have him back in line for the job next season.
Honorable Mention: Grant Green, Oakland Athletics
3B: Anthony Rendon, Washington Nationals
Another player expected to contend for playing time late in the 2012 season, Rendon fractured his ankle in the second game of the season and didn't return until late July.
The top hitter in the 2011 draft class still proved to be advanced, reaching Double-A toward the end of the season. Finally healthy, he'll certainly have room to improve on his .233/.363/.489 (43 games) in his age-23 season.
Honorable Mention: Kaleb, Cowart, Los Angles Angels
SS: Nick Franklin, Seattle Mariners
After posting an .896 OPS in 56 games at Double-A to open the year, Franklin was promoted to Triple-A Tacoma, where he become one of the youngest (21) players at the level.
He was injured and under-performed in 2011, so it was nice to see him bat .278/.347/.453 over a full season against advanced competition. I still think he profiles more as a second baseman in the major leagues.
Honorable Mention: Hak-Ju Lee, Tampa Bay Rays; Javier Baez, Chicago Cubs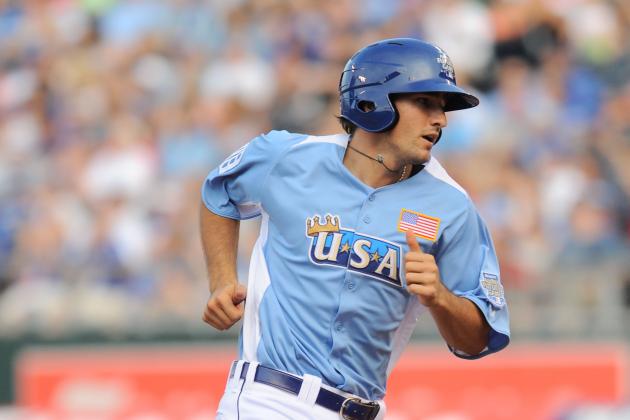 Denny Medley-US PRESSWIRE
OF Nick Castellanos (Tigers)
OF: Nick Castellanos, Detroit Tigers
It'll be interesting to see where Castellanos plays this season, third base or right field. He's listed on his squad's official AFL roster as an outfielder, so I'll roll with that until notified otherwise. He enjoyed a blistering start to the season as a 20-year-old in High-A, as he batted .405/.461/.553 in 55 games.
His plate discipline suffered following the promotion to Double-A, where he posted 76/14 K/BB in 79 games. Regardless, he's still one of the top offensive prospects in the minor leagues.
Honorable Mention: George Springer, Houston Astros
OF: Christian Yelich, Miami Marlins
One of the purest hitters in the minor leagues, I love both Yelich's swing and approach. The 20-year-old raked at High-A this past season, batting .330/.404/.519 with 46 extra-base hits in 106 games.
I expect Yelich to thrive in the AFL, and he could even move up a few spots in my rankings with a strong performance.
Honorable Mention: Joc Pederson, Los Angeles Dodgers
OF: Billy Hamilton, Cincinnati Reds
And so the Billy Hamilton in center field project begins. Finally moved from shortstop—a position that appeared noticeably unnatural—Hamilton now has an opportunity to reach the major leagues ahead of schedule.
After posting an .830 OPS with 155 stolen bases this season in 132 games between High-A and Double-A, it'll be important for the switch hitter to further his success in the AFL.
Honorable Mention: Brian Goodwin, Washington Nationals
Reserve OF: Trayce Thompson, Chicago White Sox
While there are more high-profile outfielders in the AFL than Thompson, he's a prospect who has a lot to gain in the competitive environment. While he'll always strike out a lot, his improved plate discipline and contact rate allowed him to finish the season at Triple-A.
Overall, the 21-year-old batted .253/.328/.482 with 25 home runs and 21 stolen bases while playing an excellent defensive center field. He's definitely a prospect to follow closely this fall.
Honorable Mention: Jake Marisnick, Toronto Blue Jays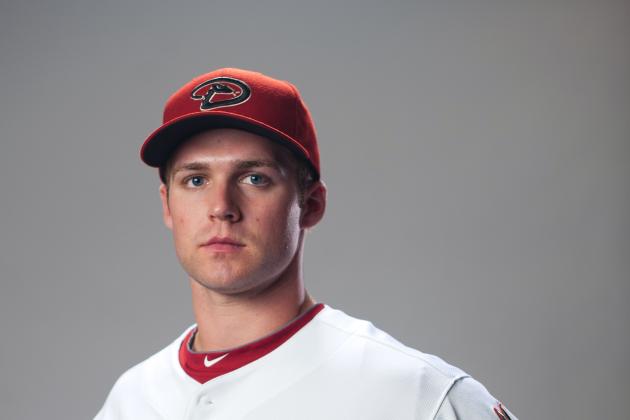 Rob Tringali/Getty Images

DH: Matt Davidson, 3B, Arizona Diamondbacks
Davidson received an aggressive promotion to Double-A to begin the year after posting a 147/52 K/BB at High-A last season. He responded well to the bump, posting an .836 OPS with 23 home runs while playing third base primarily.
Although they traded for Chris Johnson at the trade deadline, Davidson remains their third baseman of the future.
Honorable Mention: Matt Skole, 3B/1B, Washington Nationals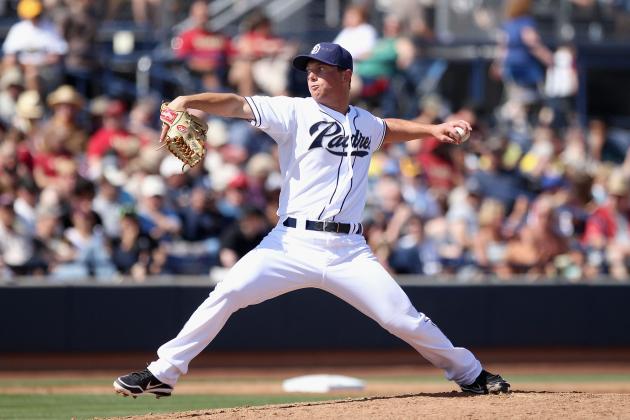 Christian Petersen/Getty Images
LHP Robbie Erlin (Padres)
SP: James Paxton, LHP, Seattle Mariners
One of many highly talented Mariners pitching prospects, the 6'4" left-hander spent the entire season at Double-A, though he did spend some time on the disabled list.
Paxton pitched excellent down the stretch of the season, finishing his age-23 campaign with a 3.05 ERA, 9.3 K/9 and 4.6 BB/9 in 106.1 innings.
SP: Andre Rienzo, RHP, Chicago White Sox
A Brazillian-born right-hander, Rienzo turned in a strong season despite serving a 50-game suspension for a performance-enhancing drug. He was promoted to Double-A upon his return and seemingly didn't miss a beat, and even made an impressive start for Triple-A Charlotte at the end of year.
The 24-year-old finished the season with a 2.53 ERA, 9.8 K/9 and 3.7 BB/9 in 103.1 innings spanning 18 starts.
SP: Jimmy Nelson, RHP, Milwaukee Brewers
The 6'6" right-hander enjoyed a breakout season while pitching for the Brewers' High-A and Double-A affiliate. Nelson showcased a heavy sinker and plus slider, though his changeup still needs some work.
Making 23 starts this past season, the 23-year-old posted a 2.83 ERA, 8.4 K/9 and 4.4 BB/9 over 127.1 innings.
SP: Jarred Cosart, RHP, Houston Astros
Cosart has excellent stuff in a fastball, curve and changeup that are all at least above-average offerings. In his first full season with the Astros, the 22-year-old right-hander reached Triple-A and posted a 3.30 ERA, 2.01 GB/FB rate and 92/51 K/BB in 114.2 innings.
SP: Robbie Erlin, LHP, San Diego Padres
An undersized left-hander, Erlin missed most of the season with elbow tendonitis. However, he returned in August and pitched extremely well to finish the season. He's more advanced than most of the pitchers in the AFL, but needs to make up for lost time in the regular season.
Erlin started 11 games for Double-A San Antonio this season, posting a 2.92 ERA, 12.4 K/9 and 2.4 BB/9 in 52.1 innings.
RP: Mark Montgomery, RHP, New York Yankees
After an exceptional professional debut in 2011 where he registered a 1.91 ERA and 16.2 K/9 in 28.1 innings, Montgomery took a step closer to the major leagues this past season with his performance at High-A and Double-A.
With a plus fastball-slider combination, the right-hander posted a 1.54 ERA, 13.8 K/9 and 3.1 BB/9 in 64.1 innings. Mark my words: Montgomery is the Yankees' future closer.