New York Yankees vs. Baltimore Orioles Game 4: Live Score, ALDS Analysis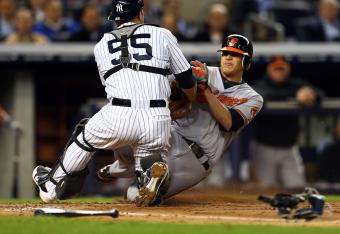 The Baltimore Orioles forced a Game 5 in the American League Division Series with a 2-1 win over the New York Yankees in 13 innings Thursday night.
J.J. Hardy drove in the go-ahead run with a double in the top of the 13th to drive home Manny Machado, who led off the 13th with a double.
The big news circulating around the stadium before the game was an announcement that Girardi's father, Jerry, died Saturday at the age of 81. Girardi will manage the team tonight.
Both teams got two runners on in the first inning but came up empty. Then the Orioles and Yankees traded wasted scoring opportunities in the third.
Nate McLouth ended the scoreless duel with a homer to lead off the top of the fifth. Robinson Cano tied it with an RBI groundout in the sixth.
FINAL SCORE
Orioles 2, Yankees 1, series tied 2-2
So Game 5 will feature CC Sabathia on the mound for the Yankees and Jason Hammel for the Orioles with both bullpens pretty well gassed after 25 innings the last two games.
A historical note: For the first time in the Division Series era, all four series will go the distance. The previous record was three five-game series and a four-game series in the 2011 Division Series.
Can't get over how bad the offensive execution was in this game and how many hitters are so terribly out of sync in this series. There were a ton of just awful at-bats.
And we'll see you this afternoon for Game 5. Chavez lines out to Machado to end it.
A-Rod removed for a pinch hitter. Eric Chavez the last chance for New York.
Ground out by Jones. Jim Johnson coming in to try to save it for the Orioles and force a Game 5 tomorrow ... or I guess it's later today now.
Clay Rapada in. Clay Rapada out. That was fast.
In breaking news, however, Derek Lowe is not, in fact, retired. He's coming in to pitch for the Yankees. I do believe the bottom of the bullpen barrel has been reached.
So now I'm wondering what Ichiro was doing in left field ... he looked lost on that fly ball by Hardy. Double, RBI, Orioles lead 2-1.
An actual runner actually in scoring position. I've been watching this game for awhile, so tell me again what the objective is?
Is there a reason Swisher keeps falling down out there?
Low-scoring games where the pitching is dominant are really fun to watch. Then there are the low-scoring games where the hitting is just laughably incompetent.
This is not one of those dominant-pitching games.
Jeter bounces back from perhaps the ugliest swing and miss of his career to get on with two down.
Here's a video of Joba getting drilled by the broken bat. Quality not great, but if you missed it live, here ya go.
Granderson strikes out again ... for the record, dude has one more hit in this series than I do.
Rookie David Phelps accounts himself very well in his first postseason appearance.
So does Wieters get credit for two hits in that at-bat? (Too soon?)
David Phelps in to relieve Joba.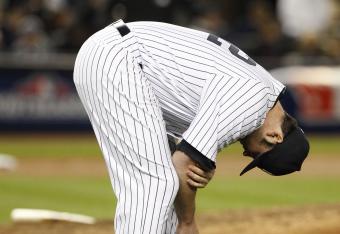 Joba wanted to continue, but that's a nasty, nasty welt rising on his elbow. That replay with the CRACK-crack sound made me absolutely cringe.
Weird, weird play. Wieters with a broken bat flare to left. Chamberlain with a broken bat to the arm.
Now pitching for the Orioles ... No. 47 ... Pedro "Jock" Strop ....
Now it's turning into a race ... which game finishes first: Orioles-Yankees or Tigers-A's?
Chris Davis has officially entered the Adam Jones/Curtis Granderson/Alex Rodriguez zone. Ugly at-bat against Chamberlain.
What a terrific job by O'Day -- one baserunner in 2 2/3 innings. If he's done, he's earned his money tonight.
Odds of Cano getting something good to hit ... roughly the same as my odds of winning the presidential election next month.
Two pitches, two outs. So much for the whole work the count thing.
Soriano with two solid innings and is probably done now if this has to go to the 11th. Top of the order due up for the Yankees.
Extras once again. Tied 1-1 after nine.
Ibanez hitting for Nix. Wonder if he's done anything at all in this series?
This article is
What is the duplicate article?
Why is this article offensive?
Where is this article plagiarized from?
Why is this article poorly edited?

New York Yankees: Like this team?