The 10 Most Out-of-Shape Fighters in History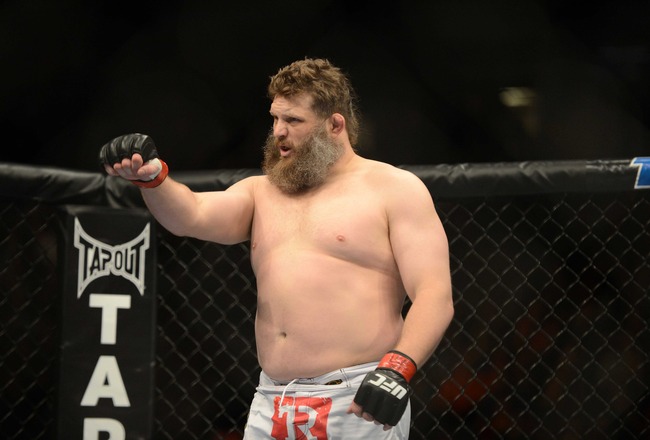 Ron Chenoy-US PRESSWIRE
Mixed martial arts is one of the most physically demanding sports in the world. It involves two men pushing each other to their limits to see who will break first. By its nature, conditioning is the most important weapon in any mixed martial artist's skill set.
However, the history of MMA is replete with men seduced by the machismo of fighting inside a cage. They step into the arena thinking the toughest brawler, and not the greatest athlete, is the superior fighter.
Add to that the fact that the sport attracts "tough guys" who don't have the capacity to endure the rigours of MMA training, and you have a sport with a history full of out-of-shape fighters. Here's a breakdown of 10 of the worst.
Mark Coleman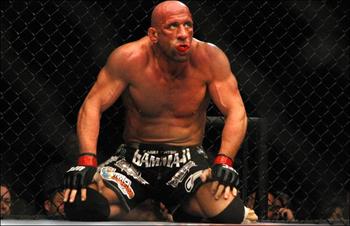 Source: Cage Potato
In his own way, he's a legend of MMA. For a very brief period, he dominated the UFC.
A two-time tournament champion, the promotion's first heavyweight title holder and an inductee to the hall of fame, Coleman is also a former Pride tournament winner. He has had such an illustrious career, and his bulging muscles have helped to hide the fact that he has been really out-of-shape.
But beneath the surface of this elite wrestler who invented ground-and-pound is a man whose heart struggled to carry his muscle-bound body past the first round of any MMA fight.
As his lungs gave out, the agony he endured was visible to all in the four straight losses he suffered between 1997-1999, as well as in fights against Mauricio Rua and Randy Couture later in his career.
Ricco Rodriguez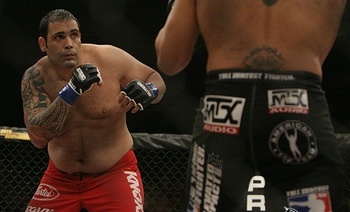 Source: Sherdog
Ricco Rodriguez has gone 1-7 in his last eight fights, which should tell you everything. He's fluctuated between light heavyweight, heavyweight and super heavyweight throughout his career, although these days, super heavyweight is where he feels most at home.
As reported by Daniel Frias of Press-Telegram in 2006, he said,
"My biggest battle has been with myself… I know what I'm capable of doing. I went from 350 to 290 pounds. I'm battling my own demons like in the movie Raging Bull. I'm an extreme person. When I see something I want I go for it. You are going to see me drop to 270 and then to 250 pounds. You will see me progress in the Octagon."
That turned out to be an unfulfilled hope. Despite racking up 12 straight wins against—let's be honest—mediocre opponents, the past year has seen him lose seven times, and he has barely been able to make 265 pounds.
Sean McCorkle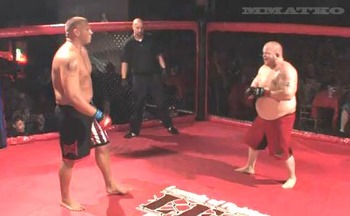 Source: MMA Tko
"Big Sexy" Sean McCorkle was ignominiously ejected from the UFC after two straight losses in 2011. Until then, he had an enviable record as a heavyweight with 10 straight wins.
That might have been a harsh decision considering the string of defeats some other UFC fighters are able to get away with. However, even after his first loss to Stefan Struve, the cracks in his game were beginning to show.
At 300-plus pounds, McCorkle always struggled to cut down to 265 pounds. In his loss to Christiane Morecraft, when he was quickly gassed during the first round, we saw the toll his difficulty maintaining his weight took on his body.
Since exiting the UFC, he did manage to rack up a string of six straight wins in barely recognisable organisations. But his most embarrassing moment came in March when he was TKO'd in the second round by fat, unknown fighter Brian Heden, who seemed almost more out of shape than McCorkle was.
Ken Shamrock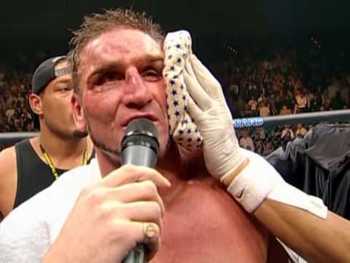 Source: www.mmastreamed.com
Probably another controversial addition to this list, Ken Shamrock—UFC Superfight Champion, King of Pancrase and UFC Hall of Famer, rarely fought beyond the first round in his entire career, and when he did, he was soundly beaten.
You only have to watch his three fights against Tito Ortiz to realise how far off this overly muscled, poorly conditioned fighter was as an elite MMA athlete.
Tank Abbott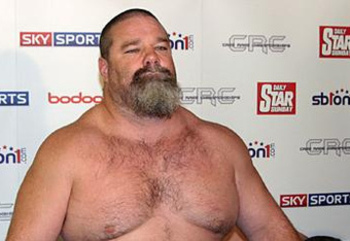 Source: www.thenextgreatfighter.com
The first MMA events, those in the 1990's, demonstrated just how cardio-intensive this sport was. Today, it's rare to see a fighter gas in the first minute, but when "cage fighting" first took its steps into the mainstream, fighters rushed to finish the fight as quickly as possible, knowing that they would have to endure hell if the match dragged on.
The archetype of this type of ferocious brawling was Tank Abbott. His "Pit Fighting" style of martial arts was the first to effectively combine grappling and boxing, but whenever the man was taken into deep water, it was only a matter of time before his whole body gave in.
Take, for example, his eventual submission at the hands of Oleg Taktarov at UFC 6, or his mauling by Scott Ferrozzo at UFC 11. In all these fights, including in later contests, he showed the heart of a lion, enduring brutal punishment well beyond what his lungs could endure. But he remains one of the most out-of-shape and poorly conditioned athletes in MMA history.
Mariusz Pudzianowski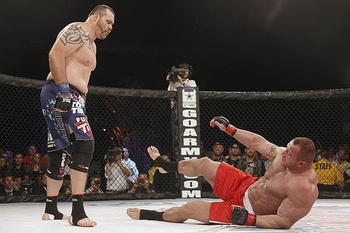 source: urdirt.com
It seems like the importance of conditioning is the hardest lesson for the giants of MMA to learn: perhaps because they've spent most of their lives believing that their size would enable them to overcome all obstacles.
That was probably legendary strongman Mariusz Pudzianowski's attitude when he decided to enter the world of MMA.
Despite his being fed cans for most of his career, his shortcomings have been revealed time and again. He was completely exhausted by Tim Sylvia before tapping to punches in the second round in their match, and he was trammelled twice in two-round fights by mediocre English fighter James Thompson.
Taro Akebono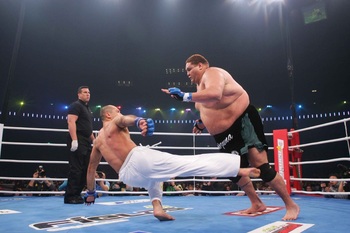 source: k-1fightclub.com
He has lost every single mixed martial arts fight he has ever fought. Out of nine kickboxing fights, he's won one. That, alone, is a testament to what a useless, out-of-shape MMA fighter Taro Akebono is, or was.
Gary Goodridge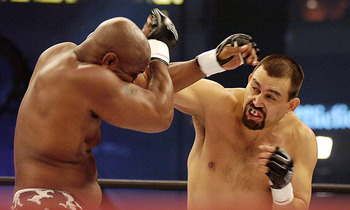 source: Urdirt.com
Gary Goodridge is a veteran of the sport who—sadly—has retired on an eight-fight losing streak that has resulted in brain damage. During his time, Goodridge was one of the most out of conditioned fighters in MMA history.
The Canadian heavyweight entered the world of MMA during UFC 8 using his size and power to batter his opponents, but like many fighters with his mentality, he quickly learnt that size and power are useless without a gas tank to match.
At UFC 10, against Mark Coleman, he threw in the towel due to exhaustion. In the following UFC, against Don Frye, fatigue ended his night once again.
Butterbean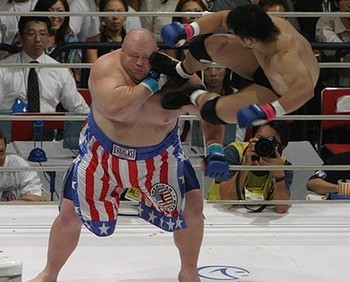 source: mmehfighter.com
With a name like "Butterbean", Eric Esch was bound to be high on this list. In his 17-fight career in MMA and with 10 losses, he was submitted six times due to strikes. That includes losing to the badly conditioned Mariusz Pudzianowski in September 2010.
Emanuel Yarbrough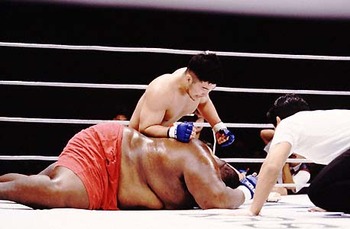 source: celeblists.com
Amateur sumo wrestler and pretend mixed martial artist Emanuel Yarbrough was always going to top this list.
This 700-pound behemoth is a heart attack waiting to happen. He hasn't entered the cage since he almost did have a heart attack chasing middleweight Daiju Takase around the ring in probably the most bizarre MMA match ever.
Keep Reading