7 NBA Stars Who Could Join Dwyane Wade with Li-Ning Brand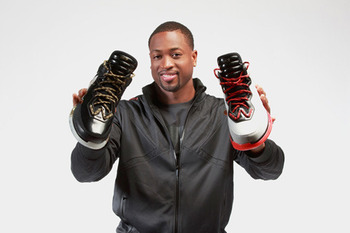 Photo Credit: Bob Metelus
Dwyane Wade has always been something of a trendsetter. He twice turned the Miami Heat into a destination franchise and has long led the NBA's march into the world of hipster chic.
In reality, then, D-Wade's decision to ditch the Jordan Brand and, by extension, Nike, for a more lucrative shoe deal with Chinese footwear manufacturer Li-Ning fits his established frontiersmanship rather well. Leaving the Swoosh may have been difficult for Wade in principle, though likely less so once Nike opted not to match Li-Ning's offer.
At which point, the prospect of establishing a brand all his own in the world's most populous and basketball-crazed nation must've been mighty appealing to Wade.
To be sure, Wade's hardly the first big name baller to blaze a trail with Li-Ning. Baron Davis and Evan Turner are both members of the Li-Ning family. Shaquille O'Neal, Wade's old teammate with the Heat, endorsed the company from 2006 to 2010, albeit during the latter stages of his career, when he was no longer commanding a presence on and off the court.
Wade isn't exactly in his prime, either—he's coming off knee surgery and will be 31 in January—but will be plenty visible while playing for the defending champions.
There's no telling how Wade's new deal will turn out, whether it will solidify a new player on the footwear market or flame out. If things go according to plan, don't be surprised if these seven guys cast their lot with Li-Ning, perhaps even under the WADE brand, at some point down the line.
Jeremy Lin
Bob Levey/Getty Images
The obvious choice here would be Jeremy Lin. He's already hugely popular in East Asia, thanks in large part to his Taiwanese heritage, and signed this summer with the Houston Rockets, a team that knows a thing or two about marketing its stars in China.
According to China.org.cn, Li-Ning was among a slew of shoe companies that courted him once "Linsanity" broke out around the world. The former New York Knicks star ultimately re-upped with Nike, whose products he'd worn since he came into the NBA with the Golden State Warriors in 2010.
The terms of Lin's new deal have yet to be disclosed, though it's safe to assume that he'll be earning more from the Swoosh than before. Stealing a rising star from under Nike's all-smelling nose would undoubtedly be a tough—and expensive—task for Li-Ning.
But if the burgeoning brand could pry D-Wade from the Jordan Brand, then anything's possible.
LeBron James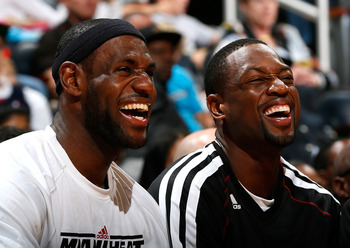 Kevin C. Cox/Getty Images
If Dwyane Wade and Li-Ning are truly intent to chase after the big fish in basketball, they would be wise to call up LeBron James.
He and Wade are already close friends and teammates, having come out in the same draft class and now winning an NBA title together. That long-standing relationship was key to convincing LeBron to leave the Cleveland Cavaliers for sunnier climates of South Beach in the summer of 2010. It may well prove useful once James is back on the market.
For LeBron's part, he's never been shy to shake things up. His move to Miami, though ill-advised in execution, helped to send his personal brand into an entirely new stratosphere.
Since then, LeBron's ditched Leon Rose, Williams Wesley (a.k.a. "Worldwide Wes") and the representational power brokers over at CAA to re-team with Rich Paul, who's currently in some hot water with the NCAA.
The problem, of course, is that LeBron is locked in with Nike for the foreseeable future. He signed a new deal with the Swoosh in 2010, one that, according to LeBron's business partner Maverick Carter, is longer and more lucrative than the seven-year, $93 million deal he inked before his rookie season.
It's a pipe dream for Li-Ning, though one that could come to fruition a ways down the line if Wade's arrangement pans out.
Dion Waiters
Nick Laham/Getty Images
In the meantime, it might be wise for Dwyane Wade and Li-Ning to spend their time and effort perusing the ranks of rookies and other young players for potential stars and product pushers.
Who better to start with on the WADE brand than Dion Waiters?
Whatever your opinion of the Cleveland Cavaliers' decision to spend the fourth pick in a deep draft on a collegiate sixth man, Waiters does boast some intriguing pro potential. He's a stout-but-strong, athletic guard who doesn't shoot all that well from the perimeter but can create for himself and attack the basket at will.
Sound familiar?
The Wade comparisons are undoubtedly lofty but, on a certain level, aren't exactly unfounded. Playing next to Kyrie Irving, the NBA's next star at point guard, can only help Waiters live up to the hype.
If he does, it'd only make sense that he be wearing the shoes of the player whose game he most closely emulates.
Bradley Beal
Nick Laham/Getty Images
Sticking with members of the 2012 NBA draft class, Wade would do well to pursue another young shooting guard with star potential—Bradley Beal.
To be sure, Beal's game is much more comparable to Eric Gordon, a somewhat undersized off-guard who can shoot from deep and attack the basket with equal proficiency who, as it happens, is currently signed with adidas.
Nonetheless, Beal is a promising youngster at Wade's position, one who's bound to be courted by everyone from Reebok to Nike once he establishes himself with the Washington Wizards.
Part of building the WADE brand with Li-Ning will require that Dwyane and company take some chances and invest in players without a foothold in the footwear market.
In this regard, they could certainly do worse than Beal.
Andrew Bynum
Harry How/Getty Images
Dwyane Wade isn't the only Li-Ning endorser who might recruit others to the Chinese shoemaker.
As mentioned previously, Evan Turner is also on Li-Ning's payroll and just so happens to count a star or two among his teammates with the Philadelphia 76ers but none bigger than Andrew Bynum.
The All-Star center, formerly of the Los Angeles Lakers, is currently listed by Hoopshype as a user of Nike products, but not an official endorser. Surely, the second-best pivot in basketball would be a worthwhile investment for any shoe company, especially one that's looking to establish a stronger presence in the States.
Especially when said big man is already familiar with Chinese brands; Bynum was under contract with Peak, another East Asian manufacturer, once upon a time.
Think Evan Turner will be in Bynum's ear about it from time to time now that those two are sharing a locker room?
Tyson Chandler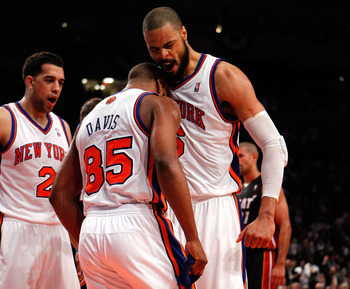 Jeff Zelevansky/Getty Images
Speaking of big men who are ripe for the plucking from Nike's roster of "users," Tyson Chandler is still waltzing around the NBA without a handsome endorsement deal.
Yes, the same Tyson Chandler who, over the last two years, has won an NBA title, Olympic gold medal and been named the Defensive Player of the Year. Oh, and he plays for the New York Knicks, arguably the most visible—if not overhyped—team in all of basketball.
He may not garner the copious publicity that Carmelo Anthony and Amar'e Stoudemire do from the frenzied sports media in the Big Apple, but he does play right next to them in games that are regularly featured on national television in the US.
It doesn't hurt, either, that Baron Davis, a former teammate of Chandler's in New York, endorses Li-Ning's products. Perhaps, then, Davis will lend a hand and bring Tyson's gigantic feet to China.
Paul George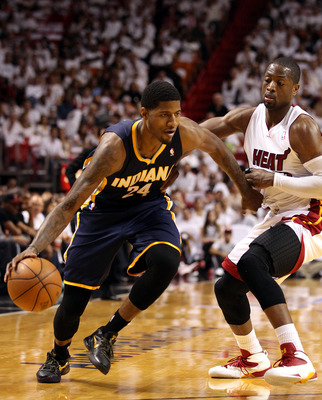 Marc Serota/Getty Images
Last but not least—as far as poaching Nike wearers is concerned—is Paul George. The 6'8" wing is primed for a breakout season in 2012-13 after taking a significant step forward between his rookie and sophomore campaigns.
He's due for even bigger and better things this season with an Indiana Pacers squad that ESPN's John Hollinger has pegged as the second-best in the Eastern Conference. The Pacers will need George to meet, if not exceed, expectations if they're to do the same.
Assuming George is ready for prime time, it'd be in Li-Ning's best interests to get in on the ground floor before the third-year stud out of Fresno State hitches a ride up to the NBA's penthouse.
Keep Reading