College Football Recruiting 2013: Video of the 5 Hardest-Hitting Recruits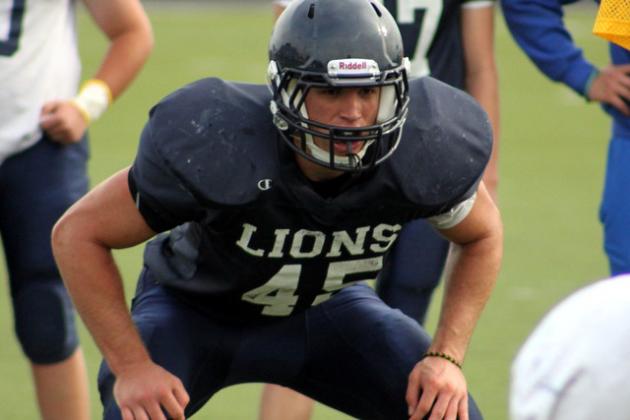 247Sports.com
Football is a physical and heavy-contact sport, almost of the Roman Coliseum gladiator fashion.
We, as fans, love to see big bodies flying around at remarkable speeds and the collisions that come along with that.
For the players, being known as a physical and hard hitter is a badge of honor.
That type of reputation brings respect their way and it is desired by many. However, only a few in the game have the reputation as big-time hard hitters. There are several players and in this 2013 college football recruiting class who deserve the title.
For this read, we will look at who are flat out the hardest hitting recruits right now. We'll also give you the video footage to prove it.
Begin Slideshow

»
A classic thumper, Levenberry is a 6'2", 230-pound 'backer from Virginia. He is headed to Florida State, where ACC ball-carriers will be in for a rude awakening.
Levenberry is quick to insert himself in run alleys and challenges lead blockers with toughness and strength.
He can shed with power and rock a ball-carrier backwards for a tackle. Levenberry is at his best in stuffing the run.
Like Levenberry, Rolin is also from Virginia and plays linebacker. He's 6'4" and just about 210 pounds. He's very athletic, tough and instinctive when it comes to making plays versus the pass and run.
Rolin flashes good ball skills in coverage and has the athletic ability to factor as a short-area zone defender. However, he's on this list because he relishes contact at the point of attack.
Rolin, a South Carolina commit, will use his size to play big, can take on a blocker and will hit anything that moves on the field.
Once he locks his eyes onto the ball-carrier, pain is coming.
Mitchell is a Texan who blows people up on the field.
He's 6'4", 220 pounds. His speed let's him generate a massive amount of steam and force so that when he meets his target, they get rocked.
Mitchell is very tough and plays almost angry on the field. He is a huge hitter that has great range. Getting hit by this guy will have you feeling like you were in a car crash the next morning.
Check out 1:46 of this video.
Foster is the best linebacker in the country and my No. 2 overall prospect. In fact, there's a chance he could finish this cycle as the top prospect over Robert Nkemdiche.
I've called him possibly the best linebacker prospect to come out in the modern recruiting era, at least since I saw Manti Te'o in high school. At 6'2" and around 245 pounds, Foster can really pack a punch.
He's very athletic and quick, which allows him to generate more force to make big hits. The Auburn commit can do everything you want a middle linebacker to do, and one of those things is to be big hitter.
Davis is a big-time hitter at 6'2", 215 pounds. The Texas commit is a Lone Star State native that has been terrorizing offenses since he arrived on the scene at Cy Woods High School in Texas.
Cory Roepken of @RipCitySports recently tweeted this at one of Davis' games:
Cy Woods LB Deoundrei Davis (Texas) hits so hard you'll feel it in the press box. So I'm wrapped in couch cushions just in case. #txhsfb
Davis' great range allows him to sift through traffic quickly and dodge bigger and stronger offensive lineman trying to block him. He arrives at the ball-carrier with sharp pops that can be heard all around the stadium.