St. Louis Cardinals vs. Washington Nationals Game 4: Live Score, NLDS Analysis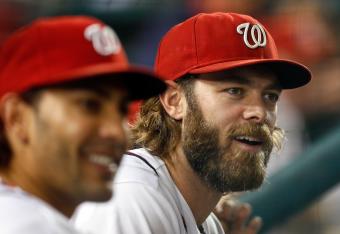 Rob Carr/Getty Images
Final: Nationals 2, Cardinals 1
Stay tuned here for all the latest updates, commentary and analysis.
<blockquote class="twitter-tweet tw-align-center">

One series decided in a Game 5 #Giants, and two others will be for sure today and tomorrow. Can't ask for better games...

— Buster Olney (@Buster_ESPN) October 11, 2012

For tomorrow's Game 5, it's going to be back-and-forth. Two runs won't do it. Both bullpens are going to have to be ready to go.
I'm expecting at least six runs from each side.
It should definitely be exciting.
Key Hitters for Game 5:
St. Louis - Yadier Molina: He has to get going to set up the bottom of the lineup, which has been successful thus far.
Washington - Bryce Harper: He has to be able to set up Ryan Zimmerman and the middle of the lineup.
This makes three of the last four postseason games won by walkoff.
There's been controversy this postseason, but this has been one of the more exciting in recent memory.
As far as Jim Joyce is concerned, he was off tonight. But, he was consistently off for both teams.
Hitters have to make adjustments. Most didn't.
Werth did in his final at-bat. Guess what? It paid off.
The game was sluggish for a long time. Nothing like fireworks to end it.
Great pitching and defensive game.
While most wanted to see more offense, old-timers love a good duel. We got that and all fans should be satisfied.
It's all down to one game. NL wins leader Gio Gonzalez vs. Adam Wainwright.
After tonight's pitching duel, this one might be a high-scoring game.
Werth credits his boy Raul Ibanez.
I guess Natitude is alive and well.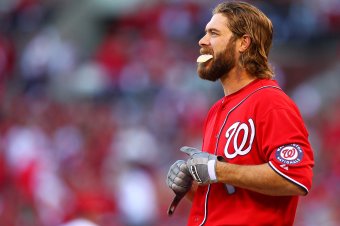 Dilip Vishwanat/Getty Images
IT'S GONE!!!!
GAME OVER!!!
JAYSON WERTH COMES THROUGH!!!

Time for Jayson Werth to show Nats' fans he deserved that fat contract.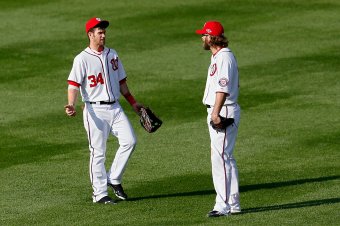 Rob Carr/Getty Images
Desmond makes the catch! Nice play on the shortstop's part.
We go to the bottom of the ninth. Werth, Harper and Zimmerman up. Nats' fans have to be confident.
A walk after contact on a foul ball. The Cardinals are getting somewhere.
HEY, WE HAVE CONTACT....foul
For those wondering, top of the order up for the Nats in the bottom of the ninth.
Another strikeout.
Last eight have been by way of the K.
Hitters are just going to have to go after anything close. It's been tough to get a read on Jim Joyce the entire game.
Great pitch by Drew Storen. Climbed the ladder with that one.
WHERE'S THE OFFENSE?
We go to the ninth.
<blockquote class="twitter-tweet tw-align-center">

With Jim Joyce behind the plate there's a decent chance someone will strike out on an intentional walk attempt. #Nationals

— Brian Donovan (@bvdono) October 11, 2012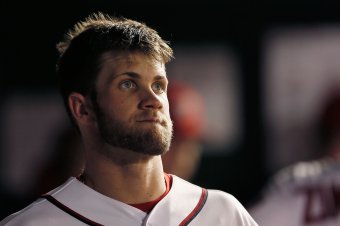 Rob Carr/Getty Images
Bryce Harper's haircut seriously makes him look like he has a toupee on.
The hitting has been very sub-par this game. There's only been three guys that reached second. One of those was LaRoche with a home run.
Desmond retired with another groundout.
A big strikeout by Molina. We head to the bottom of the eighth.
Too good not to post!
<blockquote class="twitter-tweet tw-align-center">

Clippard looks like Clay Aiken. #Nationals #GoCards

— Megan Marie☮ (@meganmcintyre) October 11, 2012

This article is
What is the duplicate article?
Why is this article offensive?
Where is this article plagiarized from?
Why is this article poorly edited?