2013 NFL Mock Draft: Early Projections Near the NFL Midseason Mark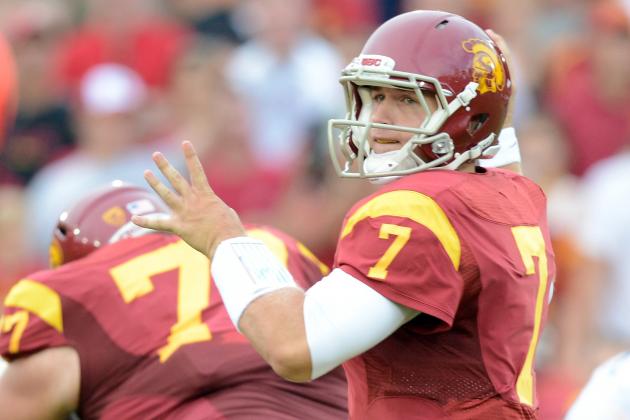 Harry How/Getty Images

If you're a fan of the Kansas City Chiefs, Cleveland Browns, Jacksonville Jaguars or a handful of other teams performing well below expectations, chances are you've started to look ahead to the 2013 NFL draft. We have too.
The 2013 draft features a very strong group of defensive players, notably at outside linebacker and defensive end. What this class lacks is the competition for who will be the first overall player, as that will undoubtedly be West Virginia quarterback Geno Smith. But who comes next?
The first round of the 2013 NFL draft is predicted here, with the draft order based on our NFL Power Rankings and the needs of each team weighed between current performance and upcoming free agents.
Begin Slideshow

»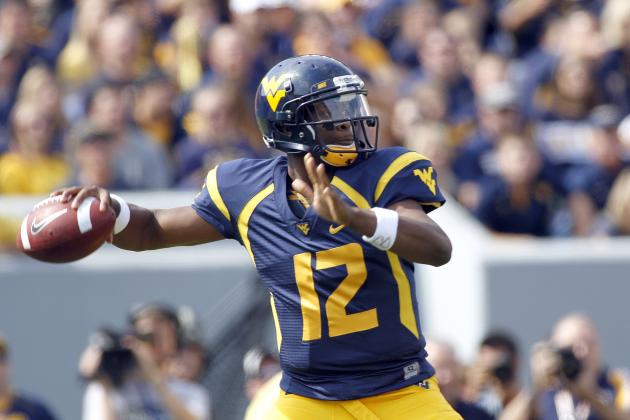 Justin K. Aller/Getty Images

The Pick: Geno Smith, Quarterback, West Virginia
The Brandon Weeden project is over.
Sure, Weeden could still show over the course of the season that he deserves to be a starting quarterback in the NFL, but if the Browns end up with the first overall pick, Geno Smith will be their guy.
Weeden's age will always be a factor in deciding his long-term potential. He was drafted at 28 years old and turns 29 later this season. How long will he take to develop, and then how long can he remain in his prime to produce? The Browns don't have time to wait around and find out.
Smith is on a pace that will result in a Heisman Trophy and the first overall pick in the 2013 NFL draft. Forget that he's a mobile quarterback; Smith dominated the Texas Longhorns defense by making big-league reads and delivering strikes to his wide receivers.
The Browns can't afford to not make Geno Smith the pick.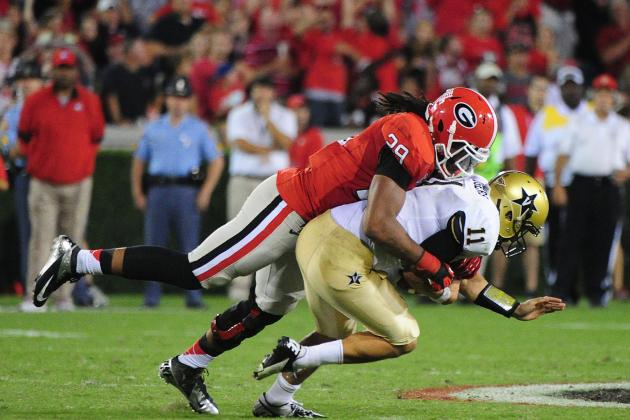 Scott Cunningham/Getty Images

The Pick: Jarvis Jones, Outside Linebacker, Georgia
The closest thing to Von Miller since, well, Von Miller, Jarvis Jones will give Rex Ryan's defense the pass rush it lacks.
A quarterback will be the desire of every fan in Radio City Music Hall, but there is not a quarterback worthy of the No. 2 overall selection. The Jets could attempt to trade down and find a better value, but unless they want to overpay for Matt Barkley or Tyler Wilson, the team is better off to wait until Round 2 or give Mark Sanchez another year under center.
Jets fans shouldn't be upset if Jones is the pick, though. Unlike reaching for a quarterback, Jones is one of the safest picks in the entire draft class and is a great fit for the Jets' 3-4 defense.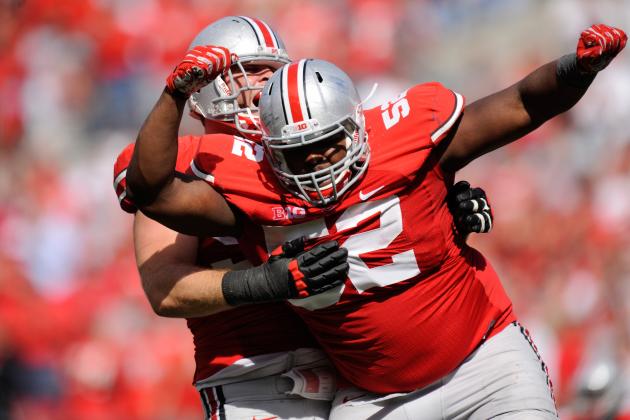 Jamie Sabau/Getty Images

The Pick: Johnathan Hankins, Defensive Tackle, Ohio State
The Oakland Raiders' biggest need is at cornerback, but there's no Morris Claiborne in this year's class, at least not yet. Instead they should look inside to build the trenches of a defense that was supposed to be the strength of the team this year.
Johnathan Hankins is a great fit for what Reggie McKenzie wants to do in Oakland. He's a lunch-pail type of worker who has the athletic flexibility to play in a 3-4 or 4-3 scheme. You can line up Hankins anywhere along the defensive line and expect production.
The Raiders are another team who could consider drafting a quarterback here, but McKenzie is smart enough to go for the safe pick of a defensive tackle who has the tools to dominate for 10 years.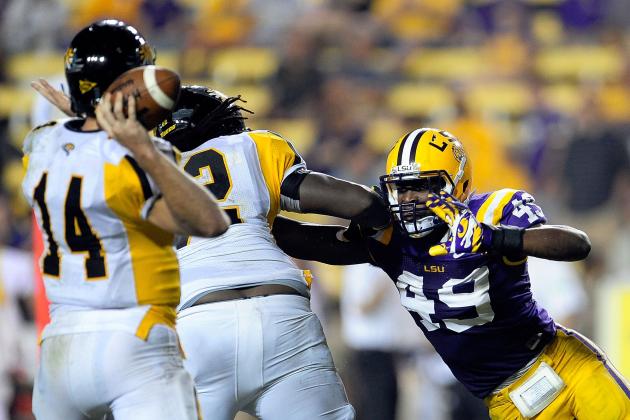 Stacy Revere/Getty Images

The Pick: Barkevious Mingo, Defensive End/Outside Linebacker, LSU
The Jacksonville Jaguars will be a hard team to predict until more is known about what the front office plans to do this offseason. While general manager Gene Smith looks like an obvious choice to be fired in the aftermath of the team's poor start and lack of talent, anything can happen.
The team wants (and needs) a quarterback here, but like so many other franchises, unless it wants to sell out on a player who doesn't hold top-five value, the smarter move is to trade down or draft a player who does hold value at its draft slot.
The problems in Jacksonville won't be solved by drafting a quarterback, at least not all of them. The defense needs attention as well. Tyson Alualu and Andre Branch are keepers on the defensive line, but Jeremy Mincey looks more like a rotational end, and Terrance Knighton is struggling to get penetration this season.
One solution would come with Barkevious Mingo. The LSU pass-rusher would give the Jaguars the speed and agility they need to threaten quarterbacks. He has the frame to add weight and play end, or he could stand up as an outside linebacker if a new regime brought in a 3-4 defense.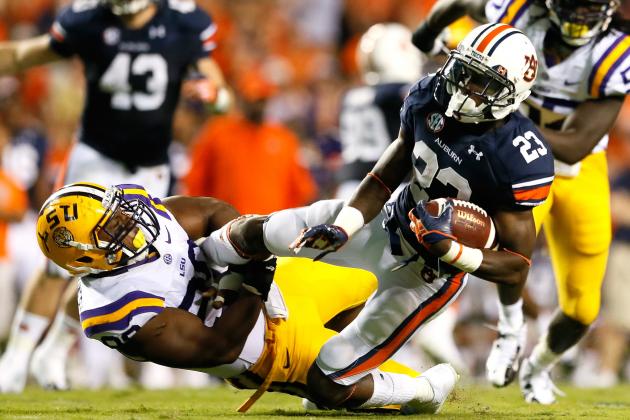 Kevin C. Cox/Getty Images

The Pick: Sam Montgomery, Defensive End, LSU
The Tennessee Titans did well to sign Kamerion Wimbley in free agency, but now they need to add a complementary piece to get to the quarterback on the opposite side of the line.
The Titans are building a good team, and were it not for injuries and off-field issues, they'd be much better than their record indicates. To take the next step in 2013, beefing up the defense is where they should focus in the NFL draft. Sam Montgomery makes the most sense.
Montgomery is a prototypical defensive end with the speed, length and athletic ability to play on the right side of a classic 4-3 set. He's also able to stand up at outside linebacker should the team want to shift its alignment around. What Montgomery will bring to the defense is speed and a relentless pass rush.
Lining up with Mike Martin, Jurrell Casey and Wimbley, Montgomery would round out one of the best young defensive lines in football.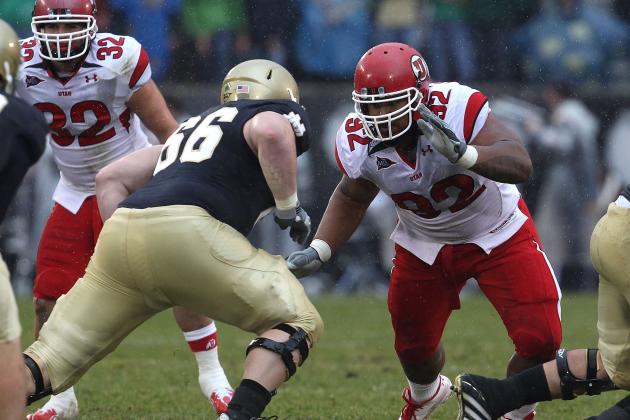 Jonathan Daniel/Getty Images

The Pick: Star Lotulelei, Defensive Line, Utah
A quarterback is wanted, and badly, by the fanbase, but the 2013 NFL draft features one elite quarterback prospect (Geno Smith). If you aren't landing Smith, you're better off drafting for value and need in the top 10 and waiting for a quarterback in Round 2.
That's the scenario the Kansas City Chiefs find themselves in at pick No. 6. The team would greatly benefit from adding a quarterback, but you can't reach for Matt Barkley here—especially when you already have the same player in Matt Cassel.
Scott Pioli won't make many friends if the Chiefs select a defensive lineman, but it is the right choice this time around. I promise.
Glenn Dorsey will hit free agency this summer, and as great as he was at LSU, he's never been a fit in this defensive scheme. Tyson Jackson is set to break the bank in the final year of his rookie contract, and even though he's been solid, the team needs to either restructure his deal or release him. Either way, at least one defensive end spot is opening up.
The smart choice—drafting Star Lotulelei. The Utah defensive tackle is a one-man wrecking crew who could immediately step in and help the Chiefs' 3-4 defense start to play more like the Houston Texans' 3-4 defense.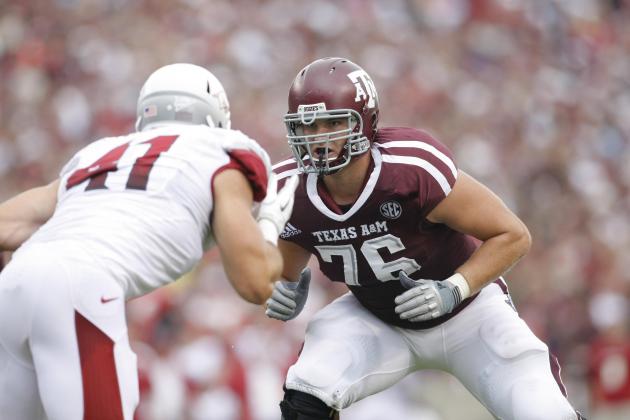 Brett Davis-US PRESSWIRE

The Pick: Luke Joeckel, Offensive Tackle, Texas A&M
Things haven't gone as planned for the New Orleans Saints this season, but they can at least take solace in the fact that a top-10 draft pick will work wonders on the depth chart.
Since the Saints don't have a second-round pick in 2013 due to the bounty punishment handed down by the league office, they need to hit a home run with their first pick. Luke Joeckel is a home run. Maybe a grand slam.
Joeckel has shown this season to be the top left tackle in college football. He has the length to generate distance and reach pass-rushers working to bend the edge and also has the quick feet needed to shuffle out and slide to protect the blind side.
With Jermon Bushrod hitting free agency after this season, the selection of Joeckel is about both value and need.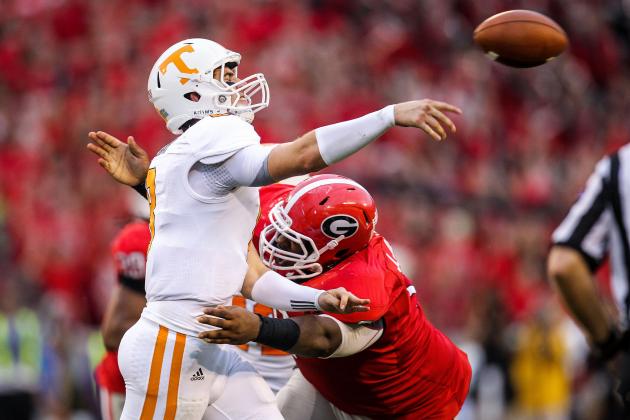 Daniel Shirey-US PRESSWIRE

The Pick: John Jenkins, Defensive Tackle, Georgia
The major attention on the defensive side of the 2013 draft class has been focused on the LSU pass-rushers, Star Lotulelei and Johnathan Hankins. That's allowed John Jenkins to quietly move into position as a surprise top-10 pick.
Jenkins is the ideal fit to play next to Gerald McCoy in the Tampa Bay defense. With Jenkins' 350-lb frame taking up blockers and collapsing the pocket, McCoy's pass-rushing ability would take off. If you think McCoy has dominated this season, wait until Jenkins is pulling down the center on every play.
Jenkins name will be shooting up draft boards once teams start talking about which prospects they've liked on the road. You can bet on it.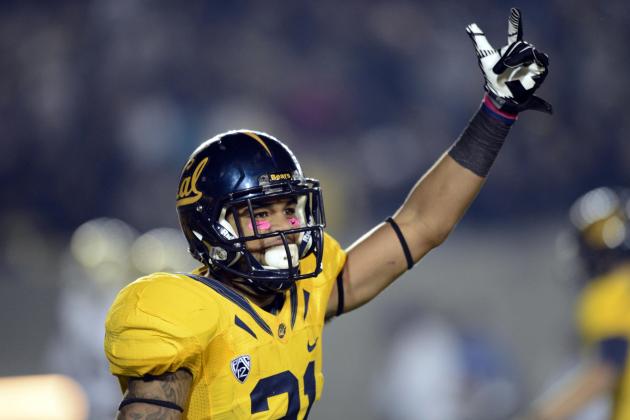 Bob Stanton-US PRESSWIRE

The Pick: Keenan Allen, Wide Receiver, California
The Indianapolis Colts will find themselves in a position to simply draft the best player on the board. Lucky for them, that player is Keenan Allen.
The Cal wide receiver is more electric, more dynamic than any of the pass-catchers in the 2012 draft. While he's not Julio Jones or A.J. Green, Allen is head and shoulders above Justin Blackmon or Michael Floyd in terms of draft prospects.
Allen is incredibly dangerous after the catch, and with Andrew Luck there to deliver strikes to him, the Colts will have a legitimate option opposite Reggie Wayne—and someone to replace him when it's time to retire.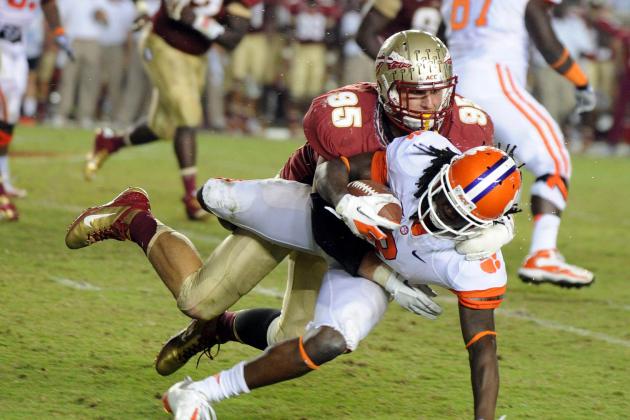 Melina Vastola-US PRESSWIRE

The Pick: Bjoern Werner, Defensive End, FSU
The Carolina Panthers could really use a defensive tackle. They could even look at wide receivers. They'll be happy to land an elite pass-rushing prospect, though.
Bjoern Werner has been dominant for FSU this fall, showing the pass-rushing skills that NFL scouts and general managers always fall in love with once the draft rolls around. Werner has done his best to work up the board, and we're seeing an improved player in 2012 thanks to better technique off the edge.
For Carolina, this is a pick that could finally open things up on defense. The Panthers will still need to add a tackle through free agency or later in the draft, but with Werner coming off the edge opposite Charles Johnson, the team would have an exciting pass rush for the first time since Julius Peppers left town.
Harry How/Getty Images

The Pick: Matt Barkley, Quarterback, USC
Someone will bite on Matt Barkley early in the first round. A safe bet would be the Buffalo Bills.
If you think about the pieces in place in Buffalo, this isn't a terrible fit for the player or the team. Barkley will likely be a better version of Mark Sanchez, or Alex Smith, in that he will play up to the talent around him. A major reason why Barkley isn't going higher is because he's not shown an ability to make the players around him better. At least not yet.
Barkley in Buffalo, though, would be ideal. He has a good offensive line if the team makes a move to upgrade at right tackle. He has two excellent running backs. The wide receiver corps are strong and will get stronger with offseason additions.
There are many who love Barkley and many who are cooling on him, but this particular fit is exciting.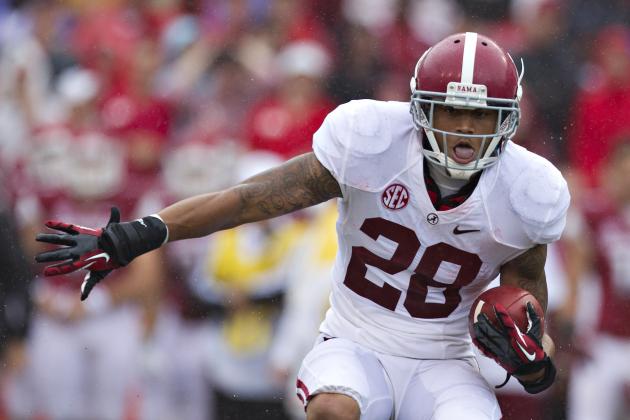 Wesley Hitt/Getty Images

The Pick: Dee Milliner, Cornerback, Alabama
The Detroit Lions aren't far away from being a playoff team again, but to get back on top they must improve the pass defense.
Getting a more consistent pass rush will help, and re-signing Cliff Avril will go a long way in accomplishing that moving forward, but they also have to get better in the secondary. The team never tried to replace Eric Wright with a front-line starter, and now it is a huge need.
Dee Milliner is NFL-ready, and the Lions need him. The Alabama cornerback is a better prospect than former teammate Dre Kirkpatrick was in the 2012 draft, and while he's not at the Joe Haden or Morris Claiborne level, Milliner's physical style of play will make him a day-one starter in the NFL.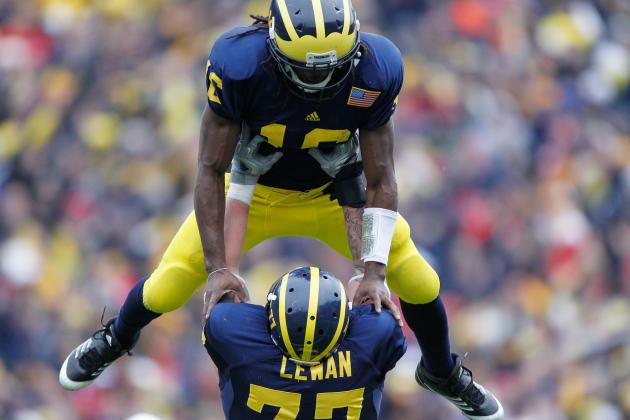 Gregory Shamus/Getty Images

The Pick: Taylor Lewan, Offensive Tackle, Michigan
A match made in football heaven.
The St. Louis Rams are getting surprisingly decent production from Wayne Hunter and Barry Richardson—a huge credit to Brian Schottenheimer and Paul Boudreau—but the front office must know that an upgrade is needed.
Taylor Lewan has played in a power scheme and in a spread scheme. He's athletic enough to move off the ball and has the must-have length and strength to play on the left side in the NFL. With Sam Bradford showing his value as a franchise quarterback, it's time for the Rams to protect him like one.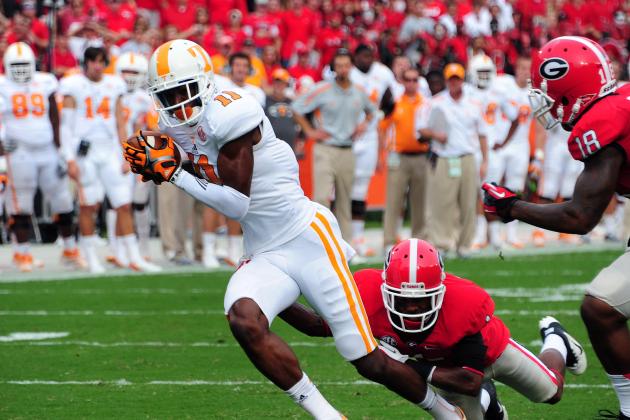 Scott Cunningham/Getty Images

The Pick: Justin Hunter, Wide Receiver, Tennessee
The Miami Dolphins hit on their first-round pick in the 2012 NFL draft, and Ryan Tannehill is clearly the future of this team. Now he needs some help.
The Dolphins are set at offensive tackle and center, look pretty solid at guard and have a backfield to build around. Where Tannehill really needs playmakers is at wide receiver.
Brian Hartline has been a breakout player so far this year, but the team needs to add at least one starting-caliber receiver this year. A perfect contrast to Hartline would be Tennessee's Justin Hunter.
Hunter has the size to take defenses deep, something that would open up the run game for Reggie Bush and the passing game on the outside for Hartline. The Dolphins badly need wide receivers, and Hunter is a damn good one.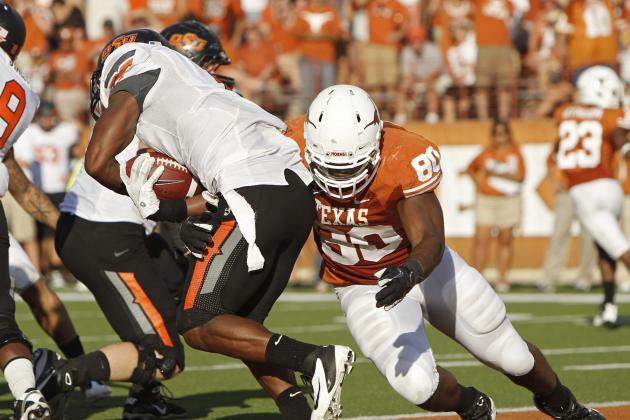 Erich Schlegel/Getty Images

The Pick: Alex Okafor, Outside Linebacker, Texas
The Dallas Cowboys could go a few directions with their first-round pick, like safety or offensive guard, but the biggest need on this team is finding someone who can rush the passer and equal the threat coming off the edge.
DeMarcus Ware is an all-time great, but as the only pass-rusher on the defense you can at least scheme for him. If you even that out—like the Green Bay Packers are trying to do with Nick Perry and Clay Matthews—then you have something special.
Alex Okafor is special. The Texas product has the strength to stop the run from his defensive end position, but he's quick enough to stand up and contribute as a pass-rusher off the edge. This is exactly what the Cowboys need opposite Ware.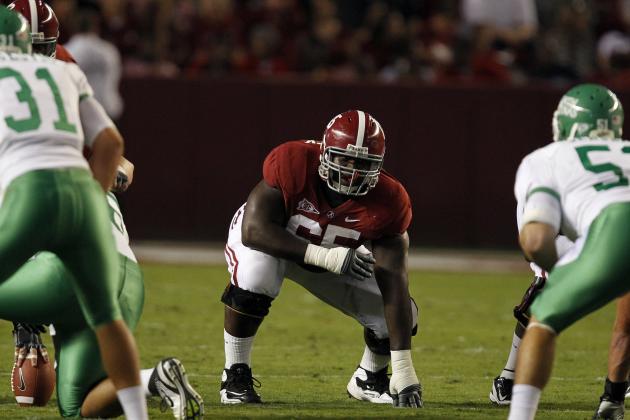 Butch Dill/Getty Images

The Pick: Chance Warmack, Offensive Guard, Alabama
The Seattle Seahawks are pretty well-rounded, at least on paper, but one area where the front office hasn't been able to hit on is the offensive line. Be it by injury or just poor play, the team needs help on the front five.
Alabama guard Chance Warmack is one of the most well-respected interior linemen to come out of college in the last five years. Similar in grade to David DeCastro (Stanford, 2012), Warmack will be a shoo-in as a first-rounder.
The Seahawks would love to pair this road-grader with Max Unger at center, giving Seattle a combination in the middle that could clear huge holes for Marshawn Lynch.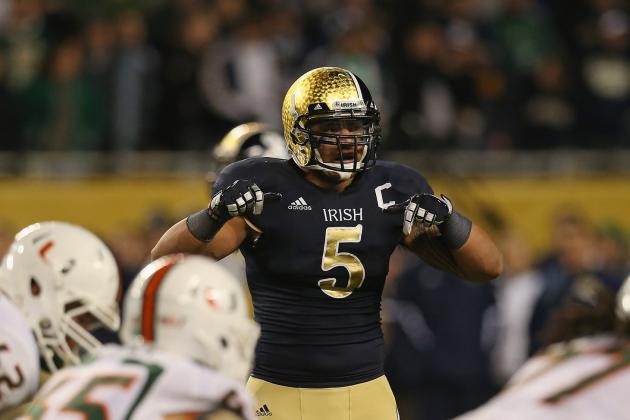 Jonathan Daniel/Getty Images

The Pick: Manti Te'o, Inside Linebacker, Notre Dame
Chase Blackburn simply isn't getting it done as the middle linebacker for the New York Giants. Instead of this being a weak link in the defense, the front office can make it a strength.
Those familiar with Manti Te'o know that he's a fast, strong, rangy linebacker who can make plays all over the field. Put him behind a defensive line featuring Justin Tuck, Jason Pierre-Paul and Osi Umenyiora, and you're causing problems for every offense in the NFL.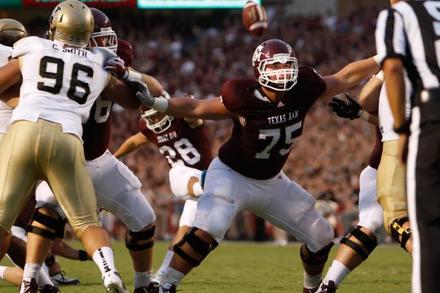 Photo Credit: Thomas Campbell/thomasgcampbell.com
The Pick: Jake Matthews, Offensive Tackle, Texas A&M
Talk about a no-brainer.
The Arizona Cardinals have two major needs—quarterback and offensive tackle. Unless they want to roll the dice on Tyler Wilson here, Jake Matthews from Texas A&M would be an instant upgrade for them at left or right tackle.
So, why not Wilson? The team is winning with Kevin Kolb, and it did just commit to big money for him in the offseason. While Wilson may be a sexier draft pick, Matthews helps this team win. The Cardinals have proven that good coaching and great defense will keep them competitive; now it's time to start plugging holes on offense.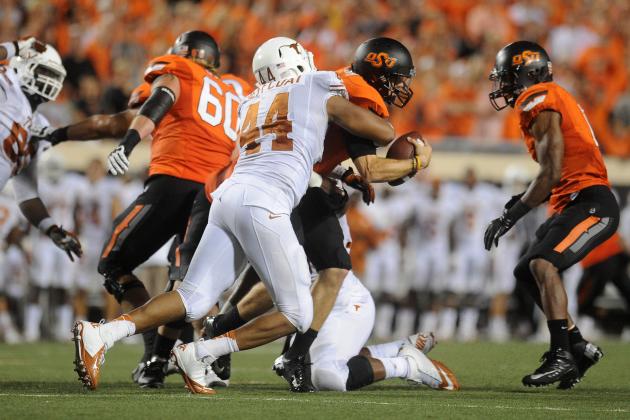 Mark D. Smith-US PRESSWIRE

The Pick: Jackson Jeffcoat, Defensive End, Texas
The front office in Cincinnati has done an impressive job over the last few seasons building up the talent base for this team and putting a competitor on the field. All that's left to do is plug holes and improve the overall talent level.
The first step is helping Geno Atkins on the defensive line. The Bengals have a cast of defensive ends who will sometimes contribute but largely are too inconsistent to count on week after week. A quick fix: Draft Jackson Jeffcoat.
Jeffcoat has shown at the University of Texas that he has the quickness, vision and technique to get free and attack the backfield. Were it not for a few minor offseason surgeries, Jeffcoat would be looked at as a top-10 prospect—and still may be by the time the draft rolls around.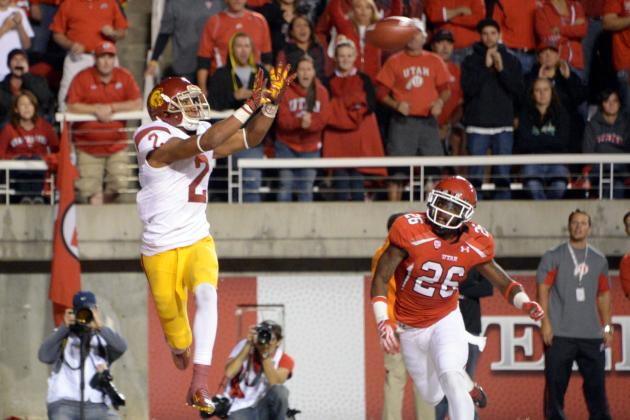 Kirby Lee-US PRESSWIRE

The Pick: Robert Woods, Wide Receiver, USC
The Philadelphia Eagles seem set at wide receiver with Jeremy Maclin and DeSean Jackson, but in today's NFL you need more than two receivers to get the job done. Enter Robert Woods.
The Eagles have the luxury of drafting for value instead of need, as the front office has done a remarkable job adding talent. There are so few needs on the roster that spending a late first-round pick on a No. 3 wide receiver is an option.
Woods would be an excellent option for Philadelphia, as his versatility allows the team to play around with its alignments. Woods and Maclin on the edge with Jackson in the slot is a terrifying proposition for NFC East defenses.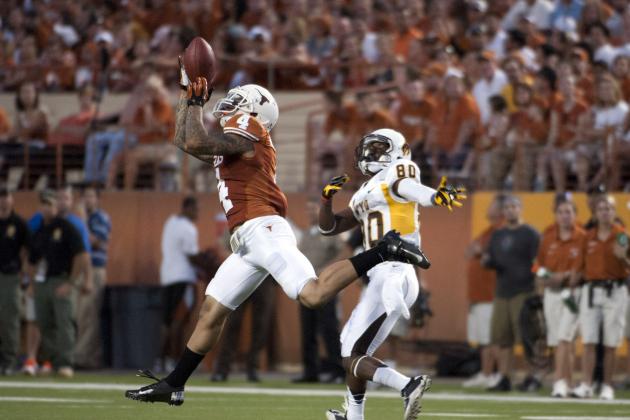 Brendan Maloney-US PRESSWIRE

The Pick: Kenny Vaccaro, Strong Safety, Texas
If you don't know who Kenny Vaccaro is, here's how he performed against some of the country's top receivers:
* Held West Virginia stud Tavon Austin to one catch in man coverage.
* Locked down Oklahoma's Ryan Broyles in 2011—Broyles is the NCAA's all-time leading receiver.
* Held Ryan Swope from Texas A&M to just three catches for 33 yards.
Kenny Vaccaro did all that, and he's not even a cornerback. The Texas strong safety has the ability to go down into the slot and cover receivers in man coverage, but he's also big enough to play in the box as a run defender.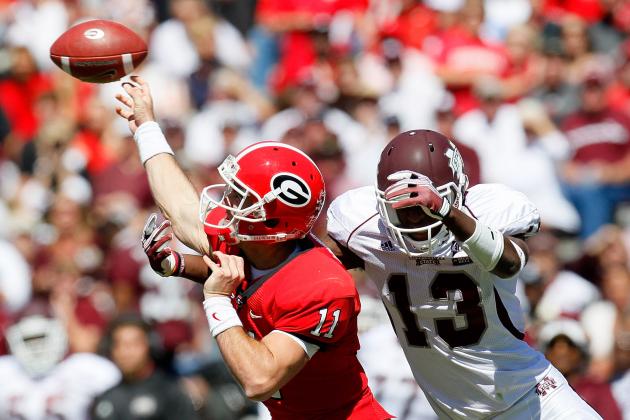 Kevin C. Cox/Getty Images

The Pick: Johnthan Banks, Cornerback, Mississippi State
The top senior cornerback in the 2013 NFL draft class, Johnthan Banks will make life much easier in San Diego.
The team is getting fair production from Quentin Jammer and Antoine Cason, but Jammer is nearing the end of his career, and even if he hangs on a few more seasons, the team needs a No. 3 cornerback. Banks can fill that nickel role for now, and the team can eventually move Jammer there.
Banks has the size (6'1") to hang with bigger receivers downfield, but unlike most bigger cornerbacks he can turn and run to keep up with smaller, quicker players. Banks has been moving up the board consistently since the season began and could be a top-15 prospect by April.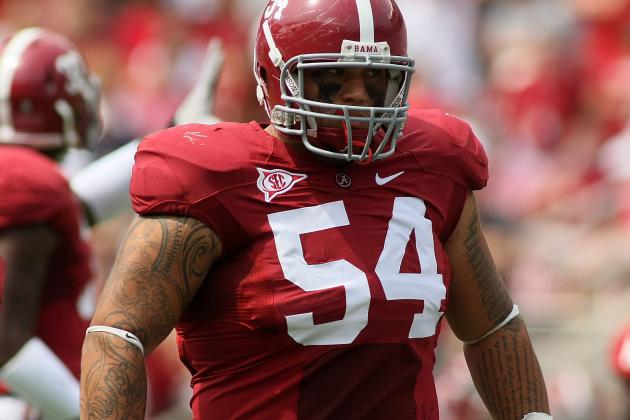 Greg McWilliams/Getty Images

The Pick: Jesse Williams, Defensive Tackle, Alabama
The Williams Wall, Part II.
As Kevin Williams becomes less of a sack threat and more of a pressure-style defensive tackle, the Minnesota Vikings will look to add at the position to keep their defensive line dominant. Jesse Williams from Alabama fits the mold perfectly.
Williams has the strength to play as a nose tackle, but his quickness is fitting for a 3-tech as well. His first step is good enough to stun guards, and he has the strength to rip through and create pressure when the center comes down on him.
For the Vikings to build on a successful 2012 season, getting stronger up the middle is key.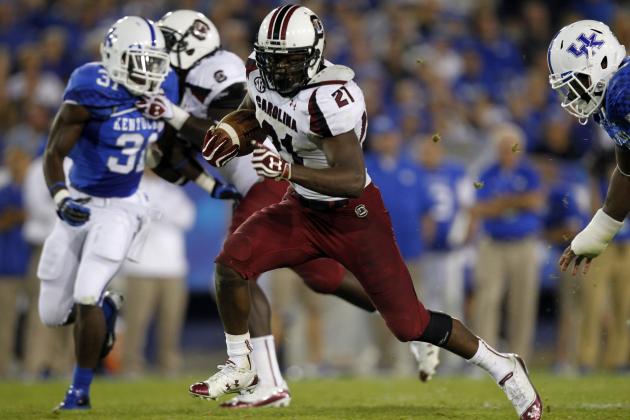 John Sommers II/Getty Images

The Pick: Marcus Lattimore, Running Back, South Carolina
When great quarterbacks age, it's always a good idea to support them with a game-breaking running back.
John Elway knows this from his time with Terrell Davis. That duo was good enough to deliver two Super Bowls to the Denver Broncos. With Peyton Manning under center, look for Elway to add his own version of Terrell Davis to take pressure off the passing game.
Lattimore is a supremely talented running back with a body and style very similar to Adrian Peterson. If not for a knee injury in 2011 and the decreased value of drafting running backs, Lattimore would likely grade out as a top-five pick.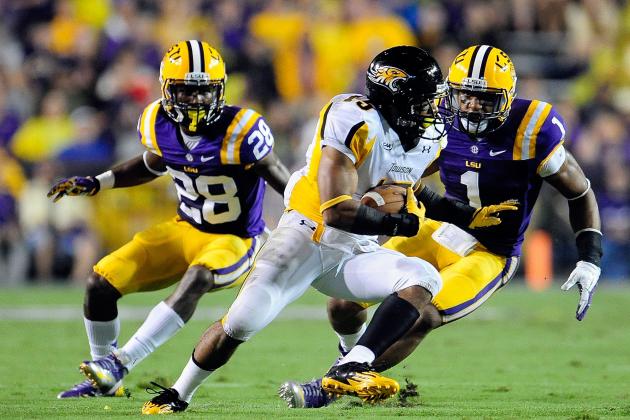 Stacy Revere/Getty Images

The Pick: Eric Reid, Free Safety, LSU
With seven starters over the age of 30, the Pittsburgh Steelers will focus on updating the talent and getting younger on defense this offseason. The first order of business will be adding new blood at safety.
Eric Reid has been an awesome playmaker for the LSU defense, and it's easy to see how he'd project to the NFL after playing so well in a pro-style scheme for the Tigers. Reid would step in at free safety, where Ryan Clark has been holding down the spot but is likely to be phased out at 33 years old.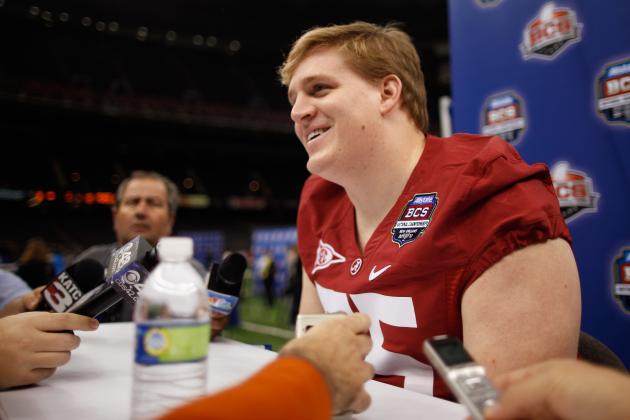 Chris Graythen/Getty Images

The Pick: Barrett Jones, Guard/Center, Alabama
The Green Bay Packers' front office does a remarkable job adding talent before needs develop. That allows the team to draft for value instead of being forced to reach for a player. In the 2013 draft the team can once again look to the future and draft the best player on its board.
Barrett Jones isn't just about value, but at pick No. 26 he is a steal for the Green Bay system. Jones can play guard or center, which will come in handy as Jeff Saturday nears retirement in the middle of the Packers' line.
Jones can either step in at guard, where Green Bay seems to always be down at least one man, or he could be a day-one starter at center if Saturday steps down after this year.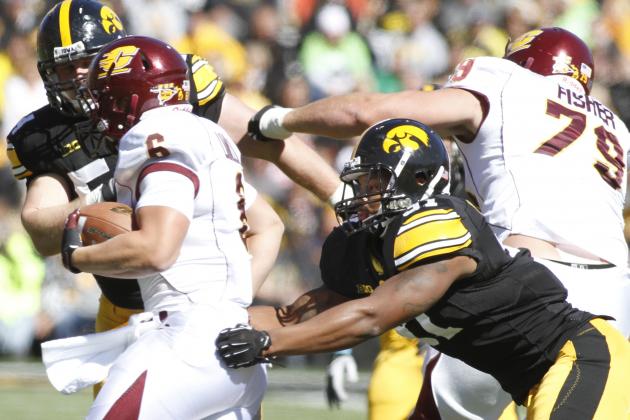 Matthew Holst/Getty Images

The Pick: Eric Fisher, Offensive Tackle, Central Michigan
It's surprising that a team with one of the best records in the NFL would have so many needs to fill, but the Chicago Bears are a team of great parity in terms of quality starters.
On offense the play has been better under Mike Tice, but the team is still being held back by the blocking up front. The run game looks solid, but Jay Cutler is one of the most abused quarterbacks in the NFL since moving to Chicago. Giving Cutler a blindside blocker won't just help the team get better; it will keep Cutler from yelling at the staff on the sidelines.
Fisher is a quick-rising player who has caught our eye with his ability to seal off the edge in pass protection. He's a great athlete with the agility to be a 10-year starter on the left side.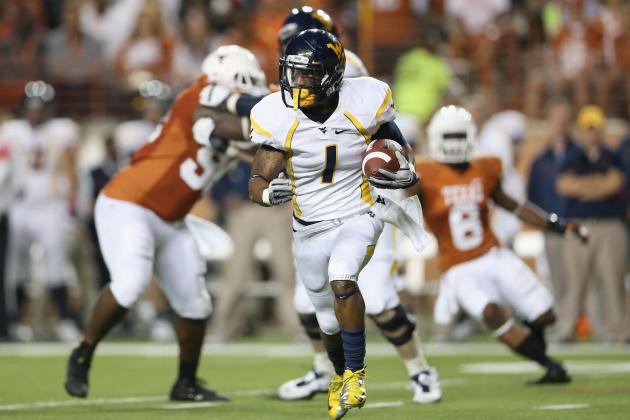 Ronald Martinez/Getty Images

The Pick: Tavon Austin, Wide Receiver, West Virginia
You know how tough it is to buy Christmas presents for that relative who has everything? That's what the NFL draft is like for Bill Belichick and the New England Patriots.
The Patriots don't have elite starters at every position, but they consistently add talent to every area of the depth chart, making it tough to identify a singular need. There's either a Pro Bowl player or a young player worth developing at every position on the roster. That means Belichick can trade back (and he does, often) or draft a value player.
Tavon Austin fits the bill of a value and a need. Sure, the team has Brandon Lloyd, Wes Welker and Julian Edelman, but they don't have anyone like Austin. He'll likely be an inside receiver in the NFL, but unlike Welker and Edelman, Austin has the jets to run away from defenses and set up the offense as a returner.
Maybe this is a luxury pick for the Patriots, but if any team in the NFL can afford to do that, it's New England.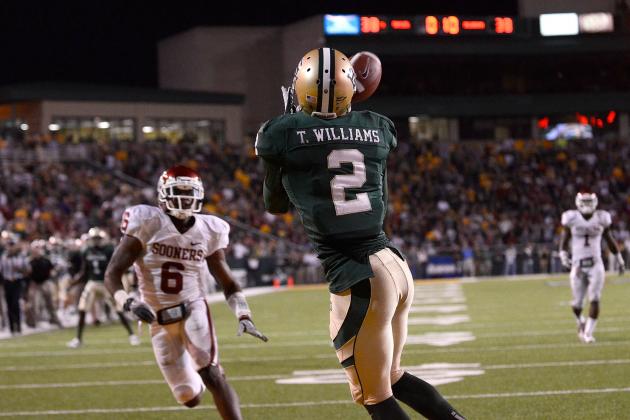 Sarah Glenn/Getty Images

The Pick: Terrance Williams, Wide Receiver, Baylor
Rick Smith has done a great job building the Houston Texans into a championship contender, and much of that has been through the NFL draft. In fact, almost all of it. In the 2013 draft, Smith has one area that the team must address.
The play at wide receiver has long been covered up by Andre Johnson, but he's never had a competent No. 2 wide receiver working opposite him. For the Houston offense to go from scary to deadly, Matt Schaub needs another option in the passing game.
Terrance Williams is a great fit for several reasons. Not only does he have ideal size (6'2", 200 lbs) but he has great speed to run away from defenses and stretch the field. That speed will cause safeties to keep an eye on Williams, meaning one less guy watching Johnson on the other side.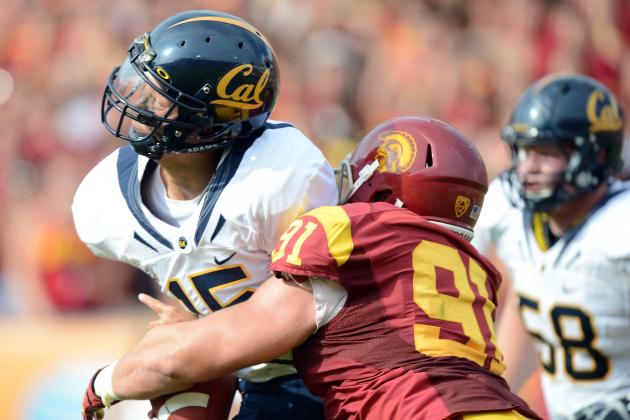 Harry How/Getty Images

The Pick: Morgan Breslin, Defensive End, USC
As great as John Abraham has been, the Atlanta Falcons must start preparing for his retirement.
Morgan Breslin has really stepped up this season, showing the first-class pass-rushing ability to make him a shoo-in as a first-rounder in the 2013 draft. Teams who run a 3-4 defense are likely to peg Breslin as an outside linebacker, but for the Falcons he can become the right defensive end they need to take over for Abraham once he moves on.
Breslin has a chance to shoot up draft boards with a strong season the rest of the way, but much like Nick Perry last year, there's a fair shot that he's available late in the first round.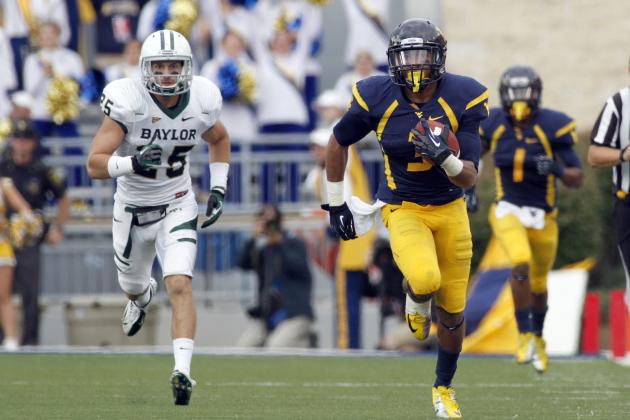 Justin K. Aller/Getty Images

The Pick: Stedman Bailey, Wide Receiver, West Virginia
The Baltimore Ravens are set with Anquan Boldin and Torrey Smith as their starting wide receivers, but putting too much trust in Jacoby Jones as your No. 3 option should be avoided.
Jones has been good this year, but as fans in Houston can vouch for, that's unlikely to persist. Even if Jones keeps up his high level of play, the team needs to continue adding speedy and explosive players on offense.
Stedman Bailey has been one of college football's most dangerous players this season. As one part of the dynamic West Virginia trio, Bailey is moving himself into first-round consideration. While he may lack size, Bailey makes up for it with track-star speed and open-field moves for days.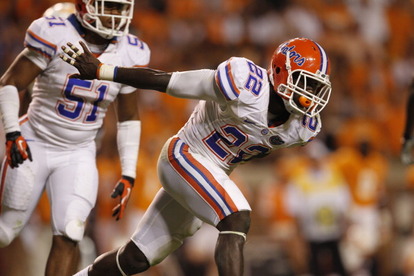 John Sommers II/Getty Images

The Pick: Matt Elam, Free Safety, Florida
The job that Trent Baalke has done in remaking the San Francisco 49ers is flat-out impressive. To go from a joke to the NFC championship game in one season doesn't happen in the NFL, but Baalke built a team that can contend annually.
The key for the 49ers is deciding which players are worth keeping and where replacements and upgrades are needed. One difficult decision will come at free safety, as Dashon Goldson's numbers have been good, but his on-field play isn't quite up to par.
Goldson is a ball hawk, but in coverage and as a tackler he's below average. Matt Elam from Florida would be an upgrade in both run support and coverage, and as seen against LSU, he's quite the ball hawk.
As San Francisco braces to make tough salary-cap decisions, moving on from Goldson for Elam is an easy transition.